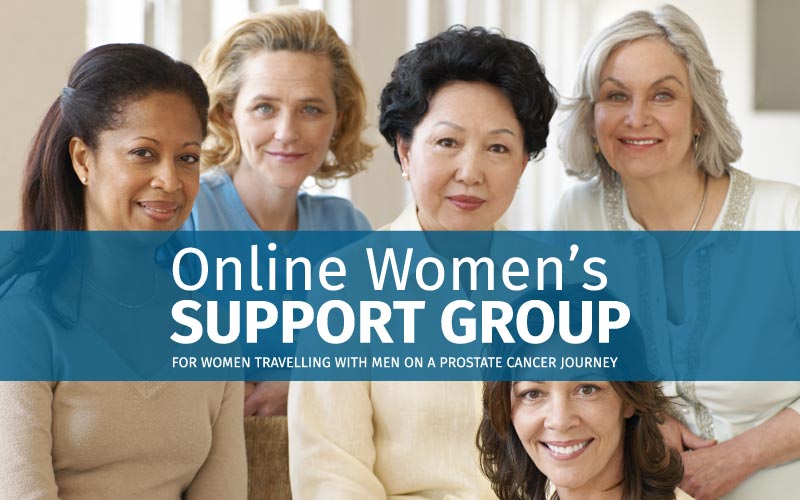 In our conversations with families who are journeying with prostate cancer, we often hear how women in their lives have little or no support for the stress and challenges that they face in supporting their loved ones. In the months since COVID-19 spread across the globe, we have come to realize that this lack of support has created even more stress and difficulties for those women who are an integral part of a man's prostate cancer journey.
Drawing on Our Experience
The charity's Online Women's Support Group draws on our experience of launching and moderating the Online Men's Support Group earlier this year. That program, begun in May 2020 as we pivoted to an online focus, has evolved into an effective structure for focused groups that has allowed men to share experiences and support one another.
About Our Online Women's Support Group
This women's group is an online way for the charity to support women who are journeying with men dealing with a prostate cancer diagnosis, treatment, or recovery. Fans for the Cure is providing a platform for women to share experiences, support each other, and benefit from the company of other women who are also on journeys with prostate cancer.
To be clear, these support groups are not formal therapy or counseling. They are a way for women to gather virtually and informally to engage in conversations and support one another.
A Group for Women, Hosted by Women
Our experience with the men's group has made it clear that getting together with a group made up of only men can at times provide the space and comfort that allows men to share candidly with each other. We understand and embrace this dynamic, which is why our Online Women's Support Group welcomes women only and is hosted by a woman, Karen Shaffer. A keynote speaker at the charity's 2017 gala, Karen is a longtime friend of Fans for the Cure and the person our team always envisioned taking over this position.
Meeting Moderator: Karen Shaffer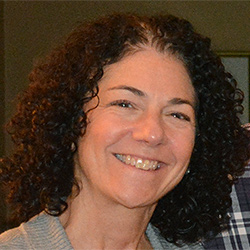 Karen Shaffer has been a longtime friend of Fans for the Cure and its programs. She gave the keynote address at our charity's 2017 All-Star Gala, where she spoke from the heart about her 10-year journey with prostate cancer, the disease that took the life of her husband John.
In addition to her advocacy for caregivers and Women's Support Group moderator role with Fans for the Cure, Karen is a Special Education teacher at a middle school in central New Jersey.
Meeting Twice a Month
We hold our Women's Support Group video calls twice per month. We meet on the first and third Tuesday of every month at 8 PM ET.
Tuesday, October 3rd, 2023 at 8:00 ET
To attend our online gatherings, please read the section immediately below, entitled Join Our Online Support Group.
Join Our Online Support Group
When gathering online, we will use the online meeting tool, Zoom. To keep our Zoom calls as safe and welcoming as possible, we'll use the following procedures for gaining access to our Zoom calls.
To RSVP to attend our online support group, you will need to complete and submit the form below. If you are not available for our next meeting, you can use the same form to ask to be kept informed about upcoming online support meetings. (For security and safety reasons, we need to be careful about who can access the call.)
You will need to have a Zoom account to join the call. You can register for a free Zoom account on the Zoom website.
For practical reasons, we are limiting the number of folks to any single meeting to 30 people. We will accept RSVP on a first-come, first-served basis. Should there more than 30 women wishing to RSVP for calls, we will definitely explore the possibility of scheduling additional support group sessions.
On the day of the meeting, those who have successfully registered for the online support group meeting will be sent the Zoom call link and password via email, at the email address used to register to attend. The Zoom call link will be emailed to those who registered about 30 minutes before the start of the meeting. SAFETY NOTE: Please do not share the Zoom link with anyone, and do not post the link on social media sites.
RSVP Before 6 PM Please
Please RSVP to attend our Zoom meetings before 6:00 PM on the evening of the call. While we can still accept RSVP after 6:00 PM, those who RSVP after that time might experience delays in receiving the Zoom calls via email. (For RSVP received after 6:00 PM on the night of our meetings, we need to send the Zoom call invites by hand, rather than via our technology system.)
Help with Joining the Call
If you need help getting onto the Zoom call on the day of the online Women's Support Group's meetings, you can email [email protected] or call 608-729-5957 for assistance. (Please note that this phone number is monitored only in the hour before and during the Women's Support Group meetings.)
Didn't Get the Zoom Link?
If you have not received the Zoom link for the support group call by 6:20 PM on Tuesday night, please email us at [email protected] or call us at 608-729-5957. (Please note that this phone number is monitored only in the hour before and during the Women's Support Group meetings.)
A Note about Online Safety
By now, we expect most folks will have heard of Zoom bombing. We're eager to avoid this issue, and that desire is why we're pursuing the workflow described above. We will be closely monitoring who we allow into our Zoom call. We're not looking to exclude folks that we don't know – yet, we're serious in our efforts to avoid issues like Zoom bombing. Please understand if we ask you to verify your identity.
Questions?
If you have questions about our online women's support group program, please contact us at [email protected].
Register to Attend