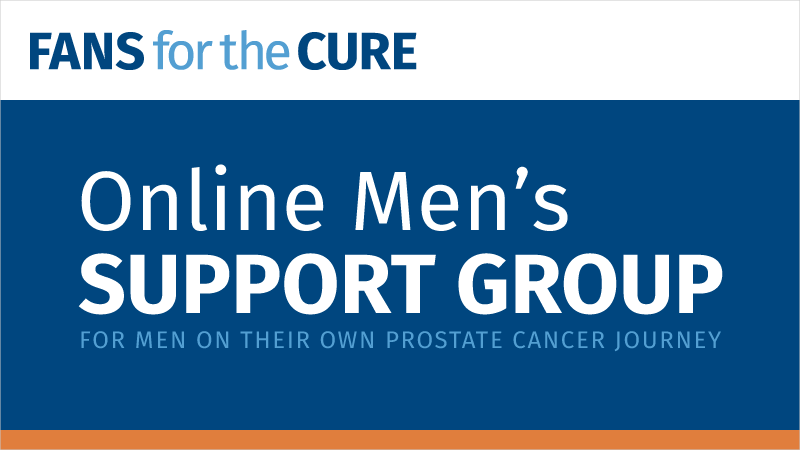 As COVID-19 spread across the country, Fans for the Cure worked to pivot to online programs to support men and their families as they continued their journey with prostate cancer. In May 2020, we launched a new program: online support groups for men.
About Our Online Men's Support Groups
This new program is an online way for Fans for the Cure to continue to support men facing a prostate cancer diagnosis, treatment, or recovery. To be clear, these groups are men getting together online to share experiences, support each other, and enjoy the company of other men on a journey through prostate cancer.
These support groups are not formal therapy or counseling. They are a way for men to gather virtually and informally to chat with and support each other.
Our Next Meeting
We're now holding online men's support group video calls on a fortnightly basis. Our next online support meeting is scheduled for:
Thursday, October 5th, 2023 at 7:00 ET
To attend this initial gathering, please read the section immediately below, entitled Join Our Online Support Group.
Join Our Online Support Group
When gathering online, we will use the online meeting tool, Zoom. In order keep our Zoom calls as safe and welcoming as possible, we'll use the following procedures for gaining access to our Zoom calls.
To RSVP to attend our online support group, you will need to complete and submit the form below. If you're not available for our next meeting, you can use the same form to ask to be kept informed about upcoming online support meetings. (For security and safety reasons, we need to be careful about who can access the call.)
You will need to have a Zoom account to join the call. You can register for a free Zoom account on the Zoom website.
For practical reasons, we are limiting the number of folks to any single meeting to 30 people. We will accept RSVP on a first-come, first-served basis.
On the day of the meeting, those who have successfully registered for the online support group meeting will be sent the Zoom call link and password via email, at the email address used to register to attend. The Zoom call link will be emailed to those who registered about 30 minutes before the start of the meeting. SAFETY NOTE: Please do not share the Zoom link with anyone, and do not post the link on social media site.
RSVP Before 6 PM Please
Please RSVP to attend our Zoom meetings before 6:00 PM on the evening of the call. While we can still accept RSVP after 6:00 PM, those who RSVP after that time might experience delays in receiving the Zoom calls via email. (For RSVP received after 6:00 PM on the night of our meetings, we need to send the Zoom call invites by hand, rather than via our technology system.)
Help with Joining the Call
If you need help getting onto the Zoom call on the day of the Online Men's Support Group's meetings, you can email [email protected] or call 484-321-3148 for help. (Please note that this phone number is monitored only in the hour before and during the Men's Support Group meetings.)
Didn't Get the Zoom Link?
If you have not received the Zoom link for the support group call by 6:20 PM on Thursday night, please email us at [email protected] or call us at 484-321-3148. (Please note that this phone number is monitored only in the hour before and during the Men's Support Group meetings.)
A Note about Online Safety
By now, we expect most folks will have heard of Zoom bombing. We're eager to avoid this issue, and that desire is why we're pursuing the workflow described above. We will be closely monitoring who we allow into our Zoom call. We're not looking to exclude folks that we don't know – yet, we're serious in our efforts to avoid issues like Zoom bombing. Please understand if we ask you to verify your identity.
Questions?
If you have questions about our new online support group program, or are struggling to access our meeting, please contact us at [email protected].
Register Your Interest for Our Online Men's Support Group