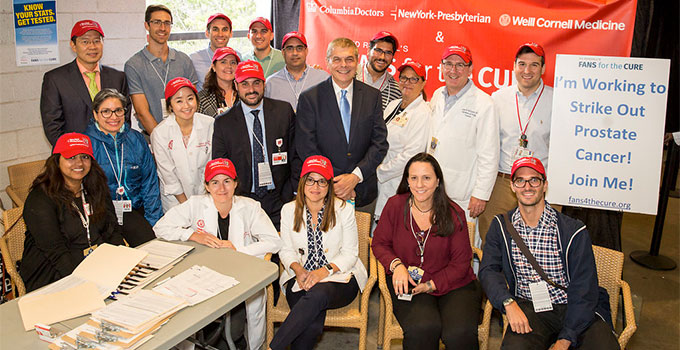 At Fans for the Cure we know that for most cases are detected early, prostate cancer is a highly-survivable disease. In fact, current studies report that 5-year relative survivability rates for prostate cancer are as high as 99%. That said, prostate cancer will claim the lives of over 33,000 men in 2020 in the United States alone. This is why one of our charity's core activities is to join with our team of healthcare partners to regularly conduct free PSA screenings. 
When to Get Tested For Prostate Cancer
For men to have access to the widest range of treatment options and to achieve the most favorable outcomes with prostate cancer, it is important that the disease be diagnosed in its earliest and localized stages. We recommend that you begin discussions about prostate cancer testing with your primary care physician at age 40.
The American Cancer Society recommends the following updated schedule for men who are considering their first PSA blood tests for prostate cancer:
Ages 50-69 if at average risk for the disease
Age 40-45 if African-American
Age 40 when with at least one first-degree relative (father, brother, or son) has been diagnosed with prostate cancer.
Raising Awareness about PSA Screenings and Prostate Cancer Testing
A key component of our work entails raising awareness about prostate cancer and the importance of baseline and follow-up testing. Modern medicine has made initial screenings and tests for prostate cancer far more convenient, less invasive, and more reliable than ever before.
Our approach is to not only go where men come together (at sporting events, for example), but also to invite men to attend seminars and information sessions to share up-to-date and reliable medical information, as well as to answer questions and dispel myths about all aspects of prostate cancer.
Bringing Prostate Cancer Screenings to Men Who are Most At-Risk
As prostate cancer treatments achieve best outcomes when the disease is detected early, we work diligently to bring PSA screenings, medical professionals, and educational materials to where men gather: at community events, local hospitals churches, sports stadiums, and offices of major employers.
Through recent Summer Road Trips, we raised awareness at over 300 Minor League Baseball games since 2015. Fans for the Cure has continued its initiative of pushing for more onsite PSA testing, which our charity and the teams have worked to coordinate with local healthcare providers.
Working with our medical partners and our supporters from Minor League Baseball – as well as the New York Yankees, the Los Angeles Angels, Tampa Bay Rays, and other MLB teams – we broke our charity's records for most stadium screenings during the 2019 season.
Until we were forced to suspend all screenings for 2020 due to the Coronavirus, Fans for the Cure had scheduled seventy-five prostate cancer awareness games in the Minor Leagues, in addition to over twenty free screening events in the New York area. Please watch the calendar section of this site for possible make-up dates for screenings, health fairs, and seminars. The September screening date at Yankee Stadium is TBA, pending the resumption of the MLB season.