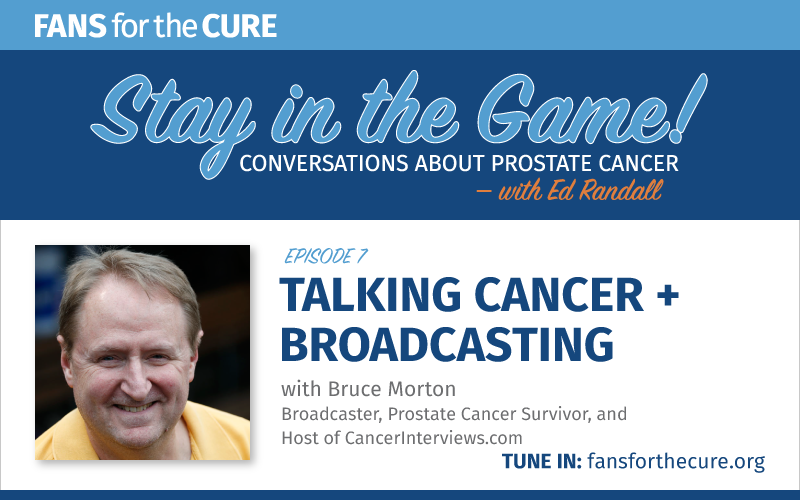 Podcast: Play in new window | Download
Subscribe: Apple Podcasts | Spotify | RSS
Bruce Morton spent 17 years with the ABC Sports Radio Network as a reporter and producer. He started his career on the East Coast of the US, before moving to Denver after the turn of the century. A prostate cancer survivor with his own unique journey from diagnosis, through treatment into survivorship, Bruce is an advocate for cancer survivors. He is a co-host on CancerInterviews.com, where he chats about surviving cancer with his guests.
Program Notes
Episode Transcript
Welcome to Stay in the Game: Conversations about prostate Cancer with Ed Randall. Here we'll chat with doctors, researchers, medical professionals, survivors, and others to share and connect. This show was produced and shared by Fans for the Cure, a non-profit dedicated to serving men on their journeys through prostate cancer.
***
Ed: Bruce, it's so good to have you with us.
Bruce: Thanks so much, Ed. Great to be here.
Ed: Our first contact, I believe, occurred about 45 years ago when you wrote me a note. I was in the Minor League at the time in Elmira, New York, just getting started doing play by play for the Elmira Pioneer Red Sox of the New York–Penn League. And to this day, I don't know how you found me.
Bruce: Well, there was a publication then that somehow I have a feeling does not exist today, but there was a publication then called the Baseball Bluebook. And the Baseball Bluebook had within a wealth of information about a lot of things, including every Minor League team. In some cases, because in those days, not every Minor League team had its games on the radio, in some cases, they listed the name of the broadcaster. So I must have turned to a page for Elmira and there you were listed as the play by play guy for the Pioneer Red Sox. That's how it happened.
Ed: Wow. And you were living, as I recall, in Vermont?
Bruce: Yes, I was at WYKE Radio in Newport, Vermont, eight miles below the Canadian border. Just a sidelight to that is that I came from California, I broadcast High School hockey, and there were no rinks in Newport, so we had to cross the border and go into Quebec to play our home games. I had to go through customs to go to one of our home games.
Ed: The stories you could write. And how crazy life is, Bruce, that you and I would spend countless hours side by side, as we say in the business scrums in countless locker rooms with the nine professional teams throughout the New York metropolitan area.
Bruce: Yes, indeed. And some scrums were bigger than others, and as a radio friend of mine in New York used to say, position, it's nine-tenths to the law.
Ed: It is indeed. What I remember about those days at the time of our diagnosis respectively is that we were both given the news that we had cancer at the age of 47. Another thing we had in common. While testing now begins as early as age 40, 20 years ago, this was considered an old man's disease. How did you come to have a PSA test at the age of 47?
Bruce: Well, Ed, I could be guilty of traipsing onto a whole other area of subject matter, and maybe we can address this a little bit later on in the show. But in those days, at age 47 and age 44, 42, when I went down the street on Prospect Avenue to my general practitioner—and each year I went in for my annual physical—it was just part of the territory with my bloodwork to have my PSA checked. I recall through my 40s writing my dad because there were still people that wrote letters even in the 90s. I would write my dad once a week in California and I would joke with him and say, "Well, Dad, I'm not a candidate for prostate cancer." That went on until the summer of 2000 when my PSA had been somewhere in the mid ones or something like that and it shot up to 4.1. And that began the entire chain of events that culminated with a diagnosis in December of that year.
Ed: I had just come out of prostate cancer, thank God, on the other side, and you called me. Again, I wasn't broadcasting the fact that I had prostate cancer and yet you called me, and then that dialogue began about possible referrals.
Bruce: Indeed. Well, I can tell you how I found out about. There's no mystery to that. I recall my jaw dropping when I saw a mention of your diagnosis in Phil Mushnick's column in the New York Post. That's how I found out about it. The doctor who provided me with the diagnosis was at Hackensack Hospital, which is now Hackensack University Hospital, which means they can pay their bills a little more. But Hackensack University Hospital was right across the street from my general practitioner. My general practitioner referred me to this guy at Hackensack University Hospital. He's the guy who diagnosed me.
Then not long after that, there wasn't much conversation He just said, "Oh, well, you should get a prostatectomy." A very unusual chain of events followed after that. It was unusual in that I contacted an ABC colleague of mine who was a decade or two older than myself, a fella named Don Chevrier, who…
Ed: I worked with Don Chevrier.
Bruce: Just a prince of a guy who…
Ed: Yes, he was.
Bruce: …who had achieved success in broadcasting on both sides of the US-Canadian border.
Ed: Correct.
Bruce: I called Don in Clearwater, Florida. Of all people, I called him and he told me that I should place a phone call to my former boss at ABC Radio, a guy named Shelby Whitfield, who hired me, but then after hiring me at many times made my life difficult within my job and always made me feel like my next mistake would be my last.
Ed: I know He was a tough guy.
Bruce: Anyway, he said, "Call Shelby. It may sound funny…" Now because Don was well aware of my struggles with Shelby. He says call, "Shelby. It may sound funny when I say this now, but when you call him, you will find that he will be an amazing source of support." So I thought, "Okay." So I called Shelby, told him about this. And Shelby immediately assumed the role of being my boss all over again. He said, "Well, here's what you're going to do. First, you're going to go to Sloan Kettering and be seen by some real doctors. Then after that, you're going to go to Johns Hopkins and be seen by some more real doctors. Now you know where Sloan Kettering is, but if you don't know your way around Baltimore, I will drive you down there myself."
Ed: Wow.
Bruce: That's exactly what I thought.
Ed: The Shelby Whitfield said that?
Bruce: Yes, yes.
Ed: Wow. Go ahead.
Bruce: Anyway. To move the story along a bit, on Martin Luther King Day 2001, of which, if you're a follower of New York sports, you would remember something that happened that day. The Knicks had a matinee game against Cleveland and there was a situation in which Marcus Camby went after Danny Ferry of the Cavaliers, and Coach Jeff Van Gundy tried to restrain Camby by ultimately grabbing onto his ankle and Camby ended up dragging the much smaller Jeff Van Gundy across the Madison Square Garden court.
If you can remember that event, that day I was at Sloan Kettering. I was directed to this windowless exam room with no magazines, no nothing and I sat there for almost two hours. I could hear doctors walking up and down the hall just outside my door and I thought, "Well, surely they're going to be coming in my room any second now." But this went on for close to two hours. Then these two cancer Docs came in, and they had this big cardboard thing. It's kind of difficult to describe. They're like two slabs of cardboard and in between it were a bunch of dials that could be moved around that had numbers on them. And they're all these little cutouts in the cardboard so they could move the dials around and show all these numbers.
To speed up the story, these two cancer Docs said that you are a perfect candidate for the seeds. You do not have to have your prostate removed. And then they showed all these numbers and they said, "Well, your chance of beating this if you get the prostatectomy are like 93%. Your chance of beating this with the seeds is 85%." And I thought, "You know what, "I'm going to sacrifice those eight percentage points to try to hang on to my dignity."
So it was not long after that that I think I contacted you, and then you directed me towards Dr. Roma's and Dr. Gliedman, the urologist, and the radiation oncologist who one time I made the mistake of calling in my radiologist. And I found out that you know…that's like telling Bob Gibson that he's a double a pitcher.
Anyway, I was seen by Dr. Romas and independently, Dr. Gliedman and both of them said that I was a candidate for the seeds. I never made it to Johns Hopkins. So I never drove down there with Shelby. But I thought after hearing from four highly qualified New York doctors that I was a candidate for the seeds, I was convinced. So in February of 2001, I underwent the procedure. I can say the same thing that you have said, Ed about these doctors. They saved my life.
Ed: I remember you calling me in distress. And this was just months after I had gone through it and had the implantation of radioactive seeds, which ultimately you did. My recollection is that you said that the doctors at Hackensack were just dying to cut and take it out.
Bruce: You're using the same words as Shelby. He said, "Oh, there are a bunch of quacks out there, and all they want to do is cut." That's exactly what he said.
Ed: Okay. So I said through the grace of God because you don't pick out these doctors, but it was my GP who flagged that my PSA was 17 and he was connected with St. Luke's–Roosevelt Hospital on the west side of Manhattan at the time. And he said, "You're going to go see Dr. Nicholas Romas who is world-famous, the Greek god known throughout Europe, and he's going to assume your care. He's the chair of Urology department there. And Dr. Paul Gliedman is the urologist. And they saved my life.
So I could not have recommended them higher than I did to you at the time. But I remember how distressed you were, the confusion, and not knowing what may lie ahead. But Bruce, honestly, you were unique among men that I knew with prostate cancer back then in that you sought out multiple opinions, four or five opinions in a very short amount of time, including taking the car ride down to Baltimore to Johns Hopkins from New York. And it turns out, you were 20 years ahead of your time. Was part of seeking out multiple opinions a response to your first doctors rush to treatment by prostatectomy, you think?
Bruce: I think so. I think that that helped. There was a new-fangled term for what I'm about to bring up, and you know it and I've heard it a million times, but it used to be known as watchful waiting. There's something with surveillance. What is it? Is it the term?
Ed: Yes, yes, yes, yes, yes.
Bruce: Anyway, that was not going to be an option for me, which is just a byproduct of how I try to handle other things far less weighty. In other words, and I don't want to get in the weeds with this, I'm just going off-topic for a second, but if I receive a bill through the mail or online, I pay it in the next couple of days. I don't want the idea of a bill hanging over my head. I don't want the idea of stuff that if…If there's something that could be pending, but I have the control to address it so that it isn't pending, I prefer to address it.
So for me, active surveillance was not an option, even though perhaps it could have been. I consider this as sort of a sort of Damocles that followed me wherever I went. I want to know, part of that sort I wanted it removed from my day to day existence as soon as possible. So, when doctors Romas and Dr. Gliedman added on to what the docs at Sloan Kettering had said, I said, "Okay, that's it. My decision is made. Let's get going with this and address it as soon as possible so that I can hopefully start to take steps toward putting this in my rearview mirror."
Ed: You felt, from what you heard about the doctors at Hackensack, pressure. And I must tell you that with regard to Dr. Romas, it was the exact opposite. Right?
Bruce: Exactly.
Ed: There was no pressure. It was, "Ed, whatever you think you want to do. We can cut it out or we have this relatively new procedure developed in Europe called the implantation of radioactive seeds, which we believe we can implant and it will eat the cancer." Ultimately that is what I chose. I remember saying to him, out of ignorance, probably, "Well, if the seeds don't work, "Doctor, we can always come back and take it out." But fortunately, it did eat the cancer.
You mentioned Bob Gibson a moment ago, and I just want to tell you this. I had a relationship with Whitey Ford for many years because his son lived with me in Elmira when we got started in the New York Penn League. He was my roommate. And to this day, we call each other "Rooms". We've never called each other Ed and Whitey. It's always been "Rooms" now for 40 years.
So you mentioned Bob Gibson. On the day that Nick Romas came in with his lab code while I was sitting in his office and sat behind his desk and he said, "Ed, you have cancer and you have a lot of cancer, but I believe that we have caught it early enough." As with you, I'm assuming questions go through your mind that you never would have imagined asking. And the first question I said to Dr. Romas was, "Am I going to live?" And he said, "90% that you are."
So help me God is I am sitting here talking to you, this is what I said to Dr. Romas. "You know, Whitey Ford was nine to one his rookie year in 1950. That's a 900 winning percentage. And he went to the Baseball Hall of Fame. I like my chances. That's great. That's terrific." Then I followed up with "will the cancer return?" And he said, "70% that it won't. And I said, "Well, the inverse of that is 30%." And those guys who hit 300, they go to Cooperstown too. Come on, let's go." I mean, what a baseball knucklehead I am. But I was so lucky to have him to metaphorically hold my hand through this trauma that I to this day I still hug him and kiss him. When the authorities allow I'll do it again. He was just tremendous. I was so lucky to have had him in my life. So when did you conclude that Brachytherapy would be your course of treatment?
Bruce: I would say probably a matter of seconds after doctors Roman and Gliedman said so. Maybe I should say Dr. Gliedman because chronologically he was the second of the two. They weren't both sitting in the room at the same time. I first met with Dr. Romas then I met with Dr. Gliedman. So it was after hearing from Dr. Gliedman I was already 98% sold based on what I had heard from Dr. Romas. It was like Dr. Gliedman came in and kick the extra point.
Ed: How was tell us how the recovery was for you, Bruce, both in short and intermediate terms?
Bruce: I would say that there was just a minimal amount of pain and suffering for me really throughout the entire thing. I mean, if I hit the rewind button back to the OR, when I went into the OR on a Tuesday morning, here I am with the OR team and instead of them trying to loosen me up, I'm telling them jokes and loosening them up. So they're all chuckling. I don't know if those were obligatory chuckles but they were all chuckling.
Then my anesthesiologist who was from Poland and had the accent to match, he said to the rest of the OR team, "I like this one. He has spit it for now." Then he injected me. When I woke up I was on a hospital floor and the anesthetic still had not worn off. I had a catheter in me and then I was discharged at about 7 p.m. that night. A co-worker from ABC came to scooped me up and took me home and stayed the night in Hackensack with me just in case something happened. They brought me back into the city the next day.
And perhaps just to put in perspective just how undramatic my cancer journey was, probably the most pivotal moment was the following morning when I returned to St. Luke's and a nurse removed the catheter, which is as close as I will ever come to delivering a child. There was just this lightning bolt of pain for about 0.0037 seconds
Ed: I don't mean to laugh. Go ahead.
Bruce: So the pivotal moment was, would I have the wherewithal to manage my ability to urinate. As I learned many years later, when I briefly worked in healthcare at nursing homes, you know, we all, male or female, we have these muscles down there. And then the muscles regulate our ability to pee or for lack of a better word, hold it. As people get older, those muscles break down, which is why older people become incontinent. But I wasn't older yet, but there was a possibility I could become incontinent.
So the nurse brought me over to a waiting area which was next to a water cooler and she said, "Just keep drinking until you're ready to pee. The bathroom is the second door on the right and good luck." So I just kept drinking water, kept drinking, and then it was time to pee, went in the bathroom and the only thing missing was a drum roll. I intentionally tried peeing and then tried stopping to see if I could stop. And I could stop. That was a (no pun intended) golden moment.
In a way that was the most pivotal time in which there was any drama because I was very concerned about my ability to pee or not to pee. Because just like yourself, I had a very public job. I was going to ballgames, to news conferences, the occasional sports labor dispute, you name it. I was on the subway. I was going to do some event at the Waldorf Astoria, something at Shea Stadium. But many times I was always…not always but almost always in a place in which I would need quick access to a bathroom.
As somebody who spent tons of time in midtown Manhattan, and I could tell you, I had an encyclopedic memory of where all the hotels were and where all their bathrooms were within the hotels. It's like I had already planned an escape route, so to say, as to where to go to the bathroom because for me the times demanded it. But I'm telling you, that is as bad as it got.
The only other thing that was a source of concern, and this may have been part of your experience as well, was I'm about 18 months after the procedure, by this time I was decreasing my trips from Denver to New York to visit doctors Romas or Gliedman. Dr. Romas had a colleague from Columbia who had relocated to Denver, Dr. Donahue. So I was being seen mostly by him at about the 18-month mark and then all of a sudden my PSA jumped. It was at a very manageable, like 1.5 or something and then boom, it became 3.6. Now I'm really worried. It's like all this good that had been done for me was now going up in smoke, and there were going to be further problems.
Dr. Donahue said, "This is par for the course with the seeds that at approximately this juncture, your PSA will go up. I can give you some kind of antibiotic or something like that, but it's not going to really make things better. Physically, it could make you feel worse." In a much more eloquent way, he told me to suck it up and said, "Just be patient. Your PSA went up, which is par for the course with this procedure, but it's also par for the course that it will come down."
I was getting my PSA checked every three months. The next checkup it went down not the precipitous drop that I wanted, but it went down to 2.9. So I thought that was a good sign. And then three months later, it was 2.2. Then not long after that it was like one. And then for I can't tell you how many years, it's been zero point something. And it's been that way for a very long time. Thank God.
Ed: You and I both know about the terror of having to go to the bathroom when you're on the air live.
Bruce: Oh, yeah.
Ed: You not only subject yourself to interviews, you also sit in the pressure-packed chair of the seasoned professional who must come up with the questions. Tell us about your work with cancerinterviews.com.
Bruce: Thank you, Ed. Cancerinterviews.com is the brainchild of a guy who is my best friend here in Denver, a fella by the name of Jim Foster, whose cancer journey was far more pronounced than mine. He twice survived Hodgkin's lymphoma, he twice came within an inch of his life and survived it. And for years he had this pipe dream of starting up a website that elicits stories of people's cancer journeys. In other words, a lay story told by laypeople in lay terms.
Anyway, he had talked about that for the longest time, and then only in the last year or so did it really start to leave the tarmac. He spent years studying podcasts and all this other stuff before coming to the realization that he thought that something like this could be viable. But basically at Cancer Interviews, reason for being is that when someone has diagnosed, and I think we can both speak to this when someone is diagnosed sure you're going to talk to people like Dr. Romas and Dr. Gleeman, but there is this sort of unwritten emotional piece as you contemplate the enormity of this potentially life-altering event that is right in front of you. And it's bigger than you are.
We can all address it in different ways, but it has been Jim's feeling and now by extension mine that it really fills a void when you have non-medical personnel, non-healthcare professionals tell their story. These are stories that have unhappy components, but for the most part, happy endings. So it is our feeling that when people share these stories with others who want to hear the stories, it can be educational and it can be inspirational in that someone has…we try to stay away from the word "beaten", but someone who has survived this very difficult ordeal.
Among the people that we've had as guests, we had a woman from Smyrna, Georgia, just outside Atlanta, who survived and is surviving stage four pancreatic cancer, which perhaps metastasizes far more quickly than any other type of cancer. We interviewed a woman in Oregon just a few days ago, who survived breast cancer five times.
Ed: Wow.
Bruce: She tells her story and she has gone on to write a book about it. She has her own podcast. We encounter just some tremendous stories. Now I'm going to venture into the area that I talked about earlier about you have your meetings among Fans for the Cure and a subject that has come up from time to time is how the inclusion PSA in bloodwork that perhaps was automatic around the time that you and I were diagnosed, we have found much to our chagrin and concern that it is not automatic today. As a result, patients who should be getting this information or not getting it.
Well, there's a situation, not that this is a good situation, but there's a situation even worse among lung cancer survivors, which I have learned from doing these interviews, in that unless you are, say, over 55 years of age and smoke cartons of cigarettes a day, if you ask to be checked as to whether you have lung cancer, you'll be denied that information. That test will not be given. We have interviewed two women who asked for that sort of test, didn't get it. So by the time they found out that they had lung cancer, they were stage four. Incredibly we're happy to say that both have somehow survived this. But this should never happen.
And as you can see, it happens with lung cancer. But as we've learned from the group meetings that you share, this is becoming more and more prevalent with men who want just this very basic information about prostate cancer.
Ed: I'm glad you brought up about our support groups. I can't tell you how happy I have been to see you on several of our bi-weekly men support groups that take place Thursday night, 7 o'clock Eastern Time. They feel to us on the inside, Bruce, so they've been steadily improving. And I'm just wondering, what has the experience been like for you in your own Zoom box two time zones and 1700 and 77 miles away?
Bruce: I think it's been great. I think that one can gain from the experience just as much by listening as talking. There have been many times in which I've said little or nothing, and just sat there being a face instead of box along with a bunch of other people. But it's always been educational as a matter of fact that I wouldn't have even brought up this subject about the lack of access to PSA testing within normal bloodwork. I wouldn't have brought that up had I not learned about it on your support group. It is just a choose your mood. It's either maddening or heartbreaking or both to find out that the difficulty to gain access to this critical information is what it is. But I learned about that from your group.
Ed: It's very kind of you to stay. Let's drop into the southern hemisphere for a moment. I read about a business trip you made to Buenos Aires. You were so into your survivorship that turned into something of a ritual over the years especially the steak dinners at a certain restaurant. Care to comment on it?
Bruce: Oh, I'd be happy to. I have a radio friend, former co-worker at ABC Radio. He is still there, although he's moved from Sports to news pretty much, a fella named Todd Ant. Which is if you ever saw him you wouldn't associate the word Ant with him. He is a gigantic…
Ed: He's a big boy.
Bruce: Yes, he is. A huge guy. His last name is Ant. Anyway, Todd in the early 2000s, and I am answering your question, Todd had a little side hustle with BBC Radio. He would go on there once a week talking about sports in America. In any event, Todd was friends with a guy that I sort of knew from covering the US Open, the fella named Chris Bowers. And Chris Bowers was with this outfit based in London called Tennis Radio Network. Tennis Radio Network would deploy reporters to different tour events all around the world.
Anyway, there is a three week stretch in July, in which there are events back to back to back. There's the Canadian open, which takes place in Montreal in Toronto, and then it's sandwiched around an event in Cincinnati. They needed somebody to cover those events and it was very hard to find somebody to cover those events because they had a full-time job. Well, I had just been bought out of my job at ABC by Disney. So Chris knew a little something about me. There weren't a lot of radio guys in the states who knew anything about tennis. I'm not Bud Collins but I know more probably than the average guy because I've done a bunch of tennis opens.
Anyway, to move the story along, I ended up doing this Montreal Cincinnati Toronto thing. It was 22 straight days of like 14 hours a day. I don't know if I could do that at age 67. But that was in 2001. And it was a great fit. I just been brought out and this was quite timely for me. So anyway, to move this along, they had an upcoming gig in February the following year to cover a Davis Cup event. I don't know how many of your listeners know what Davis Cup is. But basically, it's a competition of players from one nation playing against players from another nation.
Tennis Radio Network did its reports and its stuff for people in six different English-speaking countries of which Australia was one of the bigger ones of the six. So in the Davis Cup in February of 2002, Australia played at Argentina. So Chris said, "Would you like to cover this?" I said, "I'd love to." So not only did I go down to Buenos Aires, but there was a tremendous amount of turmoil in Argentina, and in Buenos Aires at the time. They wanted me to be safe and so they put me up at the same hotel where the Ozzie team was staying the Four Seasons, which to this day is the greatest hotel I've ever stayed in.
So I covered the Davis Cup. And just as a sideline, I was telling you about the turmoil there. Every day, there's this Plaza outside La Corte Suprema, which is their Supreme Court, and tens of thousands of people would gather in the plaza and they would all bring a saucepan and a soup spoon. They would rhythmically pound on the saucepan and it made a heck of a racket. Anyway, there was a kid who each day drove me from the hotel to the Buenos Aires lawn and tennis club, where this event was taking place. And I said hey, "If you ever have any free time, I'd love, love to see some other parts of your city."
He called me and said, "I'll come by a little bit early." And then he showed up and he said, "Hey, would you like to go to the rally at the La Corte Suprema?" Then he showed me that he had brought an extra soup spoon and saucepan for me so that I could join the group and make some racket with them. But the part of the story that I had learned is that federal police were shooting rubber bullets at people and they're trying to quell the disturbance which they didn't do. But still, the mention of rubber bullets made an impression. So I thought, "I'm going to die one day, but I don't want it to be with a soup spoon in one hand and a saucepan in the other." So I thought about it and eventually turned him down.
So I was in Buenos Aires in 2002. Again, the work was not rocket science. There was just a ton of work to do because we had 19 stations or networks in six different countries.
Ed: Wow.
Bruce: It was just a ton of work.
Ed: Right.
Bruce: So one night it was like 11:30 pm and I said, "Timeout. I'm calling a timeout. I'm going to go out and get something to eat." And a big city like Buenos Aires which is in South America, but thinks it's a city in Europe, there are places that are open a long time. So I just started walking around outside my hotel and I found this restaurant called El Mirasol, which means the sunflower in Spanish. Went in there at 11:30 and it was packed. People eat late there like they do in Spain and some other places in Europe. I went in there and I ordered a half bottle of Malbec and a steak. And to this day is the best steak I've ever had. And I said to myself, "One day I've got to come back to Buenos Aires but not in a working capacity.
So then in 2006, I hit the magic five-year mark and I went down there. I tried to make a reservation at the four seasons and then they said, "Well, we're all full up." Then I know a little Spanish and I wrote them a letter in my best Spanish explaining why I wanted to come down there because it was my five-year mark of dealing with Cancer de prostata. They found room at the end.
So I went down there, had a fantastic time. Went back to El Mirasol. I went in there one night and I was talking to the waiter and I said, "Hey, this is really special occasion." Can I have a picture taken with you? And he said, "Sure. I'm smiling and he's frowning. But it was still a great picture.
Then before having the picture taken…I just remember. I didn't have my little camera with me. So I said, "Hey, Roberto, is it okay if I go back to my hotel room and get my camera?" So I got the camera, came back because I was done with dinner, and the manager of the place directed me over to this otherwise empty table that had nothing on it but a glass of champagne. Then the restaurant did that for me because of my stated reason of hitting five years. I was almost in tears. It was such a wonderful gesture.
I was in a more difficult situation at my 10-year mark, but I did go down there for my 15-year mark, which was in 2016. So anyway, I love the four seasons. I love Buenos Aires, and I love El Mirasol. So if I ever get down there again, I'm going to try to hit both of them.
Ed: And get some take out for us if you will. Okay?
Bruce: Best steak I've ever had.
Ed: Last thing before you go. When your charity and ours succeed best, it's when men take away the message: When you fight this, you are not alone. Based on your personal experiences as a patient and now as an advocate with cancerinterviews.com, what can we be doing better to help men on their prostate cancer journeys? What do you think?
Bruce: I think probably getting the word out more. Again, this is something that we've discussed in group and it almost becomes like a form of proselytizing. But being the age I am a lot of my media friends here in Denver are of the age in which they should have that checked. So I'm one who can most definitely improve in this area just by seeing my media friends who are at that age in which they should be getting checked in which they should be insisting on getting a PSA numbers within their normal bloodwork. So I can do better at that I suppose. I don't know if you can do better than that because you are always getting the word out in various forms and fashions. But just as one who's sort of an ambassador, I can always do a better job of being an ambassador.
Ed: I'm a guy who goes up to other guys and just go, "When was the last time you went to the doctor?" To me, it's just a matter of course. Maybe some it's rude, I'm sorry. This is what I do.
Bruce: And it's in their best interests.
Ed: t is. Bruce, what a joy to be with you all these years in the locker rooms and outside the locker rooms, the great work that you did on the air, and now transitioning into this other life. We're so proud to have you with us. I thank you so much for being a part of our organization. Thank you so much.
Bruce: Thanks so much, Ed and thank you for the work that you continue to do, the word you continue to spread. I'm sure I'm speaking for everybody within the Fans for the Cure family to keep doing it because we're all better for it.
Ed: Bruce Morton, our guest on our Stay in the Game podcast courtesy of Fans for the cure. I'm Ed Randall, thanks so much for being with us.
***
Thanks for listening to the show. You can find program notes and a full transcript at the charity's website, fansforthecure.org. Be sure to subscribe to our podcast in iTunes, Spotify, Stitcher, and everywhere good podcasts are available. And if you like what you heard, a positive review on iTunes will help other people also find our show.