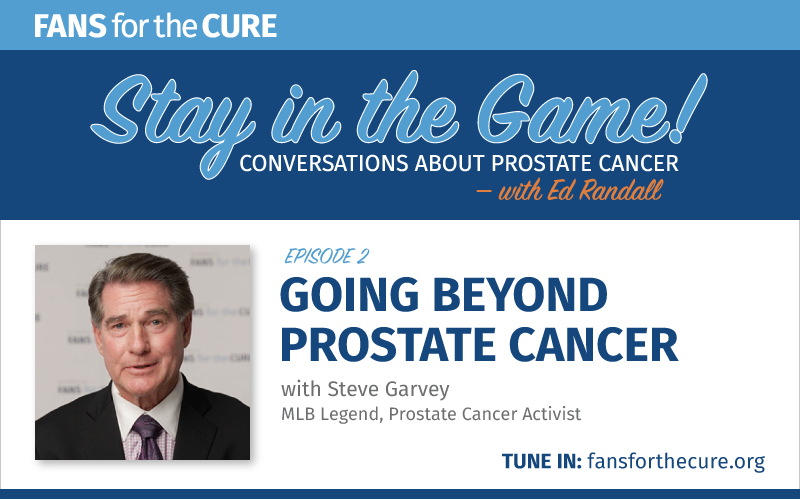 Podcast: Play in new window | Download
Subscribe: Apple Podcasts | Spotify | RSS
Program Notes
Episode Transcript
Ed: As we record this podcast, a memorial service is being held in Texas for George Floyd. The murder of George Floyd shines a harsh light on the racist injustice and inequalities that African Americans suffer in America. We join our voices with those around our country to call for an end to racism in America, and to demand justice and equality for all. As a charity, we are more committed than ever to supporting communities affected by prostate cancer. Statistically, African American men are more than two times as likely to die of prostate cancer as white men are. At Fans for the Cure, we are committed to continuing to help African American men get the information, support, and treatment they need on their own journeys with prostate cancer.
***
Welcome to Stay in the Game: Conversations about prostate Cancer with Ed Randall. Here we'll chat with doctors, researchers, medical professionals, survivors, and others to share and connect. This show was produced and shared by Fans for the Cure, a non-profit dedicated to serving men on their journeys through prostate cancer.
***
Ed: Hi, everybody. I'm Ed Randall, and welcome. It's only right that the first non-doctor to appear on our Stay in the Game podcast is the baseball legend and prostate cancer survivor and activist, Steve Garvey. For those who may not be familiar, let me tell you that Steve was nothing, if not consistent, six 200-hit seasons in seven years, five 100 RBI seasons, seven 300 plus seasons, and on the other side, four Gold Gloves. Between 1974 and 1980, he averaged 201 hits, 23 home runs, and 104 RBIs. He was selected to the All-Star game eight years in a row, 10 overall, winning two MVP trophies. He played 1,207 games in a row, and that's the National League record for consecutive games played.
Today Steve is one of the most sought-after motivational speakers in the country, thanks to being one of the top players in this generation, as well as working as a consultant and board member for corporations and charities. Fortunately for me, and for all of us, one of those charities is Fans for the Cure, the charity that I found in 2003, on which Steve, I'm proud to say, is our chairman of the board of directors.
As we tape our discussion, we are in the midst of a global pandemic that has changed everything. Baseball is yet to play a single game, our charity has been forced to cancel six months of community programs, and life seems to be becoming a never-ending Zoom calls. Steve, we welcome you to our Fans for the Cure podcast called, we think appropriately, Stay in the Game, which we can use to talk about prostate cancer. But first of all, let's talk about what's been going on for the past two and a half months. Where have you been socially distancing, and are you and Candace, and your loved ones hopefully safe and healthy?
Steve: Thanks so much, obviously for all the things that we do together, for our friendship over the years, for the fight against prostate cancer, and all cancers – men and women. It's been an interesting time in our lives. Anytime you deal with something that's so devastating as this Coronavirus that we haven't dealt with before—in my lifetime, I haven't dealt with a pandemic—it's uncharted waters. And I think that we put our initial faith on the hands of our government and our experts, and that's all you can do. You know they're doing the best they possibly can. They created a set of "please abide by these rules" type of thing with distancing, and masks, and gloves, and so forth and so on, washing hands. The rest really has been about the spirit of the American people.
As you talk to friends, as you formed a daily habit at your house, and we have here, all of a sudden, people started talking about the new norm. You and I just talked about it before we started in the session, and we don't want the new norm. We want to learn from what we're going through, but we want to get pretty much back to the way we had it because it was awfully good, and it spoke a lot about this country and about our democracy and our faith.
And I think the most important thing is that families have come together, maybe for the only time, especially for those of us who have older children. Our son Sean is a junior in Michigan State, came home. Our daughter Olivia who was at NBC Palm Springs as a sports anchor was already here. Our son Ryan was working in Newport, it's about two hours away. So three of our seven children came home, and it's been interesting. The kids have set up a workout area out in the area between our living room and the pool area. Our scheduling of eating, of the kids really liking to cook and bake, and all this kind of doing things together and sacrificing has been a special time in our life. Nobody revolted. Nobody said, "Could you please trade me away for, you know, 10-year-olds can be named later."
Ed: You put that on the kids' sound waivers.
Steve: So we're in pretty good shape right now. We had a scare last week. A friend of ours, somebody that he had hired for a very small dinner, and three days later have been determined to have the COVID virus, and then I had seen these people. So degrees of separation are the things that we all had to take our COVID tests last Thursday, and everybody was negative—the friends and Candice and I. It's like anything, Eddie. You say your prayers, you try to be responsible.
Last week I, at the Dodgers station, has been doing Monday Zooms, and this had about 13,000 people on it. It was really interesting and really heartwarming. The young players, Kershaw, and Turner, and Kiké Hernández were on. Then Hershiser and I, some older guys. Everybody was kind of chiming in, I said, "Well, for all you current players, this is what it's like when you retire. And it's called spousal distancing. If you don't keep busy and do everything she says…" And I'm telling you, you had a course of 12,000 laughs. You could see people chuckling on there.
Again, one of the saddest things is, of course, our inability to reach people and to educate people and do the things we always do at Fans for the Cure. But we're all in this together. Every other charity is doing the same things. Like we talked about at the beginning, and we've had several meetings on the phone and so forth, is you prepare for the time when you can get back in the game, so to speak. And I think you've done that, our staff has done that, and we'll be ready when the time comes for us to hit the pavements or back to the ballparks or whatever. But in the meantime, the virtual opportunity is our big game.
Ed: When people look at you, Steven and they go, "My God, this guy hasn't changed since he played baseball," do people recognize you behind a mask?
Steve: That's interesting. Yeah. I'm always amazed. But, you know, I got this dark part of the hair, still got some pretty decent color, I keep it short, and I guess this kind of stocky body…By the way, I lost 15 pounds. A lot of people have gained weight, I said, "Wait, I'm never going to…"
Ed: You're social distancing from the roof. We commend it.
Steve: I was saying, "If I'm going to be taller—and I have been shrinking—I better lose a few pounds and give that visual." But yeah, people would say, "Are you Steve Garvey?" and I said, "Yeah." "Oh, I recognize that hair and those eyes." Anyways. Oh, now you're in the will.
Ed: Have there been any positives that have unexpectedly, for you, come out of spending essentially three months at home?
Steve: Well, I mean, in my world and the creation of Garvey Media Group and having clients, I get involved with the development of their branding and stadium and arena advertising, and then I do 35, 40 speeches. All that's been literally put on hold. In a lot of ancillary, things that I've done with baseball and other charities also. I think you know me pretty well. I'm a pretty patient person. Patience is a virtue, they always say. I've learned that things that you've taken for granted in the past simply because life just goes on and on now is appreciated more. We all talk about that, and we talk about it again. When the time comes, renew the good things. We've analyzed the things that aren't important in our lives or we thought maybe they were, and I think that through this whole thing, I really learned that there is a spirit of community in this country and all of us working together. Just as you and I cover the games people play, it's really true. We grew up playing games, and all through our life we're involved in one game or another, and it's called the game of life.
Ed: You were also telling me something funny before we fired up the podcast, which was there have been some residual effects for you, in that you have been introduced to a new generation of baseball fans by virtue of the amount of fan mail that you're getting.
Steve: That's right. I used to get two or three pieces a day, maybe four for a weekend, maybe five or six. And with all these broadcasts of the great games of the past, I think a lot of the millennials are watching it. There's nothing else live. They've got this made for TV golf, and they have the Jordan special, and that was the only thing on. But these games have created an interest in the old guys, and I'm getting 18, 20 pieces of fan mail a day. It keeps me busy for an hour because I always get it, as soon as possible, back to them.
Then I'm doing this program called Cameo, which allows you to do a video for a person or persons—it could be a birthday, it could be an anniversary, it could be Mother's Day, we got Father's Day coming up—a message that you can keep for all time. Christian Taylor and I do them for about a minute, minute and a half. And it's really been a lot of fun. A lot of people will send me a video through…it's called Book Cameo on the app. They'll do a little video about the person they want me to do it for and kind of give me an idea who they are and their virtues, and I'll do it. It's really been a lot of fun. Again, these are the pandemic nuances, so to speak, that come up in our lives. I am quite sure as soon as baseball starts I'm going to drop off back to my two or three pieces of mail a day.
Ed: It's a wonderful story. Let's talk about your prostate cancer experience in 2012. Tell us about how you came to be diagnosed.
Steve: Well, time flies. It's been eight years.
Ed: Oh, my goodness.
Steve: I called you and said, "I had a prostate operation, had to remove, can I help you?" You said you're on the board, and then two minutes later, I was chairman. So you fast-tracked me, so to speak.
Ed: Well, the way you answer your fan mail, that's the way I regard Steve Garvey.
Steve: He wants to help, you're in. But I was…
Ed: No, let me tell the story. I was going to bring it up later. It's a Sunday early afternoon. I come home from mass. My light is blinking on my phone answering machine. Pressed the button, "Hi, it's Steve Garvey." And immediately I'm very alarmed because Steve Garvey has my home number, but I continue. And I listen, "Ed, I just want you to know I just came out of UCLA Medical Center where I was operated on for prostate cancer. My father had prostate cancer…" And then, under these words that became a model, "I'm now ready to become a foot soldier in your army" is what you said. And then our conversations began and you graciously agreed to become our chairman of the board.
Steve: And it's been so rewarding ever since. The number of people we've touched and will continue to touch here are so rewarding in my life, and my whole family. I have two sons and five daughters, but two sons that now realize that they have to take their PSA test because their grandfather had it. Didn't die from it, but had it. And through the grace of God, you know, dads come through it, and we're giving back. That's the family philosophy. But I started to see a spike in my PSA starting in 2011. It wasn't drastic, but it was an inch moving up four-tenths or five-tenths.
Then a wonderful doctor I had, Svetlana Rubakovic, she started out at as our skin doctor but turned out to be more of our GP. She made sure I took my PSAs at least once a year and everything was fine. She said, "We're not fooling around with this." She said, "I'm going to call my friend, Mark Litwin, who is the chair of Urology at UCLA…" And ironically I was and still I am on the board of neurosurgery there and have since obviously, been very involved in urology. But set up an appointment and went to UCLA, and my wonderful wife Candace went with me. And there's all of us men, we sat down with Dr. Mark and Candace's first nine questions.
Ed: Of course.
Steve: His stature, you know, he studied all over the years and I said, "Did I tell you we're going to be in for somebody different?" He said, "No, but she sure is…she asked great questions." He gave us great information, told us the different things that could be done. Obviously, doing a biopsy was the first step. And then took us about an hour and then finally he says, "Do you have any questions?" I said, "Oh, yeah, I have one." I looked at him, and as we ask people, especially doctors, this in our lives, I said, "What would you do?" He looked at me, and little smile and he said, "Steve, I'm 55. I'm at the top of my game. Let's just take it out." Once we actually are determined, you know, the biopsy came back, and then Gleason score was 7. A couple of 7s and an 8. I said, "Well, I like that." In my profession when somebody wants to step up to the plate and then take on that fastball, I got faith in him. So, I said, "Let's do it." About 10 days to two weeks later, I went in and my prostate was enlarged about the size of a baseball which is not good.
Ed: How appropriate.
Steve: How appropriate. I checked the stitches by the way. It took extra time, about an hour and 20 minutes longer than usual or 30 minutes because Candace was worried. But he sent one of his assistants out to say, "We're just spending more time, we're checking the whole area to make sure, and looking for any dark spots." So, he closed me up and he actually did a beautiful, almost plastic surgery job, you know, and made it a little tighter. I told him "When you're in there, could you give me a size less in my pants to make me look good?" So he came in, of course after the operation, and he said, "I'm very confident. The whole area looks good. We'll send you home tomorrow." He said, "I want you to take a test in maybe two months." I took that, came back point one negative.
From that point on, I've tested a few times, and you never…you always wonder…It's not going to hurt. It doesn't hurt to do that. I've always been the same. So then our journey started, and the evolution over the last eight years of new studies and new ways to address prostate cancer has been part of our lives, and the message we keep selling. And that's for men to be responsible, to take your test, to address the test when it looks like there's a possibility you may have prostate cancer, and be proactive. And when you do that, and you and I know, we've always talked about and we have Testosterone, there's a tendency to delay things, to put them off. "Oh, I'll deal with later," solving world problems. "I'll get to that." Somebody said, "Yeah, I'll probably will die with it if I'm old enough."
And we've learned to address those issues to get men talking. You and I, from the beginning have said that. We're an awareness foundation and our big goal is to get men who are addressing prostate cancer to talk and to share. Of course, the hundreds of stories of people coming up to you and tens of stories of me at airports and games, men coming up and saying, "I've got prostate cancer, can I call you or talk to you?" And some games I've just said, "Come on, come sit over here with me." I've been in the Dugout Club and I said, "How can I help you?" Sometimes it may just be words of encouragement.
Ed: We're with Steve Garvey and delighted to have him on our Stay in the Game podcast. You bring up such a very important point. We've started, at Fans for the Cure, another podcast of an online support group to get men to talk because you know better than anybody, spreading our message that men famously choose to fight their medical battles alone, especially when the area in question is the prostate. And you constantly are telling men why they need to reach out.
Steve: Well, you know, Ed, we are dealing with that. It's not just the possibility of the cancer and possibility of ending our lives. Men are challenged by their own sexual prowess. Will I still be able to have sex? Will I still be able to perform? And probably half the time they don't know how to actually say it, and I'll just say it for them. "You're concerned about this, aren't you?" "Yeah." I say, "Well, there are many different ways that that can be addressed. The first thing is let's keep you alive. Let's get this thing." We know that the cancer with the highest degree of success is with early detection. That's why if there is any question as to higher score, how you're feeling, etc, then just go ahead and address it. The odds are you're going to be good.
Ed: Back to Candace for a moment, you've been outspoken about Candace's positive influence on your recovery. You just said she asked the first nine questions of Mark Litwin. And the importance of men involving their partners in their prostate cancer journeys, which you underscore all the time that you talk about the disease.
Steve: Well, women come down with breast cancer and they call their girlfriends, and the girlfriends meet the next day over coffee or frappuccinos, and all of a sudden they've got a walk to raise awareness and they're calling the individual's doctor, and they're sharing their stories. Where men, like we said before, we have a tendency to kind of step back. "How was your blood test?" "Oh, fine." Not even mentioning that there's been a spike and they need to get some help. So, disclosure is so important. And why not disclose it to the one person that probably you're going to be the closest to and the most intimate with? And that's your wife or your significant other.
When I speak at cancer dinners, I open up and a lot of people know who I am. People that don't, I give them a little background, talk about why I'm there, and what I've gone through. And then I say, "And for those significant others in the audience tonight, for you wives or grandmothers or girlfriends, take a look at that man that you love. And for the sake of a blood test, he might not be next to you next year." Of course, that sets the women off. Usually, there's tears and it's a two towel night, you know, we call it, but you got to address the reality.
You and I know it, and almost all my male friends that are married, we're just here to serve. So, once the wife gets involved, I use this term loosely, but hell breaks loose, and now you're on that track to getting your doctor's appointment, your biopsy. If you need to have a procedure, that's going to happen sooner rather than later. As is most of life, partnerships, and I always talk about the number one team in our life and that's our family, we're in this together. I'll also say to men, "Don't be selfish. You have responsibilities. You have the love of your life, and your children, and family, and friends, and your co-workers. Don't be selfish about this. Step up to the plate and address it. If you don't care that much about yourself, do it for other people."
I think when you say that, it triggers that little voice in all of our heads. Be responsible. Do the responsible thing. Once you take that first step and get the support, and ask for support, inevitably, if you're going to be successful a vast majority of time.
Ed: We're mindful of, and you remind me of that moment at our fundraising gala in 2017 when we invited a woman named Karen Goldman Schaffer to the stage and she talked about her husband's 10 year battle with prostate cancer, which unfortunately ended in his passing. But she said famously to our audience of 400 people that night, Steve, "When John got prostate cancer, I got prostate cancer." And that really underscores what you just said.
Steve: Absolutely. It was very moving that night. It was so well said. A 10-year battle as you know, Ed is a long time to fight prostate cancer. That's heroism right there. I mean, dealing with cancer like ours, like prostate cancer, knowing that you're important in other people's lives, and not giving up, and continuing to battle it using every resource you possibly can is what life is all about. When I speak, I always say life is God's gift to us; what we do with it is our gift to Him—by fighting and never giving up, by setting an example for other people about how easy it is to just walk away or just to go gently, and not so gently with prostate cancer into the good night, so to speak.
But our message in Fans for the Cure—and there are other prostate cancer foundations and they do great works and they're a little different than ours. A lot of them are more into research and significant fundraising for different studies—but as I have always said, we are truly grassroots. And it's like anything. It's the education, it's the constant prodding of men to step forward and be accountable that makes it all rewarding. How many times a year do we come across people with prostate cancer and they become survivors? I mean, it's significant.
Ed: Very. To that point, at what point along the way, in either your treatment or your recovery, did you decide you wanted to put yourself out there as an advocate for prostate cancer awareness and education?
Steve: The first time I actually addressed the idea of getting involved with charities was 1974. I was 24 at the time. I had won an MVP. We had gone to the World Series against the A's. I had won the All-Star MVP. I was a writing candidate at over a million votes. It was wonderful.
Ed: And it never happened before or since?
Steve: Yeah, it was the first time, and probably never going to happen.
Ed: Or since.
Steve: Yeah.
Ed: It probably never will.
Steve: It's one of those very blessed few years that really kick-started my career. Then I had a big dinner for M.S. at the Century Cross [SP] in Los Angeles and 10 of us from 10 different sports were honored. The big honoree I think was Arnold Palmer at that time. You know, the education in a big annual dinner like that. So I said to the LA director afterwards, I said, "I'd love to help. I'd love to get involved." Of course, they said, "Wow, anything you can do?" I said, "What can I do? Anything." So I started a little tennis tournament. About six weeks later, we shot. I got some celebrities to play at a tennis club in Woodland Hills, California and we raised $3,000 on a Saturday. And within 10 years, we're raising almost a half a million dollars, and it has grown to a two-day celebrity event, so pre-ESPN. We had a 10k race with Pepsi with 3,000 runners and I had a racquetball tournament, and I had a full-time staff.
But that one step into M.S. led to ALS Lou Gehrig's disease and a number of other charities. And then things come close to home; I have one daughter that's diabetic. And all of a sudden, you know, I'd never really addressed a serious issue with my own body until prostate cancer, which I said before, Garvey family philosophy is making difference in other people's lives, give back, get involved. Nancy Reagan's Just Say No Foundation, helped her for several years with that. I've been honored because of what I've achieved on the field, to be able to take that visibility off the field, and I think make a difference in a number of different areas and charities, especially with our Fans for the Cure.
Ed: Well, you've given so much to so many people, but here now, you're the one who's diagnosed with prostate cancer. And in its earlier stages, there are no symptoms, something you and I both experienced. It seems to me that without hesitation, you decided, "You know what, I got to get out there and tell men they need to get screened because there's an almost 99% cure rate if it's detected early, as we've come to find out later."
Steve: Dr. Litwin was obviously an inspiration for us. His stature is very renowned, and the way he explained it, and the education, he gave Candace and I and then our family. And then when we started to talk, okay, you know I've got I've gone through it. I've seen the light at the end of the tunnel so to speak, and I'm going to make it and to get on my knees and thank God because we didn't do none of this by ourselves." You mentioned before, "what do you miss in this pandemic?" We miss church, miss going into God's house.
And then to think, "Okay, now what should I do?" And I decided to give you a call, and do whatever you wanted me to do. And then the collaboration with the people that we've been able to add over the years, each and every one special to us. Donating to a charity with your time and your personal commitment is a great gift. You can do dollars and cents and you can donate items for auctions and all that, but the precious time that people donate is something that's always been very special to us. Anybody and everybody, and of course, you had started this long before I got here is somebody that we will always thank and always feel that they've been a part of our movement towards better awareness.
Ed: Looking back now, what is the most important piece of advice, Steve that you received from either a doctor like Mark Litwin or even a layman once you were diagnosed?
Steve: Don't let it linger. Stay on top of it. I think that's what happens a lot of times. People let it drift away, and then they reel it back in, and then something happens, and then that's another couple of months, and all of a sudden it's spread. Where if they just would have addressed it right at the forefront, they would have had that lingering long-term problem of prostate cancer in its development stages as time goes on. So then like everything, you know, as human beings have a tendency sometimes to procrastinate, have a tendency to say, "Oh, I'll get to it tomorrow" or whatever it may be, but in reality in life and you'll learn this, we try to tell the kids all the time, just get up and do it. Pick up the phone and call. Go outside and do what needs to be done. Get up in the morning and make your bed. Don't wait until later. All these things get us going, get momentum building, get adrenaline flowing. And in the long run, it turns out for the best when we do that.
Ed: When you and I talk about prostate cancer awareness, we're really talking about education. They go hand in hand. And knowing where to go for answers, so important. In your experience, what are the two or three things men need to know about prostate cancer, do you think?
Steve: If there's been prostate cancer in your family, if it's your grandfather, or maybe your father had it, uncles, cousins, and you know something about it, it should be the beginning of the acquisition of knowledge. You think about it, this is a men's only disease. It's specific to us, men. So if there has been a history, it's important to think back and hopefully, there's some fundamental knowledge. The second thing is to understand that you've got to get in the game and you get in the game by keeping score and you keep score by taking your PSA test. That's so very important.
I think when we talked to men and we put it that way to them, all men like to play games. They like to win. This is a case where it's very important to win. So if that prostate cancer test and you start to see that score rise, maybe it's a year after your last one, maybe it's six months, whatever it may be, it's time to know that if the score goes up another notch, it's time to get serious about it. Then, it's not to linger. Once your doctor or whoever determines that there is enough movement in your prostate score that you need to address it, it's to get to a urologist or a doctor that can give you good solid information, and do it quickly. So there are always steps and the answer of a question. And this one I think it's to number one get in the game, number two, when the score starts to arise is when you have to be proactive. And then if there is a determination, a need for a biopsy or surgery or whoever it may be, is to do it as soon as possible.
Ed: Is it fair to say…I'm putting words in your mouth. Forgive me for doing that. But are you dubious about what one may find on the internet?
Steve: Yeah, I think the internet is both a savior and it could be a disaster for any amount of knowledge that you may need, whatever it may be because you never can quite trust it. I think I'm a cautious person. I think I do my diligence. I think I do my background on things. It takes me a while to come to a conclusion because I never assume the first thing that's told me is the true answer. And sometimes it's by a very knowledgeable person, but it's always good to get a second opinion or from the internet, from the cloud to a book or to a human being that's knowledgeable in that area.
Ed: And Fansforthecure.org with reliable information. Tons of it.
Steve: You put words in my mouth. I was to say I had gotten a third base, and there you go.
Ed: I'm sorry. I know. I had you slide into third when you were going round third and hit for home. I'm waving to your home, Stevie.
Steve: Well, the old days, I was about ready to run over Carter or Bench, one of those guys. The heck with those fade away slides. But that's party coming in a home too is being aggressive with each one of those steps. And our information site is as good as any. I think as much as anything, if you read it and take your time, it's also comforting to know that we have answers. They may not be immediate, but they are answers in that, again, early detection means that there's a significant high degree of success.
Ed: And we have access to three dozen of the leading cancer doctors in this country that we make available to those who come to us, including, of course, the great Dr. Mark Litwin at UCLA, who has his own Steve Garvey jersey. I've seen it when he threw at a first pitch at Dodger Stadium. Some baseball before you go.
Steve: And you know what? Just like a typical millennial pitcher, he bounced it.
Ed: I know. What a disgrace he was! That was horrible.
Steve: I said, "Look at you. You could have thrown a strike, you bounced it." I said, "What were you doing?" And I looked at him and he said, "I thought the guy is striker and swing at it anyway."
Ed: For those who weren't there that night, because I had the great good fortune and the honor of also throwing at a first pitch simultaneously, and we're walking towards the mound from home plate, and the Dodgers PA announcer, "And now to throw at the first pitch," like the great John Ramsey back in the day. And I'm walking out and I had asked Jimmy Rollins if he would catch me, and he said that he would. And so I'm walking out and I'm like, "You know what, I'm going to lessen my chances of being a disgrace to my sex by bouncing it." And like I said, I threw it to Jimmy Rollins from 35, 40 feet.
Steve: You know, I told you. You guys are starting to walk to the mound and "No, no. Hey, Come back here." Everybody gets to that mound and they do that thing where they look like they're looking into the horizon on a Good Ship Lollipop. Because it looks like it's 100 feet away.
Ed: Right. I know. It was good and Jimmy was kind enough to catch my pitch. What a joy and honor to be in the presence of Dr. Litwin. Before you go, tell the story of September 1st, 1969 at Dodger Stadium in your first major league at bat.
Steve: Oh, gosh, I could give you the long version. I'm going to give you the…
Ed: I got some other questions for you so whatever you can to move it up.
Steve: I'll shorten it up.
Ed: Move it up. Come on, move it up.
Steve: I had signed in 68. 69, I'm playing half a year in Albuquerque because I had in my contract to finish up spring term at Michigan State. So I have a good Texas league. They call me up with Valentine, Buckner and I think Paciorek. September 1st 1969, the Mets are playing the Dodgers on a Sunday and I fly in, had a great batting practice. I found out that the clubhouse man who I'd known when I was young boy had given me the number six which was Farrell's number. The game goes on and the mighty Mets are beating us 3-0 going into the bottom of the eighth inning, and Jack DiLauro's pitching little lefty, they brought him in. One out, Walter Alston looks at me and say, "You're ready, kid? I say, "Yes sir." I grabbed a brand new helmet and a brand new bat, brand new FootJoy golf glove I had in my back pocket. They were just starting to use gloves then. So I get up, nobody's on. He throws me a little trick fastball inside, I turned on it. Just miss the foul pole by about 10 feet.
Ed: Oh, man.
Steve: So typical lefty comes back with that little tailing fastball, so I square up and miss the right field foul pole by about five feet around the second deck. And I'm feeling pretty good about myself. Two pitches, just missed two home runs. So I get back in the batter's box, I hit 370 and 19 home runs in 70 games. I had great summer. And he winds up and I'm looking for old cutter somewhere and I see this ball that literally unravels, and it's the screwball. I've never seen a screwball before. I'm out of my front foot, and it goes away from me and I take this swing, and I'm fully extended, the bat comes out of my hands, and goes over – who was it? Wayne Garrett, the third baseman for the Mets, and literally javelins in the grass in short left field. And then three pitches, two almost home runs, and one of the worst looking swings since the inception of the game in 1869.
I walked back and I'm not feeling too bad. I mean, I took my stats for that, they're on the top of the steps with overalls. And he said, "Welcome, kid. That was quite an auspicious start. First of all, you just missed a couple home runs. Second of all, you set a Dodger Stadium record for keeping a bat fair." It had to be 115 feet. He looked at me, smiled and he said, "You'll probably end up with a couple of thousand hits when it's all said and done." He said, "We'll give you another shot in Houston."
Two days later, against Denny Lemaster, I double on the left field at the Astrodome, and that kind of kick started my career. But it was an auspicious start. I called home, my parents said, "How'd you do we? We picked you up on – I don't know what the station was at a New York" but they were down for it. They said, "It look like you really hit the ball pretty well." I said, "Yeah, except for the third one." But I've been blessed that I played almost 19 years in the major leagues and great teams and World Series and All-Star games, and learned a lot about life and people and the national pastime. And to be able to take those experiences and to share them in life now, I'm pretty blessed.
Ed: Well, maybe the biggest hit of the career was as a member of the San Diego Padres, the famous home run off of Lee Arthur Smith, which postponed by 32 years the Cubs opportunity to win a World Championship. But you have followed a masterpiece of a baseball career with a life after baseball that's all about helping others and motivating them to be their best selves.
Steve: Life is God's gift to us. What we do with it is our gift to Him, and if we can make a difference in life. I say that to myself every day, both as a man, and as a husband, and a father, and as a friend, somebody in our society, hopefully, somebody who loves his country, that's where the satisfaction comes in. I'm 71 now. Every morning I get up and look in the mirror and go, "Who is this old guy?" But life is an accrual of knowledge and understanding. I'm just thankful that, in my life, I've been able to develop friendships with people like you, and all the people that work with us at Fans for the Cure, and all the other prostate cancer foundation societies to make a difference in this one area. But in life, if we can do one thing that saves a life, we're going to do it.
Ed: As we like to say, we save one life, we're batting a thousand.
Steve: Absolute.
Ed: Steve, great, thanks for all that you have done for our charity and best wishes to you and your wonderful family.
Steve: Thanks so much, Eddie. Been a pleasure. Semper Fi.
Ed: Everybody, thank you for tuning into our Stay in the Game podcast from Fans for the Cure.
***
Thanks for listening to the show. You can find program notes and a full transcript at the charity's website, fansforthecure.org. Be sure to subscribe to our podcast in iTunes, Spotify, Stitcher, and everywhere good podcasts are available. And if you like what you heard, a positive review on iTunes will help other people also find our show.