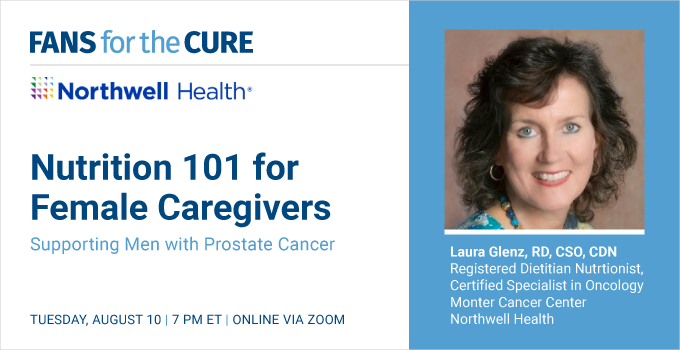 Fans for the Cure is pleased to announce that our Online Women's Support Group will welcome Laura Glenz, RD, CSO, CDN to its regularly scheduled meeting on the evening of August 10 at 7 PM ET.
Ms. Glenz is a registered dietitian nutritionist, as well as a Certified Specialist in Oncology at Northwell Health Center for Advanced Medicine, Monter Cancer Center, based in New Hyde Park, New York. She will present to the women of the group about diet and the nutritional needs of women and, specifically, those of female caregivers.
With the input of our Women's Support Group, we have come to appreciate that the wives and partners of men with prostate cancer often feel overwhelmed by confusing information as they attempt to manage the nutritional component of their lives. They also tell us that they need guidance on identifying supplements that provide genuine value to their health. And several women simply wanted to know how to organize menus that help them deal with the added stress of being a caregiver for a loved one. Ms. Glenz's presentation to the women of our caregivers' group will be followed by a Q&A.
We thank Laura Glenz and our friends at Northwell Health for making this special evening possible.
Register to Attend
Attendance at this learning opportunity is free and open to all women. Registration is required, and space is limited, so please signup now to make sure that you can attend.