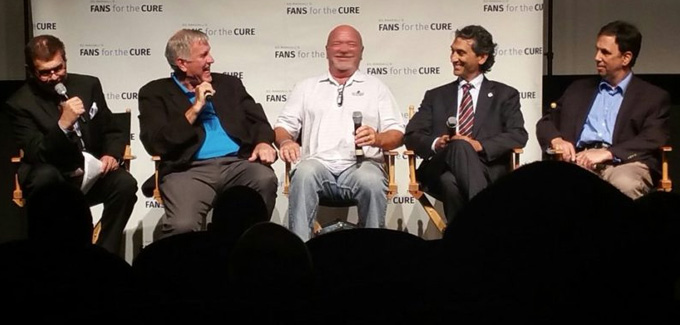 November is Men's Health Awareness Month, and at Fans for the Cure, we have big plans for raising awareness about prostate cancer. For the entire month of November, or Movember as it's come to be known, we are going to be intensely focused on making sure that men across the USA – and their communities – learn about prostate cancer, and that they learn about how and when they, as individuals, should consider getting tested for prostate cancer. We'll be active on social media and we'll be sharing lots of content on our website.
What We'll Do for Movember
We have some big plans for the month. What follows below is a brief overview of what we're doing. Yet, you'll definitely want to follow us on Twitter, like us on Facebook or sign-up for our mailing list because we are also planning a few exciting surprises.
Share Medically Sound Articles about Prostate Cancer Testing, Treatment and Prevention
At Fans for the Cure, we keep ourselves informed about the latest medical developments and trends in the testing for and treatment of prostate cancer. Over the course of November, we'll be sharing loads of links and recaps of important, up-to-date and science-based articles about prostate cancer, prostate cancer testing and prostate cancer treatment.
Raise Awareness on Social Media
We'll be tweeting and updating our Facebook page a lot. We'll share information, we'll ask you to share details of how you're marking Movember and we'll adding our voice to the many others trying to make a significant impact this November.
Hold Seminars and Events to Share Information about Prostate Cancer
In our experience, the most effective way for us to help men and their communities learn about prostate cancer is to get directly in front of them. We do that by holding seminars and similar events at hospitals and medical facilities, often with support from our partners and Medical Advisory Team. In November, we already have one event scheduled for November 15 – Messages of Hope: Where Are We Heading in Prostate Cancer Research, Treatment and Prevention? – and we're currently working to schedule more.
If you are interested in bringing us to your community, please get in touch with us. We'd love to hear from you.
What You Can Do in Movember
We know that raising awareness about prostate cancer is big task. We know that we need your help to spread valuable, reliable information about prostate cancer, testing and treatment. We are sharing a few ideas about how you can actively support our work:
Learn about prostate cancer: Attend one of our seminars or events.
Tell others about prostate cancer testing and treatment: Share links to our website, connect and engage with us on Twitter and Facebook.
Let us know what you're doing to raise awareness about men's health: Tweet your updates, photos and messages to us.
Contribute to our cause: Give a one-time or recurring donation of any amount to support our work month-in and month-out.
Shop on AmazonSmile: Select Fans for the Cure as your charity of choice and then make all of your Amazon purchases through smile.amazon.com.
Together with your help, we can make real strides this month in raising awareness about prostate cancer, testing and treatment.