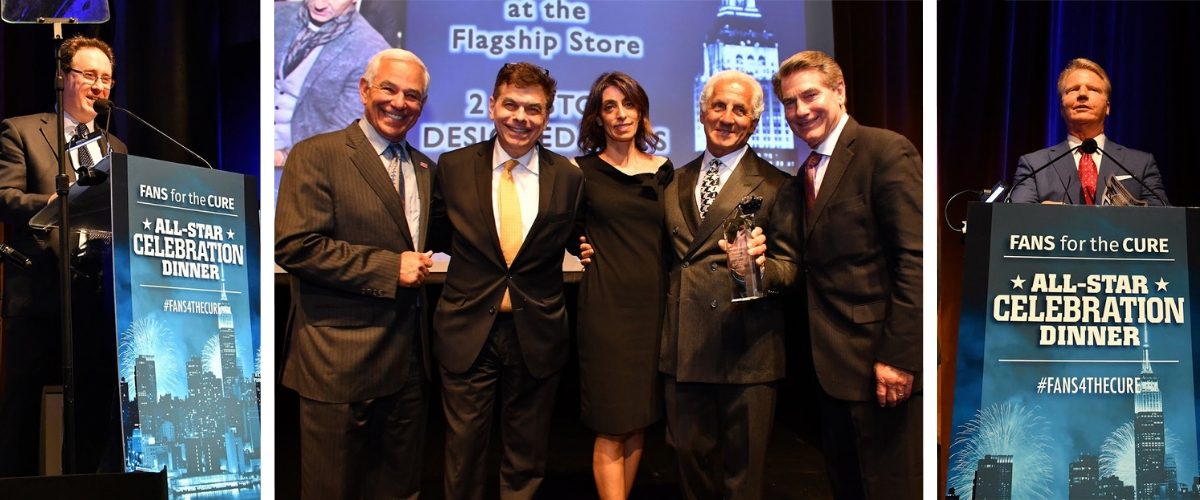 More than 300 men and women from a broad community of medical, sports, fashion, and business organizations gathered on June 11 to pay tribute to Chief Creative Director for Tailored Brands Joseph Abboud, NewYork-Presbyterian/Columbia Urologist-in-Chief Dr. James McKiernan, and Super Bowl XXI MVP and THE NFL TODAY Analyst Phil Simms, during the FANS for the CURE All-Star Celebration Dinner at the Edison Ballroom in New York City.
Abboud, McKiernan, and Simms received the nonprofit organization's Fan for Life Award in recognition of their impressive talents, professional accomplishments, and philanthropic efforts, including their efforts on behalf of Fans for the Cure.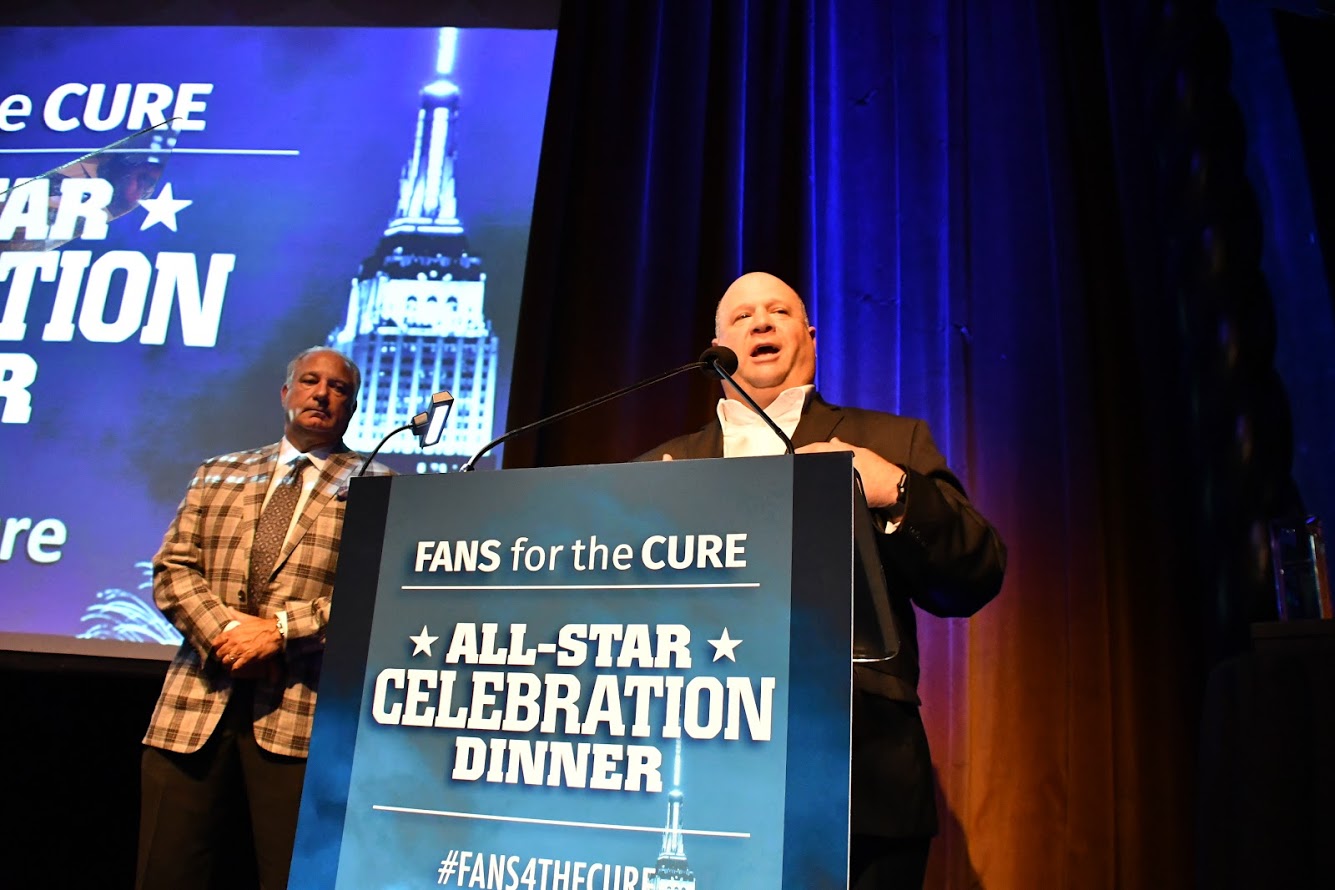 The dinner, which was co-chaired by David Bagatelle, financial executive and member of the FFTC board of directors, and Frank Vuono, Partner of 16W Marketing, included a special invocation from His Eminence Timothy Cardinal Dolan.
"Even though tonight promises to be an enjoyable evening, let's not forget the important reason you've all come together – namely, to raise awareness about prostate cancer and to encourage men to get tested and to support finding a cure," said Cardinal Dolan. "I know I get the test every year, thanks to Ed's [FFTC Founder and CEO Ed Randall] encouragement, and I urge all the priests in our diocese to do the same."
Bobby Valentine, who played for the Dodgers, Mets, Angels, and Mariners and also managed several teams, including Joseph Abboud's beloved Boston Red Sox, presented the Fan for Life Award to the esteemed menswear designer. He also doubled as auctioneer for a fun-filled and vibrant live auction that included three custom Abboud suits and NY Giants #11 jersey autographed and personalized by Phil Simms, with a photo of the signing.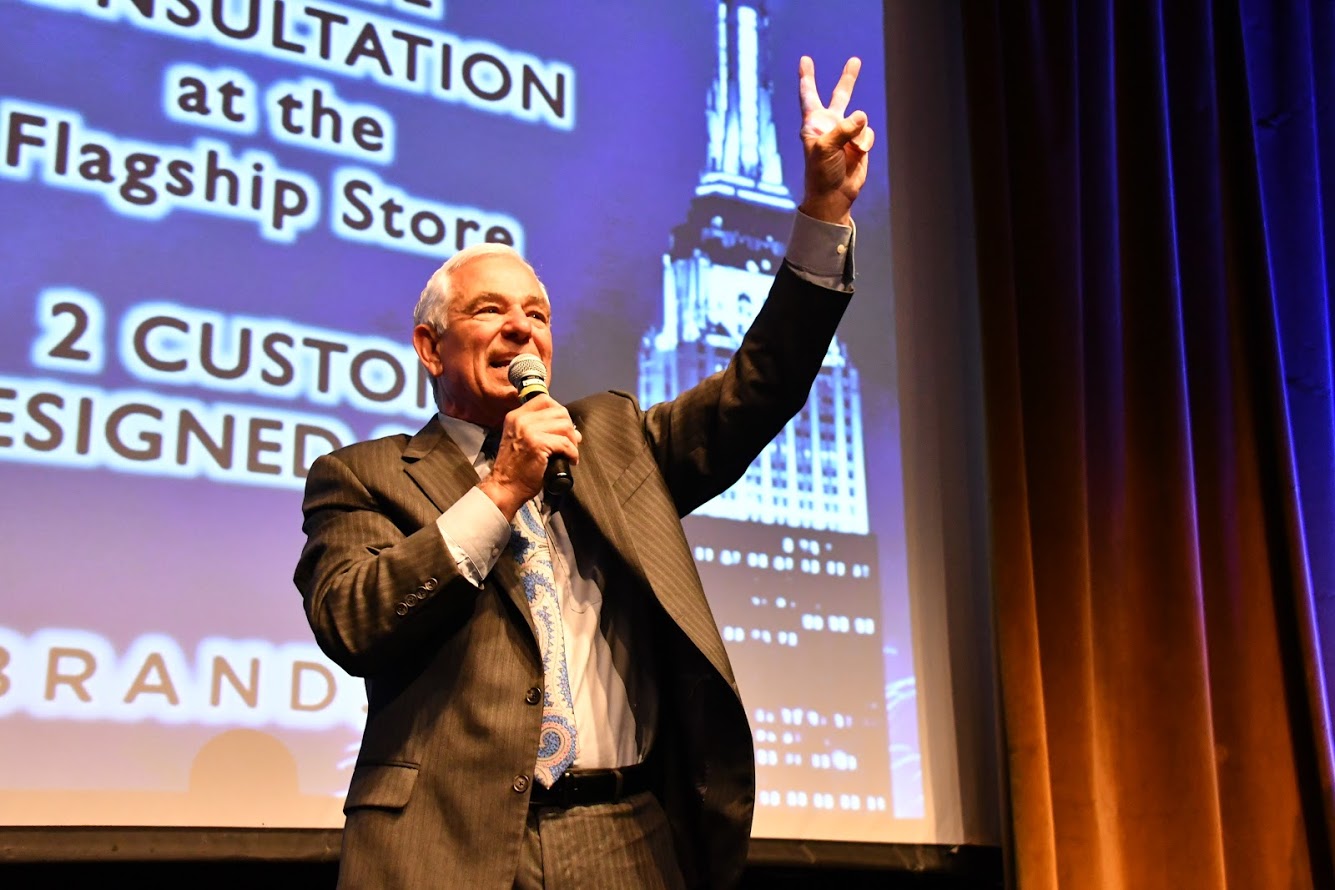 Valentine's energetic performance was matched by a lively discussion led by Fan for Life Award recipient Phil Simms with '86 Super Bowl Giants Jim Burt, Howard Cross, and Karl Nelson. Simms and his former teammates reminisced about their championship season and head coach Bill Parcells, including their dousing of Parcells with Gatorade at the end of the Super Bowl, which led to a Super Bowl tradition.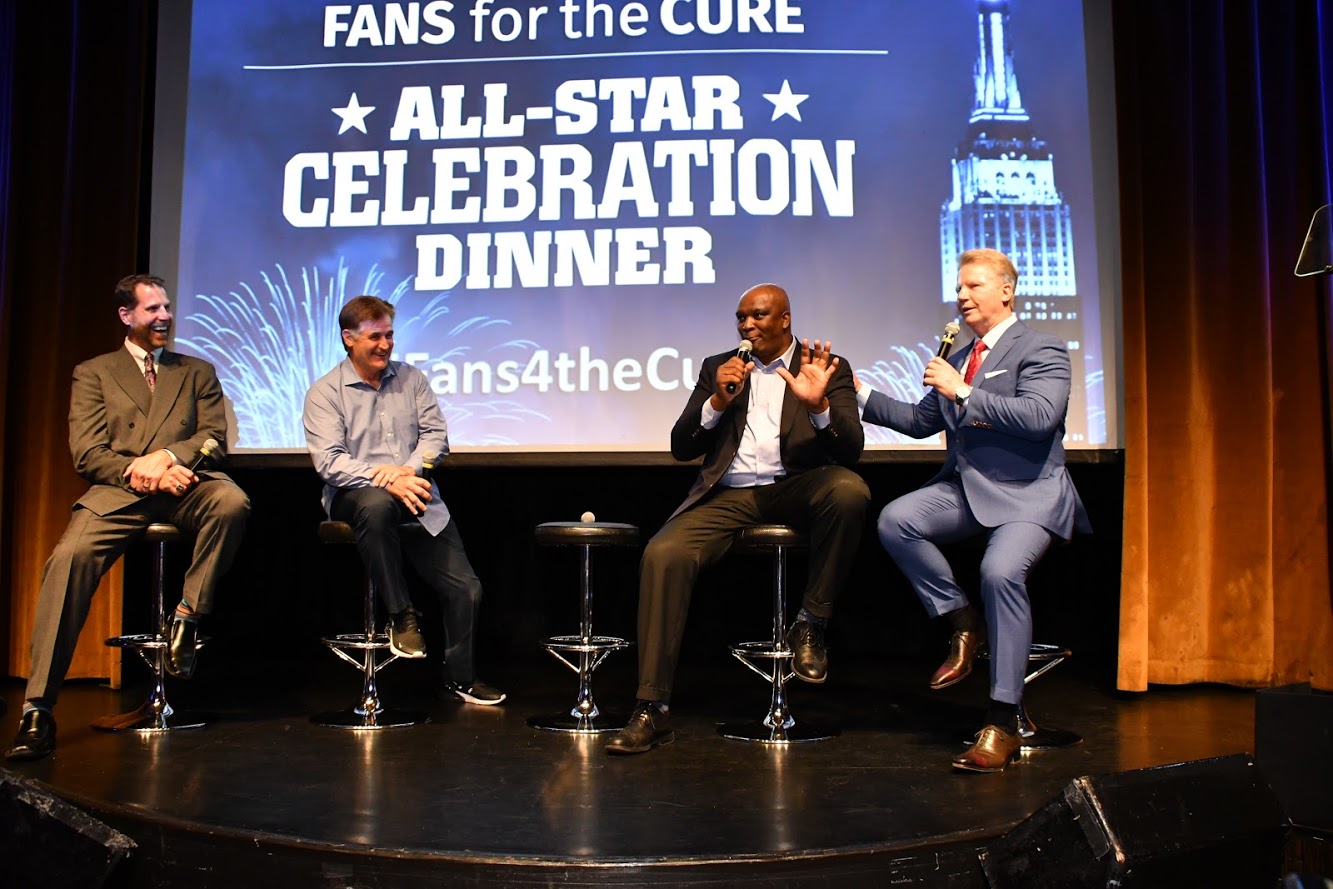 While exciting and entertaining, the event also had a serious side – to raise awareness about a disease that will strike one in nine American men in their lifetimes. The point was emphasized when Fans for the Cure Executive Director Laura Gallo asked guests to stand and pick up the walnut in front of their dinner plates. She first pointed out that the prostate is the size of a walnut and then asked everyone to sit down except for the men at the table who had a walnut painted blue. "Look around the room," she said of the men still standing. "That's why we're all here tonight."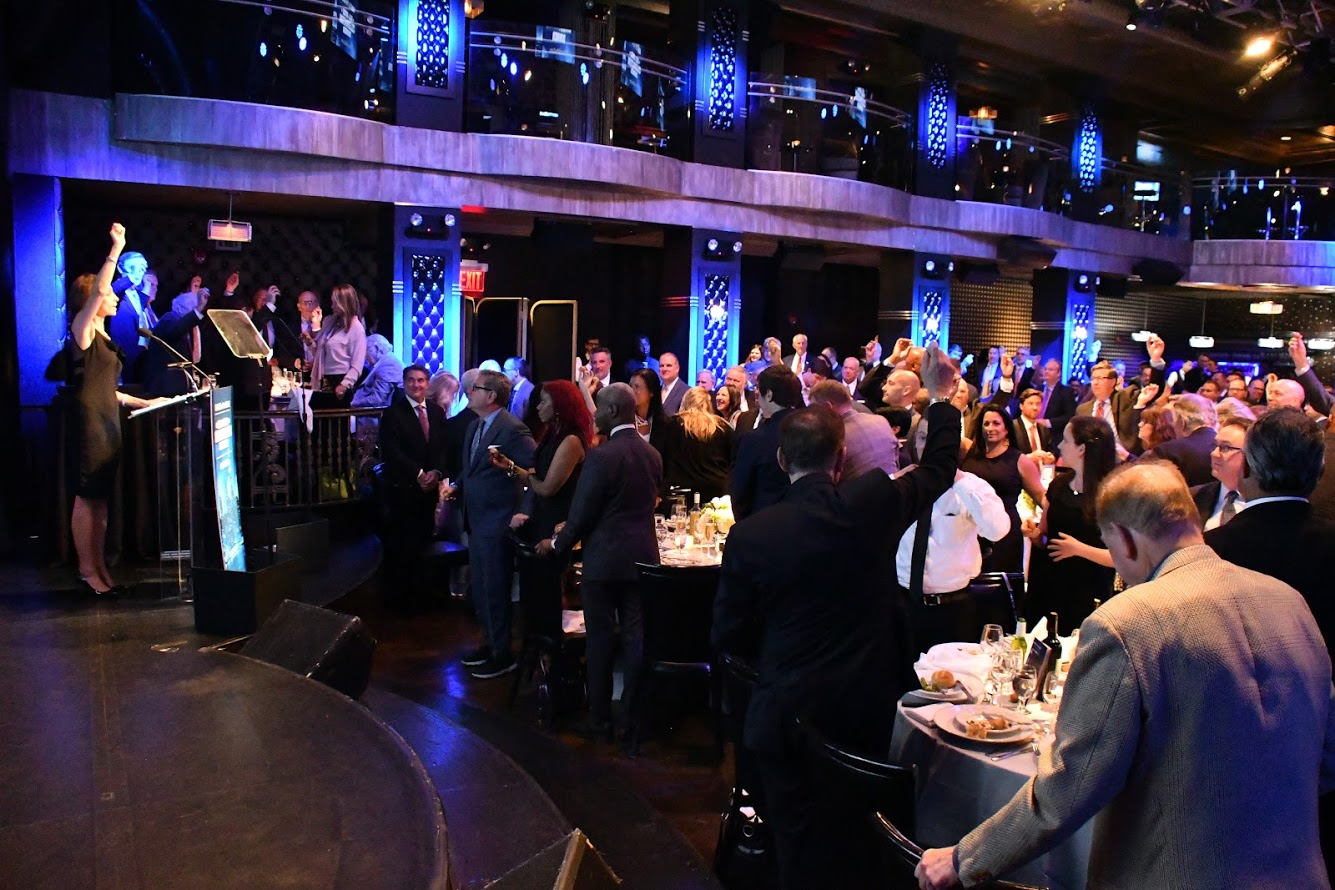 The message was made more personal and poignant by stories shared throughout the evening. First, Fans for the Cure CEO and founder Ed Randall, a longtime New York radio and TV sports reporter, recounted how he was diagnosed with prostate cancer in 1999 at the age of 47, saying "a simple PSA [prostate-specific antigen] blood test can save lives."
1974 National League MVP, 10-time All-Star, and Legend of Dodger Baseball, Fans for the Cure Chairman Steve Garvey then shared his personal story about undergoing a radical prostatectomy after being diagnosed five years ago when his prostate had swelled to the size of a baseball. He credited his wife Candace, who also attended the event, for her strength and support during his prostate cancer journey. He explained that his experience motivated him to be a "disciple for other men" and spread the word. Although many people think the disease is slow-growing and doesn't need to be addressed, Garvey countered, that's not true. "People say you'll die with it. No, you'll die from it," he said.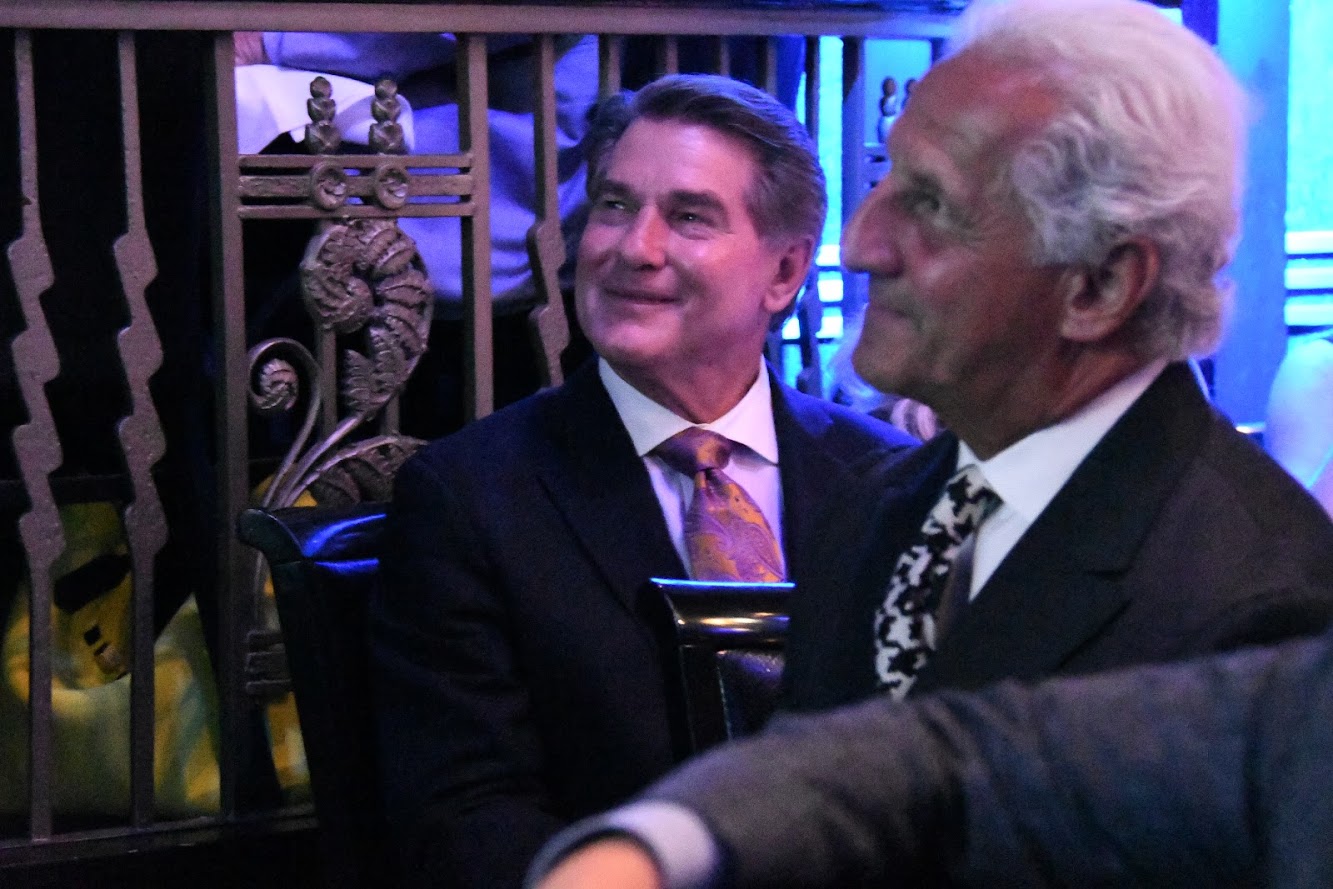 In accepting his Fan for Life Award, Abboud shared special memories of his father Joe Abboud, also a diehard Red Sox fan. The elder Abboud died right before his son was getting ready to be the first person in the family to graduate from college. "The cause of death? Bone cancer stemming from prostate cancer. He was 60 years old."
Dr. James McKiernan, who has played in instrumental role in working with FFTC to deliver free prostate cancer screenings to baseball fans at Yankee Stadium over the past eight years, thanked the faculty from the departments of urology at Columbia University and Cornell University and the staff at NewYork-Presbyterian Hospital for all they do throughout the year to spread the message about prostate cancer awareness and help treat patients with prostate cancer. "I'm proud to be a member of your team," said McKiernan.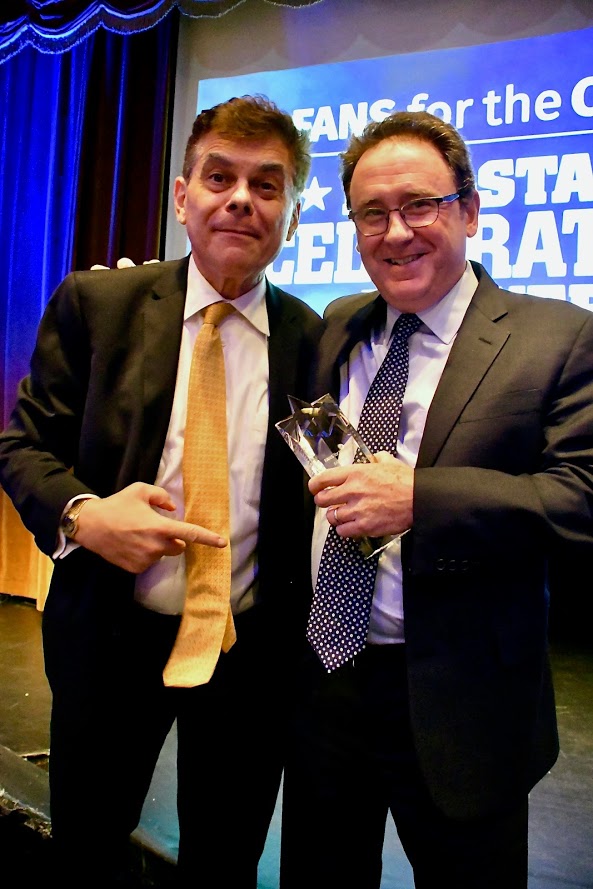 With a nod to fellow Fan for Life Award recipient Phil Simms, McKiernan then related sports statistics to prostate cancer. "Imagine, for a moment, a quarterback who enters a game and completes 88% of his passes. Now, imagine that quarterback played in New York City and the game was the Super Bowl. What do you think would happen to the quarterback? He would probably be named the most valuable player of the Super Bowl."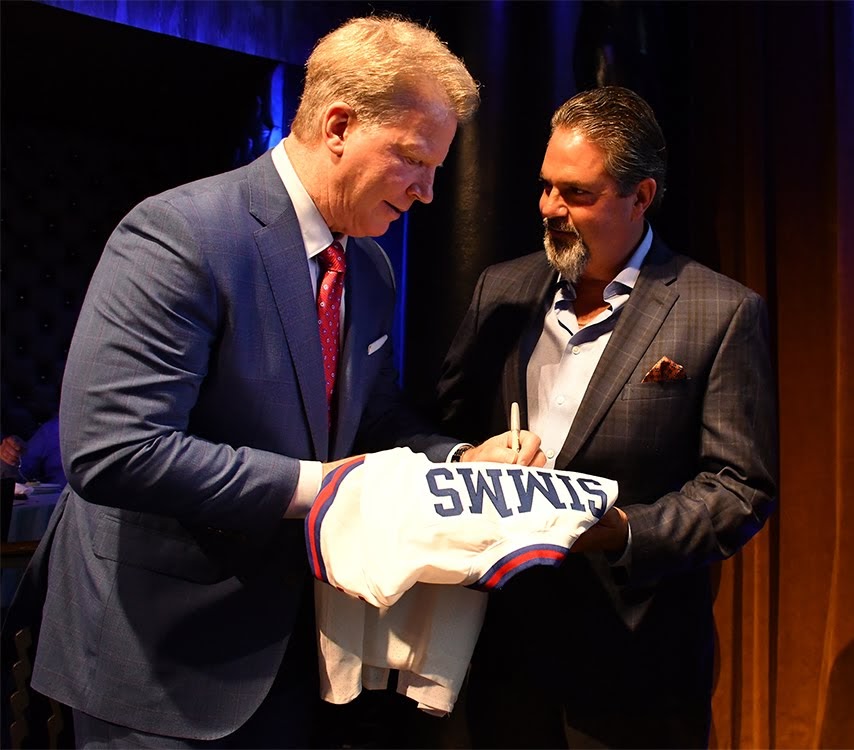 He continued, "It just so happens that 88% is roughly the cure rate for a man diagnosed with prostate cancer, if it's caught in the earliest stages. The doctors on our team want to be able to achieve success rates as high as 88%, but we can only do that if our patients come to us early enough to be diagnosed at stage one or stage two. When a patient is diagnosed with prostate cancer at stage four, the cure rate is 0%"
Fans for the Cure hopes that, armed with the stories and insights shared throughout the night, every guest went home feeling more informed and motivated to join the fight against prostate cancer.
Fans for the Cure thanks all of the event's table sponsors, with special recognition to our major sponsors, the National Football League Foundation, NewYork-Presbyterian, New York Football Giants, Mazars USA LLP, Tailored Brands, Joseph Abboud, and Joe Maddon Respect 90 Foundation.