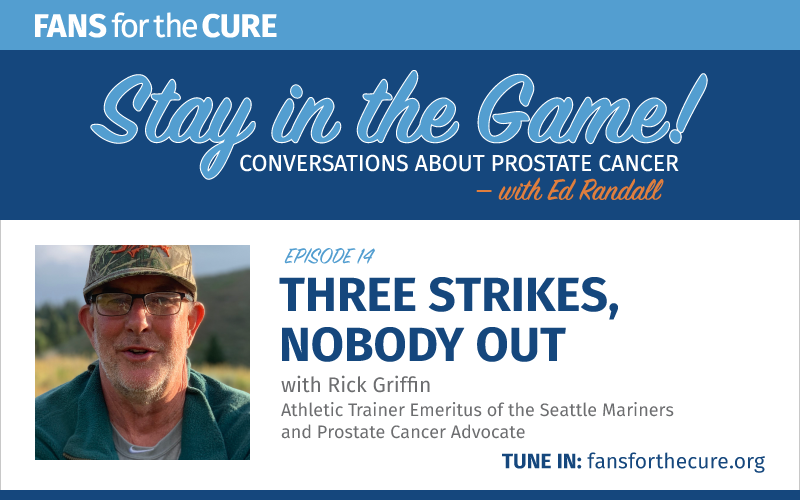 Podcast: Play in new window | Download
Subscribe: Apple Podcasts | Spotify | RSS
For 35 years, Rick Griffin served as the head athletic trainer of the Seattle Mariners, working nearly 6,000 regular season games and 34 postseason games. A naturally healthy guy who never missed a day of work for sickness, Rick was diagnosed and treated for prostate cancer twice – while his wife underwent treatment for breast cancer at the same time. Rick is now a prostate cancer advocate for the Fred Hutchinson Cancer Research Center in Seattle.
Program Notes
Episode Transcript
Welcome to Stay in the Game: Conversations about prostate Cancer with Ed Randall. Here we'll chat with doctors, researchers, medical professionals, survivors, and others to share and connect. This show was produced and shared by Fans for the Cure, a non-profit dedicated to serving men on their journeys through prostate cancer.
---
The Stay in the Game podcast is sponsored by Cancer Health – online at cancerhealth.com.
Cancer Health empowers people living with prostate cancer and other cancers to actively manage and advocate for their care and improve their overall health. Launched in 2017, cancerhealth.com provides accessible information about treatment and quality of life for people with cancer and their loved ones, along with information about cancer prevention and health policy.
---
[Full podcast transcript will be posted as soon as it is available.]
Thanks for listening to the show. You can find program notes and a full transcript at the charity's website, fansforthecure.org. Be sure to subscribe to our podcast in iTunes, Spotify, Stitcher, and everywhere good podcasts are available. And if you like what you heard, a positive review on iTunes will help other people also find our show.
Ed Randall: Hi, everybody. I'm Ed Randall, the founder and chief advocacy officer of Fans for the Cure. Welcome to our Stay in the Game Podcast. Our second season of our Stay in the Game Podcast continues with a guest who is a prostate cancer advocate for the Fred Hutchinson Cancer Research Center in Seattle. It was an appearance in a TV commercial for Fred Hutch during a Seattle Mariners and Boston Red Sox game that first brought our guests and his compelling story to our retention.
For 35 years, he served as the head athletic trainer of the Mariners, working nearly 6,000 regular season games and 34 postseason games. He goes back far enough with the Mariners to rub down the pitching armor Hall of Famer Gaylord Perry, who turns 83 in September. We'll ask him if he used absorbing senior on him. Here he is, the trainer emeritus of the Seattle Mariners, Rick Griffin. Rick, welcome to our Stay in the Game Podcast.
Before we talk about prostate cancer, I want to go back to something I discovered in the Seattle Mariners Press Guide. And that is you spent four years in the minor leagues with the Eugene Emeralds of the Northwest league from 1977 to 1981. What do you remember about those days? I'm sure you were well compensated?
Rick Griffin: No, I was not. Actually, I had a lot of fun. I was very young. I had just got a teaching job at a high school called Churchill High School in Eugene, Oregon. And that was going to be my first summer that I had off. And I was in a training room at the University of Oregon, and the phone rang and the head trainer asked me if I would take a message. There were no cell phones and voice voicemail back then.
So the guy in a phone was named "Chief" Bender, and he was the farm director for the Cincinnati Reds, and he said he called the University of Oregon, because he knew they had an athletic training program and he was looking for someone to be the athletic trainer for their rookie ball team in Eugene. And I said, "Tell me about the job." And he described it to me and I said, "I'll do it." And he goes, "Who the hell are you?" And I said, "I'm Rick Griffin. I'm 23 years old. I have a master's degree. I'm certified." And he goes, "You're hired. You'll get $500 a month and $5 a day when the team goes on the road."
Ed Randall: Wow.
Rick Griffin: That's how I got into baseball. I had been doing a lot of track and field stuff. And it was a great experience because I did that for four summers. I had the same manager every summer, and the manager's name was Greg Riddoch, who ended up going on-
Ed Randall: Winded up in the Major Leagues…
Rick Griffin: to the Padres…
Ed Randall: ..in San Diego, right?
Rick Griffin: …and worked with the Blue Jays. He helped me so much and taught me so much. He was the best mentor I could possibly have. Back then in the Minor Leagues, there was a manager and a trainer. There were no other coaches.
Ed Randall: That's it.
Rick Griffin: It was just he and I. And so we got very close. I really enjoyed that for the four years I was in Eugene to have somebody like that to be able to teach me and help me process it. Then I really started to love baseball and I wanted to be involved and was lucky enough to get the job with the Mariners.
Ed Randall: Among those Cincinnati Reds' farmhands that went through Eugene on the Emeralds, who did we subsequently come to know in the Major Leagues?
Rick Griffin: Someone very, very good. Eric Davis. Eric Davis was by far from Minor League perspective, he was the best athlete I'd ever seen. Probably the only one overall athletic ability to come along was Ken Griffey Jr. But I had Eric for two years. He was drafted out of LA and he was a shortstop. And when he was in Eugene, his first year as a shortstop, he made a lot of errors, and it was really bothering him and it affected him at the plate. They actually were going to release him.
Ed Randall: Wow.
Rick Griffin: Yeah. And the manager Greg Riddoch said, "Let me have this kid back for a second year. Let me put him in centerfield because this guy's a great athlete, and I think he can thrive in centerfield." And he came back to Eugene the next year and he just dominated the league. And two years later, he was in the big leagues and he had a great career.
So I had Eric Davis and I had a guy named Chart Hollenbach also. I didn't have too many that made it to the big leagues. I think I had three guys in four years make it to the big leagues. But Eric Davis for sure was the most talented and the best player.
Ed Randall: Well, you must have been very, very good, Rick at what you did, because the year after being with the Eugene Emeralds, in 1982, you toured Australia speaking on sports medicine topics. In November of '84, 1995, and 2000, you went to Japan and lectured to the Japanese Baseball Athletic Trainers Society. You sir were in demand.
Rick Griffin: It's funny because when I became a teacher, I remember the first day that I stood and taught I think I sweat through like three layers of clothing. I was so nervous. But over time I enjoyed teaching and I enjoyed lecturing. I've actually been to Japan over 25 times now lecturing on sports medicine topics. I've been to London and Ireland also.
So that's kind of been something I've enjoyed to do to promote athletic training worldwide and help people understand the importance of sports medicine and dealing with athletics, and then also trying to help out young athletic trainers achieve their goals. Because when I was young, I never ever conceived I could be in the big leagues. And for that dream to have come true and to be able to stay for a long time, you know, it was a great life and a wonderful career.
Ed Randall: Well, we are honored to have you on our podcast. And since nearly all of our non-position guests, Rick, have had prostate cancer, it will come as no surprise to our audience that you have had a prostate cancer diagnosis as well. And in fact, your journey has included both an initial diagnosis and a recurrence. How are you feeling?
Rick Griffin: Oh, I feel great. I'm very, very fortunate. I feel very blessed because I am basically completely normal. I do everything I was doing before: working out, hunting, fishing. I have no really side effects. The surgeons did a good job, the people that did my radiation. Everything has just gone extremely well and I couldn't be more pleased with the results that I had and the care that I had.
Ed Randall: Take us back to spring training in 2017 in Peoria, Arizona, as Seattle Mariners gathered to prepare for their season.
Rick Griffin: Yeah, that was an eye-opener for a lot of different reasons. I went to spring training. I had already had a PSA test done about five months before that and my numbers were slightly elevated from what they were the previous year. And my numbers were slowly going up. I'd never really had big jumps, but they would slowly go up couple percentage points.
And then in spring training in 2017 when I got my blood test, my number was the highest that it had ever been. The doctors that I worked with for many years, Dr. Mitch Storey, He said, "I'm a little concerned about this." He said, "I want you to get some tests done while you're down here in spring training." And I said, "Okay."
So I started this very long journey during spring training of doing all of these different tests. First, I had an ultrasound, then I had an MRI, then I had a biopsy. And towards the end of the spring when I got the biopsy, it was I think two days left in spring training. And I always tried to do things when the team was on a little road trip or I was not interfering with being away from the player. So I kind of tried to keep it to myself.
And I was hoping and convincing myself "Oh, it's gonna be okay. You're not gonna have prostate cancer." I kind of talked myself into that's what was gonna happen. But then I got the biopsy done. And then we opened that year in Anaheim. In that opening day, I was in the training and working on one of the players and the phone call came from the doctor that I had been seen in Arizona. I told the player, I said, "I gotta go outside."
So I went out and sat in the dugout, and I was out there all by myself in the dugout. I remember us sitting up on the top step, and he said, "Rick, you have prostate cancer." That's a big shock. Especially to me, you or your listeners don't know, but I have never been sick in my life. I have never had a cold. I've never missed a day of school. I've never missed a day of work. I don't get sick. I've never been sick ever. So for going from not ever being sick or having any kind of problems, never having a surgery to now I hear you have prostate cancer. So that was a big shock.
Then when we returned to Seattle, then I had to start that whole process of, you know, what am I going to do and what avenue am I going to take?
Ed Randall: Tell us about your emotions right after that.
Rick Griffin: I was in shock. Like I said, I'm in tears. I mean, I've never been sick and now I have cancer. And I had had three coaches during my tenure with the Mariners that had prostate cancer. So I kind of had an idea what that was going to take. I didn't know for sure which avenue I was going to follow, what I was going to try, or what I was going to do. I was going to leave that up to the professionals once I got back to Seattle and started my journey, you know, seeing the physicians and deciding what I want to do.
But I was emotionally prepared from the standpoint of I know something needed to be done. And I was also emotionally and prepared that I know it wasn't the end of the world, and I know that prostate cancer is something that if detected early and found early, there's a pretty good prognosis. I felt in my particular situation because I've followed it for many years, I felt like it was early. I wasn't going down the "poor me" path. I was on the opposite end of that. I was, "I'm going to be very positive about this. I know this is going to get taken care of and I know I'm going to be okay."
And that was my whole thought process through the whole thing. So emotionally, I felt strong and I felt good about where I was headed and what I needed to do.
Ed Randall: Before men even consider treatment options, Rick, we first have to clear the hurdle of telling our loved ones, our families. For you, it was your wife, your daughter's, and your baseball family at the Seattle Mariners. How do you go about delivering the bad news?
Rick Griffin: I think that was harder than actually hearing the diagnosis. My mother died of breast cancer and my wife's mother also died of ovarian cancer. So my children were very aware of what cancer can do to a family. My daughters are kind of spread out. I have one that lives in New York, and two that live in Portland, Oregon. And I called each one individually.
My oldest daughter's name is Ashley. She handled it very well. We talked, and she just said, "Dad, do what you need to do? And then Nicole is my middle daughter, she also lives in Portland, we talked, she got pretty emotional and she was having a little bit of a hard time. But the surprise to me was when I called my third daughter who lives in New York, Lauren, I told her and there was silence on the phone, and she says, "Dad, I have to call you back. I can't think about this right now." And so I let her go.
And then she called me back in a while. It hit her really hard because she just couldn't believe that I had cancer. They weren't aware of what prostate cancer is and how it can be treated. In fact, it has very good results. So through the educational process and talking to them, that ended up being okay.
Along this path also, when I told my wife, my wife was in the process of undergoing treatment for breast cancer, and she had just had a double mastectomy.
Ed Randall: Wow.
Rick Griffin: So my path with my wife kind of coincided now we both had cancer. And I remember we went and saw the doctor and one of the doctors told me, she said, "Well, the one thing is you guys can lay on your bed and hold hands, and you'll have the TV remote in your hand while you both recover, and you can recover together watching TV."
So my wife is with me through the whole process down in Arizona during the biopsies. We were just great supporters for each other, you know, working with each other and supporting and helping each other as we processed our journey through our various cancers. She's doing really well right now, as I am, but that was hard.
And then the baseball part, now, that was really hard, because they are your family. I mean, those guys in that locker room, they are my family, and I take great pride in taking care of them. Now, this is the first time in my life I've ever been gone away from them and to tell them. And I chose a different path than some other people might choose.
What I decided to do was I didn't want to tell the whole team at the same time. What I decided to do is tell four or five of the players. And then when I came back after I had my surgery, then I would have this meeting with everybody and thank them for my time gone, and I'm back now to help you guys out. But I told the general manager and the president first and they were very, very supportive and said, "Get done what you need to get done. We'll get this handled from here."
And then I met with the manager and the coaching staff. And that was tough. But then I picked five or six players to meet. It was Nelson Cruz, Franklin Gutierrez, Felix Hernandez, Robinson Canó, Kyle Seager, and Steve Cishek. Those were kind of the veterans on that team. We had a very young team with the exception of probably those guys and plus I was very close to all those guys.
We met in a room, and I was very, very emotional. I couldn't believe how emotional I got. I had a really, really hard time getting it out. And it was because I just didn't want to be away from them because I wanted to be able to take care of them. I remember Felix Hernandez grabbed my arm, I was kind of teary-eyed a little bit and kind of sore a little bit, and he grabbed my arm and he said, "Hey, whatever's going on, just let us know because we're here to help." And then I told them.
And then after I told them, then, they were also supportive and so amazing. Couple of them stood up and said a prayer. And kind of getting goosebumps because I remember this so clearly. After we got done talking, about a half an hour later, Kyle Seager and Steve Cishek came back in the training room and took me in my office. And they knew that my wife was going through her breast cancer treatments and her thing. So they knew that I was not only taking care of them but taking care of her and doing everything I could to support her.
And Kyle Seager and Steve Cishek came in and shut the door, and they said, "Listen, for the next 30 days, you do not have to worry about food. Breakfast, lunch, and dinner will be coming to your house for the next 30 days." I mean, that was so generous and so kind of them. But the burden that that took off of not having to worry about preparing the meals and doing the right thing. And they got the best food, the best service. It was all organic, it was all healthy. That was just a huge, amazing thing that they did to step up like that.
Ed Randall: What a story! You have the advantage of living in the Seattle area, one of the true epicenters of top medical care in this country. Take us, Rick, if you will, through the decision process that determined your treatment plan after the initial diagnosis.
Rick Griffin: Again, that's very, very fortunate for me that I'm in Seattle because they have amazing cancer treatment facilities. The way that I did this, Ed, is I treated myself kind of as a player. I wanted to have second opinions. I'm not going to just go to one doctor. So I said, "Okay, well, I'm gonna go get second opinions. I'm going to get multiple opinions."
So I met with three different doctors. They were at different places but they were all considered the best in their field. One of them was world-renowned. So I met with all three of them, and then sat down with my wife and we made a decision. She was very involved in decisions. She liked one, maybe didn't like one because of their personality, the way they presented it. So she was involved in my decision.
And who I ended up deciding to go with did a robotic surgery. So I had my prostate removed. Had robotic surgery, it went really well. I spent one night in the hospital, then the next day I went home. I ended up missing five weeks from work. They told me I'd miss probably six or seven, but I was back to work in five weeks. Things went really well, my recovery went well. I had the surgery, and so as far as I know, cancer is gone, and I'm good. And let's get back to living life and take care of my wife.
Ed Randall: Thank God. You're listening to the Stay in the Game Podcast, a production of Fans for the Cure. You can learn more about our charity's programs, including women's and men's support groups, upcoming webinars, and free PSA screenings at fansforthecure.org as we continue our conversation with Rick Griffin.
Here is teaching moment for people just now gathering information about prostate cancer. A man can have his prostate removed and still have a recurrence of prostate cancer. Indeed, that's what happened to you. Please describe the circumstances of that second diagnosis unbelievably.
Rick Griffin: It was, again, a little bit of a surprise. But you're right. And they tell you when you go into the surgery they're gonna do their very best to clear the margins and clear that pelvic floor area of any cancer cells. But there's no guarantee that they can get 100%.
There's different ways that you can treat your prostate cancer. One is to have it removed. One is to do radiation and then have it removed. So there's all these different ways. But I chose to have my prostate removed. And for the first year—you go back in you have PSA is every three months—my PSA was zero, which is what you want it to be. But then it slowly started to go back up. And it was very, very slow.
The numbers were 0.01, 0.04, 0.05. And when the numbers start to go back up, then there's a little bit of an alarm. So I went back and saw one of the surgeons. I didn't have to do my surgery, but I went back and saw him and talked to him to get his opinion because he's a very, very good research-oriented and research-based physician. He told me because my numbers were slowly going up, that meant they were still Some cancer cells that were still active.
And he said, "There's a chance with your age that you could live and you would never be affected. But he said, "There's also a chance because you're very active, you like to do outdoor things, hunt, and fish and do a lot of outdoor things, that it could come back quickly and then it'll alter your life and change your life. And we don't want this thing to spread."
So he gave me the recommendation that the best thing I should do would be to have radiation done. So then I decided to do the radiation. There's different types of radiation. There's proton therapy, which is an isolated beam that goes directly to the spot, and there's usually less side effects. And then there's conventional radiation, which is possibly has a few more side effects.
And during the time that my wife was going through her breast cancer and her radiation, the same day she started for her 40 treatments, a gentleman started from Alaska, he had to have 38 treatments for prostate cancer. So I talked to this guy every day for 38 days. So I was with him on his entire radiation journey. And towards the end, he was having some pretty significant and kind of bad side effects. That alarmed me a little bit and scared me a little bit, because I just didn't want to have to go through all the side effects.
And then I did a lot of research, again, got multiple opinions, and I decided to do the proton therapy. Right now it's been about a little over a year since I finished that. My PSA is still zero. They believe they got all of the cells or the majority of the cells are dead now. So hopefully, as I age and move on in life the prostate cancer will not come back.
But I had to do something a little unusual in that I had my prostate removed, and the cancer was on its way back. I just chose to get right after it and attack it and get rid of it. I didn't want to take a chance and roll the dice and say, "Well, I'll wait for five years and see where it's at." I just said, "You know what? Let's do this now." I think if I had to do it over again, I would do the same thing because I had no side effects. It was a good procedure.
Ed Randall: And for your peace of mind. So the second course of treatment was proton therapy, a form of radiation therapy, which was provided by the Seattle Cancer Care Alliance. Rick, an increasing number of men in our bi-weekly support group sessions are choosing proton therapy or wish to have more information about it. Can you describe your experience?
Rick Griffin: Oh, sure. My experience with the proton therapy was completely uneventful. I actually said after I'd had about 10 treatments… I ended up having 38 treatments. I actually asked the doctor after I had my 10th treatment, I said, "Are you guys sure you're doing anything?" Because I didn't have any side effects. I didn't really notice anything that was going on.
The way they do the proton therapy is you have five treatments, and then you meet with a doctor. They ask you a bunch of questions, you fill out a questionnaire, they examine you. And then you do the next five. So I had 39 treatments actually. So I met with my doctor every week and during the whole process and I did not have any side effects. And that's usually the case with the proton therapy.
The only side effect I had is I had two little red dots on the side of my hips about the size of a quarter where the beams were going in. But as far as some of the other side effects that you get with your bladder or with your colon, with your bowel, you don't have those with the proton therapy. And that was the main reason that I chose to do the proton therapy.
And I know that once the word continues to get out, the proton therapy I think is probably going to be the number one way to go. I know there's not a lot of centers in the United States. But that's I think going to be kind of the new gold standard.
Ed Randall: I'd be remiss if I didn't point out your essential role in Major League history. You introduced Randy Johnson to Nolan Ryan during the 1992 season. Johnson immediately went from leading the league in walks, to seasons of 19-8, 13-6, and 18-2 with the Mariners on his way to election to the Baseball Hall of Fame. Two questions: Do you have any idea what Nolan Ryan said to Randy Johnson? And also, should there be a Hall of Fame for athletic trainers?
Rick Griffin: Well, I'm really glad that you asked that same question. And I will definitely get to that because I've been on a committee for that for 20 years. Randy Johnson was the most determined, intense individual I've ever been around. He wanted to be the best. He always wanted to be the best but he had to overcome hurdles.
Part of his journey was developing trust in the process, rather than just completely relying on his own ability. And I had met Nolan Ryan through a series of Celebrity Blackjack tournaments in Las Vegas during the National Finals Rodeo. He was a representative for Wrangler, and I went down there to provide medical coverage for the Cowboys. They had 72 people that would start off in the Celebrity Blackjack tournaments, and it would come down to a final winner.
One year it was Nolan Ryan and I. We were the last two left. And no one beat me on the last hand. So I almost got Nolan Ryan, but I didn't. So I became pretty good friends with him and we talked quite a bit. And I asked him during this time down in Vegas, I said, "Would it be okay if sometime I brought Randy Johnson over for you to talk to about conditioning and working out, and focus, and the things that you do between your stats at because of your longevity?" And he said, "Absolutely. Bring him over because that gentleman is very talented."
So I asked Randy if he would want to do it, and he said, "Oh, absolutely." So I took Randy over one time. I took him over at 5:30 after the Rangers got out of batting practice and I thought he would be there and he thought he'd only be there for maybe a half an hour. Well, he came back over about the fifth or sixth inning of the game. So he talked to Nolan for a couple of hours.
Ed Randall: Wow.
Rick Griffin: And I do kind of know what Nolan told him because Randy told me and then Nolan reiterated to me afterwards. He talked to him about conditioning and staying focused, and staying on a routine whether you win or lose. Some players and some people, if they have a bad day, then they change their routine. Or if they have a really good day, they think, "Well, I'm doing really well. I don't need to keep working hard." That changed Randy's work ethic here. And that's from Nolan Ryan.
He also talked to him about not always throwing off the top of the mound between your stars. Because as the season goes on, your arm starts to wear down a little bit. And when you throw off the mound, that's harder on your arm, and when you throw flat ground. So Randy started to throw a lot of flat ground bullpens instead of throwing off the mound.
It was a really, really important thing, I think, for Randy because he trusted what he heard. But not only did he trust it, then he started to implement it. And he was a tireless, tremendous worker. He was the guy that you would say if you follow his routine, and you do what he does, he's very dedicated. He does everything he's supposed to do all the time, and he stays on it.
He pitched till he was in his 40s. I mean, the end of his career, he was still dominating. He was a fun guy to be around, a fun guy to work with. And I treasure the time that we spent together and was so proud that he made it in the Hall of Fame.
Ed Randall: I'm just wondering, at that Blackjack Tournament, if you were the designated trainer when you were rubbing the hands of all the card players.
Rick Griffin: No, I didn't. I promise I wasn't working after I left the arena. I tried to enjoy and have fun. And you asked about, you know, should there be athletic trainers in the Hall of Fame? We have met with the past three presidents of the Hall of Fame. The first two, the meetings went well. They were very cordial. I don't want to say it's a political thing, but it's something that is still being considered.
Tim Mead is now the new president of the Hall of Fame. And we have a great relationship with Tim, our athletic training group [unintelligible 00:28:25]. We have met with Tim. It's actually this July they're going to bring it up and they're going to talk about it. And what we've told them… And I don't want to get too much off course, but I think this is kind of important. What we've told them is we know we're not players, we know that we do not deserve a plaque or we do not deserve to speak on the Hall of Fame day with the players. All we're asking for is to be recognized. And how they choose to recognize us, you know, that's fine. We'll take that.
But we believe that we should be recognized. Athletic trainers have a tremendous amount of experience and knowledge that they pass on to the players that can elongate their careers, provide them with an opportunity to provide excellent playing abilities by keeping them healthy and keeping them on the field. I think it's important that people be recognized that have spent a lot of time.
And we actually gave them certain criteria, following some of the players thing. So hopefully at some point that will happen. Right now with The Professional Baseball Athletic Trainers Society, we do have a Hall of Fame. There's about seven or eight athletic trainers that are in that Hall of Fame, and I'm actually the chairman of that committee. So we recognize ourselves and we recognize excellence of people who have provided excellent care to players for a long period of time. But it's a good thing moving forward. Hopefully, it will happen someday.
Ed Randall: Rick, a member of our staff suggested I asked you about an off day with Mark Langston to the Wet 'n Wild water park near the old Ballpark in Arlington. You're laughing already.
Rick Griffin: I am.
Ed Randall: And it would almost sank your career literally. Tell us the story.
Rick Griffin: That was very scary. I'd mentioned earlier about Randy, his intenseness and dedication. The only guy that is even close to him is Mark Langston. I mean, those guys are very well at the same mold, very intense, and they want to win, they work hard. And we were in…
Ed Randall: And traded for each other.
Rick Griffin: And they were traded for each other. Yeah. And they pitched against each other a couple of times. When they pitched in a playoff game against… when we had a playoff game with the Angels in 1995, and I'm sitting on the bench and Randy's pitching and Mark is pitching again. Mark is one of my dearest closest friends to this day. I'm saying this is just kind of bizarre, because I love Mark to death, but I want the Mariners to win and I want Randy to do well.
It was hard watching that game. But it unfolded in a very sad way for Mark and a good way for the Mariners. And they went on and played the Yankees. But Mark and Randy, pitched against each other a few times. And I sit there on the bench and it was tough for me inside.
So we had an off day in Texas and there was a group of about five or six guys, and one of them was our pitching coach Billy Connors. We decided instead of sitting around in the hotel and doing nothing the whole day and just sitting by the little pool of hotel that we would go to Wet 'n Wild. We're going to go over and just hang out, just do whatever they do. We'd ever been before. Mike Moore was one of them and Mark Langston.
So we all go over there, the hotel van took us over about 11 o'clock. And we were over there, and people are going down the slides and I'm sitting with Billy Connors, kind of just lounging in the sun, we're relaxing. And all of a sudden, Mark Langston comes over and says, "Hey, come over. Come over on this one ride. This one rides really fun. I want you to come try this ride."
So I go over there and I go down, I go down the slide and it was fun. And then Mark goes down the slide and Mike Moore goes down the slide. Then they decided they're gonna do it one more time. But this time Mark decided—I don't know why he did this—but he decided to go backwards. He started to you started to go headfirst and land his back and go down.
When he hit the water, he like Jackknifed, he like bent backwards. And I went, "That is not good. It looked like he just bent in half. That's got to do some damage." And then he came out from the bottom of the pool. He goes, "I hurt my back. I hurt my back." So I ran over to the side and we got him up out of the pool and we went back to the hotel. I worked on him and did everything I could.
The next day he went, he came into the ballpark and he could hardly walk. He went into the manager's office who happened to be Dick Williams. And Dick Williams listened to Mark explained that he had gone to Wet 'n Wild and "I don't know if I'll be able to make my next stat but hopefully I will."
So then Dick pulled me in his office and he said, "So what are you going to do for his back?" And I said, "Well, I saw him do it and I know how he hurt it." He goes, "What do you mean you saw him do it?" And I said, "Well, I was there." And he goes, "You went with players on an off day and you were part of him getting hurt?" And I said, "No, no, no, I didn't. I'm just there. I'm just there. I didn't tell him what to do."
He got really mad at me because I was hanging around with the players on an off day. And he said, "If he can't make his start, then I'm going to get your ass fired." And I'm going, "What?" And so I go, "Okay." I'm still only been in the big leagues maybe five or six years at this time. And I'm going, "Golly! I guess I'm in big trouble."
So I told Mark, and Mark goes, "Don't worry. Do not worry. I'll make the start." Oh, he made a start and I think he went eight or nine innings and pitched really well, and we won the game. And then he went into the manager's office after then told him "Don't you ever threatened Rick or don't you ever cause problems because I made a choice to do something. It's nobody's fault but mine. You can't be going after people." That was scary. I might not have made it. If he wouldn't have made a start, I might not be talking to you right now.
Ed Randall: Rick, as we wrap it up, you mentioned earlier that you're feeling great. Thank God. As somebody who spent his life concentrating on building up and healing the human body, what's your advice for men on being diligent about prostate cancer?
Rick Griffin: Well, the most important thing is to get early detection. You need to have yearly exams. The PSA is a great test because it's a warning. And then the doctors can go ahead and fulfill their obligations to do the things they need to do to determine whether you have prostate cancer.
Family history is very important. If you have a member in your family, a grandfather, or a father that has had prostate cancer, your risks go up. And you need to be very aware of that. But the biggest thing is to do early detection. It's not complicated. It's not scary. It's something that I strongly recommend that every male does, because it's the best way to not only solve the problem but also give you peace of mind.
I can't imagine not have done anything and then every six months I have to go get a blood test to see how much further the disease is progressed or the cancer is progressed. So, early detection is definitely the key. I think, trying to exercise trying to eat well is very important. There are numerous publications out there that talk about certain types of foods and certain types of diets that aren't necessarily the best for people who are at risk for prostate cancer. So all those things are things that you can do for yourself and for your family to help prevent the disease from worsening.
Ed Randall: Rick, what a pleasure to be with you. Thank you for sharing your story of prostate cancer with us, your friends, and Fans for the Cure. I wish you and Rachel and the girls the best of health and happiness always. Thank you so much for being with us.
And thank you, everybody, for joining us on our Stay in the Game Podcast. I'm Ed Randall.
Thanks for listening to the show. You can find program notes and a full transcript at the charity's website, fansforthecure.org. Be sure to subscribe to our podcast in iTunes, Spotify, Stitcher, and everywhere good podcasts are available. And if you like what you heard, a positive review on iTunes will help other people also find our show.