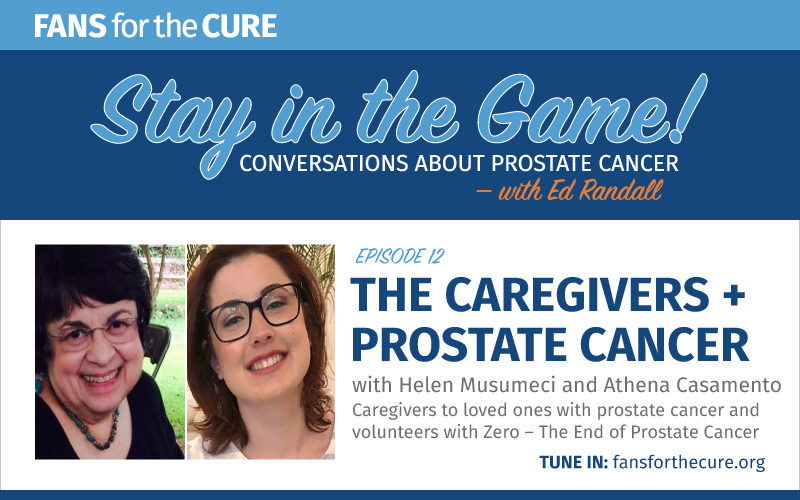 Podcast: Play in new window | Download
Subscribe: Apple Podcasts | Spotify | RSS
In connection with Women's History Month, Fans for the Cure is proud to join forces with ZERO—The End of Prostate Cancer to host a conversation with the unsung heroes of prostate cancer treatment, the caregivers. In gratitude for what they do, and to gain insights into the contributions of women in the fight against prostate cancer, we asked Helen Musumeci and Athena Casamento to speak about their experiences as caregivers for men with prostate cancer.
Program Notes
Episode Transcript
Welcome to Stay in the Game: Conversations about prostate Cancer with Ed Randall. Here we'll chat with doctors, researchers, medical professionals, survivors, and others to share and connect. This show was produced and shared by Fans for the Cure, a non-profit dedicated to serving men on their journeys through prostate cancer.
---
The Stay in the Game podcast is sponsored by Cancer Health – online at cancerhealth.com.
Cancer Health empowers people living with prostate cancer and other cancers to actively manage and advocate for their care and improve their overall health. Launched in 2017, cancerhealth.com provides accessible information about treatment and quality of life for people with cancer and their loved ones, along with information about cancer prevention and health policy.
---
Ed Randall: Hi, everybody. I'm Ed Randall, founder and chief advocacy officer for Fans for the Cure, and welcome to our Stay in the Game podcast. March is Women's History Month, when our country studies, observes, and pays tribute to the vital role of women in American history and in contemporary society.
Rosalynn Carter, the former first lady, who started the Rosalynn Carter Institute for Caregiving, famously stated that there were only four kinds of people in the world: those who have been caregivers, those who are currently caregivers, those who will become caregivers, and finally, those who will need caregivers. Honoring Mrs. Carter's legacy, we dedicate this month's podcast to the hundreds of thousands of women who support or who have supported their husbands and loved ones on their prostate cancer journeys.
Fans for the Cure is proud to join forces with a charity we deeply respect, ZERO—The End of Prostate Cancer, in hosting a discussion with the unsung heroes of prostate cancer treatment, the caregivers. In gratitude for what they do and to gain insights into the contributions of women in the fight against prostate cancer, we welcome two women who happened to be from New Jersey, Helen Musumeci from Exit 2, and Athena Casamento from Exit 16E.
Hi, Helen and Athena, and welcome to the Stay in the Game podcast.
This is the first podcast with two guests. We flipped a coin in the studio, it came up tails, so the first question we'll go to Helen. Tell us, Helen, your story of how you became a caregiver. And thank you so much for being with us.
Helen Musumeci: Thank you for having us. We feel very passionate about ZERO Prostate, and we're happy to meet with you. Forty-six years ago when I married Joe, we took those traditional vows "in sickness and in health" and we took them seriously. In August 2012, when Joe was diagnosed with prostate cancer, he was 66. We started the journey of getting several opinions and reading everything we could to find out as much as we could about the treatment and as many questions. We finally decided on having a radical prostatectomy. And that's when the journey of caregiving began. He had the surgery in January of 2013, and he's doing very well. Back to running, which is his passion.
Ed Randall: Athena, your story is a little bit different but also close to home. Tell us how you came to be a caregiver.
Athena Casamento: So I just turned 20 when my dad was diagnosed with Stage IV prostate cancer. And it's funny because you hear the words "Dad has Stage IV prostate cancer," and I knew what each word meant, I knew who my dad was, I knew Stage IV was bad, I knew prostate cancer was serious. But when the whole sentence was said together, my mind never fully processed it. To be honest, I think to some extent, I still haven't. But immediately, my mom stepped into the role of a traditional caregiver. She was not only a full-time worker now, but she was a full-time mom, a full-time wife, and a full-time caregiver.
So I kind of stepped up in those places where she needed extra help. So whether it was running errands, or it was helping out with my dad. Sometimes all people need is emotional support. So there was a lot of hugs and kisses and shoulders to cry on in my role. And it's a lot.
I think what's interesting about my story is I'm the daughter, I'm not the spouse. But there's still a level of stress and a weight that's put on you regardless. And I think it's so great that you're providing me the platform to express that, to tell other kids that it's okay that you're stressed and your role matters even if it's not a traditional role.
Ed Randall: Allow me to follow up. You said Stage IV. Was your dad a guy who went to the doctors?
Athena Casamento: Yes. Unfortunately, they missed his diagnosis. It took a very extreme circumstance for us to figure out what happened. When he was diagnosed, we just went straight into treatment. So my dad was all about getting things done and he was very strong and he was very passionate. So you can imagine we went straight into all the hard things, chemo, radiation. He did experimental testing just because it was important to him that he make to see me graduate. He made sure to move me into my first apartment. So definitely unfortunate that they weren't able to catch it. But I'm grateful to my dad for being so strong to be able to see me do all these big moments.
Ed Randall: When you hear the words "cancer," you don't hear anything else. Correct?
Athena Casamento: Correct.
Ed Randall: Helen?
Helen Musumeci: That's true. And in keeping with what Athena said, I have been hearing while I attend the ZERO Summit conference this week, we hear from a lot of patients and what they're going through. The one catchphrase that we heard yesterday, "when one member of the family has cancer, the whole family has cancer." Because it's something that you all need to deal with and everybody feels the stress.
Ed Randall: So funny that you mentioned that because we have a woman who runs our women's support group, Karen Goldman Shaffer, who famously said to 500 people at a gala to benefit Fans for the Cure a few years ago, said, "When John," her husband, "when John got prostate cancer, I got prostate cancer." So, Helen, we understand exactly what you're saying.
In a recent New York Times op-ed piece, the writer described her role of caregiver for her husband with cancer as, her words, "unbearably stressful." This was after her husband's doctor handed her a prescription for 24-hour care with the words "It'll be fine." Helen, how did you deal with the inevitable stress that comes with being a caregiver?
Helen Musumeci: Well, needless to say, there is a lot of stress all around. Our two children and their spouses were very supportive. This is where, Athena, your help was so significant. Our children did give a lot of support in many different ways. First, they were sounding boards for the decision that we had to make. One of the toughest things that my husband had to deal with was making this decision. What do I do?
If you have another illness, the doctor says, "You'll have surgery. It'll be this day," and that's it. But in this case, every cancer is different and every man has different situations. So it's not one size fits all. So this decision-making was probably one of the toughest parts. And the children were a big help in that, from the Excel spreadsheet with all of the comparison features of each surgeon, each treatment. We went through all of that. They helped with researching and choosing the things that we would do. They drove us to the hospital and back to relieve us of that extra stress.
Then, of course, there were, as you said, the pharmacy trips and the grocery store and all those things that are helpful when your children are adults. They also helped set up a record-keeping system. My daughter was instrumental in keeping track of the meds and the water intake, which is very important after surgery. They also can be overwhelming when relatives and well-meaning friends will call and call asking you for progress reports. The children were very helpful in that regard. They would share news with the family. So you're doing a great job.
Athena Casamento: Thank you, Helen, for saying that. It means a lot to hear you say that. Thank you. And I'm sure every other child who's listening right now will finally feel that it's okay. Thank you, Helen. That means so much.
Ed Randall: And let me pick up on that, Athena. With the stress that you felt having to see your father in a state where he's ill and you're growing into your role as a caregiver and you're a child, you're still a teenager and you're a college student, if we're doing our math correctly, boy, that's a lot of responsibility.
Athena Casamento: I'm not going to lie. I am the oldest. I have two younger sisters, and I'm very protective of my family. So when all of this was happening, I was a full-time college student, I had two part-time jobs, I was interning. I was coming home once a week for three days to help my parents wherever I could. So it was a lot. And I think the short answer is I didn't deal with the stress. I just kept going. I knew I had to get on the Metro-North train on Mondays at five o'clock so I could be home for dinner. And then I had to say, "Okay, is the dog walked? Are there groceries in the house? Does my mom need me to run laundry?" And then you would intern, and you'd come home. It was a lot. It's overwhelming. For better or for worse, I think I shut down and I just focused on what needed to get done.
Ed Randall: Since there is not a caregiver school, there's no Prostate Cancer Caregiver 101 course given online, both of you and those that are tuning in understand that you need to learn on the fly. What do you wish you had known early in the process about caregiving for a man with prostate cancer that you can pass along to those listening. Athena, I'll start with you.
Athena Casamento: I think, Ed, the first thing is you have to find a resource. You guys have an amazing platform at Fans for the Cure with an amazing support group that I was able to participate in for caregivers. And it's important that you take the time as a person to find that outlet. Because if you don't handle it well, and you know, it gets worse, it's hard. And it's hard to ask for help when you're so far in. So I think the best advice I could give anybody, whether it's Fans for Cure or ZERO—The End of Prostate Cancer, is finding a platform that provides you with all the resources that you need. Whether it's science for the treatment, or doctor recommendations, or even just being heard by someone who understands.
Ed Randall: Helen, was that your experience?
Helen Musumeci: Absolutely. We did not have the advantage of knowing all about ZERO at the time. We didn't get involved with them until later. So, I absolutely recommend it to anyone who is in need of this kind of information, because they're doing an excellent job. I think that, you know, trying to remain positive was probably the most important thing. There were some rough days when Joe first chemo from hospital. With patience, each day does really get better.
But the hard thing was being sure not to hover. I wanted to be there for him when he needed, whether it was physical help or talking. I also needed to give him some space because hovering is unhelpful. I tried my best not to but I'm sure there was some of that done.
Athena Casamento: I think to add to that, you have to stay positive, but it's okay that it's a lot and it's okay that you feel overwhelmed. And to Helen's point, the hardest part as a caregiver is figuring out when to give people space. So communication is just so important.
Ed Randall: What do you wish you had known early in the process about caregiving that you came to learn?
Athena Casamento: I think for me it was about not having to be strong for everybody. To Helen's point, everybody wants to check in because these men matter and they've impacted so many lives. It gets overwhelming. It gets hard to follow up with people. Everyone wants to help but they don't know how to help. So that's another layer. I think the most important thing I wish was that I acknowledged right off the bat how hard it was. My mom did a fabulous job of when anyone asked her how it was going, her response was always, "This sucks. It's not fair and it sucks." That was just so inspirational, because people don't say that. People ask you how you're doing and you assume you have to say, "Oh, every day is a little bit better. We'll figure it out." But you don't have to.
I think the other piece is figuring out who your core group is that you can call and just ask, "Hey, can you come over and do laundry for me?" Or "I'm not going to get home from the doctor's appointment, Can you walk our dog?" I'm so grateful for our neighbors, the Aliceas, who anytime we had a doctor's appointment, their son just walked the dog. Didn't even think about it. Had a key to the house, helped with the dog, never asked for anything in return. So I guess my biggest piece of advice is figure out who your core group is that you can rely on and be honest with.
Ed Randall: So well said. Helen, you made a great point a moment ago about the importance of focusing on each day and that when today is over tomorrow is going to be better.
Helen Musumeci: It is because it's a long journey. It's not having the surgery, coming home and you're fine. There is a long, slow recovery for this kind of surgery, and it can be frustrating for the patient as well as the caregiver because you want them to be well, and he's meeting all kinds of challenges.
There was a friend who invited him to a support group, Fighting Men Fighting Cancer. And I was sure he would not attend because he grew up in a family that did not share such personal issues. I was sure that this was not something he would do. But it was a very good friend who called me and shared this with me. She said, "My husband founded this group 16 years ago, I believe it was then, when he experienced prostate cancer. And he would like to invite Joe to join him. He'll pick him up." But she said, "I didn't want to put pressure on him, so I'm asking you."
So I spoke to him, and the first place he went as soon as he was out and about… surgery was mid-January, the first of March was the meeting. He was picked up by the friend and they attended. He is now a facilitator of that group because as time went by, and they needed someone to step up, he realized how much it had helped him. He's now facilitating the group and it's going very well. With COVID, they went virtual, and it has grown by leaps and bounds. They have people from all over. One night, he came in from the study where he was meeting, afterwards, and he said, "We had someone from Antigua on tonight. Would you believe it?"
Athena Casamento: Oh, my goodness.
Helen Musumeci: Yes. So this is enabling people from all over to sit in with them. And it's been very helpful.
Ed Randall: That's a wonderfully inspiring story, Helen, that you brought to our attention. We're so happy that you did that because you described him being like most men at first: slow to talk about their health and what's under the hood. It is almost in our DNA to believe we are indestructible and to keep our feelings close to the vest. Now contrast that with a woman who when diagnosed with breast cancer immediately assembles a team of caregiving sisters, cousins, friends, and counselors to accompany her on her journey. That said, I can't say enough for Joe in evolving over the years from a reluctant participant in his support to the person who leads and runs it. Good for him.
Athena Casamento: And I think to add to that, we've been talking about COVID and how hard it's been. There's a lot, right? Because now you're talking about a virus that Helen has to protect her husband from. But there is a plus side where people are gathering around each other via the internet, and it's allowing them to feel like they're safe to talk about things. When you don't have to commute somewhere, it makes it a little bit harder to make an excuse as to why you're not going someplace. So I think, you know, continuing to utilize the internet in this way to create a community is going to help so many more people.
Helen Musumeci: For sure. Yeah.
Ed Randall: Fans for the Cure is hosting regular online men support groups of for men, many of whom are in phases of treatment and recovery with prostate cancer that require caregivers. Athena, I'll start with you. What advice can you give our guys who require help about providing necessary emotional support for their caregivers?
Athena Casamento: You can't be a caregiver unless you're selfless, right? My instinct is nothing. We just have to figure it out. But I think what it comes down to is there needs to be clear communication on what's needed on both ends. So we talked about Helen's point of giving her husband space. It's hard because you want to help your spouse, your dad, your loved one. But you also have to understand that they need the space. And so to ask is really just communicating and saying, "Hey, I would like the space right now or I need time." I mean, I'm a big hugger. So anytime my dad gave me a hug, I was all about it. So I definitely say all the more hugs and more communication I think would help everybody.
Ed Randall: I think that's the thing I miss most about COVID is hugging because I'm exactly like you. And Helen, to Athena's point, what advice would you give our guys who require help about providing necessary emotional support for their caregivers? What would you say?
Helen Musumeci: Well, I think a "thank you" or smile goes a long way. Lots of times when he was frustrated and there was no one around but me, he realized that I really wasn't the enemy; it was the cancer that was making him feel this way. So, in doing something for him, you know, each time that I would bring something or do something, a thank you, a smile, that goes a long way with caregivers. Right now when they're not expecting flowers or poems. Not now, but later is okay. But they definitely appreciate that acknowledgment that, you know, "I appreciate what you're doing for me. I need help right now." It's hard for some men to admit that they need help. "So I need help. Thanks for giving it to me" goes a long way with the caregivers I think.
Ed Randall: This is a good time to remind everybody that you're listening to the Stay in the Game podcast co-presented today by Fans for the Cure and by our friends at ZERO—The End of Prostate Cancer. Visit them at zerocancer.org. Our charities are marking Women's History Month by hosting a discussion with Helen Musumeci and Athena Casamento, compassionate women who have served as caregivers for family members with prostate cancer.
Helen, let me continue with you. President Biden has advocated for a bold and integrated vision of caregiving in the United States that includes a $5,000 tax credit, 12 weeks of paid family leave, and social security credit for time spent providing care to a loved one. Knowing the demands and the commitments of providing care as you both do, what else do caregivers need from the government to keep their lives above water?
Helen Musumeci: I think all of those things would be very helpful for caregivers because dealing with a cancer like this is difficult, it's emotionally challenging, as well as physically. And there are a lot of things that the patient and caregiver have to do. When Joe was diagnosed, I had recently retired from teaching so I was able to care for him full time and didn't have to go out to a job like perhaps a younger person might still be working and have young children to care for, the everyday financial situations that come up. So we were grateful for a lot of things.
And as I think through I realized, you know, we have health insurance that allowed us to get those three opinions. When we walked out of one doctor's office, and we were glad that we would never get to see him again, it just was not a good fit. These were things that insurance allowed us to do. The Affordable Care Act would give everyone some kind of basic insurance.
As far as prescription plans, if we needed meds, we took advantage of our prescription plan. There are some very high costs. Some of the men that we've met through meetings and the summit have been taking drugs that are very expensive, and often not covered by insurance. But this is out of pocket. So there goes the family budget because these are very expensive.
The primary care physician is kind of a luxury that everyone doesn't have. We have one who's known us for over 15 years and has made sure that Joe was up to date on his screenings, his PSAs from age 50. She made sure that we were well taken care of. Of course, that goes a long way towards your progress, if you have confidence in the fact that you're doing the best thing you can for the treatment that you need. A lot of people use an emergency room for their personal care physician. That doctor doesn't get to know you and doesn't really know your entire history from the short visits. Each time it's probably a different doctor.
I hope that a big part of our summit is the advocacy group that Joe's meeting with right now, where they usually meet in the DC area because they go to the Hill and speak to senators and congressmen and women—usually their aides because they're pretty busy people—and request the budget. This year they're asking for an increase. They have dedicated 110 million up until now for prostate cancer research. Very important area that has to continue.
Last year they did not ask for any raise because they knew the time was not right to ask for more money. This year they are trying to ask for 120 million in the budget. As strange as that might seem at first, this is the Department of Defense budget. When we first hear it, we think, "Why is that?" And it's because a lot of the men are patients as a result of Agent Orange, and many of them have been in military. So the Department of Defense was called upon to do something about this. And that's where the money comes from for this.
Ed Randall: Athena, the $5,000 tax credit, 12 weeks of paid family leave, and Social Security credit for time spent providing care to a loved one. Is there anything else you'd like to see the government propose?
Athena Casamento: I think Helen talks a lot about it. I think it comes down to the funding for the research. If we could fund prostate cancer the way we funded COVID vaccines, could you imagine how much further along we could be? I definitely understand that there are lots of cancers and there's lots of areas that need help. But when you look at the stats, 1 in 8 men is going to have prostate cancer. That's huge. And I think if we could increase funding for research and maybe increase the funding to the nonprofits who are filling the holes in terms of support. You guys, Fans for the Cure, you're a support group. Or imagine if you had more resources to provide. People can find what they're looking for. I think we just need to make sure that people know it's readily available.
Ed Randall: Let's assume that I'm the friend of a person who needs care, what can I do to lighten the load even slightly for the caregiver? And that said, I strongly believe that saying or emailing, "Let me know what I can do," that's a giant cop out." What specific things can I do or offer to do that will improve that day or even that hour for the caregiver? Helen, what do you think?
Helen Musumeci: Most of us know which friends genuinely want to help. We were not afraid to call on them. In some cases, patients need rides to treatments. We didn't have that issue. But there are some who have a lot of radiation treatments that giving a ride is a big help, especially if the caregiver is trying to juggle a job at the same time. There are usually pharmacy needs, that picking up, doing errands, again, groceries. There's the kinds of things that take something off the caregiver's plate and gives her time to do something else with a patient either to relax a little or read or anything other than another job on the list.
A lot of friends were great at cooking meals, dropping off dinner, which was a real treat. I think it's not just that we appreciated it; they felt good that they were able to help us. Because very close friends and family, we do the same when they're in need and they really felt good to reciprocate. So I think that's an important part of the whole process.
Ed Randall: Hey, Athena, you mentioned earlier about walking the dog.
Athena Casamento: Yeah.
Ed Randall: These are important everyday acts. These are your lives. This is part of your life. Walk the dog.
Athena Casamento: Yeah. I mean, I think Helen said it so well. Like, What's an easy task that you can do? Whenever people asked how they could help, I told them, "Bring food." It was easy. It meant I didn't have to think about it. When my dad passed away, I actually had a friend who sent me a fruit basket. In her message it was, you know, "When I was diagnosed with cancer, someone sent me a fruit basket and it made my day." So sending something whether it's a food basket or flowers. If you don't really know or you don't feel close enough to actually offer to help in the day-to-day, sending some form of appreciation or retreat, that's just amazing.
I don't think anyone would say no to a massage coupon or gift cards to places. But I think if you're looking for a practical list, there's definitely if you wouldn't mind coming over and doing the laundry, or driving to doctor's appointments, or to Helen's point, picking up medicine. But there's also walking the dog and picking up the kids. You know, can you offer to watch their kids a couple of days on a Saturday, and then this couple can just have their Saturday and just relax. Because I think what people forget is—and we just said it—but everyone is affected by this and everyone copes differently. And we have to make sure we're giving everybody the space to cope the way that they need to, as well as support each other.
Ed Randall: With the benefit of hindsight now and perspective, how has this intense experience of being a caregiver changed you as a person? Athena, you first.
Athena Casamento: So at the beginning of the podcast, my dad was diagnosed right when I was just 20, and then he passed away when I was 23. So I was fortunate to have him watch me graduate. I was really fortunate to have him move me into my first apartment. There's a lot that he's going to miss. I got married this year. So that was something he wasn't here for. We're going to have kids eventually. But I think the takeaway that I had was he was here for the most important years of my life. I am who I am because of him. And I focus on that. I focus on the positive, but I acknowledge the burden that comes with that. And I think I can't say it enough, finding a platform to cope with everything. Because I didn't. To some extent, I still don't. And I'm dealing with that, and it's not easy.
Grief is… it's an ocean. It comes over you and you have to facilitate yourself. Because we're in a world where we don't talk about sadness, and we don't talk about cancer, and we don't talk about something if it's not positive. So I think the biggest things are enjoy life, be grateful, but also acknowledge that it's hard. And it's okay that it's hard.
Ed Randall: Helen, your experience as a caregiver has changed you. How?
Helen Musumeci: Well, I have to echo what Athena says. She absolutely hit on a lot of points that I think are important. We're just grateful for the outcome of the surgery in our case. But it doesn't really end there. With prostate cancer, it's sort of waiting for the other shoe to drop. And a lot of cases, he's eight years very healthy. And each six months when he goes for that PSA test, we hold her breath a little until the results come back. Because we know and we talked to many people just this week who have proudly said, "No, I'm eight years out and now it's back." I really dread that idea, and I'm sure he does.
But as we volunteer with ZERO and we mentor other people, we see some of the horrific things that they've gone through, their treatments, and some of them have been treated poorly with the late diagnosis, or just not the right treatment for them. They're going through a lot of misery and we feel for them. We just appreciate each healthy day that we have and we try to make the most of it.
Ed Randall: But the experience is life-changing, is it not?
Helen Musumeci: It absolutely is life-changing. Yes, it is.
Athena Casamento: Get tested. Get tested for the people who love you, and be proactive, and don't wait.
Helen Musumeci: Good message.
Ed Randall: I want to take a moment to thank Ilana Ostrin at ZERO—The End of Prostate Cancer, that's zerocancer.org. And to our guests Athena Casamento and Helen Musumeci, our hero caregivers, we learned so much from our discussion with you today. And thank you to our podcast sponsors at Cancer Health Magazine. Visit them at cancerhealth.com. Cancer Health, empowering people with cancer to actively manage and advocate for their care and overall health.
Godspeed to both of you. Stay well, you and your families. You are a blessing to those that have been in your lives. We are so grateful to have had you in ours on this podcast. Thank you both.
Helen Musumeci: Thank you.
Athena Casamento: Thank you, Ed.
Ed Randall: Thanks so much, everybody, for listening to the Stay in the Game podcast. I'm Ed Randall.
***
Thanks for listening to the show. You can find program notes and a full transcript at the charity's website, fansforthecure.org. Be sure to subscribe to our podcast in iTunes, Spotify, Stitcher, and everywhere good podcasts are available. And if you like what you heard, a positive review on iTunes will help other people also find our show.