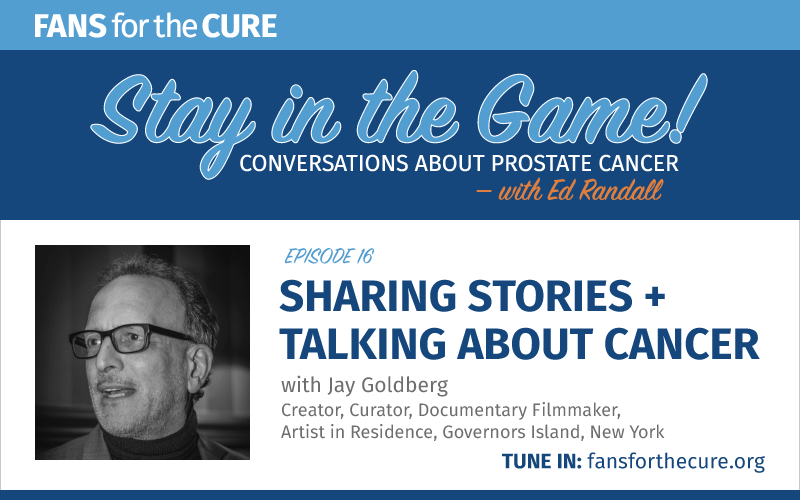 Podcast: Play in new window | Download
Subscribe: Apple Podcasts | Spotify | RSS
Trained as a lawyer, Jay Goldberg worked as an operative at the heart of New York City politics, before moving on to a Marketing role for a large agency. He next became a player agent in the sports field, and then settled in as the curator of what was the best card shop sports memorabilia store on the East Coast. These days, Jay works as a documentary filmmaker who has been awarded an Artist Residency on Governors Island by the West Harlem Art Fund.
Program Notes
Episode Transcript
Welcome to Stay in the Game: Conversations about prostate Cancer with Ed Randall. Here we'll chat with doctors, researchers, medical professionals, survivors, and others to share and connect. This show was produced and shared by Fans for the Cure, a non-profit dedicated to serving men on their journeys through prostate cancer.
---
The Stay in the Game podcast is sponsored by Cancer Health – online at cancerhealth.com.
Cancer Health empowers people living with prostate cancer and other cancers to actively manage and advocate for their care and improve their overall health. Launched in 2017, cancerhealth.com provides accessible information about treatment and quality of life for people with cancer and their loved ones, along with information about cancer prevention and health policy.
---
[Full podcast transcript will be posted as soon as it is available.]
Thanks for listening to the show. You can find program notes and a full transcript at the charity's website, fansforthecure.org. Be sure to subscribe to our podcast in iTunes, Spotify, Stitcher, and everywhere good podcasts are available. And if you like what you heard, a positive review on iTunes will help other people also find our show.
Ed Randall: Hi, everybody. I'm Ed Randall, the founder and chief advocacy officer of Fans for the Cure, and welcome to our Fans for the Cure, Stay in the Game podcast. Yogi Berra famously said, "When you come to a fork in the road, take it." Today's guest on the Stay in the Game podcast has taken Yogi Berra's word, coming to many forks in the road and seemingly taking them all.
Trained as a lawyer, he has worked as an operative at the heart of New York City politics, then moved on to a marketing role for a large agency, became a player agent in the sports field, and then settled in as the curator of what was the best card shop sports memorabilia store on the East Coast. These days, he works as a documentary filmmaker who has been awarded an Artist Residency on Governors Island in New York City by the West Harlem Art Fund. And that's not the half of it.
It's my pleasure to introduce the man with nine pages of resume and 409 pages of stories, Jay Goldberg. Jay, welcome to our Stay in the Game podcast.
Jay Goldberg: Thank you, Ed. It's a pleasure and an honor.
Ed Randall: Jay, you're one of over 2 million men in the United States who are alive in among us after having received a prostate cancer diagnosis. So something like 95 to 97% of all cases of prostate cancer are found without any symptoms. Please share with us how you first came to be diagnosed.
Jay Goldberg: First I'll share how I did not come to be diagnosed, which tells you… hopefully that will help other people. You and I are part of this New York Pro Scouts Association. It's baseball scouts organization. And you do a great job hosting, in your Jackie Mason style, the dinners we have every year. Obviously, you talk endlessly as you should about getting PSA tests. You implore the guys to do it, you give out your little booklet that looks like a baseball schedule. I took it home every year. And I was like, "I should do this." And I never did.
Fortunately, I failed a life insurance test. And that's how I found out. My wife works for a nonprofit, Encore.org, a wonderful organization, by the way. And they had a new benefit that you can get life insurance. So she wanted to get life insurance. And she said, "You just have to take this in home… they're going to send somebody to do an in home physical." And I take it. It's a five minutes thing. They take blood and some other things.
About two weeks later, I get an envelope in the mail, a one-page letter inside an envelope basically saying, "You failed the life insurance test." And I look at it and the reason I failed was because of my PSA score. That was the start of it. So somebody was looking down on me to make sure I took that life insurance test, and then I failed that test, which is what started this whole prostate cancer journey and recovery.
Ed Randall: Over the years that we've known one another, you've always struck me as both an analytical but yet outside the box thinker. So, in that context, can you walk our audience through the process of how you decided on a treatment plan for prostate cancer?
Jay Goldberg: Well, when I found out that my PSA was high, I contacted my primary care physician. He referred me immediately to a urologist. I went to see him and he said, "Okay, we're going to do a biopsy next week." Other than the fact that the guy looked like Tom Seaver, who was my boyhood idol, I did not like that suggestion. So that's really how I started.
And then I just started doing a lot of research as I do with a lot of things. Actually, I contacted you as well during my research journey. I just started talking to people, doing my own research on top of it, and speaking with experts, like you and doctors. And then eventually I came upon the doctor… I was looking for Babe Ruth basically. I wanted the guy who I felt the most comfortable with.
I found him and his suggestion was, after different tests, he recommended to surgery. Frankly, I was never a big fan of radiation for myself. This is all an individual decision, obviously. So I'm not telling anybody what they should do. For me, I'm kind of a small guy physically who gets a lot of side effects. I was a little worried about radiation and what it would do to me physically. And I looked into it and I felt extremely confident with him as a surgeon. And so that was the path that I ended up taking. And that was in May 2018, of my surgery.
Ed Randall: Who was Babe Ruth?
Jay Goldberg: It's funny because when I told him he's Babe Ruth, I don't think he understood. His name is Dr. Ash Tewari. He's with Mount Sinai. He's born in India, not a big baseball fan. So I don't quite know if he knew what I meant when I said he is Babe Ruth. But maybe he did.
Ed Randall: Your formative years were spent learning at the feet of political consultant and kingmaker, the great David Garth, who ran campaigns as far back for Adlai Stevenson, Mike Bloomberg, and dozens of others, including Ed Koch. Before there could be a Roger Ailes or Lee Atwater or Karl Rove, there was David Garth. What an opportunity, Jay, for you to learn about the rough and tumble world of politics and life itself! What was it like to work for and learn from David Garth?
Jay Goldberg: It was a gift. Before I say anything more, I don't want to say anything negative, but those other gentlemen that you mentioned are not in David's class in any way. I never met any of them. But from everything I've read, David is in his own class. Anyway, it was truly a gift. I really miss David. Obviously, as we get older, we miss our parents, and a handful of people. And David is one of those.
I just got lucky, to be honest. And it's funny, because I was talking to somebody the other day about this, how you just have to kind of get lucky with your first real job as far as… because you really learn a lot about life. Like you said, that's part of what it is, besides learning about politics. From your first job, you're going to learn about life. And I was so fortunate that my boss was this guy, David Garth. And sometimes I think, "What about if I would have started as a sports agent instead and had that world. Maybe it would have been a bad life lesson."
So it was just really I was so fortunate to be with David. I worked for David starting my junior year at NYU part-time, I was there six years. And then eventually, when I went out on my own as a sports agent after working for a firm, David said, "I have an extra office. If you want it, just take the extra office." Which tells you a lot about David. So I was with David working for him for six years, and then I was kind of hanging out in the office for another nine years. So it was really a 15-year overall experience being with him.
Ed Randall: Perhaps Garth's most famous client was then congressman Ed Koch, who was widely considered in the pantheon of New York city's most effective mayors. He's best known for his trademark, "Hey, how am I doing?" when he'd be walking down the street. But people forget how dire things were in New York City when he was elected in the mid-70s. We remember the famous daily news headline: "Ford to City: Drop Dead!" when the city was looking for a financial handout from the federal government. What do you remember most about Mayor Koch, both the political campaigns and the way in which he ran New York City?
Jay Goldberg: Well, speaking of being fortunate, I was so fortunate that not only did I get to work for David, but that David was running Mayor Koch's campaigns, who I adored. To me, he will always be the second-best mayor in New York. You know, there's like Babe Ruth, like we said, and La Guardia is the Babe Ruth of mayors. So that's Kind of just the way it is.
But I always viewed Mayor Koch as… It's funny because I still call him Mayor Koch. With that respect, I don't use Ed. To me, he's just Mayor Koch. I thought what he did is he saved the city, as you said, along with other people, Felix Rohatyn and some amazing people that he put around him. But really a couple things stick out.
One is working in politics and being a political junkie, you come to learn that a lot of people may be in politics for the wrong reason. This is Democrats and Republicans. This is just my own opinion. There have been two people that I could say without a doubt were in politics for the right reasons and they cared about their constituents. Just my own opinion. Menachem Begin who was the former Prime Minister of Israel—it was all about his people and his country. And Mayor Koch—it was all about New York City, and not about his own self-interest. So that's just my own opinion.
But just kind of a little inside story about Mayor Koch. At one time, I became David's personal assistant. Somebody had left and didn't find another personal assistant, so he kind of threw me in to the desk. It was a terrible job. David had a bit of a temper and his favorite word began with an F and ended with a K. I don't want to say it obviously and get you in trouble. But David used that word pretty much in every sense often.
And as David's assistant at that time, I would know who he was on the phone with. And one day he was on the phone and he was screaming like a lunatic with his F word. I don't even know if there were any other words besides the F word, frankly. And it was about 10 minutes of a one-sided conversation. And it was so intense that even other people in the company came up to me and like, "Who is David on the phone with? Who is David on the phone with?"
I don't even know who you would speak to like this. But it was Mayor Koch. And I thought like, "How could he possibly speak to him like that?" But I don't know what Mayor Koch was saying back to him. I didn't hear that side of the call. But they remained extremely close. They were best friends. And Mayor Koch understood that whatever David was saying, besides the curse words, was in his interest, too. I don't know if there are a lot of politicians who would stay on the phone with somebody like that. So I think that says a lot about who Mayor Koch was really and how seriously he took his job as mayor.
Ed Randall: Oh, boy, what a great experience! And then you moved on to become a player agent going from selling politicians to the public to shaping and mostly protecting the personal brands of professional athletes. First, what would the wackiest, most outlandish projects offered to your clients where your advice was a most emphatic "Don't do it? No, no."
Jay Goldberg: Well, a couple of stories. I actually have one story where I did that to a client. I also had another story where that actually happened to me as an agent from my boss at the time. So the one with the client, I don't want to say who the client was, but he was a big sportscaster and a former football player, and he became a national sportscaster. We used to laugh all the time because, at the time, Dick Butkus who was not a client would be in a lot of crazy things. He would pretty much do anything: commercials and terrible television shows. I think they call it dreck, a lot of what he did.
Ed Randall: We know what that means.
Jay Goldberg: So this client and I would laugh. Every time an offer would come in, he would say his big buck is in this project. That became like our little inside joke. I never really had to tell him not to do it. If big buck was involved, we just knew to stay away. But really a story that I guess I can tell is I worked for a man, Art Kaminsky, that owned the firm that I worked for when I started working as a sports agent. And he represented at the time like a third of the National Hockey League. But I was really brought in to do marketing. So I did the marketing for all the big clients.
But sometimes if Art wanted to speak to somebody on the phone, somehow, the phone call ended up, you know, "Let Jay talk to them." So, there was an accountant who was the accountant for a lot of the St. Louis Blues hockey players that Art represented. And one day, I guess the accountant got to Art and said, "I have this client who has a dog and the dog seems to… there's an interest from a company in using the dog." So Art throws the call to me. So I'm on. And then I eventually speak to the woman who was the dog breeder, and the company was Anheuser-Busch. While the dog's real name was Honey Tree Evil Eye, the dog became better known as Spuds MacKenzie.
And I told Art, "I think we should do this." And Art is like, "Why are we going to represent a dog?" I said, "I think it could be a good move." And Art said, "Okay, this is on your head. You deal with this, this entire thing is on your head." As people of a certain age will know, it was a pretty successful campaign for years. Spuds did pretty well. Of course, it was all in my head. I never got any bonus for it. I was kind of told, "Don't do it," but I did it. So I guess that's kind of an answer to your question, too.
Ed Randall: And my second question, having just watched "Call My Agent!" on Netflix, the amount of coddling and babysitting involved in the agent business becomes very apparent. How much of your job involved crisis management and late night phone calls that may have occasionally come from police stations?
Jay Goldberg: Too much. Which is why I eventually got disgusted by the whole business. Again, I'm not going to say the name, but after I went to work for myself, I was recruiting a lot of different minor league baseball players, baseball being my first love of sports, and I had this client who eventually made the major as pitcher. I remember it was about 4:15 in the morning and my phone rings. I was a bachelor at the time, fortunately. Four fifteen in the morning, my phone rings and it's his wife. And she's insane. You know, "Where is he? Where is he?" "I don't know where he is. He's not here, I can tell you that," in my tenement apartment on the Orchard Street on the Lower East Side. She hangs up. Five minutes later, the phone rings and it's his… I don't know if you want to call her mistress or one of his girlfriends or whatever. "Where is he? Where is he?" "I don't know where he is."
So, between 4:15 and 4:30 in the morning, I got a call from his wife and his girlfriend wondering where he was. And after time, that just really weighs you down, those kind of things. It's not really what I wanted to do. So it probably would have been better to get a call from a police station franky than the wife and then the girlfriend. But that was kind of towards the end already when I had enough of this. Because frankly, that is a lot of what you deal with as an agent. And it's not why I went into it and it's not what I want to do with the rest of my life.
Ed Randall: Most of the New York City area baseball fans, including me, found you during the decade or so when you ran and curated the Bergino Baseball Clubhouse in the Village. You were known for hosting the best author events for baseball books in the entire country. And that's not an overstatement. I understand how you grow tired of being a babysitter for players. But how did the Baseball Clubhouse come to be?
Jay Goldberg: Well, after I got tired of being a babysitter for players, eventually I started this company Bergino at the time. I founded it with Tony Palladino. Tony has passed away—another person I greatly miss. Actually, ironically, I met Tony in David Garth's office. But anyway, that's a whole other story.
So Tony and I became very good friends. Tony went on. He was in the Art Directors Hall of Fame. He did the famous Psycho logo and some of the great logos of all time. Tony was a creative genius. Anyway, he was a baseball nerd. So the two of us started this company making funky, handmade baseballs. We had no idea what we were doing. We named it Bergino. Goldberg and Palladino became Bergino. That's where the name came from.
Anyway, that started in the spring of 2001 starting to wholesale. And we did wholesale, really, for the most part for years. And then we started with a website. By the late 2000s, I was getting a little sick of just doing wholesale. And I was on my honeymoon, actually, in Lisbon, Portugal, which is really a beautiful city. One of the things that I noticed is they have so many little beautiful shops, but everything is like a smaller scale in Lisbon. I should have been born in Lisbon. As someone 5'6 I felt, you know, like, "Oh, that little short door, I just walked through."
Ed Randall: No ceilings.
Jay Goldberg: Exactly. I was born at the wrong time in the wrong place. So anyway, while I'm in Lisbon, my wife and I are going around and looking at all these beautiful shops, and I'm like, "Wow, it would be so nice to have a little unique shop like this in New York for Bergino." And that's really how the whole thing started. And it was just meant supposed to be a little shop.
And then when I found the space, it looked like a gallery to me because it had high ceilings. So I decided I'm also going to make it a gallery. And that's how it started. And then eventually I did one event and it just went very well. And I had a blast doing the event. It was Charles Salzberg, who's a writer. If I can remember, the name of the book was "On a Clear Day You Could See Eighth Place" or something like that. It was about the worst teams in baseball history.
Ed Randall: I met him as a guest on my radio show years ago. Now that you mentioned the title of book, I had that guy on my show. Go ahead.
Jay Goldberg: Yeah, he's a New York character, Charles. So a great guy and another baseball fanatic. Anyway, it just was fun, the event. And that's kind of how the events started. That's frankly, the part I missed the most is once I closed the Clubhouse, I do miss doing all those events. They were a blast.
Ed Randall: What was your favorite night in the Bergino Baseball Clubhouse?
Jay Goldberg: That's a tough one. I mean, frankly, I know people say this, "They were all great," or whatever. They weren't all great. But they were 99% great. I only had one bad experience with an unnamed author. One out of literally hundreds. The rest were all terrific. I would say too though that… well, one thing that comes to mind is just from a pride standpoint, we would have famous authors that would come in. And then a few times, I would notice they would come back for other events, and they would be in the audience themselves. I had George Vecsey come back and sit in the audience.
Ed Randall: What a tribute to you that is.
Jay Goldberg: Thank you. It felt great. Those kinds of things, to have George in the audience, Marty Appel to come back time and time again for his own books and to be in the audience. Our friend Lee Lowenfish, same thing.
But a couple events that from an emotional standpoint, I did a charity event with Mookie Wilson and Erik Sherman when they wrote Mookie's book. And Mookie said he'll do whatever we want in the Clubhouse, but it has to be for the Viscardi Center. And I said, "Great." What's the Viscardi Center?" I had never heard of it before. So anyway, to make a long story short, I'm now on actually the board at the Viscardi Center.
Ed Randall: It's an amazing place. John Kemp is one of the most amazing people I've ever met in my life.
Jay Goldberg: Absolutely. He would have been a great politician too on top of… he could have been a fantastic senator. He's a great leader, besides being one of the nicest men out there. So I took a tour of the Viscardi Center before we did the event to make sure that this was on board. And as you know, and for your listeners, it's for severely disabled children and adults. And there's really no other place like this in the United State, what they do. It's an amazing organization.
And by the time I left the Viscardi Center, I was in. And as I said, I'm now on the board. But anyway, that event with Mookie, we had one of the children from the Viscardi Center as a special guest, Keanu. And that was really emotional that night. And it was very special.
And just another event that I think of often is there's an author, Michael Gary. I don't know if you ever had him as a guest. Now I'm drawing a blank on the name of his book. "The Game Of My Life." Each chapter was about a Mets best game, but doesn't mean like, "Oh, I hit two home runs that game." It was just something special about that game. And he said, "Do you mind if I bring one of the guys along who… one of the chapters?" I said, "Yeah, no problem." So he brings Ed Charles.
And I couldn't promote it in advance, because I didn't know Ed was coming. So Ed came. And then it wasn't a huge crowd. But my face was very intimate anyway, and this was super intimate that night. And somebody said, "Oh, Ed," who is known as the poet, "Do you remember that poem you wrote about Jackie Robinson?" And off the top of his head, Ed just starts reciting this poem that he had written about Jackie Robinson, and he started crying.
Now I'm going to get emotional. And everybody started crying. You can verify this by the way with Perry Barber who was there that night, and who was crying. And it was just so emotional and so unexpected. I'm not saying those kinds of things happened at all the events, but those two, in particular, jumped out at me. But something special did really happen at every one of these events. I do miss it. I really do.
Ed Randall: Why did it end?
Jay Goldberg: It ended because I did not miss the grind of a retail shop. Nine years of a street-level retail shop in New York City is not easy. To be honest, if it didn't end before the pandemic, it never would have survived the pandemic. So it would have ended anyway. But I did close it towards the end of 2018. I mean, to kind of tie it back to prostate cancer, which is not the reason it closed, but I had my surgery in May 2018 and I was already like, "All right, I'm sick of retail." And maybe that was the impetus, like, all right, it's time to go on and do other things in life. It took me a couple months to feel strong enough to where I could go in and start cleaning the place out and wind it down. And that's what happened.
Ed Randall: So let's talk about your latest project, the documentary film called "The Memory of America: Remember Your First Baseball Game." Where does the project currently stand and what is there to be learned about people through the story of their first baseball games?
Jay Goldberg: Well, where it currently stands is I thank God I can pick up with in-person interviews again. I only do in-person interviews. I decided I wasn't going to do interviews by Zoom, which certainly slowed the project down. I can't interview everyone that I would like to obviously by geography that way. But I was doing a lot of interviews before the pandemic, and then it stopped during the pandemic. But I was able to work on other aspects of the project while I was not doing interviews.
But right now, it's picked up again with interviews going full blast. So obviously, you're at the top of my list along with Joe Cosgriff, Liam, a bunch of the guys from your organization, Fans for the Cure, and our support group. But to anyone who's listening, if you're anywhere within 100 miles of New York City, I would love to do an interview with you. That's where it currently stands.
And really baseball is really just the turnstile. When it comes down to it, it has nothing to do with baseball. At its core, what I'm really trying to get to is empathy. I guess to get back to politics, this country is so divided I think it's beyond repair in some ways. Like I say for the project, that somehow you see yourself in the memories of diverse strangers through this very unique American experience that connects generations. And there's really nothing else like baseball that does all that.
And I have interviews going back with people's memories to the 1940s right now. So it's the last 80 years of really the memory of America. If somebody says, "Oh, my memory is Derek Jeter hit two doubles, made a great play and stole the bass," I'm like, "Thank you. That's great for Derek Jeter, but nobody cares about that." And to be honest, nobody remembers that from their first baseball game. You're a kid in general, you don't even know who the other team is really half the time. But it's about everything else that's happening, who took you.
The funny thing is, of all the interviews I've done, I can state this with certainty, there are only two things that are true 100% of the time. People always remember who took them and they remember the ballpark. That is it. Other than that, it's all over the place, the memories. But those two things people remember. That's where the project is at the moment. And I'm looking to take it in a lot of different creative ways going forward.
Ed Randall: That's wonderful. And good luck with that.
Jay Goldberg: Thank you.
Ed Randall: So tell us how you came to be named an Artist in Residence on Governors Island in New York City by the West Harlem Art Fund for the month of August.
Jay Goldberg: So as part of the project, while I was on hold with interviews during the pandemic, I was applying to a lot of different organizations for exhibitions. And the West Harlem Art Fund, which is this terrific organization accepted me for this… It's called the Visual Muze storytelling residency. They do it every July and August on Governors Island. And I'm one of the artists for August. You don't live there. Nobody lives on Governors Island.
But my proposal, the West Harlem Art Fund does a lot of things that tie in with immigration in a way. And for those who may not know, Governors Island used to be all military at one time. So the house that holds this art exhibit was military housing. So my proposal to them was, "I'm going to only feature stories from immigrants and veterans." So that's who stories will be featured on Governors Island in August. But it's open to the public. I'll be there most days. So if anybody wants to come to Governors Island, which is frankly a hidden gem in New York. The place is fantastic. It's a hidden gem. That's all I could say about it. I don't know how people don't go there all the time. I don't know how I didn't go all the time.
But if you want to come, I'm glad to interview anybody while I'm out there. You don't have to be an immigrant or veteran. If you're not, I can't use your story while I'm there during the exhibition. If you are, I can. But I'd love to interview anybody who makes the trip to Governors Island.
Ed Randall: Jay, you're a guy who obviously can speak with authority on a wide variety of eclectic topics as we've been hearing. Therefore, it surprised me to hear that you were not comfortable speaking in public about your prostate cancer journey until recently. And how the impetus encouraged to do so came from your association with an unlikely community of men you met just a little over a year ago. So if you would, Jay, please fill in the blanks for our audience.
Jay Goldberg: If you would have told me when I found out I had prostate cancer that one day I would do a podcast about my prostate cancer, I would have said you're crazy. When I first found out that I had prostate cancer, I told my wife obviously right away and a handful of people. That is it. I told her if she's going to tell anyone tell them please don't say anything to anyone else. I just didn't want anybody to know. I'm not smart enough to figure out exactly why that was, but I just did not. I'm not sure why. But anyway, I did not.
I was in therapy, frankly, at the time, which really helped get me through it that first year. And because our support group, the Fans for the Cure did not exist at that time. But when I found out that you were starting the support group, I joined. And I have to say it is so helpful. I'm three-plus years out of surgery. But for anybody who is going through the battle or is even past that part of the battle, because it never ends really, unfortunately, in different ways, even if it just emotionally. The support group has been so helpful to me and these guys.
It's so funny because I hate Zoom and I don't really do anything with Zoom. I put my project on hold for a year and a half—that's how much I hated Zoom—of interviewing people that way. But like you see these little boxes every two weeks of these guys, and I feel like close friendship with all of these guys who were in the group. If I remember, other than you, I don't think I've met anybody in person. And you predate me having prostate cancer.
So it's just such a special thing that you've done. And really I just applaud you for that. You, Joe, and Liam on a bi-weekly basis, it's a gift that you give us. To anybody listening, please, if you feel that any need to join a support group, even if you think it's not worth it, just join it. Check it out. I can't say this strongly enough. You don't even have to speak. A lot of times I don't speak during. I just listen a lot of times. There are other guys who fill the air.
I don't know why I felt like that at the time that I didn't want anybody to know. But now I do understand how important it is to speak about it. And I understand why you always talk about stressing to people to take the PSA test. Please take the PSA test. And you're right. You're right. I wish I would have listened to you years before I failed that life insurance test. But thank God it happened for me in time, it wasn't too late. Now I just feel comfortable speaking about it. It took going through this a couple years, but now I have no problem speaking in public.
Ed Randall: What a life you're having Jay Goldberg!
Jay Goldberg: Overall, it's been pretty good. After those 4:15 phone calls from wives and mistresses of baseball pitchers, it's gotten better since then.
Ed Randall: Well, when you come back for our next podcast, you'll name names.
Jay Goldberg: At some point, I will. Yeah, absolutely.
Ed Randall: Okay. All right. Good. Because he gave us [inaudible 00:36:57] with two or three people. You didn't want to disclose their names. So, ladies and gentlemen, we invite you to stay tuned for Jay Goldberg redo when he comes back on our Fans for the Cure, Stay in the Game podcast.
Young man, thank you so much for your kindness, your time, your support. It's a joy to know you.
Jay Goldberg: Same here. Thank you so much for everything, Ed. Really I treasure what you do and your friendship. Thanks for everything.
Ed Randall: Jay Goldberg with us on our Stay in the Game podcast. Thanks so much, everybody for being with us. I'm Ed Randall.
Thanks for listening to the show. You can find program notes and a full transcript at the charity's website, fansforthecure.org. Be sure to subscribe to our podcast in iTunes, Spotify, Stitcher, and everywhere good podcasts are available. And if you like what you heard, a positive review on iTunes will help other people also find our show.