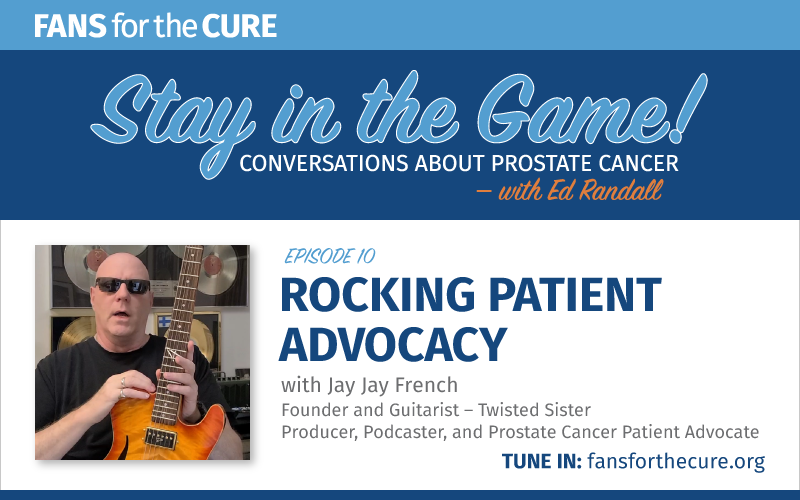 Podcast: Play in new window | Download
Subscribe: Apple Podcasts | Spotify | RSS
Jay Jay French is founding member of and guitarist in the band Twisted Sister, which rode the wave of heavy rotation on MTV to sell three million copies of their 1984 album, Stay Hungry. These days, Jay Jay is a journalist, author, record producer, brand licensor, and an aficionado of vintage guitars. On his own journey with prostate cancer, Jay Jay is an enthusiastic patient advocate, encouraging men and their families to educate themselves about the disease and treatment options. His well-reviewed podcast, The French Connection, is available on the PodcastOne network.
Program Notes
Episode Transcript
Welcome to Stay in the Game: Conversations about prostate Cancer with Ed Randall. Here we'll chat with doctors, researchers, medical professionals, survivors, and others to share and connect. This show was produced and shared by Fans for the Cure, a non-profit dedicated to serving men on their journeys through prostate cancer.
***
Ed: Hi, everybody. I'm Ed Randall, founder and chief advocacy officer of Fans for the Cure. We welcome you back to our Fans for the Cure Stay in the Game podcast. Today's guest is the first 80s heavy metal rocker to join us on the stay in the Game podcast. The first. He was a founding member of the band Twisted Sister which rode the wave of heavy rotation on MTV to sell 3 million copies of their 1984 album Stay Hungry. The band's most famous song "We're Not Gonna Take It" made it to number 21 on the Billboard Top 100 Singles chart, and has been an enduring anthem in films, on television, in commercials, and in rock clubs since it was released in April 1984. You can hear it in your head right now, can't you?
These days, our guest is a journalist, author, record producer, brand licensed store, and an aficionado of vintage guitars. His well-reviewed podcast carries the same name as one of my favorite films, The French Connection. It is our pleasure to welcome to the Stay in the Game podcast Jay Jay French. Jay Jay, we're so happy to have you with us. Thank you so much for making time to be with us. Before we discuss the old days, let's focus on 2018 and why you and I found one another. That was the year you were given the news that you had prostate cancer. Walk us through how you came to be diagnosed. And thank you again for being with us.
Jay Jay: Oh, well, to be clear to the listeners, I'm not an 80-year-old heavy metal artist. I'm from the 80s. Although the way things are going, I mean, that's only around the corner. My father died of complications due to prostate cancer in 1974. And my father never went to a doctor. He was one of those guys from that era of first generation out of Europe people. They just don't go to doctors. And he never went. One day he got sick and six weeks later he died.
When they did the autopsy, it had gotten into his bone. So we figured he probably had prostate cancer for probably five or six years and it just eventually got into his entire system. He's also smoked two packs of Pall Mall's a day, and he drank his scotch. I guess he lived his life the way he wanted to live it. But the bottom line is it was excruciating at the end, and his bones were destroyed. My brother is 10 years older than me, and this was in 1984, he died the day, Stay Hungry went platinum as a matter of fact.
Ed: Wow.
Jay Jay: He died that day. And I knew that that was happening and I had the record label make a platinum album for him, and they got it to him before he died. And I was on tour and my wife at the time took a photo of him holding it. When I got to New York, I was with him the day he died. The picture came back from Kodak Two weeks later because in those days you had to send film out. And the picture I have my dad holding the Platinum out. So he kind of knew. Anyway.
So my brother and I looked at each other and said, "Well, you know, we're just neurotic enough Jews to want to just make sure that it doesn't happen to us. My brother and I are completely different of my father. My brother and I go to the doctor so often that our joke is we're going to die of hangnail cancer. I mean, we have any problem at all, we go to the doctor. So eventually time goes on and my brother gets…we had figured my father probably had it at the of age 66 or 67. This is just our theory that this has happened. So at around 66, bingo, my brother is diagnosed with prostate cancer. And I'm 56 at that point.
So my brother had radiation and seeds and seems to have done the trick. At that point, my PSA is like 4.1. So I go to this one particular urologist who says, "You should have a biopsy." And I went "Uh, really? What's that like?" "Haha, you'll find out." It's like being gang-raped in prison. I mean, I don't know, there's no other way to put it except that maybe after I've explained that to enough people, they go and they tell their doctor, "Knock me out." But the point is this, they did a biopsy and no cancer. So he says, "Okay." A year later I go back and it's like 5.3. "You should have another biopsy." So I have two biopsies.
A year later I go back and it's like 6.8 and I say to him, "Oh, my God, 6.8. How can it jump that much?" I start doing research. And I find out through research that if you have any sexual activity whatsoever within 48 hours of blood test, your numbers can be 20% higher. And I thought, "Wait a minute." And then it said if the blood isn't analyzed within two hours, and it's not kept cold, it can be 20% off. So he called for another biopsy, I said, "No." I said, "I want you to do the blood test again." So abstain from any sexual activity and I made sure the laboratory was connected to the hospital. And all of a sudden that 6.8 was 5.2. And I said to him, "Why don't you tell men by the way? Why do you tell people? Nobody knows that if there's any ejaculation whatsoever coming from, you know, sexual, masturbation, whatever it is…You cannot not tell people this information." "Well, you know, we…"
I said, "How's that not your standard statement? If you're going to avoid it, don't do it." First, if you don't know that, know it. If you're going to do a blood test or PSA, do not have sex for 48 hours prior to the blood test. Believe me. Don't. And if you're going to go have a blood test, find out what happened to the blood. Find out if it's refrigerated right away or if it sits around. Don't have the blood test on Friday and expect a result on Monday. The blood is sitting around, you're not going to get an accurate test. I got really angry about it, frankly.
So anyway, okay, another year goes by, the number really does go up again, and this time, it is like a legitimate 6.9 and I have another biopsy. At this point, it's three biopsies in. And my wife is like, "Man, you can't keep doing these biopsies." Because every time they go in, as you know, they take out like 12 samples or 25 cores, whatever. They take cores out and analyze them. And Ed, I think you know as well as I do that it's not a particularly super accurate, they could miss the tumor. They could take out a core and completely miss. It could be next to a tumor and not hit the tumor. So what's the point?
So we switched doctors. We went to…Can I tell? We went to NYU and we met this guy, Dr. Taneja, who is a well-known neurologist, and he says, "Look, here's what I'm going to do. I don't want you to endure this any longer." He said, "We're going to do one more biopsy, and I'm going to MRI it, and I'm going to then just have you take MRIs. If the MRIs don't change, then you're not going to have to do another biopsy again." "Fair enough." So he does some experimental biopsy, and they do it and they map it out, and he has a baseline and the biopsy again is negative but the PSA continues to climb. Now it's like 8.8.
But six months later, a year later, I go back and it's like 9.3. They do an MRI, and guess what? Whatever looks shadowy is no longer shadowy. And he went, "Wow, for whatever reason, it seems to have gotten better." Meanwhile, I have to pee all the time because my prostate is enlarged and it's encroaching on the urethra, so you're urinating a lot anyway, which is its own problem. Having nothing to do with prostate cancer. As men get older, they tend to pee more. This is not a secret. Everybody knows this stuff, right? But nothing is indicative of anything.
The point is, is that just because your PSA numbers high doesn't mean you have prostate cancer. Just because you pee a lot doesn't mean you have prostate cancer. You could have an infection, you can have all sorts of stuff. You may need antibiotics. You may not have it, but you may which is why you can't mess around. So about a year goes by, maybe 14 months goes by I hadn't been to the doctor and I said, "You know, I haven't been because the last time I went he said everything that looks great." And I go in for an MRI and all of a sudden he goes, "Whoo, I don't like the look in this MRI." Like I don't know where. He sees whatever he sees. "Oh my God. Oh my God. Oh my God." Liar, liar, pants on fire. And he says, "We need to do a biopsy." And not only do we need to do a biopsy, we need to do a double biopsy from two positions, front and back."
And by the way, I've never been knocked out for any of these biopsies ever. And I said to him, "You're knocking me out," and he says, "We have to knock you out for this one." So they do it and they find two aggressive tumors, and they say, "You have a Gleason 9." So I go from nothing…and in this whole period of time, Ed, I'm reading everything you can read about prostate cancer. So I'm the most well informed human being about prostate cancer. Everyone I know, I talk to about it. Everybody. I've talked to a million guys, I look at radiation or look at seeds, I look at radical prostatectomy and I said, "If it happens, I am going to do this."
So I already knew the doctor, the hospital, and the procedure should it come back. And it comes back and they go, "Gleason 9. You need to take care of this now." And I said, "Okay, I think I want a radical prostatectomy," and the guy says, "That's cool. I do that but I'm not telling you you have to do that. You should meet an oncologist and decide for yourself." Very responsible. "So we have an oncology department here, meet with them, ask them the same questions you asked me. And then if you want to do seeds from there, fine. If you want to operate, fine."
So I do. I meet with the oncologist, the oncologist said to him, "Hey, do you ever do radiation on a 9 on Gleason." He goes, "Yes." I said, "Success?" He goes, "About the same percentage of success as RP" I said, "So tell me what to do." And they explained to me, you know, if that you have radiation and it stays in you, the prostate stays in, you just turns to mush. And should your prostate cancer come back, they really can't take the prostate out because it becomes so much it becomes almost impossible to operate on. And this is not, again, fallacy. This is not folklore. You been around long enough to probably heard this a million times.
Obviously, you can tell I've had enough conversations about this. I have enough friends who've had prostate cancer, I've gone down the mill with them. And I decide, here's what happens. When you go on these prostate Facebook sites or whatever, these are how the conversations go. "I've just been diagnosed, I'm very depressed. I don't want to lose my sexual function. What should I do? Should I do seeds? Should I do this?" And the guys who have RP all say exactly the same thing, which is "I just want it out of my body. That's it. I just wanted I don't care. I don't care."
Meanwhile, my sexual function was completely normal going into this and I'm reading what's going to happen. Could it destroy your sex life, which of course is a major deal to a guy. Big, big deal anybody. And I'm faced with this, and I'm freaking out. And this is the mindset. The mindset is: do you want to live first and worry about everything else later? Because if you want to just live first and worry about later, live first. But if you're so, so hung up that you can't have sex, then you're going to die probably. So make up your mind. Do you want to live? Or do you want to die? If you want to live then deal with the process after? So there is your answer. I decided to have RP.
So when it was diagnosed, and it was what it was, they did it. And then post-op, it turned out it was not a Gleason 9, it was a Gleason 7, which was a relief. It didn't go into the margins. It didn't go into the lymph nodes. But the reality of it is it's cancer. And cancer is cancer. And you're going to die of something. And if one cell got out, and it could get out, it may come back again somewhere else.
Another little warning I will give people. When they do a bone scan on you, and Ed you can corroborate this as well, when they do a bone scan to see if there's hotspots in the body, should there be any cancer anywhere in the body, if you have a broken bone anywhere in your body, a broken bone or a severely stressed bone, it will show up as a hotspot. So when you go have a body scan and a bone scan to see should there be hotspots with cancer and there's a broken bone somewhere, you tell them there's a broken bone there. Otherwise, they'll tell you, "That looks like a hotspot, I want to do a biopsy of that bone." Well, I had a hot spot, I cracked a rib in the same location twice in 10 years. It showed up as a hotspot. They wanted to do a biopsy. My wife looked him and said, "He broke his rib twice same place there." They went, "Okay. We got it. That's a broken bone." So that's everything that I know to date.
Ed: Because of the family history with your father, with your brother, you also told me you had a friend who was diagnosed with prostate cancer, you've had two heart operations, and yet you were so very proactive and said that you did quote-unquote, "a ton of research" before choosing a doctor and a treatment plan.
Jay Jay: Yeah, because I had time to do that. Look, Ed, on average, how many biopsies does the average person that you know who's been diagnosed with prostate cancer have before they have their procedure? One, two, maybe? Right. Do you know anybody who's had five biopsies?
Ed: No.
Jay Jay: I'm the only guy, right?
Ed: Yeah.
Jay Jay: I'm the only guy that had five biopsies. So when you are going through those biopsies and the results of those biopsies as you're waiting for the fax machine or the email to come in to tell you whether you have cancer or not, you do a lot of reading, you do a lot of research. Plus all my friends who had prostate cancer, I call them up and go, "What happened? Why did you do what you did? Why did you choose what you chose? What are the after-effects of it?" So I went in knowing as much as a non-doctor could know, I know. As much as a non-doctor knows, I know. And I'm confident, I know because I can sit down with anybody and talk about it. And they'll go, "You know a lot."
In fact, I have a friend who was diagnosed and before he went in for a bone scan, I said, "Do you have any broken bones?" And he goes, "Oh, my whole jaw. I got an accident when I was younger. I broke like 13 joints in my face or something." I said, "Do yourself a favor. When you go in, tell the doctor that your jaw was broken?" I said, "Because they're going to see hotspots all over the place." He goes in. Now, he's an African American guy. He lives in the Bronx and doesn't have much money. I don't know what they expect someone to know or not know. But frankly, the doctor said to him, "How did you know that?" He's like, "My friend John told me." He said, "Well, thank you for telling me." I'm like, "What is that? A secret? It's a state secret. You tell somebody this…." So I was pleased that I could tell him to tell them that the bones in his face are broken so they wouldn't turn around and go, "Oh, it's in the jaw, or it's in the chin or something like that." Ed, you have to read and learn and ask questions.
Ed: And I want to throw in a question here. We do a men's support group every second Thursday night, and it's becoming very, very popular. One of the recurring themes has been that men have said to us on these support groups, Jay Jay, that "the doctor didn't tell me this. He didn't tell me that. I had to ask questions. Or I didn't think to ask a question." And I'm just following up what you've said about how you had to push the doctors. I'd like to get from you a response to how did the doctors treat you and are they lacking in not being as forthcoming as you would have an expectation for it?
Jay Jay: When I switched to Taneja he was forthcoming at NYU Langone. He was forthcoming. I mean, I said to him, "What's going to happen sexually?" And his nurse practitioner said, "Well, if you don't have problems going in, you may not have problems coming out. If you do, there's a lot of things you can do. And it can take time." And I said, "How long would it take to come back if you can't get an erection with pills and blah, blah?" And she says, "Well, it could take a year, two years, three years, in some cases, four years for the nurse to reconnect." And she said, "You have to keep the blood flowing." "And look, we're having an honest conversation here. How do you keep your blood flow?" "Well, stimulation?" "Yes." "Pills? Viagras and all that stuff?" "Yes." I asked them. They said, "Well, you can use a pump." I said, "What's that? I had to learn about that. They talked about injections. I said, "What's that?" I had to learn about that.
And then they said, "By the way, you're going to lose length." And I said, "What do you mean?" They said, "Well, in order to connect the pipes after it's done, we pull in the penis and it lose length." "Oh, wow, okay. Gee, gee, I'm not dead. Is that really the best I'm going to get out of this?" Well, guess what? They don't tell you unless they…I mean, I pushed them and they answered the questions. I can't say they gave me a handbook and said, "This is every answer to every question." But I asked the questions. I got the answers.
The other person I switched from never really said much to me. And when I said, "What about the 20%?" "Oh, well, yeah, of course." "Well, do you think it's a little thing that you mentioned?" I don't know a single guy who's gone for PSA has ever been told by his doctor, "By the way, don't ejaculate." Not a single person I've ever met. How do you not tell somebody that? I don't know. I think it's one of the dumbest things in the world. So you have to get your head out of the sand, get your head out of your rear mentally. And you have to go in and you've got to ask.
Now, since I've had my operation, you see CyberKnife signs all over the place. There's CyberKnife which is a less invasive version of radiation. And I know someone might want CyberKnife. But what they don't tell you about CyberKnife is that if you have a Gleason higher than 6, you can't have CyberKnife because they'll tell you CyberKnife isn't effective. But they don't say that on the ad. Do they? "You have prostate cancer, come on in." No. If you have a Gleason higher than 6, you will not get CyberKnife because it's too far gone for CyberKnife.
Now, there's ablation treatments where they can blast out the tumor. If the tumor is small enough and they catch it fast enough, they can blast out through an in-office procedure, an ablation, where they literally blow it up. Like, "Prrruuuu! Here's the problem." They do blow it up, and they will kill that tumor. That doesn't mean another tumor is coming back somewhere else. If you're prone to prostate cancer, chances are another tumor will come in. How many times do you hear men go, "Well, I had tumors in three sections, four sections, one section, not just one tumor, but multiple tumors in different areas."
So you can have an ablation, and it can succeed, but you're going to be going back to the doctor every six months to make sure another tumor didn't show up. Now, that's fine. Because if I could have had an ablation, and they caught it right away and blast it…well, they didn't have it. Actually, they didn't have ablation two and a half years ago. This technology is moving pretty quickly. If they had ablation two and a half years ago, and I went back to the doctor three months after the MRI that looked totally fine, and they saw something, they would have just gone in booms at it and I probably would have been okay.
However, the other issue for me is that my prostate is out. I don't have to pee anywhere near like I had to, because you just don't. So if there's any benefit whatsoever is…I don't have to sit there like, "I have to go to the bathroom" because prostate is gone, which means that the pressure against the urethra is not there. However, what they also don't tell you is that there's leakage. You can pee. Why is there leakage? Well, because men have to sphincters and women have one. I don't know if most people know this. But a woman has a single sphincter now a woman leaks on a fairly regular basis, whether they want to admit it or not. It happens during childbirth, it happens anytime. That's why they sell feminine pads. You can leak.
Well, men have two sphincters. One of the tip of the penis one of the back by the prostate gland. And that's our locking system that prevents leaking. Well, when they take out the prostate, they take out one of those sphincters and you only have one left. So you have to learn how to live with one. You have to learn that when you sit down, you may have to just squeeze your cheeks. You just have to learn these things. Again, what is it all about? Step one, I want to live and not die. So now that I'm alive, now what the hell do I do? That's the process that I used mentally.
Ed: And you and I have had conversations about those who are freaking out over proposed possible ED issues. And you and I are in exactly the same place that at the end of the day, that's a very, very small price to pay for living.
Jay Jay: Also, while we're talking about ED, let's talk about the difference between radical prostatectomy and radiation. When you take radiation, they give you Lupron and a bunch of other stuff that kills your libido, that actually does destroy your hormones. A lot of times they don't come back. And you may lose your sex drive completely. If you have RP, you have a sex drive, it's just not leading to an erection. And there's a big difference between the two. Because when you have no sex drive, you're not thinking about sex. It doesn't matter. When you have RP, you can think about sex, you can fantasize about sex, you can masturbate and not have an erection and the masturbation is intense. I mean, really it's really interesting. But to the guys who have radiation, they don't do that because they have no desire to have sex. So I know guys who have no desire to have sex.
You better have a spouse or a partner regardless of how it goes, male, female, married, not married, your partner's either with you or not with you. My wife said she didn't care. She wanted me alive. And she figured out. That's what she said. She said, "I want you alive and I don't care. We'll deal with it."
Ed: I get a lot of stuff I want to cover in a short period of time here. But let me first ask you this. How did you find Fans for the Cure?"
Jay Jay: Through Norena Barbella, our mutual friend. Norena, she was my guitar rep at Gibson 10, 15 years ago. And she knows a lot of people. We all know Norena knows a lot of people. So we're sitting down having coffee and I said…and she knows my story. She's a friend of mine. I don't keep this stuff under wraps because I don't care. Maybe I'm too old and I don't give a damn, but I don't care. You asked me about it, I'll tell you everything I know about it. That's it. So I'm with Norena, I'm sitting down and I said, "Well, you know I'm dealing with this blah, blah, blah." And she knew about the heart procedures. Then she said, "You need to meet my friend, Ed." She said, "Would you do any kind of…" I said, "I've been begging to be involved with some group to help raise money and awareness because I can articulate these issues for most people. I know I can."
And you know that old horrible cliché "If I can save one person…" If hear another one of those from somebody, "If I could just save one person's life, it will have been worth it." That's why people do what they do. Truth. If I can educate one person, give them all the knowledge I have, I consider that a success. You know, so they go into the urologist and go, "Well, according to Jay Jay. Tell me, he's wrong. Go ahead. Tell me you lied to me." "I can't tell you that." He go, "Did that guy go to medical school?" "What's up with that?" So that's it. So I want men to know.
Same thing with my heart operation. Atrial fibrillation. I know everything about atrial fibrillation. I know why because it failed the first time. It almost killed me, the operation. Then I had a successful operation. So I had to learn. I had to learn. Here's some rules about doctors. Can just expand a little bit here?
Ed: Be our guest.
Jay Jay: Okay. Here's the deal. If you're going to get a doctor, get a doctor whose done whatever you need to get done a million times. Don't get a guy who just got out of medical school. Don't get a guy who is your cousin's best friend's, brother, whatever. Go to a guy that's done 50,000 of these procedures that have seen every possible thing that they could possibly see. So in the event that there's some kind of complication, they're going to know exactly what to do.
My first heart operation was as experimental procedure and ablation. The guy did 28 of them before me. In my case, it failed. And when he pulled the catheters, it tore my heart muscle, flooded my chest with 400 cc's of blood clots in my lung, and put me into the ICU for three days. So not only did they not cure my atrial fibrillation, but made it worse. And it continued to get worse as time went on. The problem is this. As intelligent as you can be, as all the research you can do, you will find yourself in a situation at one day in which to recognize professionals will have very different opinions about what to do.
This is the tough one. This isn't like Sy Syms going, "An educated consumer is my best customer." That's not like buying a suit. It's your life. And now you got a doctor over here from a recognized institution, who's a pro and then you got another doctor here and he's telling you something. So the doctor over here tells me to go get it done at this particular hospital, and they do it and they screw it up because the technician doing the operation had only done 28. Two years after the failed operation, I'm getting sicker and sicker and sicker. And it just so happens that I have a lunch with a friend of my wife, who tells me her brother in the same condition as I did and got it cured at Cleveland Clinic. And I said to myself, "Well, there's no way he had the same thing I do." So I call him up and I go…I explained my symptoms, and he goes, "I had worse."
I say, "Why did you go to Cleveland Clinic?" He goes well, "Why did you go to where you went?" I said, "Because my doctor was the head of blah, blah in New York told me that this is what I should do." He said, "How many procedures did your guy do?" I said, "28." He says, "Well, because I live in Vegas. I don't have the luxury of a million doctors in New York. So I went on the internet and did some research and said, 'who has done the most of these operations ever?'" And I found three guys who's done over 2000. One guy is in Spain, and he sings opera while he does that. One guy is in France, he does it with no shirt on. Didn't want him. Another guy is in Cleveland Clinic and I hear he's great. So I went and did him and I'm perfectly fine." So I call Cleveland Clinic.
Now, people want to know what it's like to be a celebrity. I'm not really a celebrity. But in the words of Tony Danza, I'm famous enough to get two things: a doctor's appointment when I need it and a restaurant reservation when I need it. Jay Jay French is well enough known to get a good doctor and a good reservation. Called Cleveland Clinic, "I'm Jay Jay French." "Fly out." I fly out, I meet the guy. He's done thousands of them. He looks at me, he goes, "Oh, I can do it." He says, "What drug are you on?" I tell him what drug. He says, "I won't operate on you. I say, "Why not?" Because we don't like that drug here. Now, this is Cleveland Clinic. This is Cleveland Clinic, one of the best heart hospitals in the world. And their guy is telling me he won't operate on me because they don't like the drug that this other head of this hospital in New York told me I had to take.
Now how do you think you deal with that as a consumer, as a person who's sick? You got this guy telling you he won't even operate on you unless you stop taking the drug and you have this guy over here telling you if you stop taking the drug, a) you're going to get worse and b) I don't want you as a patient anymore. Go somewhere else if you're not taking my advice.
So I come home, and this, Ed, is the critical point. I'm in the lobby of my building and a Rabbi Pruman had just died. I knew him all my life. And his wife, Tova, is in the lobby. And I said, "Tova, I'm so sorry about the rabbi." She says, "Oh, John, he had congestive heart failure. Oh, it was horrible." And she says, "But you know what killed him? Amiodarone, the drug I was taking. And I went, "That drug killed the rabbi."
Ed: Wow.
Jay Jay: So I called the doctor in New York, I go, "That drug killed Rabbi Pruman. I'm not taking it anymore." And he goes, "If you're not taking it, I don't want you as a patient." So I called Cleveland Clinic, "I'm stopping today." They booked me nine months to the day after the drug I stopped because they want it out of your system and they cured me." Never had it again. So, again, Ed, it's another example of you do your research, never stop asking questions, and then make the best choice you can.
Ed: Let me get through some rock and roll questions for you, if you don't mind and to turn back the clock, almost four decades. For the handful of audience members who are unfamiliar with Twisted Sister, your band was a big deal early in the late 1980s. And then, of course, there was the MTV component, which was a phenomenon that took already successful bands and transform you guys into TV stars. Describe what those days were like for you and your guys.
Jay Jay: Well, by the time we became quote, "stars," we already had 10 years in, and I was tired at that point. In the early days, we were working six nights a week, five shows a night. So if you think about that, in two years, you've done 2000 shows. I mean, this is how much we worked as a bar band. I started the band when I was 20 and by the time We're Not Gonna Take It was a hit, I was 32. And I'm glad I was 32 because I was very cynical about the business at that point. I had figured that if I had become successful, I would have made 17 cents an hour basically. If amortize it over the entire rest of my life, it wasn't worth it.
I remember my manager at the time called [inaudible] just went double platinum and I went, "Yeah, well, pass the turkey." I just wasn't impressed by any of it. Also, I don't drink and do drugs. So I wasn't in that mindset. I just gotten sick of all of it and I hated doing videos and I hate making records. I didn't think I would but I wound up not liking making them. I didn't like making records, I didn't like making videos. We were extraordinarily popular. We toured the world and sold millions of records.
Then the whole thing blew up because we hate each other's guts. And when the minute things start to fall apart, we fell apart. And then that led to a potential lawsuit and bankruptcy and I lost everything and got divorced. Had I been a druggie and alcoholic, I would have killed myself but already gone through those kinds of crazy issues as a teenager and I had no desire to get that way.
So I just said, "Well, okay, Jay Jay French, Twisted Sister, millions of records sold, and now I'm bankrupt and broke. Now, what am I going to do?" And I said to a friend of mine who owned a gym chain in New York, and he says, "Well, I'd like to get in the music business. Maybe we can manage my nephew." And I said, "Okay, great." "I need money. I own a pool hall on the west side. Why do you manage the pool hall?" So here I am Jay Jay French, and I'm managing a pool hall overnight on Broadway. The guy said to me, "Look, if anybody asks you why are you at this pool hall? Tell him you're an owner. Like that's perfectly plausible. That way you can maintain some dignity and respect." And I did that for a while.
Managed this kid and it didn't work out. Eventually, I sold stereo equipment on the side at a place called Lyric HiFi. So every night I'd be vacuuming Lyric HiFi thinking…and I would never tell anybody who I was. I wasn't interested in it. But I have to go to houses on the Park Avenue and install stereo systems and I have to walk in the back door because I'm the service to help. And I would never tell anyone. I don't need to answer those questions. "How come you're this and why are you doing this?" I didn't want to put up with that crap. So I never told anybody who I was.
And I would go to these houses and install stereos and basically see my CDs and their kids' rooms or whatever and go, "Okay, well, it is what it is." I remarried I had a kid. She developed an eye disease called uveitis, which is another whole issue, which I'm involved in fundraisers for that organization. And I was happy as a clam. You know, just being a salesman. I was kinda like Willy Loman. My father was a salesman so I thought, "This is exactly how I'm winding up as a salesman." I'm like, "Wow, I'm selling stereos after being a rock star traveling the world with millions of records. Here, I'm just back at six o'clock in the evening at Lyric HiFi, thinking, "Is this really how this book is ending? Just like this is ending?"
Then out of nowhere, a band asked me to manage and produce a record of this, which is a one in a million shot. And I took the shot. I produced the album, the album was a gigantic hit. And then I managed the band, the band was making a lot of money, and I quit the stereo business. Then I quit the stereo business because I was making, now, way more money than ever made with Twisted Sisters. I was really successful. And then next thing, the band fires me and my second wife leaves me. And I here I am again. And I'm going through this trough again.
To put this in perspective, my brother and I are having a conversation once and he says to me, "How do you run your life the way you do?" And I said, "What do you mean?" He says, "Well, I wanted even life. So I became a school teacher, because I knew I'd have like a steady career and the job civil service, I get a pension after 30 years if I lasted, maybe I can work as another teacher for another 10 years," which he did and got another pension. His life goes like this.
He says, "But you look at you. You're 15 years old, you become a drug dealer and then you get involved in anti-war activities, and you sue the Board of Education for violating your constitutional rights, and you're a drug-dealing hippie, and you're almost OD'ing and you're almost murdered 20 times. And then you go straight and stop doing drugs and you join a transvestite rock band, which is not exactly the road that most people take when they stopped doing drugs. They start wearing women's clothing.
He goes, "And then for 10 years you struggle, struggle, struggle and then finally you make it. And now you're the biggest band on earth. And just with everything exploding, your wife leaves you and you go bankrupt and you start all over again, and you remarry and you lose everything. And your stereo salesman, and then all of a sudden you produce a band and then that band becomes super hot, and you make tons of money and then they fire you and your second wife leaves you. And then that whole thing falls apart. And then just as that whole thing falls apart, someone decides that you're banned you have not spoken to in 15 years because we hate each other's guts. Everybody wants the band and you put the band together and then you do this reunion and you become super successful. Way more successful than you've ever been."
So from 2003 to 2016 we were playing to an average of 60,000 people a night, 100,000 several times. I mean, massive shows around the world. We got paid a fortune. Did a Christmas record, which was the biggest selling Christmas album, heavy metal Christmas album because we're Jews and Jews do the best Christmas records. Let's be honest.
Ed: Adam Sandler.
Jay Jay: Well, most people don't know that. Chestnuts Roasting On an Open Fire was not the original line. It was Rock is floating in the sea of oil. But no one knew that Mel Torme was actually thinking, "Rock is floating in the sea of oil." Anyway.
Ed: And wrote it in the summertime.
Jay Jay: In the summer. The hottest day of the year.
Ed: Exactly.
Jay Jay: Irving Berlin, White Christmas. You know, Jews write the best Christmas stuff. I tell you. We know how to sell man, baby. So we do Christmas shows on Broadway, we do a week in Vegas, the band becomes gigantic. My drummer died unexpectedly in 2015. We decided to do a farewell tour in 2016. So my brother goes, "You're here and then you're here, and then you're here, and then you're here, and then you're here, and then you're here. How do you handle it?" And I said to my brother, "Well, I was born with this bestest underwear." "So what do you mean?" I said, "Some people can tend to take the heat and some can't." I said, "Entrepreneurs take the heat." And I said to my brother, "That doesn't make you better than me or me better than you. The world needs people like you, the world needs people like me. We take chances. You guys have to be this and I can do that." It's been crazy life.
You have to have a good sense of humor. You really have to have a great sense of humor, because there are times that are really bad. I have a book coming out. And the book is called "Twisted Business." And it tells the story. You know, it tells the story. When I was 22, I had a crisis that almost led to my suicide. I was so depressed. I tell the story of coming out of that and how I deal with things. If you watch " Fran Lebowitz's special, Marty Scorsese's special, we share a certain comic sensitivity of the absurd. I share a comic sensitivity to the absurd. That's how I got through the Trump era because it's absurd. It's just absurd.
You have to have a certain level of humor and absurdity. Otherwise, you can just lose your mind. And I happen to possess that ability, at least still. Of course, when I have dementia, I will no longer be able to process that. But until that happens, I won't know it won't happen. That's the beauty of it. But until that happens, hopefully, I will enjoy my…as I said to my doctor, "I am I decaying ahead of schedule, behind schedule or on schedule as a species of human?" And he says, "You're decaying about right." I went, "Okay, fine. I'm falling apart correctly."
Ed: Twisted Sister sold millions of records. You played hundreds of concerts in the 80s.
Jay Jay: Thousands. Not just In the 80s. Thousands of shows. And started 48 years ago. Let's be real.
Ed: Right.
Jay Jay: Ed, I need ibuprofen just to say that sentence.
Ed: And just now you pretty much quoted Dee Snider, who described himself at the end of the 80s, beginning of the 90s as quote, "married with three kids and broke," unquote.
Jay Jay: We both went bankrupt together.
Ed: And then I want to mention this because this is important. In 2001 Twisted Sister makes a comeback post 911 in a concert to raise funds for the New York Police and Fire Widows' and Children's Benefit Fund, which was started by best people ever, our friend Rusty Staub. Let me skip ahead to this. Legend has it that your bass player Mark Mendoza took out a loaded gun and placed it on top of an AMP prior to the band's first rehearsal after the long breakup. True?
Jay Jay: Yeah. The band hated each other. The problem was we didn't have a drug and alcohol problem like every other band does. So when you do a behind the music it's like drugs and alcohol destroy the band. Hatred destroyed our band. Like we just hated each other. So when they did a Behind the Music thing on an MTV on VH1, the producer said, "So what's the story here?" I said, "No, there's really no story. We just hate each other's guts. We just learned to hate each other terribly."
Ed: But did he put the gun on the AMP?
Jay Jay: Yeah, he did. He came with a gun and he put it on the AMP. So anyway, we're going to rehearse for that. When the 911 thing happened, the Behind the Music special came out two weeks before 911. And I was in Europe at the time. A friend of mine said, "Don't come back to America." I said, "Why?" I said, "I just saw the special. Oh, my God, I knew you hate each other but didn't know how much you hate each other." Like we're all praying for the death of each other's families and plane crashes and shit. Like it's really brutal, brutal, brutal. Everyone just…" So he says, "Don't come back." So I come back and I get all these people call me and said, "Man. Wow, you guys really…I mean, oh, Mendoza, Dee…" Two weeks later, 911 happens.
The day after that, the day after 911, I get a phone call from a DJ named Eddie trunk and he says, friend of mine says, "I'm doing a benefit to raise money for the Rusty Staud organization. His friend, Mike Piazza, He is very close to Mike Piazza and He said, "I would ask Twisted to play but I saw the documentary. And ain't going to happen because you guys hate each other's guts." And I said, "Give me a day." I called everybody up and I said, "Listen, how about we put aside our own personal issues?" Everyone went, "Yeah." And the reason why everyone said yeah was because we all lost somebody close enough. We're New York, guys, right? I'm from Manhattan, A. J. is from Staten Island, He's in the Bronx, Mark and Dee from Queens. We're New York guys. We all know someone who died.
My daughter's third-grade teacher's husband died. My guitar player had a sister in law in one tower and a nephew and both got out. But everyone knows the story. So everyone said, "Sure." So we played. And what happened was we had a rehearsal and Mark came down with a gun. I thought to myself, "What happens to the fight?" So I hired a film crew. Because I said, "We should film the rehearsals for a future documentary. So we had a focus and no one was really going to kill anybody. But there was symbolism. Symbolism rampant through it. And so we did it. And it was a great show.
And we walked offstage, and I have to tell you the truth, people said to me, "Are you doing this to promote something?" I said, "No, we're doing this to just raise money and then we're going home." And I literally walked off the stage of the Hammersmith Ballroom, took my daughter by the hand, took my guitar, walked out the stage door, got in a cab, went home. I would do no press. I didn't want to do anything to promote anything more than when exactly what it was—to raise money for the Widows and Orphans in New York City. I was that pure about it.
All of a sudden, phones start ringing off the hook from European promoters. Twist is back. Twist is back. And we're thinking, "Who the hell cares that Twist is back. Anybody care?" We thought nobody cared. It turned out the world care. So the next thing you know we're headlining festivals that we've never even been higher than seventh on the bill. Yes this is opening up for us. Jethro Tull, "They're opening up for us. I was embarrassed for them." I was, "Really? You guys are opening up for us?" I used to go see you in high school. They must have felt terrible.
My friend is a drummer for Jethro Tull and he's an old friend of mine from Central Park. And I was in the commissary having some lunch and this English guy walks up to me and he goes, "Is your name John Segall?" It's my real name. And I go, "Yeah." And he goes, "Oh, Don Perry says hello." He sent Dean Anderson over to my table. It was like a joke. And I'm thinking, "Oh, my God, I can't believe that." So the band came back and had an amazing run. I mean, it was really crazy how big the band is in Europe and South America. It's stadiums. Stadiums. Stadiums. In America, not so much. But over there, yeah.
Ed: Jay Jay, we're so happy to have you. You're two years removed from treatment for prostate cancer. What advice would you give men that is not available in brochures and on websites? And here's something else for you. We always ask our guests on our podcast, what else does the healthcare world and charity advocates like Fans for the Cure need to be doing to help men on their journeys with prostate cancer?
Jay: Well, prostate cancer and breast cancer are probably equal in terms of the percentages of who they affect—One in ten, one in nine, something like that. So it's not as obscure disease. You're going to be affected by it. Either you will be affected by it or somebody you know will be affected by it. And you should not stick your head in the sand with it. You should be proactive. You should find out your numbers and you should read, and you should figure it out. Now, you could be lucky and have a PSA 1.4 and you'll never go anywhere. You could also have prostate cancer with PSA at 1.4. I mean, there's no guarantee. This PSA business is a little shaky. As you know, as well as I do, they don't even use it in Europe.
In fact, the rule of thumb on PSA is not the number but if the number moves. Am I correct? So if the number is like 7.2 and it's always 7.2, then chances are it's just 7.2. If it goes from 7.2 to 9.3 in a short period of time, then I'd be concerned. But that's not the number, it's the movement of the number, right? That's number one. So that's an important thing.
Establish with your doctor. Sit with your doctor and go, "I heard Jay Jay say this. Yes or no? True or false?" Because if he denies any of it, go find another doctor. That's what I'll tell you straight out. Find somebody else who will be honest with you. And if you have friends with it, ask them about it. Yeah, I'm two years out, and I have to get checked every six months. Although the guy said you don't have cancer to me two years ago, that means I didn't have cancer on the last blood test. I mean, who knows? Who knows? Except if you have radiation first, your options are less. True or false, Ed? True or false? Radiation first, less of an option for surgery later, correct?
Ed: Yeah.
Jay Jay: Okay. I am not saying anything. And you need to correct me because you're the traffic cop here. Have I said anything that is untrue today?
Ed: No. It's been deeply personal. And that's what we really appreciate. And we're so grateful to have you and we wish you and your family the best of success and please God, good health in 2021 and beyond.
Jay Jay: Thank you. We're only as healthy as our last blood test. That's my reality. And hopefully, we'll continue on. Thank you. My brother's fine by the way. My brother's 10 years, 11 years out, and he's fine and cancer-free. I have a couple of friends who have been cancer-free for 14 years and unfortunately, they're dealing with radiation. You just have to stay on top of it. You have to have a different reality. You have to really advocate for yourself, have a different reality, come to terms with it. It's easy to avoid it; don't avoid it.
I don't want to be the guy that goes, "If can do it, you can do it." Because it's not the same jerk on these commercials. It's tough to come to that conclusion. I get it. So you have a choice. You can either not or you can be aggressive. But don't be in the middle. If you're going to go in, go all in. Don't go halfway into this. Right, Ed? If you're going to research it and really understand it, then really research and understand it. Don't read one paragraph of someone's story and think it applies to you. Because it's not the case. It's a very unique disease and it plays itself out in very different ways. It's like a snowflake. Everyone's individual. So I will do whatever you need and I will always talk to anybody you want me to talk to you. And thank you for giving me a platform.
Ed: So honored to have you. Jay Jay French of Twisted Sister. We thank all of you for being with us on the Fans for the Cure Stay in the game podcast.
Jay Jay: May I also mention really quick. I have a podcast as well that hopefully, people listen to called the Jay Jay French Connection on PodcastOne, Apple, and Spotify. I have a lot of really great guests, a lot of people in the entertainment world and in other walks of life too, because it's called Beyond the Music. So it's all of my interests. And Ed, you'll probably be on one of mine because that's what we do. We trade podcasts because we like to just…in fact, I will. I do plan to have a prostate cancer podcast because that's one of the things that I need to have on my platform for my people to understand. So listen to my podcast and support Fans for the Cure and Ed Randall. Thank you for everything.
***
Thanks for listening to the show. You can find program notes and a full transcript at the charity's website, fansforthecure.org. Be sure to subscribe to our podcast in iTunes, Spotify, Stitcher, and everywhere good podcasts are available. And if you like what you heard, a positive review on iTunes will help other people also find our show.