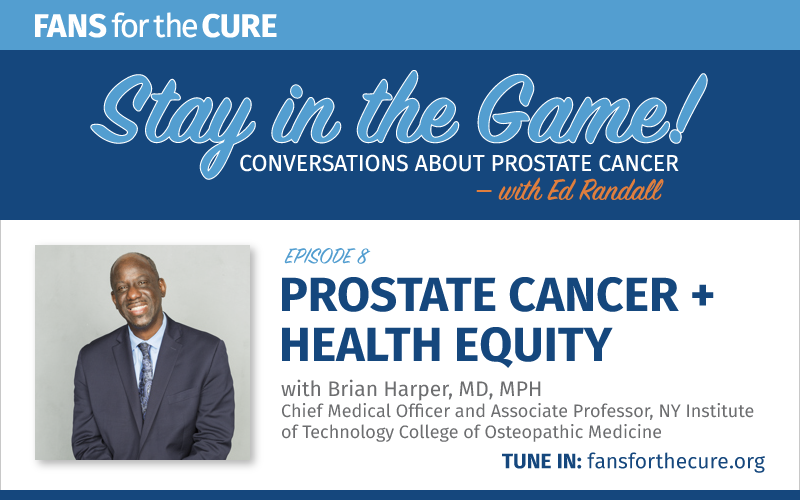 Podcast: Play in new window | Download
Subscribe: Apple Podcasts | Spotify | RSS
Dr. Brian Harper is Chief Medical Officer and Associate Professor at New York Institute of Technology College of Osteopathic Medicine (NYITCOM). With a medical degree from the State University of New York Health Science Center and a Master's in Public Health from Columbia, Dr. Harper has worked for over two decades to address issues such as HIV, communicable diseases, and health disparities.
Program Notes
Episode Transcript
Welcome to Stay in the Game: Conversations about prostate Cancer with Ed Randall. Here we'll chat with doctors, researchers, medical professionals, survivors, and others to share and connect. This show was produced and shared by Fans for the Cure, a non-profit dedicated to serving men on their journeys through prostate cancer.
***
Ed: Hi, everybody. I'm Ed Randall, Founder and CEO of Fans for the Cure. We welcome you back to our Stay in the Game podcast. Our guest today is Medical Director and Associate Professor at New York Institute of Technology College of Osteopathic Medicine. With both a medical degree from the State University of New York Health Science Center and a Master's in Public Health from Columbia, he has lectured for over two decades on the topics such as HIV, communicable diseases, and health disparities. In 2004, he was appointed the first African-American commissioner of health for the 1.5 million residents of Suffolk County, New York. Prior to his tenure at NYIT, he was the chief operating officer and medical director of the Ralph Lauren Center for Cancer Care and Prevention, a private partnership with Memorial Sloan-Kettering Cancer Center. It is my pleasure to introduce one of the country's most effective advocates for health equity and quality medical care for all – Dr. Brian Harper. An honor, sir, to have you with us. Thank you for taking time out of your hectic schedule to join us.
Dr. Harper: It's my pleasure, Ed. Glad I could be here.
Ed: We had to pare down, Doctor, from the million questions we have for you today because your time is so precious. But before we ask them, please share with our listeners your background, where you grew up, when you first decided you might want to be a doctor, how you arrived at a career that combines a medical degree, teaching, and the larger issue of public health.
Dr. Harper: Okay. Now, you said we only have an hour to speak, right? So I'll limit this as much as I can. I'm actually originally from Brooklyn, New York, from Brownsville in Brooklyn and I went to a school called Bishop Loughlin High School, which is located, again, in Brooklyn.
Ed: I know it well.
Dr. Harper: If you're familiar with it. At that point, I actually had a dermatologist who was a black dermatologist. And at that time, he was encouraging me to go into medicine. I got a scholarship and eventually went to Brown University for my undergrad experience. I was actually an engineering major when I went in. He, at that point, shared with me the need for more black physicians and so on and so forth and he sort of pushed me in that direction. As well as I had a brother who was also a pre-med student at Brown University as well. I ended up going in the direction of medicine as a result of influence for both of those two individuals.
From there, as you mentioned, went to Syracuse. After Syracuse for medical school, I started off my training at Harlem Hospital in internal medicine, and that's where I got a lot of experience with HIV and AIDS, as you mentioned. So this is in the late 80s, early 90s. That's when the AIDS epidemic was raging. Unfortunately, there were not a lot of good treatments for those patients, so many individuals succumbed to HIV.
That really put me on a track of public health because I felt that more needed to be done on the prevention side. We would treat patients and do what we could to benefit those individuals when they got to the hospital. But the truth of the matter is that they would go back into the community, be back in a similar environment and end up coming right back into the hospital, and we would have to start the process all over again. So that was really my impetus to go more into preventive medicine, public health and be a little bit more on the policy side. And that's when I went to SUNY Stony Brook to do my residency in preventive medicine in public health. Then I had to go back to school to Columbia to get my Masters of Public Health. That's what sent me on this public health career.
My first job was actually the AIDS czar out in Long Island in Nassau County. I was the director of the Bureau of HIV Services, because of my experiences with HIV. That entailed making sure that funds were received for the county. People may not be aware, but at that point, the Nassau and Suffolk region had more AIDs cases than cities like Detroit and in major urban areas.
Ed: Wow.
Dr. Harper: Yeah. The sentiment was that HIV was sort of an urban disease, but the truth of the matter is it was affecting other areas as well. So as such, we were eligible for a lot of federal grant funding that I was really responsible for, and working closely with the state health department to obtain CDC funding for the entire state. So we managed to get somewhere in the range of $80 million or so as part of the first HIV prevention planning group. So we're going way back. That's part of my history as far as public health is concerned.
Ed: You know what's crazy is you're the second doctor on this podcast that started in another discipline and then went to medicine. It's a long way from engineering to the great work that you've done in the medical community
Dr. Harper: Right. But the interesting part is, remember in undergrad, the first couple of years, it's all the same classes that you're taking. So it's gonna be calculus, physics, organic chemistry, chemistry, biology. All of those things are going to be very similar, whether you're going into engineering, or you're going into…if you have this pre-med curriculum. So many of the students that were in those introductory courses were, in fact, engineering students as well. So that transition is not unheard of. But as you get into your third and fourth year in college, it becomes more difficult. But certainly, you can make that transition earlier in the undergraduate year.
Ed: Did you embrace it immediately?
Dr. Harper: Well, I loved the sciences. So whether it was chemistry or biology, I just enjoyed science. So it didn't seem as that much of a transition to me. And I like the concept of being able to certainly, obviously help others. There's a certain amount of independence with having a medical license that sort of lead me a little bit more in that direction. That's sort of why impetus for going into medicine early on.
As I mentioned, I started off with the Bureau of HIV Service, and that was for roughly 10 years I did that job. Then I did a little stint with Nassau University Medical Center, where I was a hospital administrator. So I was a senior vice president for community health in community affairs. So they had seven community health centers, and I served as a medical director for those health centers. Eventually, after that position, that's when I was sort of recruited and engaged go to Suffolk County to serve as their health commissioner. From there, it was at the Ralph Lauren Center. And I think that's where we maybe…
Ed: That's where you and I met. Exactly.
Dr. Harper: That is correct. Right. That was a fascinating position at the time as well. So Ralph Lauren the designer actually donated $5 million to develop a Cancer Center, which was again located in Harlem, New York in an effort to address the health disparities issue, and to give people in the local community an opportunity to engage in treatment in their own communities. So this was a private partnership with North General Hospital and Memorial Sloan Kettering, and Ralph Lauren Foundation, who decided to start this facility.
And as you recall, this was the vision of Dr. Harold Freeman. He's a very well-known breast cancer surgeon in the Harlem area and the former president of North General Hospital. So he met with Ralph Lauren, and that's how they decided to put this together. I came on board as the Chief Operating Officer and medical director just to increase the utilization of the center as well as provide some leadership in terms of the management and operation of the center itself.
Ed: Our most recent men's support group, Doctor, discussed the underlying stress of dealing with the isolation and the fear related to the ongoing COVID pandemic while also addressing their ongoing prostate cancer journeys. Do you have any advice for these guys and for all of us whose stress levels have been so justifiably high for so many reasons?
Dr. Harper: Yeah. That's a fascinating question. This is not only a problem for, as mentioned, the support group, but even for practitioners, and even in our own college, our employees and staff. Everyone is dealing with this isolation factor. For that particular support group, it's important to note that this is something that they're dealing with as well as the entire nation. But the good news is at least they're still remaining focused on this issue of prostate cancer and doing what they can to support each other and prevent the disease.
One of our biggest challenges is the fact that many people, as a result of this media emphasis on COVID-19, they're not even coming in for their routine physicals and not following up with their routine care. And remember, though, when we talk about heart disease, cancer in particular, these are diseases that really have a large mortality and morbidity associated with them are much broader in scope than COVID-19. It's just that since COVID-19 is obviously communicable diseases tend to get more attention from the media because of the potential for it to be transmitted. But that does not negate the fact that it's important for us to really address all of our individual health issues.
So I think the support group, they'll probably have to do things similar to what we're doing with these Zoom meetings. Those are things that are very helpful, just so that we do have some at least visual contact with others who may be going through the same thing. The other issue is to really focus in now as well on the mental health needs. As you mentioned, stress is a major factor. Stress can be, in fact, a risk factor for reducing the effectiveness of the immune system. And then that, again, will lead you ought to be at high risk of cancer in general.
So seeking out mental health professionals is probably going to be the number one thing I can share with that group if, in fact, they're getting to the point where they're really just uncomfortable being at home and being in this isolated environment.
Ed: It's funny because somebody did mention that actually during the support group. You and I met because you are a visible and tireless advocate of prostate cancer awareness and the importance of men getting tested and taking possession of their health. Yet you and I both meet too many guys whose last interaction with a healthcare professional was coughing for the team doctor so they can play high school football. What's the deal with men and going to the doctors? Is it embedded in our DNA? What the hell is going on?
Dr. Harper: I think is a part of it comes from a lack of understanding and a lack of awareness, which is part of what my role I believe is, to go out and share with people exactly what this physical exam is all about. For your audience, just that they are aware, the most difficult part of addressing the prostate is the fact that it may involve what we call a digital rectal examination. So that's when the physician actually has to place his finger into someone's rectum to feel the prostate to see if there are any abnormalities on the prostate itself.
I had this discussion in my own barbershop because people were still concerned about this. And I think that's another great place to talk to people so that they understand it the dynamic.
Ed: Yes, it is.
Dr. Harper: And you have to really talk about the anatomy of where the prostate is found on…and that's why it's very difficult to reach. And that's why this examination can be so invasive. That's what people tend to be reluctant about doing.
But once you understand the dynamics that first of all it's particularly amongst men, we use the statistics that approximately 1 in 9 men will obviously…may come down and contract to prostate cancer. And that number is a little lower. As a matter of fact, an African American man, you're looking at maybe 1 in 6, 1 in 7. And understand that you can actually die from this disease. Those are the facts that you have to bring together to encourage people to be tested, even though it may be uncomfortable.
Now we have the PSA test, which is a blood test. That will also help to give the physician some direction as to what the appropriate next steps are. But my position is just going to that annual physical so that we can screen for all of the cancers and all of the diseases that a person may be likely to be combating all those silent diseases, even high blood pressure things that you won't perceive. That's why that physical exam is obviously very important, which includes the prostate analysis as well.
Ed: You don't have to take off your headphones, but I do want to put on your public health cap for a moment. Prostate Cancer messaging is nuanced, meaning that while there are expected to be almost 200,000, diagnoses and over 33,000 deaths from the disease this year, prostate cancer has a rate of almost 98% to 99% if caught early, and is localized. That cure rate is spectacularly high. How do you and how should we best communicate to men the message that early detection leads to the best outcomes?
Dr. Harper: Well, I think you said it in and of itself that early detection is the best way to go. Sometimes our fears of coming in to see a physician, that actually works mostly against us. And that's what causes you to come in maybe towards the end stage of the disease when it's a lot more difficult to treat it, in that the disease may have metastasized to other areas within the body, and it's much more difficult to treat. Obviously, if you catch things early, then you have more options available to you where you can reduce the likelihood that this will go on to actually cause mortality.
This brings us back to some of the public health interventions that we actually did at the Ralph Lauren Center. Again, you're focusing on men, and just like your program seeks to do using sports or using entertainers as a vehicle to at least attract the attention of those who would not even really consider going for a routine screening. I think that's a very effective tool.
We in fact, work very closely with the end NBA where we had a campaign that lasted for a year, in which we were encouraging men to be screened. And if in fact they were screened, they would have an opportunity to go to a reception in which they would meet many of the NBA greats. So people like Kareem Abdul-Jabbar, Earl Monroe, Walt Frazier, he was very supportive. We had a number of people from the New York Knicks and the New York Nets who would come to these events. It was an effective carrot to just attract people to the issues itself.
Some of these things sound trivial, and it sounds sort of funny, but they're very effective to at least attract and to get people's attention. And if you have someone of notoriety, I may say something and they'll go in one way or another. But if one of their favorite players say something…LeBron James, in fact, came to the health center. If you were to speak up and say something of that nature, more men would be likely to listen than the scientific experts, quote-unquote. And that's the importance of using sports as a vehicle as well as other entertainers as well.
Ed: We've had that experiences as well with the legions of people that are on our advisory board. These are all former professional athletes in the various boards who themselves have been affected by prostate cancer, members of their family have. And when they speak up, their megaphone is the loudest.
Dr. Harper: That's correct. That's exactly the way it works. Absolutely. But they need the support of the people like yourself and the advocates and experts to sort of work with them. And together as a team, I think we can really make some inroads in getting people to at least acknowledge this and do what they can to take care of themselves.
Ed: They're also there also may be another manner in which to get their attention. As you know, only too well I've told you, we've spent 13 years in the minor leagues. We've been in 1200 ballparks through those years dispensing what we like to think is our life saving informational material. And to get people, when we used to have tables doctor, a dear friend of mine who's got a great sense of humor said, "If they're not coming to the table while they're walking past on the concourse in whatever minor league stadium there is from coast to coast, just put up a huge sign that says, 'Free beer,' then they'll come to the table."
Dr. Harper: That's right. They're thinking in the right direction. That's where the marketing experts become very important. Because we may be thinking one way, you know, academically and scientifically, this is the way that we need to go, but if nobody's listening to you, you're wasting your time. You have to have somebody who could have all of these hooks and tricks to get people in the door.
Ed: COVID has only underscored the differences in the quality of medical care available to people based on where they live, how much money they have, and the color of their skin. How would you recommend that we all become better advocates for health equity?
Dr. Harper: Well, that's a million-dollar question. And it starts off with awareness. Thank you just for even mentioning that on this program so that people are aware of the fact that there are inherent differences. So it starts with what we call the social determinants of health. So when we talk about an individual's health, we often look at things as whether they go to the doctor and things of that nature. But it starts a lot earlier than that.
If an individual is living in poverty, doesn't have good education, we're talking about distributing pamphlets. You know, illiteracy is a big issue. You distribute a pamphlet and you say, "Okay, at least people have received the information," but if they can't read and that's doesn't really make a difference at all. We're talking about the environment. When you deal with cancer, that can be environmental causes as well for many forms of cancer. So if you're living in an industrial area, if you're living in an area where you're exposed to much more toxins, then again, there's a possibility that you may be at a higher risk for disease.
The big issue that the nation is grappling with is the issue of access to quality health care. And that's the ongoing discussion regarding making sure that health insurance is made available to all those who are in need of it. But even after doing that, depending on your where you're at, if you're in New York City, we have a large number of hospitals and facilities, as opposed to if you're in a more rural area in the country, you may not have access to all of this high tech medicine. Again, that can create a lot of problems.
So there have been a few interesting studies that looked at things like your zip code may be more important to your health and your genetics and all the other things that we talk about. Just based on where you're located at, you're going to be put in a situation where those social determinants of health will actually allow you to have better health outcomes overall. So as I mentioned, it starts with awareness. Each one has to teach one so as you become aware of that, then you have to share that information with your friends. So when we do an event where we invite the NBA players and somebody comes to that event, we're hoping that those individuals will go out and encourage their friends and colleagues to also be screened for prostate cancer, whatever disease entity may be. And that's the way the word gets out. It's very slow process but it needs to be done and it needs to be ongoing.
Ed: We're so grateful for your time because you're a busy guy. You're currently both a professor and the medical director of NYIT College of Osteopathic Medicine. For those of us who are either clueless that would be right here or partially informed, can you please explain the difference between osteopathic doctor, a DO and an allopathic doctor or MD, as well as the two philosophies of care if they're different?
Dr. Harper: Right. Well, that's a very good question. I think that's something that the average person may not be aware of. In essence, MDs and DOs are very similar, in that at this point right now, there has been an attempt that has been made that we all now have to go into the same residency programs. At one time they were residency programs for DOs, and then it was another residency program for MDs. Now, we all have to go into the same residency program. And the basic difference is that the DO concept of medicine is slightly more holistic than the MD concept of medicine. Meaning that they are more involved or their perspective is that the human body is one entity and it's not just the physical principles of medicine and an infectious disease and how it affects a given body, but there are other issues that may play a role as well. So they're very much involved with musculoskeletal treatments.
In fact, they look at the body as one whole unit. And even though you may have a disease like asthma, which you would attribute to some of your lung problems, maybe you have structural deficits that can contribute to that as well, alignment of the spine and things of that nature, that they would tend to focus on, as well as incorporating a large amount of prevention with an understanding that the body has the capacity to heal itself. And you want to make sure that people are putting that right perspective and right zone so that they can in fact heal themselves by addressing all of these different issues.
So, the basic sciences are similar for both. So everyone has to know the anatomy, all of the basic sciences, or biochemistry and what have you. And then there probably is just a little bit more additional training to some of these musculoskeletal aspects that I did I mentioned whereby they have osteopathic manipulation so they have manipulating the spine and what have you to make sure to address some of these different diseases. The focus tends to be a slightly more preventive and holistic overall. But all DOs and MDs are all licensed physicians to practice. They all write prescriptions and they basically follow all of the same scientific journals and medical principles.
Ed: We're joined in on our Stay in the Game podcast with the Medical Director and Associate Professor at the New York Institute of Technology College of Osteopathic Medicine, Dr. Brian Harper. I'm thrilled to have him with us. As you know, the charity started out spreading awareness in the sports in the world in general and the baseball world in particular, because I'm a baseball guy. That's what I knew. That's what I've been around for decades. But several years ago, Doctor, the numbers shouted out to us that prostate cancer is a disease that disproportionately affects black men as a percentage of the population. We want this at Fans for the Cure to be an ongoing conversation with you. But right now, what should our charity be doing to help black men and men in medically underserved communities to make sure that they make a visit to the doctor's office?
Dr. Harper: Okay, well, similar to what you're currently doing now, it always starts off with basic education, making sure that the community is aware of what's going on and what they need to do in order to address it. So we've sort of addressed that letting people know that in fact, you do need to be screened and maybe even a greater need for African American men who may be at higher risk to ensure that they do go on a routine basis to have their PSA checked as well as their DRE if recommended by their physician. At that point, it's only going to be awareness.
So we talked a lot about sports. So even as you mentioned, if you're in minor league baseball, I'm sure you have African American individuals who are playing baseball who we would want to call upon to do the exact same thing—to use them for voice as a bully pulpit to really just get the word out and let people know exactly what's going on. And when you often do this, you find that even those individuals who you speak to, they may be affected by the disease, oh, they know of someone, "Oh, my father died from prostate cancer," "I do have an uncle or relative who may, in fact, have the same issue." So it really starts with that.
And then I'm a big believer in partnering with other organizations, similar to what you've done. So my best experience as far as cancer is concerned was a major partnership. You had a major foundation with the Polo Ralph Lauren Foundation, you had a major institution like a Memorial Sloan Kettering hospital, and then you had a Community Hospital at North general. When those three major entities get together, then only positive things can happen as a result of that. And your capacity with Fans for the Cure, you'll have access somewhere along the line to individuals and you may be able to change their mind or to influence them to support your cause and create something similar.
It starts really with an idea like Dr. Freeman had. Remember, he went the course of his whole career, and it was at the end of his career, just about, and he happened to have a conversation with Ralph and then something new could come out of it. So I think in the case of Fans for the Cure, just continuing to push through the information and to share the need, and people hopefully will come on board.
Ed: Recently, the public square learned of the diagnoses of Al Roker, beloved, who went on his national television show The Today's Show to let the world know of his diagnosis, and is being treated this week actually at Sloan Kettering because I understand that his cancer was quite aggressive. Cal Ripken Jr., The Iron Man. Talk about irony, right? The guy who played more consecutive games than anybody in the history of American professional sports went public in the last couple of months that earlier this year he was diagnosed with prostate cancer. But the fact that Cal Ripken did so, Al Roker has done so, boy, this is a great public service for you and for our organization.
Dr. Harper: Absolutely. And that's exactly what we're looking for. So I'm very thankful to both of those individuals who came forth and went public. Remember, they could have just kept that to themselves and not share that information…
Ed: Hey, listen, Bobby Bowden, one of the most successful college football coaches ever was diagnosed and did not go public because he thought it would hurt his recruiting for his program.
Dr. Harper: Right. Right. Well, see, those are the things you would hope that, again, anyone that's in a public profile that they would share that information in the hopes that someone else will go forth and be screened and avoid just what they're going through. Again, I can only share some of my limited experience when I was in Harlem. So again, that same event that we did, which was from prostate cancer screening, as well as colon cancer screening, because we opened up a colonoscopy suite. I remember at least two individuals who came into the screen and they didn't even know and we found that they did have colon cancer. And we were able to send them to surgery.
So that's an example of people who as a result of some outreach event, you can literally save lives just by talking to someone and getting them into the office sooner. So as you mentioned with Al Roker and Cal, if they get that word out, somebody hears them, they convince one or two people just going to be screened, you never know what can happen as a result of that.
Ed: You co-starred recently in the Fans for the Cure short video about minor league baseball. But even though it also featured baseball legends, Steve Garvey, Tom Glavine, and Ed Randall, the prior two in the major leagues, me in the university heights Little League in the Bronx, nearly all the positive reviews pointed doctor to your performance. So the question that we'd like to know is, has your stellar work in the video led to additional onscreen opportunities for you? Do now have an agent for example? You're in demand.
Dr. Harper: No, I do not. I work closely with my own administration at the New York Institute of Technology and I thank them daily. They keep me busy with the local newspapers.
Ed: Okay. No time, no time for another career?
Dr. Harper: No. I'll keep it where I'm at for now.
Ed: All right, good for you. You get a call from the 202 area code and it's the White House offering you the opportunity to make one recommendation about me aspect of healthcare to our new president. What would that recommendation be a thing?
Dr. Harper: Oh, wow. That's a great question. Well, they're already on the right path in terms of focusing on insurance. That's a big component to health disparities. But I would encourage them to go beyond that. So what we've found is that oftentimes, even if two individuals from different racial-ethnic background have the exact same insurance, when they enter into the healthcare system the outcomes are still different. And this is irrespective of socio-economic class. So that somewhere within these systems, we are doing something that's inequitable to different populations of people. And it's not as if someone is actively necessarily trying to do something to harm anyone of any given race, but just the machinery itself doesn't lend itself well for maybe a variety of cultural reasons that the outcome just doesn't pan out for African Americans.
Then there still is this whole sense of distrust. Remember, there's a history, particularly the United States of experimentation and things being done on the African American community so that there's a certain level of distrust that may exist as well. So I would ask them to certainly focus on these issues. Because until we can get past some of these basic health care issues, it's always going to be a struggle within the medical system. So these are some of the items that are now being taught in medical schools, which I never really received any training or understanding of this when I was in medical school.
So there is some progress that's being made in terms of educating the younger generation of the situations. And we need to continue to focus on that. As well as anything that can be done on the prevention side. Remember my board certification is preventive medicine, and public health, so I don't want people to become ill and then we have to use exotic medications to treat people at the end. We want to do what we can to keep people as healthy as possible so that they never have to end up in hospital or we delay that as much as possible.
So focus on prevention things as we mentioned, nutrition, reduction of stress, exercise, as well as addressing mental health issues. All of those issues will help to keep an immune system healthy and that will help us fight off a variety of diseases, including cancer and communicable diseases.
Ed: Before you go, breaking news, before you and I sat down to chat that the Supreme Court is getting the case of Obamacare. They don't expect to rule on it I understand that until June. But the early indications are that they will uphold the Affordable Care Act and maybe not set aside the individual mandate. That's got to be very hopeful news, if, in fact, that's the way they rule eventually.
Dr. Harper: Absolutely. That's always very good news. Because again anything that increases access to health care is vital in terms of the final outcomes and reducing mortality. We're talking about prostate cancer today. But certainly, another disease, if you're looking at women, is cervical cancer. Again, cervical cancer is completely preventable. It's just a matter of access to care. If women have the pap smear on a routine basis, so on and so forth, there's no reason that any woman should die from cervical cancer.
When you look at the numbers, again, the highest mortality is in the African American community. And it tends to be in areas in the south where they may have less access to quality care. One of the things that we do now have with the College of Osteopathic Medicine here is we have a campus that's actually located in Arkansas at Arkansas State University. And when I talk to the physicians in the Arkansas area, they all share how important it was for the Affordable Care Act to make dollars and money available to the health care systems in Arkansas to allow the hospitals to continue to function.
So it's very interesting a lot of similarities between Urban Health and rural health are dealing with a lot of the same issues. And it boils down to a lack of resources to provide access to care. So this Affordable Care Act helps the entire nation, not just those of us here in New York, but it's very important nationwide to give people access to care. So that's good news from my perspective
Ed: In your vast experience, and I'm speaking for you and boy, I have no right to do that, but I'm going to try here. That in your vast experience dealing with the thousands of men that have come under your care through the years and now they have symptoms of prostate cancer—and that's really bad, and then they pass away—I can't imagine the emotional toll something like that takes on you, with my thinking that you are saying to yourself, "Oh, my God, if they had only come earlier to me, I could have saved their life."
Dr. Harper: That's absolutely correct. And it's a horrible feeling. I do take it very personally when people are dying from what could otherwise be avoided. That's the passion that keeps me going on a routine basis is trying to get this information out. And anything we can do to do that is very helpful. The problem is that it's not an immediate reward. So as I mentioned, you know, everything that you go through, you know, you're putting together these systems out there and educating so on and so forth and you never necessarily know who listens to what you say, goes out and is screened for some disease and has a positive outcome. So that's the challenge. All we can do is look at some of the big numbers and see whether we're doing good overall with decreasing mortality, or decreasing morbidity.
For the most part, things seem to be going in the right direction. So we are still engaging people earlier now than we did let's say 2030 years ago. So the information is getting out there slowly. But it is a horrible thing to see someone succumb from something.
Ed: From the time of which I was diagnosed until now, fortunately, the mortality rate has dropped by I believe a third.
Dr. Harper: That's right. That's right. And a lot of this is because of early diagnosis. Then on the other side, treatments are improving as well. That's the combination. You need to do really both. But as I mentioned, getting the word out early. An ounce of prevention is worth a pound of cure.
Ed: For a guy for Bishop Laughlin, you've done well and they're very proud of you down in Brooklyn.
Dr. Harper: Thank you. Thank you.
Ed: Our guest today has been the Medical Director and Associate Professor at the New York Institute of Technology College of Osteopathic Medicine, the esteemed Dr. Brian Harper. What a joy for us to have you on our podcast. I thank you for taking time out of your hectic schedule to be with us. Wish you nothing but the best of success. And please stay safe.
Dr. Harper: Thank you. Thank you. I much appreciate it. Thank you.
Ed: And we thank all of you for joining us on the Fans for the Cure Stay in the Game podcast. I am Ed Randall.
***
Thanks for listening to the show. You can find program notes and a full transcript at the charity's website, fansforthecure.org. Be sure to subscribe to our podcast in iTunes, Spotify, Stitcher, and everywhere good podcasts are available. And if you like what you heard, a positive review on iTunes will help other people also find our show.