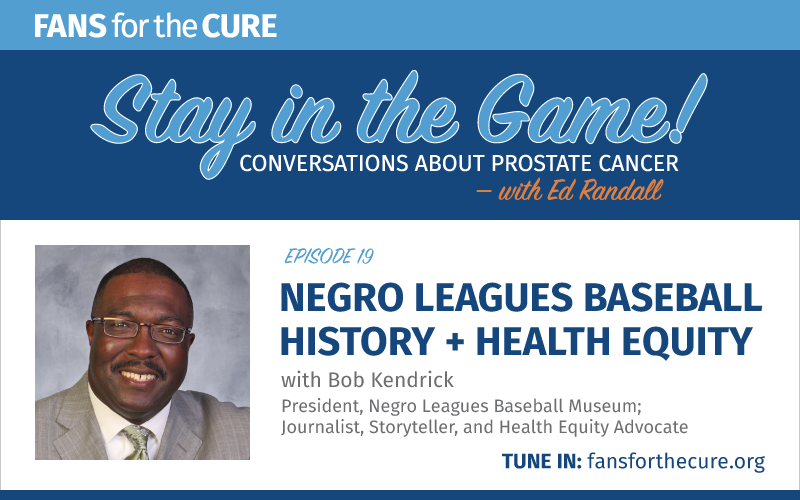 Podcast: Play in new window | Download
Subscribe: Apple Podcasts | Spotify | RSS
An award-winning journalist inducted into the Missouri Sports Hall of Fame in 2014, Bob Kendrick is the president of the Negro Leagues Baseball Museum. He began his work with the museum in Kansas City as a volunteer. In 2011, he was appointed to his current position, and he has lead efforts there ever since. In addition to his work documenting and sharing the stories of the Negro Leagues, Bob is a fierce advocate for health equity. Bob is a wonderful storyteller – he shares great stories and important messages in his conversation with Ed Randall.
Program Notes
---
The Stay in the Game podcast is sponsored by Cancer Health – online at cancerhealth.com.
Cancer Health empowers people living with prostate cancer and other cancers to actively manage and advocate for their care and improve their overall health. Launched in 2017, cancerhealth.com provides accessible information about treatment and quality of life for people with cancer and their loved ones, along with information about cancer prevention and health policy.
---
Episode Transcript
Ed Randall: In 2011, today's guest was named the president of the Negro Leagues Baseball Museum, an institution dedicated to celebrating the rich legacy of African-American baseball and its powerful influence on the development of our country.
Though he didn't start out in the museum's mailroom, he did begin his association with the NLBM as a volunteer, a position he held during his 10-year newspaper career with the Kansas City Star. Our guest, who has also won the Mary Lona Diversity Award in Kansas City was voted into the Missouri Sports Hall of Fame along with Fred Arbanas and Jim Bakken of the NFL, and named "Person of the Year" for 2020 by the Kansas City Call.
He is a 1985 graduate of Park College with a degree in – what else? Communications, a degree that has served him well as one of the leading authority there is on the history of Negro Leagues Baseball. He is also the man to know in Kansas City, up there with George Brett and maybe with Arthur Bryant. I welcome Bob Kendrick to the Stay in the Game Podcast.
Bob, it is so wonderful, and what an honor it is to have you with us. Why are the Negro Leagues and African American baseball at the heart of our country's true historical narrative?
Bob Kendrick: It's such an important part of this country's history. And first and foremost, thank you for having me as a guest on the show. The Negro Leagues represents everything that is good about this country even though it is anchored against the backdrop of American segregation, a horrible chapter in this country's history.
The way we couch this story, however, is that out of segregation rose this wonderful story of triumph and conquest. And it is all based on one small sample principle: you won't let me play with you in the Major League, okay, then I'll just create a league of my own.
And when you stop to think about that, that is the American way. And that's why I tell people all the time that this story embodies the American spirit unlike any story in the annals of American history. It is everything that we pride ourselves about being American. Because it is about pride, it's about passion, it's about perseverance, determination, courage, the refusal to accept the notion that you're unfit to share in the joys of America's so-called national pastime. "So I'll show you. Yeah, you won't let me play with you, I'll create my own." And that's why this story, I think, is so triumphant, so compelling, and so very much are inspiring.
Ed Randall: Bob, what are the one or two most surprising facts that people report learning or perhaps unlearning after spending the day at the Negro Leagues Baseball Museum?
Bob Kendrick: Honestly, I think is the off-the-field aspect of what the Negro League's represented in this country. I think, Ed, over the last three decades we've helped people understand that there were some pretty good baseball players that called the Negro Leagues home.
I think those who might come here, they are now coming to expect that they're going to meet some pretty good ballplayers. And of course, you're going to leave having met some of the greatest athletes to ever put on a baseball uniform. But by the time you walk away from this story, I think you walk away with a much deeper, richer appreciation for just how great this country really is.
The story of the Negro Leagues could have only happened in America. And so there are several themes that we focus on. Two of them, I think, surprises so many when they come here. This story is about economic empowerment.
And so when they learned that the Negro Leagues were the third largest black-owned business in this country, it blows them away. But when you examine and delve into that even a little more deeper, the Negro Leagues probably impacted other black businesses at a rate even higher than the other businesses that were ahead of it. Wherever you have a successful black baseball, you have thriving black economies. And the Negro Leagues were a catalyst for that economic development.
The other aspect of it is the social advancement of our great country. When they discover, still many discovering the fact that Jackie Robinson's illustrious professional baseball career began in the Negro Leagues, I think people think that, a, Jackie just walked out of nowhere and started playing for the Brooklyn Dodgers. But his real rookie season, as you will know, was right here in Kansas City in 1945 with the great Kansas City Monarchs.
And the year that Jackie spent here in Kansas City, he fell in love with everything that Kansas City is famous for: barbecue and jazz. He liked the ribs at a place called Old Kentucky Barbecue. Well, Old Kentucky Barbecue became the forerunner of the world-renowned Gates Barbecue chain of restaurants that Kansas City is famous for. And of course, he fell in love with jazz.
Now, while New Orleans may lay claim to jazz, oh, it was Kansas City that gave jazz its soul. And of course, by the end of the 1945 season, Jackie was gone. He had literally disappeared. And as we know, he was now meeting with Branch Rickey where the two of them aligned to, I think, create one of the most profound moments in American history. And that was their quest to break baseball's six-decade-long self-imposed color barrier.
And there is no question that Jackie Robinson's breaking the color barrier wasn't just a part of the civil rights movement. Man, that was the beginning of a civil rights movement in this country. And so it changed things so dramatically.
So when you put those two things together, the economic impact and the social proliferation that this moment in time represented and the fact that Jackie Roosevelt Robinson came out of the Negro Leagues alongside these more than 3,000-plus tremendously gifted athletes who just wanted to play this game because they loved it, now you see why we say that this story is bigger than baseball. Yet is still just a tiny part of the great story of a game of baseball.
Ed Randall: Bob, you must be asked this question all the time. But who were the one or two black ballplayers who would have been in the pantheon of greatest players ever had the Major Leagues been integrated prior to Jackie in 1947?
Bob Kendrick: Yeah, no, I get asked that all the time. And I can tell you now is a long laundry list of names that could go on that list. But at the top of that list, the great Oscar Charleston, who my friend Buck O'Neil would say without hesitation the greatest baseball player he ever saw.
Now, Ed, he thought that Willie Mays was the greatest Major Leaguer, and most people would concur. As you well know, Mays could beat you every way in which you could be beaten. He could beat you with his bat, with his arm, with his legs, with his glove. And of course, he did everything with a flair, a style that really just people loved Willie Mays.
And of course, Willie Mays' illustrious professional career began in the Negro League with the Birmingham Black Barons. But Buck believed Oscar Charleston to be the greatest baseball player he ever saw. He was Willie Mays before we ever knew who Willie Mays was.
Oscar Charleston was one of the two early era superstars in the Negro Leagues when they were formed here in Kansas City in 1920. Dynamic centerfielder. He said, and I'm speaking of Buck O'Neil, that he never saw centerfielder who could go back on a ball the way Charleston could. Uncanny instincts, man. Just seemed to know where that ball was coming down right off the crack at a bat.
So he played a very shallow centerfield. Just like Willie, he played a very shallow centerfield. So you couldn't bloop it in front of him. And unless you hit it on a rope, you couldn't get it over his head.
I tell people all the time. Most of us remember the great catch, the catch that Willie Mays made in the Polo Grounds in the World Series. Quite frankly, the flow was better than the catch. But everybody remembers the catch because of the magnitude of the moment and because he ran literally, as we would say in Georgia, a country mile to make that great over-the-shoulder basket catch. All the old timers in the Negro League though would say, Had that been Oscar Charleston, he'd been waiting for that ball to come back.
Ed Randall: Bob, you just mentioned about Jackie playing in Kansas City in 1945. We all know the name Branch Rickey for his having signed Jackie first for the Montreal Royals the next year in 1946 and then for the Dodgers in 1947. But who were the unsung heroes who gave African American players a chance to play so that Jackie in 1947 were even possible?
Bob Kendrick: Oh man, so many. Because you asked me… we talked a little bit about Oscar Charleston. The other superstar of the early era of the Negro Leagues was a guy named Bullet Rogan. And Bullet Rogan is significant on this front. While we're all enthralled, and excited, and rightfully so, of what we've seen from Shohei Ohtani this year as this great two-way star, and everybody says that the closest comparison would be Babe Ruth. And I say no, it's not.
Ruth didn't pitch his entire career. And that takes nothing away from Babe Ruth. But really the closest comparison to Ohtani is Bullet Rogan. Wilber Bullet Rogan, a classic and great two-way star for the Kansas City Monarchs starting in 1920 when the Negro Leagues were established.
Ed, he was a perennial 20-game winner. But man, when he wasn't pitching, he hit clean up in the Monarchs lineup and play the outfield lifetime batting average well over 300. He stole bases. He led the Negro Leagues in stolen bases when he was 38 years old. And he got the nickname "Bullet" because of the fact of the blazing fastball. And he threw with a no wind up delivery. I mean, just an exceptional athlete.
And Rogan pitched his entire career. So that is where we draw that parallel between what we've seen Ohtani do and all of the great two-way stars of the Negro Leagues because the Negro Leagues were chock-filled with two-way stars. Because what I try to help our guests to understand is the Negro League didn't have the roster sizes that you saw in Major League Baseball. So they couldn't afford to have a four or five man dedicated pitching rotation. So their pitches have to have versatility. And that became very important.
So you had great two-way stars like the great Cuban Star Martín Dihigo, nicknamed "El Maestro" ("The Master") because he could do it all, Ed. Played all nine positions, played all nine of them well. He is the only baseball player in the history of our sport to be in enshrined into five different countries Baseball Hall of Fame.
He's in the Mexican, Cuban, Venezuelan, Dominican, and in Cooperstown, or as Monty Irvin would describe him as, a beautiful ballplayer. 6'3, 6'4 movie star, good looks. And I'm in the outfield that was comparable or some believe even better than the great Roberto Clemente. I mean, he was just an amazing ballplayer.
And it's hard to think that people come to the museum and they've never heard that name before. And there were hundreds of others who, as the late great Buck O'Neil would say, they built the bridge. And that's what the Negro League Baseball Museum does. We celebrate the bridge builders. You know, you touched upon that—those who created a pathway that made 1947 possible.
See, it's rare in our society that we celebrate the people who built the bridge. We always celebrate the people who crossed over the bridge. But at the Negro Leagues Baseball Museum, we celebrate the bridge builders. And that's exactly what this museum is all about.
I tell people all the time: can you imagine our sport without Willie Mays, without Henry Aaron, without Ernie Banks, Roy Campanella, Roberto Clemente, Bob Gibson. If you can imagine that, then you can imagine what it was like before 1947. Because they didn't learn how to play baseball after 1947. They were playing great baseball well before 1947.
So we as fans were cheated. We were cheated. We should have seen all the great stars take the field and compete with and against each other. And how much better would our game have been? And I can say and I say this with no hesitation, had the doors open before 1947, the record books would be entirely different.
Ed Randall: Let me throw a batting practice fastball to you. When you're the last team of only 16 to integrate, that's no accident. Ladies and gentlemen, may I present the Boston Red Sox. The Boston Bruins integrated before the Boston Red Sox did. And yes, the Boston Red Sox farm team shared a field with the Birmingham Black Barons, who star player in 1949 was the great Willie Mays. But did the Sox, Bob, really pass on Willie Mays as is widely reported, or did the giant simply sign him first?
Bob Kendrick: They passed. They passed not only Willie Mays, but a whole bunch of other guys who would become Hall of Famers. You know, it's really interesting. I don't know if it was an organizational thing that the Red Sox didn't want a black player or those within the organization that wanted to make sure that there wasn't a black player on the Red Sox. But they like a lot of other teams had passed on some tremendous talent.
Now, you mentioned that they would eventually 12 years later after Jackie has joined the Brooklyn Dodgers, they signed Elijah "Pumpsie" Green. Mr. Green was a good player. But man, they passed on a bevy of Hall of Fame level of talent.
Somehow Willie Mays wasn't good enough. Henry Aaron wasn't good enough. Ernie Banks wasn't good enough. It reminds me of a story that Larry Doby shared: that he tried to get the Cleveland Indians to sign Henry Aaron, Willie Mays, and Ernie Banks. And the scouting report came back and said, "Well, Willie Mays can't hit the curveball, Henry Aaron has a hitch in his swing, and Ernie Banks has no range."
And so this scout had predetermined that he didn't want that many black players on the Indians team. Now, had he been bold enough to recommend those three, to join Larry Doby and that great pitching staff that the Cleveland Indians had, Ed, we would be talking about the Cleveland Indians in the same vein in which we've talked about the great Yankee teams of yesteryear. The pendulum of power would have surely shifted.
And yet, kind of that slide kept this from happening. But as it turned out, with Mays joining the Giants, with Aaron joining the Braves, and Ernie Banks leaving the Kansas City Monarchs to go to the Cubs, they carved out their own special niche in baseball [lord? 00:17:58].
And many may have heard the story that $50 kept us from having an outfield of Willie Mays, Henry Aaron, and the great Monte Irvin. Fifty dollars. The Giants outbid the Braves by $50. Now, that is $50 a month. Fifty dollars bad day was still pretty good money. But that is what kept us from having an outfielder of Henry Aaron and Willie Mays, and of course, my dear friend, late grade Monte Irvin who was a star.
He didn't get to the major league until he was 30 years old. So he is a shell of himself. But even a shell of Monte Irvin was better than three-quarters of the guys that were playing in major leagues at that time. And so, you know, you hear these stories… And we have a new exhibit here called Barrier Breakers. It chronicles all the players who broke their respective major league teams' color barriers, beginning with Jackie in 1947, moving through Elijah "Pumpsie" Green being the last to sign with the Boston Red Sox 12 years later.
And as you mentioned, Boston did indeed have a black hockey player. My dear friend, the great Willie O'Ree. The Boston Bruins signed him in 1958. And eventually, the Red Sox would sign their first black player with Pumpsie Green a year after that. And the irony of that, that Boston had a black hockey player before they had a black baseball player.
But this exhibit Chronicles all of their stories, because as you will know, in our society, we always celebrate the first. We rarely ever remember the second. And Larry Doby would integrate the American League literally just weeks after Jackie breaks color barrier. Internationally, Larry Doby integrates the American League, and he's almost an afterthought. It is only been over the last decade that baseball fans have finally started to pay rightful tribute to Larry Doby's pioneering role.
Well as I couch it, Jackie Robinson was, for black folks, Neil Armstrong—the first man to walk on the moon. Well, Larry Doby was Buzz Aldrin. Yeah, Buzz Aldrin don't get any love. There's no love. He's second to walk on the moon and nobody ever remembers him. Well, Larry Doby is our Buzz Aldrin. But Larry Doby went through just as much. Some may even argue even more than Jackie because Jackie is playing in Brooklyn, a major urban center. And national media is following Jackie.
Larry Doby was playing in Cleveland while Cleveland certainly had a share of black folks, it was still kind of tens of being [south? 00:20:35]. And nobody was paying Larry Doby any attention. And Larry Doby was 23 years old, thrown literally into a powder keg of racism. When he walked into the Indians locker room, no one would shake his hand. When they went out on the field, no one wanted to warm up with him. Welcome to the major leagues.
And of course, the very next year, Larry Doby and a seasoned Satchel Paige would help Cleveland win the very last World Series that Cleveland has won, 1948. My Cleveland Indians, and now Cleveland Guardian, fans get tired of hearing me say that. But 1948 was the last time that they won the World Series led by Larry Doby and the great Satchel Paige.
Ed Randall: I think there's a connection there. We could do an entire podcast about the great Buck O'Neil, a star player for the Kansas City Monarchs and a coach and scout for the Chicago Cubs, and one of the people who saved the Negro Leagues Museum. A man who hit for the cycle on Easter Sunday 1943, then met the woman who would become his wife that same night. He said it was his best day in baseball.
As you once said on my show, "If we don't do something about the museum, everything we know about black baseball is going to die." What are your memories of knowing and working with the great Buck O'Neil?
Bob Kendrick: Ed, I thought of Buck almost every single day. Now, he didn't always talk back to me. But I talk to Buck every single day. There's not a day that goes by that I don't think of Buck.
Well, number one, it would be impossible to come into this museum and not think about Buck O'Neil, because as I've affectionately called the museum, it is the house that Buck built. In New York, you had Yankee Stadium, the house that Ruth built. In Kansas City, the Negro Leagues Baseball Museum is the house that Buck built.
And that's not to be disparaging toward anyone who had a hand in helping build this great institution. But it would not have happened without the sacrifice, the passion, the love of Buck O'Neil, who when I met him for the very first time in 1993, and I'm volunteering at the museum at that time, I'm being introduced to this great institution. And it's amazing story that I really didn't know a whole lot about.
And I asked Buck, I say, "Buck, what motivated you to want to build a Negro Leagues museum?" And Ed, his answer was very succinct but also very poignant. "So that we will be remembered." And the final equation, man, that's what we all want. We don't want people to forget us. And Buck did not want those who played in the Negro Leagues, those who helped create this thriving business enterprise, those who helped move the social advancement of this country, he didn't want them to be forgotten.
And for me now, to have been passed the baton, so to speak… you know, because I was there. I was there, I was blessed to be there as Buck O'Neil was literally gallivanting across this country, preaching the gospel of the Negro Leagues and the virtues of his museum to any and everybody who would listen. And I'm there hanging on his coattail or at the hem of his garment for the ride.
And now I get to preach the gospel of the Negro Leagues to any and everybody who will listen in his spirit. But Buck really was the guy. If you were going to single out one individual who really not only helped establish this museum but really held open eyes, minds, and hearts to this amazing story that had escaped the pages of American history books.
And he's right. This story was literally on the verge of extinction. It was going to die when that last Negro League have left the face of this earth. We cannot allow that to happen. I tell people all the time, the Negro Leagues museum that need to survive.
It has to survive so that we don't lose this precious piece of baseball and Americana, so that our children and their children and future generations of children will have a place where they can come and learn something, Ed, that none of us really were privy to during our own formal education. But not only learn it for its tremendously rich educational value but perhaps even more important is inspirational value.
I tell my guest all the time, man, if you walk away from this story with nothing other than this, what the Negro Leagues teaches us is very simple. In this great country of ours, if you dare to dream and you believe in yourself, you can do or be anything you want to be.
You see, they dare to dream of playing baseball. They had no idea that they were making history. They didn't care about making history, they just wanted to play ball. But the pride, the passion, the perseverance, the determination, the courage that they demonstrated in the face of adversity.
I remind our guests all the time, our story is not about the adversity, but rather what they did to overcome the adversity. And that's the real story. And that's a story that transcends age, it transcends race, it transcends gender. And that is what Buck O'Neil was carrying with him. He wanted everybody to know.
And so you can see why I talk to him. When I've got decisions to make, I draw back on things that Buck shared with me. They say there's an old adage that said: the good Lord take care of babies and fools. And I'm not sure which category I fall in, but I can't help but believe that old Buck is watching over me because we continue to do things, and they seem to work in spite of me.
Ed Randall: You are very modest. You are a very modest man. Changing gears just for a moment here, Bob. Fans for the Cure is a charity that runs educational and medical programs for men and families who are experiencing prostate cancer. Prostate cancer is a disease that kills black men at 2.5 times the rate that it affects the rest of the male population.
It's 2021, yet many of the same social determinants that kept African-American players out of the major leagues for so long are still at work in denying power, resources, and healthcare to black communities today. The disproportionate death rates haven't changed since I started the charity 18 years ago. What do we all need to be doing better to keep black men alive at the table and in the game?
Bob Kendrick: Well, I tell you what, number one, I tip my cap to you for the tremendous resources that you're providing to this subject matter, the awareness that you're creating, and your commitment to wanting to see these numbers reverse themselves.
You touched on something. Virtually every malady affects the African American community more than it does the majority community. And a lot of that has to do with the fact that there are tremendous health disparities within our community. And it's important that we bridge that financial gap, and it's also important that we start to chip away at some of the mindset that is still very prevalent in the African-American community.
There's still a tremendous distrust of the medical profession because of some heinous things that happen early on literally, where black men, in particular, were used as basically testing, you know, on stuff and were deliberately affected and impacted by that. So this is trying to erase years and years, decades of this distrust. And it is incumbent upon people like yourselves, this institution.
Because even as we were dealing with COVID, we vaccinated over 2,000 people here at the Negro Leagues Baseball Museum. And I reference that because it was important to provide access to the vaccine. That was very important. But it was also important that we do this in a non-clinical environment where African-American population they trusted the Negro Leagues Baseball Museum.
And if the Negro Leagues Museum is saying that this is something that needs to be done, I feel so much better about it. And we were able to get a tremendous response, where we literally turned the museum into a COVID vaccination clinic.
We need to do the same thing. We are a community leader. So when you reached out to me about this effort, man, it's a no-brainer for me to join you to make sure that we generate this kind of awareness, and that we do everything we can to empower our community to take control of their health. And so yeah, now that's part of being a community leader. And the museum has a vested interest in wanting to be seen that way.
We're not-for-profit organization. We depend on the generosity of a lot of people. But we're also carrying the spirit of the Negro Leagues with us. And that is why it is so important that we play a leadership role within the community in which we serve. We operate in what was once a very proud, prominent African American community, historic 18th And Vine, man was a coach of a crossroads where jazz and baseball intersected.
It was the epicenter of black life. And like a lot of urban areas it had died. So this community is still greatly underserved. And so it is important that this museum take every opportunity it can to continue to inform, educate, empower our community to take control of their health. And that's why I commend you for the work that you're doing on this prostate awareness initiative. And I'm just happy to be a part of it.
Ed Randall: We're honored to have you aboard. And as someone who has spent his life studying and explaining history, you're keenly aware of why there is widespread distrust of the medical industry within the black community, and particularly among men. But men skipping doctor's visits, Bob, and cancer screenings is resulting in lives lost. And that's not hyperbole, it's a fact.
Bob Kendrick: A fact!
Ed Randall: It's been the biggest challenge our charity has faced. So let me toss it to you. How do we convince men to go to the doctor?
Bob Kendrick: We got to do it. You know, we have to do it. We have to let the past go when we talk about missing these opportunities for medical advancement, things that could maybe curb this to be able to get detected early if it happens well before the onset of these symptoms. Because usually, by the time we ultimately go to the doctor is too late. Everything is far advanced now. And so we have to do more things to take control.
But I do think the alignment, the partnerships that you are forging is slowly but surely, hopefully chipping away. We got a lot of work to do to kind of help combat what, again, was decades of distrust. So we got a lot of work to do there.
And I understand that this is not an overnight solution. It ain't going to happen overnight. But we have to continue and stay in the fight. We got to keep grinding away. We got to keep pounding away to make sure that people take care of themselves, that you feel empowered to take care of yourself, that you push aside the stigma that you may have about the medical profession, and take advantage of these advancements that are there.
Now, we also have to continue the efforts to close that financial gap, to get rid of that health disparity so that more people who are underserved can get into a place where they can get the necessary information and treatment that they so sorely need. And so we've got to keep hammering.
You know, men can be a little stubborn. Men of all races can be a little stubborn. And you know, the concept and the idea of getting checked for prostate doesn't always sit well with them. But we got to get over that too. It's a necessary kind of thing.
And now with all the advancements that are coming, there are even ways in which you can get detected now and learn where you are, so that you know what your numbers are, so that you can stay ahead of this thing. You know, I think that's what we're all trying to do is try to put us in a position where we can stay ahead of this and maybe combat in the process.
So we got to alleviate some of this stubbornness that we have and go ahead on end go see a medical professional, get tested because it can and will save lives.
Ed Randall: We're in the process, Bob, of putting together a weekend in Kansas City next season where we visit the Negro Leagues Museum on a Thursday and then collaborate with the Royals on a prostate cancer screening over the weekend. So are you in? Huh? Are you in?
Bob Kendrick: I'm in, man. Count me in. Count me in.
Ed Randall: And as we finalize the exact dates, maybe you can get us a list of things for us to do in Kansas City over a weekend. In addition to your museum, the Royals game, there's the jazz museum, and about four trips to Arthur Bryant on 18th & Brooklyn, correct? Huh? Huh?
Bob Kendrick: I don't know if I can do four trips. Arthur Bryant serves you… I mean, it is a big meal. But that sounds good. You have the support of the Negro Leagues Baseball Museum, particularly as long as I'm in this seat and has any say-so in the matter. We are here to support the great work that you're doing. Can't wait to welcome you here to the Negro Leagues Baseball Museum and be a partner in this vitally important effort to try and combat prostate cancer.
Ed Randall: Bob, as a champion for the importance of early African American baseball in our country's rich historical fabric, you are the perfect chief executive storyteller for the Negro Leagues Museum. From the bottom of my heart, thank you so much for joining me on the Stay in the Game Podcast and I hope to see you in Kansas City next season.
Bob Kendrick: Man, I am looking forward to it. It is an honor to be on the podcast, as it is every time you and I get a chance to connect. So thank you for having me.
Ed Randall: Bob, thank you so much for your generosity of spirit towards the Fans for the Cure. And thank you, everybody, for listening to our Stay in the Game Podcast. I'm Ed Randall.
Thanks for listening to the show. You can find program notes and a full transcript at the charity's website, fansforthecure.org. Be sure to subscribe to our podcast in iTunes, Spotify, Stitcher, and everywhere good podcasts are available. And if you like what you heard, a positive review on iTunes will help other people also find our show.