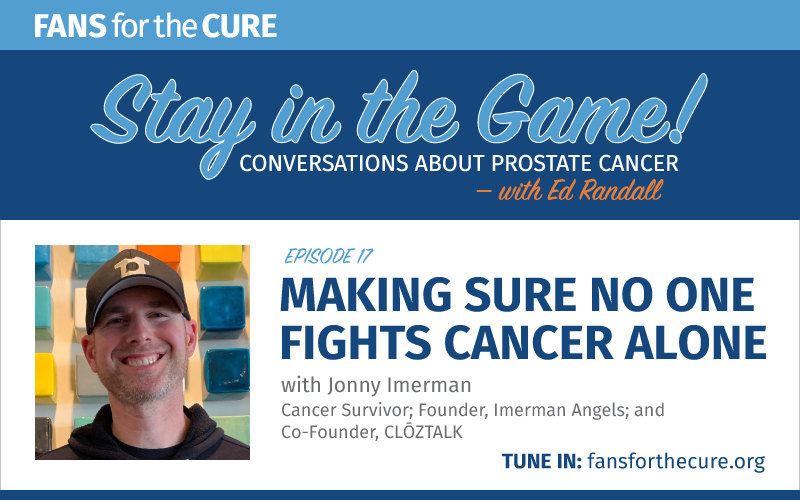 Podcast: Play in new window | Download
Subscribe: Apple Podcasts | Spotify | RSS
Jonny Imerman is the founder of Imerman Angels, a cancer support group that connects individuals fighting cancer with a mentor who has dealt with the same disease. When Jon was undergoing cancer treatments, he made a promise to himself that if he survived, he would provide a resource that filled in the gaps for people in need of human support during their cancer journeys. 
Program Notes
Episode Transcript
Welcome to Stay in the Game: Conversations about prostate Cancer with Ed Randall. Here we'll chat with doctors, researchers, medical professionals, survivors, and others to share and connect. This show was produced and shared by Fans for the Cure, a non-profit dedicated to serving men on their journeys through prostate cancer.
---
The Stay in the Game podcast is sponsored by Cancer Health – online at cancerhealth.com.
Cancer Health empowers people living with prostate cancer and other cancers to actively manage and advocate for their care and improve their overall health. Launched in 2017, cancerhealth.com provides accessible information about treatment and quality of life for people with cancer and their loved ones, along with information about cancer prevention and health policy.
---
Full transcript will be posted shortly.
Thanks for listening to the show. You can find program notes and a full transcript at the charity's website, fansforthecure.org. Be sure to subscribe to our podcast in iTunes, Spotify, Stitcher, and everywhere good podcasts are available. And if you like what you heard, a positive review on iTunes will help other people also find our show.