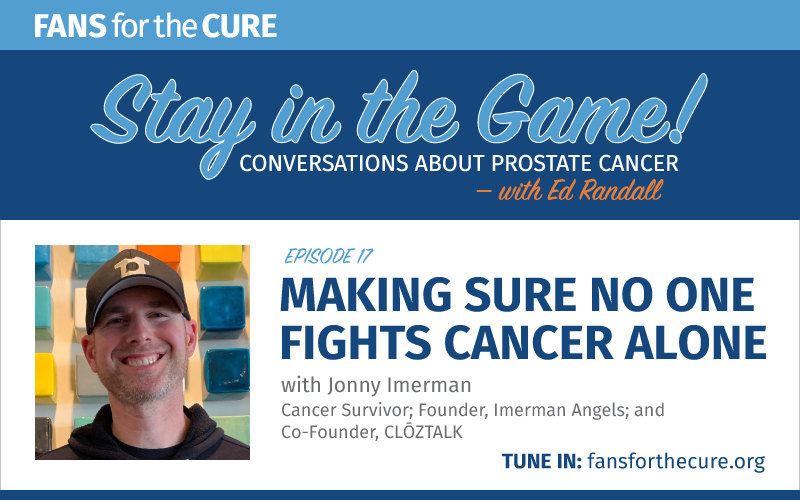 Podcast: Play in new window | Download
Subscribe: Apple Podcasts | Spotify | RSS
Jonny Imerman is the founder of Imerman Angels, a cancer support group that connects individuals fighting cancer with a mentor who has dealt with the same disease. When Jon was undergoing cancer treatments, he made a promise to himself that if he survived, he would provide a resource that filled in the gaps for people in need of human support during their cancer journeys.
Program Notes
---
The Stay in the Game podcast is sponsored by Cancer Health – online at cancerhealth.com.
Cancer Health empowers people living with prostate cancer and other cancers to actively manage and advocate for their care and improve their overall health. Launched in 2017, cancerhealth.com provides accessible information about treatment and quality of life for people with cancer and their loved ones, along with information about cancer prevention and health policy.
---
Episode Transcript
Welcome to Stay in the Game: Conversations about prostate Cancer with Ed Randall. Here we'll chat with doctors, researchers, medical professionals, survivors, and others to share and connect. This show was produced and shared by Fans for the Cure, a non-profit dedicated to serving men on their journeys through prostate cancer.
Ed Randall: Hi, everybody. I'm Ed Randall, the founder and chief advocacy officer for Fans for the Cure. Welcome back to our Stay in the Game Podcast. The charity Imerman Angels takes its name from its founder and today's guest on the Stay in the Game Podcast.
Diagnosed in 2006, and again, less than a year later he emerged in survivorship keenly aware of what his journey had been missing—access to peers who had experienced and understood his specific type of cancer. Today, there are over 6,000 cancer survivors who could be counted as active volunteers for Imerman Angels, in addition to 1,500 caregivers who also belong to the cause.
In 2017, he and a handful of partners founded CLOZTALK, a charity that helps nonprofits manage their merchandise component and build their communities. So far, there are a couple of 100 nonprofits who work with CLOZTALK and we're hoping to sign up Fans for the Cure by the end of the week.
It's our pleasure to welcome to the Stay in the Game Podcast a pride of Detroit, a Michigan Wolverine, class of 98, and a full-time force in nature, Jonny Imerman.
You know, we spoke briefly at the top about Imerman Angels. What is the charity's specific mission? And walk us through how it all got started.
Jonny Imerman: Well, Ed, great to see you always. Love all the good you do with your survivorship and everything you're doing with Fans. I love that all the survivors like us are working together. It's one cause, one fight. Honored to be here with you always, my friend.
So a quick background. Yeah, I was diagnosed at 26, went through testicular cancer. It was totally out of the blue. I was going to the gym, I was a sports guy, I thought I ate kind of healthy. I just never dreamt that anything would happen. And I had the best mom, I had a great brother, I had a lot of friends that would stop by and see me in Metro Detroit.
But all through this cancer journey about a year and a half to two years of chemos and surgeries, I never met another young adult survivor who'd already been through the same thing. At the very end of treatment, a group of young survivors and I randomly met in Metro Detroit at the cancer center and we all agree we want to give back and find purpose and meaning.
And the broken part in this whole journey was none of us knew survivors from the beginning. And we met at the end. And we're unlike the beginnings when we're all scared and we're nervous, and we're terrified, we don't know what's going to happen.
So that's when we started mentoring, we started building a network of what we call Angels, the angels of Imerman Angels. My mom actually named this organization. It was just a few dozen survivors. We never thought we would, you know, carry it this far forward. But there's that need to continue to grow.
Today we're blessed… actually, I'm glad that our stats… blow those stats out of the water. Now we're actually over 12,500 cancer survivors and caregivers worldwide. We probably need to update that on our website. But those are the actual aptitude stats of Imerman Angels.
And we're blessed with the biggest group in the world of survivors and family members that are on call at any moment, ready to give back to someone apples to apples who's just starting the cancer journey. That's the one that we already have overcome.
Ed Randall: You did so well to identify this need, that people touched by cancer could benefit from a frank exchange of information with somebody who was familiar with the experience. So how did the charity go from a good idea to one that now has a roster of thousands of engaged volunteers?
Jonny Imerman: You know, Ed, this is going to sound really simple, but it's really one at a time. We became very focused on the strength and the numbers that we were able to help people. If we really wanted to help people, we needed survivors, we needed family members who've been there. So we were on the recruiting path. We were recruiting day in day out every day, seven days a week. And we just kept recruiting.
Again, this is 2005, 2006-ish. Facebook was launched in 2005. So like there wasn't a whole lot of social media like we know it now. But it was kind of on the ground talking to people, spreading the word, giving speeches if we could, working with doctors and hospitals. But we recruited survivors first, and we said, "We need a network."
And then when we met one, you know, it was instant connection. Just like when you and I met for the first time. We all get it. We've all been through this. We've all dealt with, you know, life and death stuff. And then before they know it, you know their story, and you get them signed up on the team and you start building a database.
In the beginning, it was on a simple Mac laptop on the contacts. We were keyword searching. And today we're much more sophisticated, thank God. We use Salesforce as a CRM that basically houses all of these mentors and helps us make sure we can deal with the tech side of matching people and then knowing who's connected and being able to check in and so forth.
But started one at a time. Just spreading the word. I'm a big believer awareness is the number one need that nonprofits have. That's what's drives the mission.
Ed Randall: I know that from our personal experience, Jonny, that when men ask Fans for the Cure for a mentor during their cancer journeys, our first step is Imerman Angels. How would people get in touch with the charity to either find a mentor or volunteer to become one?
Jonny Imerman: So there's a lot of ways to get involved. People can volunteer, people can be a mentor. Of course, if you're sick, you can use the program. The number one most common way, probably the easiest way on all sides and the most accurate way and the most efficient way is that people go to our website. And they go to imermanangels.org.
And it's a hard name. So if you forget the name, that's okay. If you type in one on one cancer support, Google gives us what's called a Google grant. It's like free keywords. So we're number one on Google across the board, for one on one cancer supports. That's all you need to remember.
And then if people sign up on our website to either become a mentor and become someone who wants to give back and help others, then you'll sign up online, someone from our team—we have 11 full-time—will call you, chat with you, get to know your whole story, make sure it's all accurate in our database.
And if you're someone that's sick, the same thing. We'll also call you, get to know what you're looking for, what chemos you're on, what surgeries, what hospital, and then look through our database to help match you with someone similar to you.
Most people sign up online, but if someone doesn't have internet access, that's totally fine. You can dial. It's 888 Imerman. It comes right to us. It's free. You can anyway. Even some people have used the hospital. They've let their doctors called right from the hospitals. That's okay, too if there's a phone available there to use if you don't have a phone. But of course we want to be inclusive to all people. Everywhere is free and everything we do is free so no one fights alone.
Ed Randall: From the bottom of your heart, what were your expectations when you started this?
Jonny Imerman: You know, in the very beginning, I was taught by my mom, raised by really a single mom, and you know taught as life lessons, you know, to be a person is when you go through something you find a way to help others, you find a way to give back.
And so the expectations in the beginning were nights and weekends. Couple survivors and I go on a Tuesday after work. On Saturday we'd spend the afternoon. Then would go to the gym in the morning, we go the afternoon to the cancer center. We would just go door to door.
And the doctors would send us into different rooms and they'd say, "Oh my gosh, there's a young girl. She's 25. You guys are all in your 20s. She has leukemia. She has no family in town. Would you talk to her, give her a pump up?" And so the docs loved it, the nurses loved it and social workers, they send us into rooms.
So we just thought it was going to be something we did on nights and weekends. But there was so much need and so many survivors we met along the way wanted to do it too that it's sort of snowballed. At certain point, I moved to Chicago. At certain point, we realized, you know, let's become an official 501(c). And then we started an office, hiring people. Again, we have 11 now full-time.
But we didn't know how quickly we're going to get there, but we knew that every time you put somebody in a room who is was fighting, you know, brain cancer, Glioma stage two, with some other guy in Denver who's the same age who beat Glioma stage two brain cancer and this guy ran a half marathon last year, we knew that guy was inspired to meet the guy in Denver.
We would hear it. They would tell us. We knew it was working. We just said, "Another, another, another." You know it's working in a small scale, just keep doing it again and again and we can reach everybody, ultimately.
Ed Randall: Very quickly, what was your experience? When did you know something was wrong?
Jonny Imerman: My story is crazy because only one in ten people with testicular cancer feel pain. In fact, that's true for a lot of cancers. Most people don't feel pain. I was that 1 in 10. Hadn't gone to a doctor in five years. Very stupid, but unfortunately, true.
You know, I'm from Detroit, I went my junior year in Ann Arbor. And then when I was 26, five years later, hadn't gone to a doctor once in five years, I was with a group of friends and we were hanging out in Ann Arbor. They were in grad school. And we were shooting pool on a Saturday night and all of a sudden, I had pain that was so crippling in the left testicle. I felt like someone took a knife and stabbed me in the left testicle.
And I dropped the pool stick I doubled over. I physically couldn't stand up. So I was forced to go to the doctor. But if it wasn't for that pain, I wouldn't have gone in. And mine had already spread. All my lymph nodes were positive. It was in my pelvis, abdomen, behind my kidneys, almost to my lungs. So to three more months likely would have been all in my lungs, neck, and brain. And without the pain, I probably would not be here.
So I think that's why survivors do what we do. A lot of us feel this way, right, is this is out of gratitude. You give back because you're grateful to wake up, you're grateful to have a life, and you want to find something positive in it. But not only if you're sharing your story to help somebody else, which is the key reason we do this. It also heals us too. It's a mutually beneficial thing. It's friendships that just connect on a really deep level help everyone.
Ed Randall: Switching gears for a moment, tell us about your latest venture, CLOZTALK, and why Fans for the Cure and other non-for-profits can benefit from this partnership with you.
Jonny Imerman: Absolutely. You know, we've had quite a journey. And along the way with Imerman Angels, we really got the word out. Because again, it was '05, '06. Facebook was just starting. So we started making T-shirts. And we learned after years that black and white and gray and white, simple, less is more, just the logo. Kind of like a swoosh. You know, no taglines, no company sponsors, no mission statements, it's not a brochure on your shirt. Black and white, really high quality.
Our friends were like, "That's actually a cool nonprofit shirt." Versus the $2, 5K shirts that people generally don't wear and throw them in a landfill. And our friends started to wear them. And they started to rock them at the gym, they would wear them playing, you know, sports after… softball or whatever, volleyball, after work and leagues. They would wear them at a Cubs game.
And all of a sudden, people started to say, "Well, what is that? What's that cause?" And the word spread, helped us grow, survivors found us, people that were sick joined us, we help them, donors found us. We just started to grow.
And it was just grassroots sort of grinded out awareness. And we said, "This is scalable. Let's take the same model and help as many nonprofits as we can." So we built a… it's a social impact company called CLOZTALK. We're filing actually next week to be a B Corp. If anyone knows a B Corp, it's a certification that you are as socially minded as any company out there. And that the core of the business is to make positive social change. It's only about that. So that's really important to us.
So we created ClOZTALK talk like your cloz are talking for a good cause. C-L-O-Z talk. And basically what it is, think of it like a national US online directory of awesome nonprofits that rock. They could be saving animals, could be food insecurity, like Feeding America—that's probably our best-known partner out there—or it could be cancer. It could be something like Fans.
We'll build every one of our 350 Plus nonprofits so far their own page. That's an eStore, Shopify, if everybody knows what that is. It's a Shopify store as well as on one side the mission first always, and a video, five bullet points, like inspire people why they should care about something like Fans first.
And then on the other side of the page, if you're inspired enough, you can shop. And everything is high quality. That's where we're different. All the brands that we use from yoga pants to hats to t-shirts, to track jackets, everything will last. It's super comfy. It's more expensive to us but that's okay because that's part of the model.
And someone can buy a single fan's t-shirt or hat right there. We make it one-off, and then we drop ship it. So we're building the world's largest merchandising eStore made on demand, not in bulk, which nonprofits have done in the past. They just came, inventory, and so forth. Made on demand, dropshipping it.
And we never ask the nonprofits for $1. We don't ask them to promote anything unless they want to. Some want to because they get that they can help promote it. That's fine. But we don't ask them anything. And our goal is to get more of their apparel on more bodies and make nonprofit logo rocking thick, which is not yet. And that's really what we're going after.
Ed Randall: You said something interesting in a discussion we had a few weeks ago. That fashion-wise we're no longer in 1978 when it comes to colorful t-shirts and rainbow-colored logos. Now that you, Jonny Imerman, qualify as a borderline fashion influencer, tell us what you've learned about t-shirt, color preferences through your work with CLOZTALK.
Jonny Imerman: I love you but you're much too generous. And definitely, I'm not an influencer, but a scrappy grassroots guy, that when I get passionate about something that makes the world better, you know, our team, I feel like we always find a way. And this is hard just like Imerman Angels was hard.
I can remember the beginning being so slow, and then all of a sudden, somehow, some way the floodgates really opened and we grew. And I feel it will be the same with CLOZTALK. But yeah, that's really our whole MO is how do we make it mainstream? That someone's like, "I'm going to the gym three days this week. Should I wear a plain white t-shirt?" And that's okay. You know, it's your freedom if you want to wear that.
But you could be even better. You could be great. You could pick your favorite CLOZ. It could be saving an animal, it could be feeding the homeless. Whatever you love, that's fine. Pick it, rock it, talk about it. Make a new friend, talk about something positive. And you know, maybe, guys, we found a way to bring us all together at the same time. Because it doesn't matter where you are politically, you know, helping the homeless, feeding the hungry, helping someone with cancer. I mean, what more can bring us together over things like that?
And so that's part of our mission is connection again. Imerman Angels clearly is about connection. CLOZTALK is also about connection. But it's about the awareness of causes that truly matter.
Ed Randall: So how would a nonprofit get in touch with CLOZTALK about managing their merchandise?
Jonny Imerman: All they need to do, Ed, is go to cloztalk.com. Again, it's free. There's zero asks from us. We've learned through Imerman Angels. We designed this in a way that we want someone to come to us at Imerman Angels and say, "Here's our offering. Here's our model." So we've used what we know being nonprofit guys first to develop the model.
Really there is no risk. There's no downside. We're not even exclusive. They can still make mugs or whatever with any other vendor. We don't change anything a nonprofit is doing. I mean they can't lose. It doesn't cost anything. They can't lose anything.
But all they do is go to this site, and at the very bottom, there's a nonprofit application. We have 350. But if you're a great nonprofit out there, and the world needs more of you, please apply to us. You know, it's my brother, myself, and a third partner. And if you're doing great work, we'll definitely accept you, we'll build your store as we drive more traffic to our site where people learn about these great causes.
And then some of them will take the next step to rack the logo. You know, we'll help you grow your awareness and grow more support, get more donors and build a bigger brand. Make the world a better place by growing these organizations that truly make it a better place.
Ed Randall: I'm going to amplify on something that you said earlier. How did you first develop your obvious interest in giving back to others and reaching out to people at a time in their lives when they need help the most?
Jonny Imerman: You know, I would point to my mom, my brother, my family. And I just grew up in a family where giving back and helping others that have less was what we all do. And those were the lessons that were ingrained in me as a kid. I always feel like I can be doing more and I should be doing more. But that was natural.
And I think our whole family through cancer, all of us were like, "How do we turn this into something positive?" And you know this, Ed, as well as I do as a survivor. You can look at something like cancer and say, "This sucks. This is a horrible. I don't even want to talk to anyone. I'm angry, angry, angry." Or you can look at this and say, "There's going to be something bright about this."
And it might not be fun in the beginning and it's not fun. And you and I both know it's a lot of rough, scary days. And I'm not discounting that because that's true. It's like having faith that something along this journey will be a value and be something positive.
And to us, that real value is the knowledge of your story. Because through that knowledge, friendships like you and I, Ed, like we get each other. The story also is what we share with those who are sick to blaze the trail for them, to show them how to get through this and to prove to them that we're back in the gym and we're happy, healthy, we have families, we have jobs. Like there's a great life after it.
But, you know, that became, I think, clear to us that it's the knowledge of your journey that makes us unique. With you with prostate cancer, I don't know all the ins and outs of that like you do and you don't know all the ins and outs of my cancer like I do. But all of us together have that unique gift. And when it's matched with the right person apples to apples at the perfect time, that's the best system where everyone gets the support and the big brother, big sister that they need.
Ed Randall: We mentioned at the top that you're a Detroit guy. So this is as good a time as any too gratuitously invoked names like Gordie Howe and Berry Gordy, and now Miguel Cabrera and his 500 homers. You and I discussed a while back that you spent much of your time during COVID in Detroit. So tell us about Detroit in 2021. And what is it about the Motor City that keeps calling Jonny Imerman back, the native son?
Jonny Imerman: Well, I'm not special than a lot of other Detroiters. But I will tell you I love the city and it means a lot to a lot of us. You know, there's a group there that's actually called The Expats. We're called the Detroit Cranes Expats. You know, Cranes the business magazine like kind of pulled us all together. There's about 250 of us.
And we come back every year. We all live in different places. We come back every year. It's actually coming up the end of September and we meet. We're really blessed. We meet with the mayor, we meet with the governor, we meet with a lot of the people that are working in the city, economic development people, and so forth. And we all try to find the ways to help and stay engaged from afar and make sure that people know what's going on in Detroit from afar.
And it's really important to me. They've done it the last maybe seven or eight years. I've only missed one or two of all of them. Almost all of them. And you know, it's a really important time, I think, for Detroit guys, because it's been through a lot.
And now after the bankruptcy, there's innovators, there's jobs that are opening up, there's energy in the city. And best of all, there's inclusion. There's a mix. Obviously much, much tinier than in New York, but it feels a little New Yorky to me that there's all different colors, races, backgrounds, religions kind of like you see in New York. That is happening on a very small scale in Detroit. And it's about connection again. It's bringing people together.
People in Detroit generally want to be in the city. And the energy is there. And I just hope it keeps going up and up. I will do everything in my power to kind of help my friends there who are entrepreneurs, help them and see that city grow and create more jobs. It's just a really great time for Detroit. But it was wonderful.
I was back with my mom during COVID. She's single, 75. I'm single at the moment, no kids. And so we quarantine together. 95% of time it was perfect. 5% I think she wanted to kill me and throw me out the back door. But somehow we got through it. You know, again, family time. We're really close as a family. So it was really nice. And my brother lives 15 minutes away with his wife. So it was good Detroit time but excited to be back in New York as well.
Ed Randall: You, young man, recently won the humanitarian service award from the College of Literature, Science, and Arts at the University of Michigan, your alma mater. The award describes Jonny's mission as "don't fight cancer alone." So what was it like, Jonny, to be honored for your work by your alma mater? And I must ask you this. Did they need to book the big house and fill it with 100,000 people for your ceremony?
Jonny Imerman: I think it was that random they may have needed the big house. But for me, it was much more of a little house but I appreciate that. I'll tell you what. We were very flattered. You know, this is a team award like every award really ever. Like no one person—we all know this—no one person really accomplishes anything. But teams, small teams, teams working together move mountains, right? That's really where change happens.
And I was really proud of our team that we won this award. It was nice to go back to Ann Arbor, which… And I was four or five years old going to Michigan games growing up in Detroit. So that's the only place I wanted to go for college. So there's a lot of love for the amazing blue there. And we're really honored to go back.
And I stayed in touch with a lot of the people that work and the LS&A department that we met during that speech and that event. But you know, really the credit, even though I feel like Imerman Angels got the credit, ultimately who deserve the credit really it's the mentors. It's the people that sign up for this for free, for no pay, for no glory, for no recognition, no PR.
I mean, there are people right now while we're talking who are maybe some guy in New Mexico is mentoring somebody in Hawaii right now through a Zoom on a call. Or somebody in LA is helping someone in Paris on a call. That is why we're here. And those are the people that truly win those awards because they're doing the work. You know, they're sharing their story to help the next person. That's what it's all about.
Ed Randall: You're very modest. About 15 years ago, both of us identified a need and both of us began not-for-profit organizations to help people who've been touched by cancer, whether they were those diagnosed, or those who provide those dealing with cancer with the daily care in their lives. You know the world of prostate cancer because so many of your mentors are helping men with prostate cancer. What else can and should Fans for the Cure and Imerman Angels be doing for men with prostate cancer, the doctors, hospitals, and volunteer organizations are not currently offering them?
Jonny Imerman: Now, among the many reasons I love you, Ed, one of them that I really love you is I love your idea of going to ballparks, organizing people. And it's hard. It takes a lot of work. But talking to people and chatting with dads and seeing a dad with a kid and saying, "Hey, you know, don't you want to see your kid grow up?" Making this real to people. I love that scrappy grassroots mentality that you always had. But that's kind of how we are.
You know, you do whatever it takes to get through to people. So I love that about Fans. I love that about your work. And you immediately turn this into something positive and a way to work with others to educate about prostate cancer. But there's no doubt about it. I mean, a lot of people don't understand it and a lot of people don't know how to check for it. They don't know what PSAs are. And they don't know at a certain age, you've got to get tested.
And so the education that you're doing in Fans is doing, I'm a huge, huge fan of it and advocate because ultimately time is everything. If you can find this stuff early, we can save a lot of these dads and a lot of these men. And if you don't get to it, as you and I both know, people die, people get late, I mean, just like me. If I didn't have pain, I was a kid in my 20s, I wasn't educated, two, three more months, and that would have been it.
And so we gotta do better than that. Survivors like us we got to educate. And that's what you're doing. You're educating people how to get checked, how to stay on top of it. If it happens, nip it in the bud and save your life, watch your kid grow up and live a long life. But you have to do this stuff. Otherwise, people slip through the cracks and we lose them.
Ed Randall: The pain at that pool table that night changed your life and changed the life of countless others.
Jonny Imerman: The pain at the pool table is definitely one of the best things that ever happened to me. At the time I was like crying in pain. I couldn't even stand up straight because it hurt so bad. But that literally saved my life. It forced me to go in because I literally couldn't walk straight. And so it forced me.
And actually, I have a brother who's a stepbrother and I called him and he knew right away. He's like 26-year-old. Acute testicular pain that is median data. 15 to 35 years old, those 20 years of a man's life, the number one most likely cancer to get is testicular. And we all know about prostate. It's 40, 45. And it can be even earlier. I've seen people earlier. But you got to start getting checked. That's the next stage level. But young men right around the corner from the prostate is actually testicular.
And my brother said right away, "The doc…" He was like, "You got to go in. You got to go to urologist, go to a specialist." And I learned that lesson that day as well. You know, you don't go to a general ER doc. Go to someone who sees exactly that area of you have pain because they're more likely to be keyed in on what problem it could be. Just to make sure you get to the bottom of it and solve it.
Ed Randall: I've always been so impressed and blessed with knowing you, especially since right after we met in Chicago that afternoon. Shortly thereafter on the first Stand Up to Cancer special, one-hour special, you were standing on the mound at the home of the Chicago White Sox as Bud Selig, then the commissioner of baseball donated $10 million to the cause of cancer research. I was so impressed that you were on the mound.
Jonny Imerman: Well, it has been an honor and a blessing for me to know you, buddy, and everything you do, to use your energy and your voice to help others and share your story to help others. Especially when you know, these cancers like you and me, like some men don't want to talk about it. And we have to normalize it.
You are one of those champions that's normalizing it. So I have so much respect for what you do and opening up about this cancer. That was a really fun experience in Chicago and seeing you there. I mean, being on the mound. And what that family has done for cancer has been incredible, the whole White Sox crew.
So there's a lot of warriors out there. There's a lot of champions out there helping the cause. But I think the voice like yours from the survivors who've been there and you use your voice to educate and help others, it takes all of us working together to make real ,real change in the cancer space.
Ed Randall: If people want to get in touch with Jonny Imerman, what's the best way to do so?
Jonny Imerman: If anybody wants to reach out, more important to me is what we do, the movements that we're trying to build and that we're on. But anyone sick, or they're looking to get a mentor, anyone who wants to mentor another person, it's imermanangels.org. Imermanangels.org. Again, if you type in one-on-one cancer support—we're number one on Google—you'll find us.
And CLOZTALK, if you know great nonprofits that should be in our community and you want more of in the world that we can help them grow, it's cloztalk.com. And if anyone has questions for me directly, I'm just [email protected]. Anything I can do to help anyone who wants to do work in social impact, I will always find time.
Ed, it's just a pleasure to see you always. One day I hope to be about one quarter as quick, witty, and funny as you are. That's one of my dreams in my life. And it's probably unattainable, but I'm still going to try.
Ed Randall: That's really pathetic. I want to thank Jonny Imerman, the charismatic, effervescent, always enthusiastic Jonny Imerman for being with us on our Stay in the Game podcast. Jonny, thank you so much. Best wishes to you always. God bless you for the work you do.
Jonny Imerman: God bless you, brother, for everything you do. Stay well. Thanks for having me. Keep up the good work. Go Fans! And I'll see you soon.
Ed Randall: Thanks so much, everybody, for listening to our Stay in the Game Podcast. I'm Ed Randall.
Thanks for listening to the show. You can find program notes and a full transcript at the charity's website, fansforthecure.org. Be sure to subscribe to our podcast in iTunes, Spotify, Stitcher, and everywhere good podcasts are available. And if you like what you heard, a positive review on iTunes will help other people also find our show.