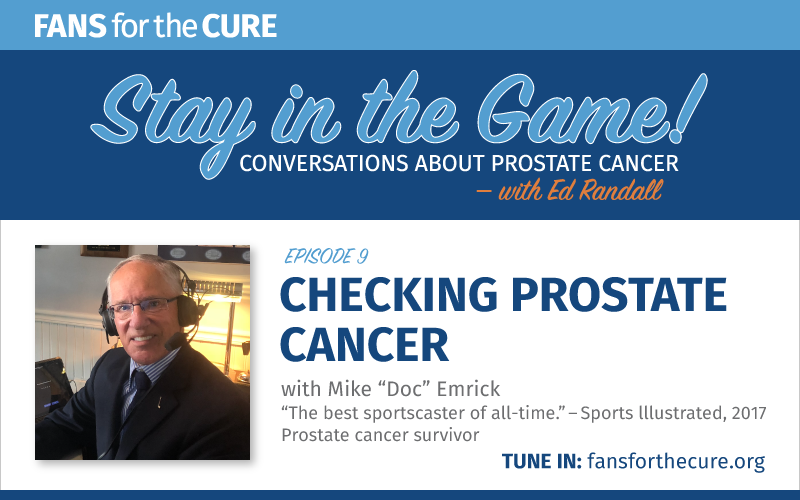 Podcast: Play in new window | Download
Subscribe: Apple Podcasts | Spotify | RSS
Mike "Doc" Emrick recently retired as the primary play-by-play announcer for NBC and NBCSN. He was the first member of the media honored with the NHL's Lester Patrick Award. In 2017, Sports Illustrated named Doc as "the best sportscaster of all-time." Mike is a prostate cancer survivor.
Program Notes
Episode Transcript
Welcome to Stay in the Game: Conversations about prostate Cancer with Ed Randall. Here we'll chat with doctors, researchers, medical professionals, survivors, and others to share and connect. This show was produced and shared by Fans for the Cure, a non-profit dedicated to serving men on their journeys through prostate cancer.
***
Ed: Hi, everybody. I am Ed Randall, the founder of Fans for the Cure. Welcome back to our Stay in the Game Podcast. We will miss his extensive vocabulary, his barrage of verbs, and lilting inflections, but more than the voice will miss the man, one of the kindest to ever pass through hockey rinks across the land. We thank him for his lifetime of generosity, enthusiasm, and love of hockey and a body of work that rivals anyone ever to pick up a microphone and call a game.
We at Fans for the Cure are so grateful to him for his sharing his story with us as a prostate cancer survivor. He is retiring his the play-by-play voice of hockey on NBC Sports. What an honor it is for us to welcome the legendary Mike Emrick, the highly decorated, first-ever broadcaster inducted into the US Hockey Hall of Fame to our Stay in the Game podcast. Mike, thanks so much for being with us. My goodness, we're going to miss you.
Mike: Ed, thank you very much. Is that a skull I see behind you there?
Ed: Yes, it is.
Mike: What's the story behind that?
Ed: I'm married to a surgical pathologist.
Mike: How about that? And that's homework for her?
Ed: Once upon a time.
Mike: Ah, good. I'm glad it's not you.
Ed: I'm not the shrunken head yet.
Mike: Okay, good, good. I just find these things curious. When I see people's offices in pandemic television these days, I get to see and read a lot of book titles. And that's always fun for me. Anyway, it's wonderful to be here.
Ed: It's probably the first skull you've seen
Mike: You're right. I haven't seen one of those. And I probably won't see another. Haha.
Ed: Mike, we're really going to miss you.
Mike: Oh, thank you. I'm going to miss the circuit. There are things that in any job you don't miss. They are the things that you look forward to when you first start, like airplane travel. But it has changed to metal detector lines and all of those things. I won't miss that part of it. But sure, we'll miss sitting with athletes and learning more about their stories. That part I will certainly miss, Ed. You can appreciate that because the athletes we have in sports are some of the best people, and I'm spoiled by being around hockey athletes as I have the last 47 years. So that part I will certainly miss, that's for sure.
Ed: Why are you retiring after only 4,000 games scored?
Mike: I don't know. It came to me. And older people than I, and there still are some in this world, used to tell me that I would know when it was time. And it came to me during the third round of the playoffs this year that it really was time because it had been 60 years since I saw my first game and 50 since I started covering hockey in the NHL and 40 of doing NHL games. And I still had my health and NBC made sure of that by keeping me in my home to do the conference final, the third round, and the Stanley Cup final. So I knew I was going to be able to maintain that. And I felt wonderful about having my health still despite the pandemic, and my wife was healthy. And so this seemed like the right time to start another chapter.
And with us, you know, we all have causes, and yours is such a vital one. Ours has pertained for a number of years to animals. So the book that I've written, all the proceeds go to that many other things that we're doing now related to animal causes. But for today, I am here turning back the clock in my own mind at 30 years ago this month when I was shakily only four weeks away from prostate cancer surgery, and I was about six weeks removed from the diagnosis that scared me. But it did, in fact, give me a certain amount of comfort that I had been discovered early. And so I was very fortunate in that regard. But in a long-winded answer to your initial question, it just seemed like the right time. I had had a lot of great thrills to recount as I'm doing these days. So it was right.
Ed: I've never had the opportunity to ask you in our past interviews if you ever played hockey.
Mike: Thank God no. I still have my teeth. I've had a few surgeries in my time, but they were all elective, including the one 30 years ago. It was forced, but it was elective. But no. The ones that hockey players get are usually rushed. And so, no. But I admire the guys that can play. I've had great admiration for them. Because in the sport that I follow, Ed, you had to learn some basic things before you could play the sport unlike baseball, football, and basketball, wonderful sports, where all you had to do was run. But in this one, you had to be able to use extensions of your feet skates, you had to use extensions of your arms, two hands on a stick, and then you had to chase after the object of all of the attention. So you had to learn those before you can even play the sport. Of course, I couldn't do that. But I admired the people who could. And as I said earlier, some of those people who could were some of the best people I've ever known in my life.
Ed: I'm a kid from the Bronx, and it was all about baseball there principally, and occasionally there was basketball, and maybe some football, some touch football, that sort of thing. Hockey ice in the Bronx, the only place we saw ice was in our parents' as they used to call them high balls.
Mike: Yeah, you notice though.
Ed: So I'm curious to knowing how a son of Lafayette Indiana found a game called hockey.
Mike: It was in Fort Wayne about 40 miles away, we had a basketball team called the Pistons that had already moved to Detroit out of the same arena in Fort Wayne. But 1960…Oh gee, I'm sorry. You're a Yankee fan, aren't you, Ed? Okay, I did notice in the upper right corner of your bookshelf the title in blue "Yankee". So I guess I jumped to conclusions there. Okay. So anyway, 1960 was a year that a miracle bunch of guys that were presented 17 $1 bills when they arrived in Squaw Valley that was their expense money for 17 days. The US gold medal Olympic team was prominent on CBS television. I got to watch some of their games and CBS carried some NHL games. That was the only experience I had with hockey.
But we had that team in Fort Wayne called the Komets, and they are there to this day. They were only eight years old at the time, and I was only 14. But I pestered my parents to take my brother and me to a game. We went. And I went into the Coliseum in 1960—this month in 1960—wanting to be a baseball announcer and I left wanting to be a hockey announcer. My high school guidance counselor couldn't understand that being an ambition because it was rural Indiana. The time of the movie Hoosiers, that was our time period. And he didn't understand that at all. But he wished me well and going after it. And I was lucky I got there.
Ed: But it was something that just captured you and you really paid your dues long before you gain national prominence. And that's one of the things I've so admired about you. I spent seven years in minor league baseball, and I just have such admiration for people like yourself who paid their dues. And you did that with the Hershey Bears, and with numerous other teams before we all found out who Mike Emrick was.
Mike: Yeah. I always said if I ever wrote a book, the longest chapters would be the early ones, if it was not a biography. I guess that turned out to be the case. Because the minor leagues, Ed, you and I should swap stories on another one of these episodes because it would be long, a minor league baseball and minor league hockey stories, they're unpretentious. In the seven years I was in, we make mistakes, and some of them are real loud ones. But we take chances and we make mistakes. And those make books years later that the people who are involved in mistakes right. So that's one of the glories of minor league hockey.
There aren't as many major league mistakes stories in the book, or in any books that are written probably because there's a reason they are the majors. They're all corporate. They have plenty of people to sit around and think about these things, and so there aren't as many mistakes. But part of the fun of the minors are the mistakes.
Ed: You initially intended to be at Baseball broadcaster. You played second base in high school and developed a tremendous love for the Pittsburgh Pirates through the Gunner, as he was called, Bob Prince, the Hall of Fame announcer. And Mike went to fantasy camp and once got seven consecutive hits, which I believe is still a record.
Mike: I doubt that. I don't know. You see, by the end of the weekend, and you play eight games, I think in six days, by the end of the week the arms are shot. And so you can step in and pause that batter's box with your cleats and you can look like a real hitter, and you can step into them because there's not as much steam on the ball by Friday afternoon as there was on Monday.
Ed: What an experience, though, for you to work with Bob Costas, a few years ago on the MLB Network and do a regular season game between your beloved Pittsburgh Pirates and the Chicago Cubs
Mike: It was wonderful of him to do. And to get that kind of a gift from another announcer rarely happens because it involves going to a lot of trouble. Bob had regular people he worked with on Friday nights at MLB Network, but he basically just said it's you and myself in the booth. You can do as many innings as you want, and we are throwing away the MLB network icon of impartiality, you can cheer on the air for your team. I think they played the Cubs 19 times that year, and they only beat them four but one of those was that night.
He got through the first three innings, he got all the business, all the paid commercials out of the way, and he turned it over to me. And after the sixth inning, I handed it back. And then because we were ahead in the ninth, he let me finish the game. And of course, immediately the Pirates got in trouble. But they at that time had a reliever named Mark Mullins, who was lights out, and he came in and made sure that the pirates won the game. So it became a lifetime memory for me. I will never do another play-by-play of baseball because that one was so perfect. But what a lot of trouble for another announcer to go through to make a lifetime memory for someone like myself, I'll never forget what he did. That was so nice of him.
Ed: It's almost unfair to ask you, when you mentioned lifetime memories, about all of the experiences that you have had on the air all these years. One of the things that I just find so enchanting about your work is your narration during the time in which the players have raised the Stanley Cup, and all of the background that you give at that time, and your empathy for those players at that moment.
Mike: Well, I appreciate your saying that because the Stanley Cup is marvelous, and it's so hard to win. And these are professional athletes. You know, the league and the Players Association may not like me saying there's almost no money in it. All they do is grind it out for this year in the summer 10 weeks, normally eight weeks, they grind it out and go hard and they get stitched up and they get painkillers and things like that to go back out there every other day to get their name on a trophy that they aren't allowed to keep but they get one day with. And to get a ring that's so big and enormous that they wear it maybe one day a year at the most, because it's so gaudy. But they get the memory and they get that descriptive term in front or after their name called Stanley Cup champion. They have a hard time describing it, but it's not about the cash.
It's one of my favorite stories because it involves a great New York personality named John Davidson. In 1979 he's playing golf for the Rangers, they get to the Stanley Cup final against the Montreal Canadiens, they win the first game, and then they lose the next four. But it was a great year for the Rangers to have gotten that for. And it wasn't an embarrassment to lose to the Montreal Canadiens who were winning the fourth of four in a row. I mean, it was expected.
And he said a couple of weeks later, I was at home and I went to the front door because the mail had arrived and I'm going through the mail and there's some envelopes there and there's one and the return address was National Hockey League. And I'm thinking, "We'll, what do they want?" So we opened up the envelope and it was just playoff share, his check. And he said, "I forgot we got paid." And that's what it's like for these guys to compete in the playoffs. It's not an unusual story at all. It's all about competing to have your name that your parents gave you on a trophy and being together as a team, and you'll never forget where guys are or were that are on a team that wins a Stanley Cup. And it's funny you talk to guys that want it 20 years ago, and you asked them about obscure players, they'll know where they are. They know.
Ed: I've had the great good fortune to cover hockey. Many years ago, I covered the Islanders Stanley Cup run when they won…
Mike: What a good bunch of guys! What a good bunch of guys!
Ed: And to this day.
Mike: Yeah.
Ed: To this day I'm still friends with so many of those guys. And I adored the coach and I adored the general manager and I was there all the time. It was just wonderful. And there's just a different ethos around the game than there is with the other three sports. We've done work, Mike, with NYPD here. I was in the office of the now departed police commissioner Jimmy O'Neill and he had a Bobby Orr jersey matted on the wall in his office at one PP, which you've seen a million times on Law and Order.
We started talking hockey, and he talked about how much…and he plays hockey. Nobody knows on Sunday night in New Jersey. And he was telling me this and he's talking about Bobby Orr and how much he loved him. And then he talks about Duncan Keith, the longtime defenseman with the Chicago Blackhawks, and the toughness of these players. He said, "You know, Duncan, Keith had 17th knocked out in the first period of a game and he came back and played the third period." These guys are amazing people.
Mike: Yeah, they are. And you know, beyond that, beyond the pain threshold and everything else is the statement you just made is they're amazing people. I've been in this for 47 years, I think I've met seven jerks in 47 years. There's a 500 way tie for first and good guy. And it's amateur sociology on my part, Ed, but I think it has to do with the rural Canadian roots of the sport. It goes back to country and to Canada. And it did, of course. They were big city players too. But I think the rural roots of the sport have a lot to do with it. And the fact that this year the tournament had 24 teams from 20 countries guys game, and they hadn't played in four and a half months, and they came back. And very few opted out. They all came back and they played.
And a lot of it is that we've taken in all these nationalities, but the dressing room is still pretty much Canadian. Even though 44% of the players are from Canada, the dressing room is still pretty much Canadian like it always was. And that just makes these guys a treat to be around. Whether it was 98% Canadian once upon a time or 44% doesn't seem to matter. The guys are good guys.
Ed: You broadcast 130 games I believe on NBC the network did during the tournament. I think I watched 129 of them. I just was mesmerized.
Mike: You beat me by a long shot. Wow, 129!
Ed: It was that Friday afternoon. In the beginning, there were six games starting at Eastern time at noon. And then the studio went off the air about 1:15 Eastern time. I watched them all. I can't get enough of the sport, I can't get enough of the people, and I can't get enough of your work.
You spoke earlier about prostate cancer, and you're so kind to come to us on our Stay in the Game podcast. And you were incredibly generous with your time before you were to call a game at Madison Square Garden a few years ago to record a PSA, which I shot with you standing beside a goal and told your story. So if you would Mike, tell us your story.
Mike: Well, I was in Montreal when I got the phone call. But prior to that I had a very good general practitioner who knew family history. He knew that both of my maternal uncles had had prostate cancer and he did the digital check every six months, even though at that time in the late 1970s, early 1980s, at that time, you did it less frequently. But now we were in the late 80s and because of my family history, he was checking every six months and he was also sending me for an ultrasound every six months. And it always came back negative.
And he said, "There's something suspicious I'm noticing, and I want you to go get another ultrasound but go to a different lab." We were about to move from Cherry Hill, New Jersey, to Hershey, Pennsylvania because we like small towns and I was still working for the Flyers, but it was their farm team in Hershey. I was doing Philadelphia games, but my wife worked for the ticket office of the Flyers and we could commute on game days, because we only work game days. And we liked the small town of Hershey. It was 100 miles.
So we're going to move there, and so I decided, well, I might as well go to the Medical Center in Hershey. So they did the ultrasound and it was nothing. And he said, "You came this far." I said, "Yeah, we're going to move here." He said, "You came this far, why don't we do biopsies too. They don't hurt?" Well, he said, the magic words: it doesn't hurt. So I decided, "Okay, if it doesn't hurt, that's for me." They did the biopsies and they came back cancerous.
So very quickly, things started to happen because the Flyers, as you know, had always had this Carnival for Cancer Research every year, and they were very well connected in Philadelphia. And in no time flat they had me at Johns Hopkins. I was seeing Charles Brendler, who was one of their key cancer surgeons. At that time, prostate cancer was done by hand, the surgery rather than by robotics. And so he spoke with us within a week we were there. This was in October, and he said, "I have quite a few of these to do. How about we do it in January?" And I said, "How about this afternoon?" He said "No, no, no, you don't understand. We've caught this early," which were also magic words, "It moves slowly," which also was reassuring. And he said, "I will do it after the holidays in January." So in January of 1991 he did that.
And just to show you the difference now not only in research and also in testing, but I was in the hospital 16 days. And now you're in the hospital for one. And it is done robotically. So I'm working for the Flyers, right? So we're going down the hallway at Johns Hopkins early in the morning, probably 5 o'clock in the morning, he's on one side of the gurney and my wife is on the other, and he said, "I know you're the Flyers announcer. I just want you to know I'm a Rangers fan but I'm going to take care of you well anyway." And he did.
Ed: Any derivative effects after the surgery?
Mike: No, no. Very fortunate all the tests have been zeros ever since that time. I should say, for clarity, I did have one false test. It was determined to be false, where my numbers showed a zero point something and it was numeric. And it was a number of some kind, but it was a number instead of a zero. So they brought me in, did another biopsy tested me again, and it came back to zero again. And the biopsies were zero, were nothing. So it was ruled to be a false positive. So that has been the only time in 29 years. And I still go through an annual PSA. Even though I don't have a prostate, I still get the blood test every year just as reassurance to my general practitioner that I need to do it.
Ed: It's amazing since you and I had prostate cancer, the advances….
Mike: Oh, I know.
Ed: Isn't it crazy?
Mike: I was being dismissed in 1991, and I asked him, I said, "What could you have done for me 10 years ago?" And this would have been 1981? He said, "Not very much." But that was just to 1991. And think about now. Pierre McGuire has made no secret of the fact that he is also a cancer survivor with prostate cancer in 2018. He was in the hospital one night. I was in 16. Yeah, it's different.
Ed: Yeah, it really is. There's been so many advances with proton beam therapy, and now so many doctors who are shying away from surgery, Mike, and they're looking at patients who have been diagnosed with watchful waiting, active surveillance. Things are far different from the time in which you and I went through it.
Mike: Yes. We were diagnosed in the dead Pop era as it were, right?
Ed: Yeah.
Mike: So many advancements during that time, but nothing beats frequent testing and early detection. Nothing beats that. In whatever era you are living in, nothing beats that. And I was so grateful to my local general practitioner for being suspicious all the time and for the fact that the folks at Hershey Medical Center said, "You came all this way, how about we do a biopsy?" And that was what got everything started was the suspicion of a GP named Warren Wolf. And I assured him, "You will never pay for another hockey game the rest of your life." His daughter took me up on going a couple of times, but he never did. But it was a lifesaver.
Ed: I have an autographed baseball from the three doctors that took care of me, which I tried. So I know how you feel. Was it a life-changing experience at any level?
Mike: Here's what it seems like to me, and you have your own story, Ed. We all say, within a month or three months, or 12 months after, that every day is a blessing. And then time passes and you realize that it is so much in your background that you forget about it, and you start to take everything for granted like you once did. At least that's the case in my life.
So I have to remind myself every once in a while, "You realize that you had cancer once and then it was removed, and then all of a sudden you didn't anymore and you didn't have to go through chemotherapy, and you didn't have to go through radiation, and you recovered and missed three weeks of games with the Flyers, and then you were back at work? Do you realize how lucky you were?" And then it comes back to you. But you have to remind yourself because when 30 years pass as early January of next year, it'll be 30 years, it can slip your memory, even something like cancer unless something like this reminds you of it.
Ed: And it's a very large club that you and I are in. Rod Gilbert has been very kind to the charity. Of course, his banner hangs in Madison Square Garden, Glen Sather, the person who put the great Edmonton Euler dynasty together and later came to the Rangers, another prostate cancer survivor, the former captain of the New York Islanders, Clark Gillies who like yourself has done a PSA first. It is a very large group of people.
Mike: And I think that points up also the fact that we're getting tested more frequently. So we're finding it more often rather than too late. And so all of us can be living spokespeople rather than being sad memorials to prostate cancer. So wonderful that there is so much research and so much testing that gets done now that it becomes an automatic that guys just get it done.
Ed: Our message to Fans for the Cure Mike has been very simple. It really starts with "please go to the doctor." Start with that.
Mike: Yeah. And don't be embarrassed or ashamed or anything about getting a test done. The sad part is getting news that you are further along and that an earlier test might have helped you. It just makes the battle harder. It does not make it unwinnable, it just makes it more difficult. So early is good. And even if it winds up being a discovery, early is good. It never hurts to get a test. And it doesn't take that long. You know, a lot of times the excuse that I kept using and the excuse everybody would give is "You know I'm too busy. I have to sit in the waiting room for the longest time and he's always delayed, he or she, always delayed, and then I give up a good part of the day." Well, the trade-off is pretty good. Giving up the part of the day or something else.
Ed: Especially when there was an almost 98% to 99% cure rate if prostate cancer is detected early. And when you were diagnosed, you probably had the same reaction that I did. I felt fine that day. "What do you mean I have cancer? How is that possible?" And unlike yourself, I did not have to my knowledge, anyone with prostate cancer in my family.
Mike: Yeah, I did. I had two maternal uncles that had it. One died from it, one had to be treated. But neither had had that taken place in their lives yet. They adjust both been diagnosed and so that's why my GP was suspicious. But yeah, I feel perfectly fine until I got the news. And then I just prayed: "God, get me through this, please." I was in Montreal and had to do a Flyers game in Montreal the next night. I don't remember who won, but history says the Flyers actually did. And that was that period of time in their history that they didn't win many games, and especially in Montreal, but they did win that one. And then I was in touch with the team and with the hierarchy of the team, particularly J. Schneider, who was at the forefront of leading the rush to get me the help that I needed. And they did wonderfully by me. But that was the last game that I did for quite a while.
Oh, I'm sorry. You know what, I did two more months' worth of games because that was delayed until January. So because I felt really well, and there was no reason to not work, I just continued to work until right before my surgery. So I correct myself.
Ed: Because of the pandemic, the charity has pivoted to a new features, new offerings. For example, Mike, we now do every second Thursday, a men support group, which has become very popular. We've got people dialing in from California, and in Arizona, and Denver in and it's been wonderful. And now just in the last couple of weeks, we've started a women's support group, because this one woman said to me, "when my husband, John got prostate cancer, I got prostate cancer."
Mike: Yeah, it's understandable. Understandable. Some of the best advice I got was if you discover it when you're away, like in Montreal, you don't phone that kind of information in. You sit down on the couch when you get back home, and you talk to your wife and say, "I really am going to need you to be strong for me here on these next couple of months because I don't know how bad this is." Well, I didn't know how bad it was but we went to Johns Hopkins together and we learn together what it was going to be like, and we went down the hallway together with the Ranger fan. He made sure that we understood that it was going to be okay. And as it turned out, it was.
Ed: And thank goodness that it was so we could enjoy and relish your work for all these many years. What message do you have for men? What would you like to see Fans for the Cure do down the road? What would you like from us?
Mike: Well, the message that you are constantly getting out his test and test constantly, and test at a young age because we don't know, at least I am not well versed enough to know what, other than in some cases DNA and family history, what brings this about. But I don't think you waste your time with a test at any time. You bring more schooled knowledge on your part of this program than I do. But I don't think you ever run into trouble by not getting tested for this. And you can learn something about your status in terms of prostate cancer by having the test. In most cases, if it is detected, and it's early, as you said, the 98% cure rate is magnificent. So the message from my standpoint is because it saved me was early detection. And that means testing.
Ed: We like to say no empty chairs on Thanksgiving. I've had the great good fortune for a number of years to tour spring training camps Mike in Arizona and then in Florida. And I tell the kids that by the time you guys get off the field today, I hope there'll be a cure for prostate cancer which time this big mouth guy is done, we're finished. But until that time, I will be the car alarm you cannot turn off to tell the men in your family that they are loved and they are wanted and they are needed and they are cherished and they have a responsibility to take care of their health.
Mike: You've said it better than I could. You are more practiced and more intelligent about the subject. But that's what is necessary for people to hear and for people to know. Because it is something that you don't expect because you don't notice anything. Usually, you don't feel anything. You just think your day is normal and everything is rolling along just fine. And then all of a sudden it's not. So don't make any assumptions just because you feel good today that you are okay. Just do it on a regular basis. Test when your doctor says do.
Ed: As a baseball guy, I use an allegory and say that God gave me a second imbedded life. And with my gimmick, it was a slap shot from the point and then Mike was in front of the goal and he picked up the loose change and scored.
Mike: Yeah, loose change it was. It would be loose change with no defenseman around to muscle me out of the way. It would have to be a slow-motion score on the rebound. But I have been blessed to have all of these years. And now as you look back after 50 years from seeing my first NHL game and covering it as a reporter in suburban Pittsburgh, I'm just blessed to have known a lot of wonderful people, yourself included, and the people that I've crossed paths with. Those are things that on chilly winter nights, while I'm waiting for a game to start on television that I'm going to be watching, I will cherish a lot of the memories. You know, humanity and the innovation of man has given us videotape, but God gave us memories. And those memories are the things that we don't have to turn on any kind of equipment to have. And that's what I'll cherish a lot during these years ahead.
Ed: Last thing before you go, tell us about the book and how we can get it.
Mike: Anyplace books are sold. It's an autobiography. But because I grew up in rural Indiana, don't think that it's all necessarily dull. Well, first of all, if you spend the money and you don't like the book, just recognize that 100% of the proceeds are going to hands-on care of animals. So feel good about the fact that you took care of some dogs and cats and other creatures. But it weaves in a lot of NHL stories, a lot of stories as you and I were joking about earlier from the unpretentious minor leagues like a wedding on the ice one night in Des Moines, a score on contest that went totally wrong in Portland, Maine, things like that in the minors, as well as one time on one of the national networks when we almost became Heidi, again, almost. Those are some of the things in the book. The title is "Off Mike." It's published by Triumph and it's available anywhere books are sold, or online and all those various places. And I thank you for letting me talk about it.
Ed: I thank you for your friendship. I thank you for your advocacy, for our charity Fans for the Cure. Mike, God bless both of you and your animals and good health and please stay safe. And we are so grateful for your time during this busy and hectic time.
Mike: Well, it's been 41 years since it happened and I hope I live to see another world championship in Pittsburgh. But I often conclude interviews by saying let's go Bucs. Well, maybe one of these days. Yeah.
Ed: One of these days.
Mike: Thank you, Ed.
Ed: A great thanks to Mike Emrick, the highly decorated, first-ever broadcaster inducted into the US Hockey Hall of Fame. My goodness, we're going to miss him calling games. Thank you ever so much for watching and listening to the Fans for the Cure Stay in the Game podcast.
***
Thanks for listening to the show. You can find program notes and a full transcript at the charity's website, fansforthecure.org. Be sure to subscribe to our podcast in iTunes, Spotify, Stitcher, and everywhere good podcasts are available. And if you like what you heard, a positive review on iTunes will help other people also find our show.