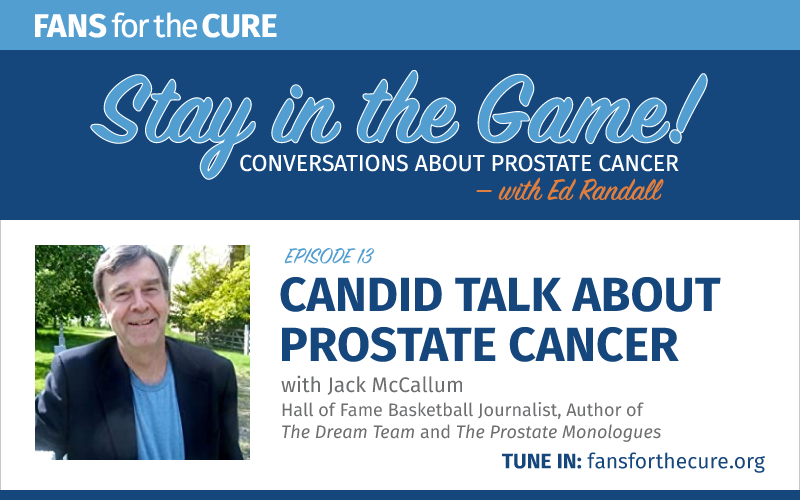 Podcast: Play in new window | Download
Subscribe: Apple Podcasts | Spotify | RSS
Best known for his groundbreaking work, covering the NBA beat for Sports Illustrated starting in 1981, Jack McCallum currently contributes to si.com and teaches journalism and media at his alma mater, Muhlenberg College. A recipient of the Curt Gowdy Award from the Naismith Basketball Hall of Fame, Jack has also authored 10 books, including The Prostate Monologues.
Program Notes
Episode Transcript
Welcome to Stay in the Game: Conversations about prostate Cancer with Ed Randall. Here we'll chat with doctors, researchers, medical professionals, survivors, and others to share and connect. This show was produced and shared by Fans for the Cure, a non-profit dedicated to serving men on their journeys through prostate cancer.
---
The Stay in the Game podcast is sponsored by Cancer Health – online at cancerhealth.com.
Cancer Health empowers people living with prostate cancer and other cancers to actively manage and advocate for their care and improve their overall health. Launched in 2017, cancerhealth.com provides accessible information about treatment and quality of life for people with cancer and their loved ones, along with information about cancer prevention and health policy.
---
[Full podcast transcript will be posted as soon as it is available.]
Thanks for listening to the show. You can find program notes and a full transcript at the charity's website, fansforthecure.org. Be sure to subscribe to our podcast in iTunes, Spotify, Stitcher, and everywhere good podcasts are available. And if you like what you heard, a positive review on iTunes will help other people also find our show.
***
Ed Randall: Hi, everybody. I'm Ed Randall, the founder and chief advocacy officer of Fans for the Cure. Welcome back to the Fans for the Cure Stay in the Game Podcast.
Our guest is best known for his groundbreaking work, covering the NBA beat for Sports Illustrated starting in 1981, the golden era of Jordan, Magic, and Bird. In addition to writing 10 books, he currently contributes to si.com and teaches journalism and media at his alma mater, Muhlenberg College, where according to ratemyteacher.com, the kids rate him as an easy grader. In 2005, he was a recipient of the Curt Gowdy Award from the Naismith Basketball Hall of Fame, the highest honor that an institution can bestow on a writer.
In 2011, he joined what he calls the Prostate Cancer Club, and by 2013, he had written about his journey in The Prostate Monologues, published by Rodale Books on mostly recycled paper. A member of our charity senior team said of The Prostate Monologues, "Intelligent, funny, and always brutally honest. If you read one book about prostate cancer, and why would you, read this one." It's my pleasure to welcome one of our generation signature sports writers, Jack McCallum to our Stay in the Game podcast.
Jack, first of all, thank you for coming on the podcast. How are you feeling? How is Donna? And take us through what was happening medically with you in the latter part of 2011?
Jack McCallum: Well, my pleasure, Ed. My pleasure to be here, first of all. I always enjoy… I'll get back to this. But writing this book sort of created this whole other community for me that kind of then I guess, you know this since you do this podcast, you know, it's created this kind of community that continues. I have gotten friends out of it and new relationships. And I'm not going to say every day I get emails, but sometimes I'll go on there and it will be somebody out there who read the book or something. So it's created this whole kind of other community.
What was going on, I was pretty typical. Ten years ago, I was 61, and I would go to my general practitioner and I would get everything taken. You know, cholesterol, you know, all that kind of stuff. And the PSA was one of them. And over a period of three years, my prostate went up. Prostate velocity went from nothing to, I don't remember, 3.1. Then all of a sudden, it was 4.8 and he suggested a biopsy. I always had the digital rectal exam or as Arnold Palmer put it when I interviewed him, "Is that where they shoved the finger up your ass?" I said, "Yeah, that would be it, Arnold."
I never had symptoms. I did not experience to the extent that it has to do with urination, which it doesn't, as much as some people believe. I did not have urination problems. But the biopsy showed much to my surprise. I remember I was driving back with my wife on the Garden State Parkway from our place in New Jersey and I pulled over the side of the road. Well, my doctor has called, and he told me. I was like dumbfounded. "I don't have to prostate cancer. I don't feel nothing. Everything's fine down there."
So there was a lot of other stuff. Years of playing pickup basketball and jogging and everything else and carrying bags through airports had put pressure on knees and back of the neck. So it was at that point, which was in October of 2011 that I had to start wrestling with this decision. That will be 10 years ago. Finally, led to the surgery in February of 2012. But of course, as you guys know, and people listening to the podcast, there's a lot that went into that decision.
Ed Randall: You are a writer by trade. You are a gifted writer. What made you decide, "I got to write a book. There's something here percolating inside me."
Jack McCallum: Well, nothing about writing a book is simple, but what happened was that I got this diagnosis in October of 2011. So my decision was what to do. And at that time, it seemed… and you probably know this. As soon as you get something and you talk about it a little bit, you find a hundred other people are going to say, "Oh, my cousin had it. My uncle had it. My father had it. My…" And that's what you find out. And I said, "Jesus, this is a common thing that people wrestle with."
So I wrote a column for my local paper, which I did once in a while, The Allentown Morning Call. I had worked there a hundred years ago as the sports editor and still had a relationship with the newspaper. So I wrote this column, it was in a Sunday paper, and the first column was that I was going to do active surveillance. That's what I had decided. I don't have to explain that term to your audience, presumably. And I could not believe the response I got. I guess they put my email address on their emails, phone calls the newspaper. It was like a hundred responses to it at a time when I could write something political or something. And if it was a big response, I'd get, you know, seven letters. Excuse me.
So I said, "There's kind of something there." In the meantime, I'm researching what to do about this. I'm doing all the things that… I was semi-retired from Sports Illustrated, my book on the Dream Team came out that summer 2012, and a lot of stuff was going on. So I had the time. I had the leisure time, I had the money to really look into this. I said, "Hey, we'll go down to Johns Hopkins." My wife and I know two restaurants in Baltimore that are real. You know, that kind of thing. Because…
Ed Randall: You worked there for a while.
Jack McCallum: Yeah, I had worked in Baltimore. You tried to gauge everything by restaurants for a while. And I had worked in Baltimore, wanted to get back there. So I did a lot of research. I ended up writing another column, saying, "Oh, I've changed my mind." And the reason I changed my mind, which is more germane to this discussion, is that I went to Johns Hopkins, saw a doctor named Ballantine Carter, who was one of the gods of prostate at that time along with Pat Walsh…
Ed Randall: Pat Walsh.
Jack McCallum: …who I eventually ended up seeing. And Dr. Carter he did all the stuff, looked at my… I had the biopsy results by then, did a digital rectal, etc., etc., talked to me, and said, "Oh, no, no, no, no, you're too young to. You're not going to have an active surveillance. I wouldn't put you on there. You're too young."
Now, I was 62 by then. 61. I don't know. Was that an arbitrary age? Yeah, kind of. I mean, kind of. If it would have been 55, it's clear, if it would have been 75, it's clear that direction. So my thinking immediately kind of changed. Hey, here's one of the world-renowned guys telling me, you know, "I think you're too young to let this thing sit there." So I wrote another column saying… and it was the same… "Now I have changed." And I got another hundred responses. So I said to my wife, "The Dream Team book was done…" I'll have to tell you a funny story though about Larry Bird that's absolutely true in prostate cancer, but…
Ed Randall: Oh, no, tell it now. Go ahead.
Jack McCallum: Let's see. The book was coming out in the summer of 2012. It was in galleys. For people that aren't writers, that means it was sort of done but not done done. They don't want you to start making a lot of changes. For whatever reason, the only person that I had not gotten was Bird, like to talk to one on one. And I thought the most important part of the book was to get everybody one on one. I mean, Zoom has been a great thing, but I don't want to talk… you know, you are a former journalist. You don't want to talk to people on Zoom if you can sit down with them. It's just the way it is. Plus Zoom hadn't been invented, I don't think.
My surgery was scheduled for February 20, 2012. The book was in galleys. It was bugging me I hadn't gotten Bird. He canceled appointment. I had to change. "Oh, I was too busy." He was in the middle of being a general manager for the Indiana Pacers. And I had a good relationship with Bird all these years. I mean… So it just was the way it went. So I said, "Dammit." I called him up on February 10th and I said to a secretary, "Tell Larry, I'm going in for surgery on February 20. And if I die on the table, my last thought is going to be 'freakin' Larry did not talk to me for this.'" But I swear to God this is true.
Ed Randall: Of course, [inaudible 00:22:23] have Larry Bird.
Jack McCallum: Yeah. I trash-talked Bird. So Bird gets on the phone and he says, "Oh, yeah. Okay, what do you want?" I said, "No, I'm not doing this over the phone. I'm coming to Indianapolis." I still remember it was a Friday afternoon. I'm going to be there Monday, you got to talk to me." And I paid like $1,000 for this plane ticket. But it was great. Like everybody was for the book, he was great.
I still remember I got out of his office and I called up my editor and I said, "Hey, I just talked to Bird and he was unbelievable. I know I don't want to mess up the galleys all the way, so I'm just going to put Larry, I'm going to make that the last chapter of the book. I'm going to add on…" I mean, I had to go back a little bit and change some stuff but I wasn't going to make a… all of a sudden Larry is in the middle of the book. I remember somebody did a review: "Oh, my God, the ending of that book is so perfect, you know, with freakin' Larry Bird." Well, the reason I did was because of prostate cancer.
Anyway, back to that. So I had finished this book, and Dream Team of all the books I've done was, like, you know, sometimes you just get lucky. And I was lucky with Dream Team. I mean, it was obviously from the beginning it was going to be very successful. A documentary came out on it right around the same time the book was coming out. We all thought it was going to hurt it. It didn't. It just fed this massive curiosity. We were moving into the Olympics in London, so it was real success. It was a real success.
Ed Randall: You weren't lucky, Jack. It's because you're so good. So your initial treatment plan called for active surveillance and you write the column in the Morning Call—two of them. How did you arrive at the decision, Jack that you and your doctors would monitor your cancer rather than treat it with radiation or surgery? Walk us through the events that changed your mind on that initial course of treatment.
Jack McCallum: Well, once Dr. Carter told me that he wouldn't make me a candidate if it were up to him—he wasn't my doctor. He just saw me—and once he said that, I started rethinking active surveillance. And I talked to radiologists by then. I'm trying to think when I decided to do the book. I think I was at a New Year's Eve party, and all of a sudden the idea The Prostate Monologues flew to my head. And somebody said at the party—I'll never forget this—they said, "Don't you think somebody is going to confuse it with the Vagina Monologues?" And I said, "I hope so."
Ed Randall: Really?
Jack McCallum: Yeah. I hope so because that was very famous. That's where the title… obviously it's somewhat of a tongue in cheek. The title, I mean, that's where it came from, obviously. I think it was around then I started interviewing people. My agent wanted me to do another Dream Team book. Then I said, "No, I want to do this." So I started interviewing a lot of people.
And probably the final decision was two things. I remember I was out walking with my wife and I said, "Every time I go to the bathroom or every time we have sex, all I'm thinking about is that I have cancer." That's what I'm thinking about. Even though I don't have pain. I don't have… It's all in my head."
And then I went to a doctor, my agent's doctor as a matter of fact, who's like a general guy. He said he wasn't going to advise me about prostate surgery. He said, "Look, you'll never be healthier than you are right now if you choose to get surgery." And I would say that that was a big thing for me when I heard that. The fact that I chose surgery over radiation—this is just me talking, someone could disagree with me. And someone will—I just thought, for me, surgery seemed safer. I did not like the idea of radiation when I didn't have to have it.
There was the old thing where if something goes wrong and you had had radiation to begin with, you can't go back to radiation. Whereas if you had surgery, you can go to radiation. That was in my head, the idea of it being near my radiation, being near my bowels. And I never minded surgery. I had had a lot of Orthopedic things that had gone on with me, you know, from being active and playing basketball and everything. So I wasn't afraid of surgery. I wasn't afraid of radiation, but I just didn't like the idea.
So I started looking around and I just decided for me that robotic surgery… once I decided not to have active surveillance, I decided that surgery was the right thing for me. And I guess the reason I decided was, yeah, okay, I think the five-year survival rate of prostate cancer is still like 90%. But I wasn't thinking five years. The other thing that happened, I had had a grandson. Now I have four more. And I said, "All right, I'm 62," this is back then, "okay, he's going to be five. He's going to be five." He was born in 2009. "Well, yeah, okay. I want to see him when I'm [00:35:02 eighty?], but I want to see him when he's 28. I don't want to go…"
Ed Randall: You want to dance at his wedding.
Jack McCallum: Yeah. You know, I want to see him graduate from college. That started getting into my head. So that was a big reason also that I decided on intervention. And when I decided on intervention, I decided on surgery.
Ed Randall: How did you find your way to Dr. Lee at Penn Presbyterian and what made him special, Jack, beside his golf game?
Jack McCallum: Well my Dr. was a guy from college named Keith Van Arsdalen. And the only reason I went to Keith was I knew him. He's at Penn. He's was a brilliant guy. He was a brilliant guy. Even when he was drinking beer, he used to be the smartest guy in the room. So I trusted Keith. Went down there, and at that point, interestingly, there started to be a whole wing of doctors that had started to specify… Keith had done surgery. You know, Keith had done prostatectomies.
Now, I can't remember whether he had been trained in robotics or not. I don't remember that. He had done them the old fash…. A lot of people had gone in the way you have to go in major, major surgery. But Keith said, "You got to go to somebody that does nothing but robotic surgery. Nobody's better than Dr. Lee. He's our guy." I did my usual research. The more you do, the better you're going to be. And not that Dr. Lee was the only one in the world that could do it, but I was already a Penn, Keith trusted him, I did my research, I met him and I just felt that that was the right way to go. There's good doctors in the Lehigh Valley, but I'm only 60 miles from Philly. I wasn't going to go across the country or anything like that. That figures into the decision, you know, Philly is a natural place for me.
Ed Randall: It was worth the trip. Jack, did you ever seriously consider the open procedure versus the robotic prostatectomy?
Jack McCallum: No. I didn't. I went out to… now, this is after I got everything done. I mean, in the book, in The Prostate Monologues, I put both sides in there all the time, saying my preference for what I did. That's all I can do. And I saw Bill Catalona who was the guy. William Catalona.
Ed Randall: I know him well. In Northwestern.
Jack McCallum: Yeah, Northwestern. Another reason to go to great restaurants in Chicago by the way.
Ed Randall: Everything's predicated on the restaurant.
Jack McCallum: And Bill Catalona at that point was still advocating that the open procedure is still better than robotic surgery. But the thought, for me, of recovering from open as opposed to robotic, I had had a back procedure that was kind of defined as a – what's the word? It's not robotic, but back then, you know, very few stitches, not a real… small incisions and things like that. And I had recovered from that very well. So, I was not thinking of the open procedure at all.
Subsequently, then I got into a lot of prostate discussions with Jim Boeheim who became a good friend of mine. And Jim had had open procedure and coached with a catheter for six weeks or something, and nobody knew it. And God bless him. But that's something that I was willing to risk. The robotic was just going to be better. I trusted Dr. Lee, and it turned out to be okay.
Ed Randall: Will Catalona was our supervising doctor and the free screenings this charity conducted at the Chicago Bulls and the Blackhawks and the White Sox and have the highest regard for him. And Jim Boeheim was one of the first people on our legends for life advisory board, Jack. And in fact, with the work we've done in Minor League Baseball, went out to the Syracuse Chiefs one day and threw out a first pitch on our behalf.
A little detour here, if it's okay with you. Your book includes an entire chapter about one of the most political and controversial issues in prostate cancer, the low grades given to the PSA test by the US Preventive Services Task Force whether to screen or not to screen, should a disease be screened for when the majority of cases are not clinically significant enough to affect the man's life in any way, or is it better to know and then make an informed decision with one's doctor? And there's still no answer, right?
Jack McCallum: There's still not a good answer. Look, it was definitely are you risking continents, and are you risking sexual activity? Yes, you are. But for me, it was a numbers game. Before the PSA test was routinely administered, thousands and thousands and thousands and thousands of men died because they didn't know they had prostate cancer. The test comes along, are there hundreds of men, I might be one of them, who got prostate cancer, who would have been okay, and who would not have risk continence or sexual impotence by not getting it? That's true too.
I just thought the weight of evidence was on the other side. And when I wrote the book, it seemed that this controversy, fortunately, for the book, because it was something to write about, was really at its height. Because the New York Times, you know, and God bless them, and I love them, and I still read the paper, but they had really suddenly found the guy that said he invented the PSA test, who said, "Oh, I wouldn't…" Now, his name… I remember every other name in the book. You probably know who I'm talking about.
Ed Randall: I know exactly what you're talking about.
Jack McCallum: What's his name?
Ed Randall: I don't remember his name, either. But I remember the incident. And the doctor who treated me, lead the medical team who treated me here in New York admonished people in a seminar that we did, Jack saying, "You can't take your information about medicine and your life from the New York Times."
Jack McCallum: They really came down on the side because what he said probably kind of needed to be said, which was, "Yeah, sometimes we operate when we shouldn't." That's one side of it. That's fine. But that doesn't mean the PSA test had… that doesn't mean every man doesn't have his right to find it out. As I was doing the book, I met a doctor who called himself a urologist, who call himself a prostate agnostic. That is he did not get his PSA tested. I met a really great guy, terrific writer, this guy named Peter Bach, who had written this series of articles. Still writes. He's very active on Twitter.
And Peter was writing this thing about his wife and breast cancer. You've probably discussed this topic, but prostate cancer is sort of the men's version of breast cancer. And Peter went into this thing, and I met him and I said, "How is your wife doing?" We're meeting for lunch first time I ever met him. Well, his wife had died. His wife had died of breast cancer.
Peter, who's a smart man, smarter than me, continued to advocate he was sort of still against all this preventative testing. Meanwhile, I'm talking to Patrick Walsh, and all the people at Johns Hopkins and I came to the conclusion clearer than I ever had in my entire life that there's not one answer. Now, is that clarity or is that confusion? But there's not one answer. And this is now 10 years after I had the surgery. To the extent I keep up with the literature, I'm sure Dr. Catalona is still… I'm not sure. Dr. Catalonia is still a figure in the prostate… Yeah, he's still probably saying the open procedure is still better than then robotic surgery. You know, people do cling to their…
And Dr. Lee, who I've since become friends with and play golf with, and unfortunately, who just moved to California to take charge of the UC Davis prostate operation, which made me very sad, he would tell you that: why have the open procedure when you can have robotic? So there's not one answer.
One of the things I became comfortable with as the decision came and everything was you got to listen to people. And sometimes there's an obvious answer. If the cancer is out of your prostate, then you're going to have radiation, you're not going to have a prostatectomy. There are some things that are obvious. There's a lot of things that aren't. And you have to become comfortable in terms of talking to your people with your family, your wife, your girlfriend, your husband, whatever it is. You got to become comfortable with what that decision is.
Ed Randall: Again, on our Stay in the Game podcast we're with Jack McCallum, author, educator, Hall of Fame basketball writer, remember the Prostate Cancer Club, his 2013 book, The Prostate Monologues received the maximum of four digits from the staff here at Fans for the Cure. It's time, Jack, you put that on your resume, my friend.
Jack McCallum: All right.
Ed Randall: It's only natural that a Hall of Fame writer would write a book about his cancer journey but The Prostate Monologues is more than a man documenting what occurred. You clearly had things to get off your chest and you had lessons to pass along to men who would walk a similar road. And you touched, Jack, on another issue we hear about constantly in our support groups. You write that you have heard the complaint for prostate cancer patients read on chat rooms and understood from the task force that urologist notoriously soft-pedal the consequences of surgery and radiation. And by consequences, you mean sexual function and incontinence. How do those of us who are advocates for men address this widespread failure in doctor-patient communications?
Jack McCallum: Well, the first thing you have to do is know that it happened. I mean, every surgeon… I had knee replacement during the pandemic. Dr. Lee, I love him, I think he's great. I loved my knee surgeon. That's what surgeons do. That's what they do. They say, "I got the whole world in my hands and I'm going to take care of you because I know what the hell I'm doing." So you got to understand that they always "Ah, Jack, you've been coming to…" This is my knee. "You've been coming to me for years, you're a tough guy, you stay in shape, and blah, you know, you're going to get by this." That knee… whooh. That was like, "Okay, I'm not young anymore. Now I'm having surgery when I'm 71 instead of 62." But that was rough. That was 10 or 11 weeks.
So the first thing you have to do is when a surgeon starts talking to you about that, you got to say, "You know, you're a little bit full of crap, that this is not as easy as you think." The problem I'm not going to say it's unique to prostate cancer. And any doctors that listen to this could argue with me. The problem is they can… my knee surgeon could have probably done a better good job telling me it's going to be closer to 12 weeks of recovery than it is for six weeks. So don't give me that six-week crap.
The prostate surgeon, he's still not sure how you're going to come out, right? He still can't tell how you're going to pee and how you're going to erection. He has an idea but unless something has happened in the last decade that I don't know about to make that a more predictive result, I'm not sure that that surgeon can still tell you that there's still this element of chance that you're going to be… Particularly with the continents thing, because urination become such a problem as we get older. Anyway.
I mean, the older you are, I suppose… You know, a 40-year-old man having prostate cancer, he has a young wife, he still wants to start a family, whether or not he's going to have a sexual viability when he gets done prostate cancer is a serious, serious question. I was 62. Obviously, I still wanted to have it. But it was maybe like a little bit less of a consideration.
So a direct answer to the question is, you know, assume the surgeon is giving you too optimistic of a portrait. And unless there's something I don't know, I don't think there's still great predictive route. Unless you've heard something that I haven't, that somebody gets done and go, "You know what? The way it looks, those nerves are all back. You're going to be peeing like a racehorse and you're going to be, excuse me, screwing like a 25-year-old." I don't know if that happens. It doesn't, right, still?
Ed Randall: Well, you bring up a great point about sex, because it's been my experience through the years that men don't want to go to the doctors because they were afraid of finding out that something may be wrong and that could affect their sex life. So that's a great point that you've made.
You know, Jack, we recently began a support group for caregivers to acknowledge the vital role that women play in a man's treatment and return to help. Your book makes clear that Donna was always there for you. To the extent that you're comfortable, tell us how Donna participated not only in your care but in the treatment options.
Jack McCallum: Well, all along she was a sounding board and was part of the decision that I said was how much harder this is when you have to go through this alone. Because I remember gathering the family together and telling them… I have two sons, and back then they were… let's see. They were in lower 30s, mid-30s. And I told them at first I wasn't going to get cancer, I wasn't going to get treated, I'm going to get active surveillance. They went insane. They were like, "You got cancer, you're not going to get it treated?"
You have to sign the member of your family. Because seriously, in every family, if this is a family decision, there's going to be some people with off the wall… You got to find the clearest level-headed member of your family to talk things over.
Ed Randall: Don't talk to the crazy Uncle Jack.
Jack McCallum: Exactly. In my case, fortunately, it happened to be my wife. But she's part of the decision. So every time we went, when she could, she was in there with me. And during the time that you… see, I always kind of revolt at when I'm introduced as and you didn't do it. But I always thought a little bit cringe when somebody introduces me as a prostate cancer survivor. Because every day my wife has a series of autoimmune diseases that she deals with, every day, since she was 30. And she goes through more survival things than I did in two weeks, than I did throughout my entire… you know, I didn't have symptoms, I didn't have… And I say that in the book. I was just lucky. I was just lucky.
But you come home with a catheter, and that has to be dealt with. There's a certain mechanical thing involved with it. It's a very psychological type of thing. Once again, if there was a theme of this book is that I was lucky. And if some people had criticism the book, well, sure, it's "Oh, yeah, he can write this book, he had the best medical care and he came out of it okay. And he had…" Well, that was my story. I'm sorry, I didn't want to put anything else in it. But it is the kind of disease, as you know, and your listeners know, where a lot of people have my outcomes. A lot of people do very well with this. I think the stats are still one out of eight men will deal with prostate cancer, one out of 41 will die of it, but a lot of people will survive it and survive it well.
Ed Randall: One of the highlights of the book and what made it so unique, was that you gave voice to a wide variety of strong feelings and beliefs that didn't necessarily coincide with your own. And in certain cases, in the nicest possible way, these doctors told you they would not have recommended a radical prostatectomy for you. How did you answer them? Was it things like, "Hey, I'm alive? Hey, I'm playing golf. Hey, I'm with my grandkids."
Jack McCallum: One of them was a guy named Andy Katz. I think Dr. Andrew Katz. I remember we're at lunch, he was a head of… I can't remember if he was a urologist or not. But anyway, he goes, "Oh, oh, my God, you had a Gleason score of, you know, whatever, my 3 plus 3. Oh, my God, they found cancer and 2% of… Oh, my God." He was kind of goofing on me a little bit.
And I think one of the things at our job and then you've done it, Ed is that one of the things about being a journalist, well, how we came up was that, I mean, everything… Now I'm going to sound like one of these old guys, "Ahhrr, the things are now…"
Ed Randall: No, it's different, Jack. It's much different.
Jack McCallum: Of course, I gave my opinion in here in the book. Of course, I do. That's why I wrote the book. But everything wasn't about my opinion. Everything wasn't… The way I learned to be a journalist was you collected information. You collect information. This guy's not totally wrong, even if he disagrees with you. Sometimes guys are totally wrong. Sometimes. But a lot of times there's nuance. And if there's a subject where there is nuance, should I get it? Should I get radiation versus radical prostatectomy? The risks of incontinence and sexual disfavor versus not getting… I mean, there's all kinds of nuance in here. So I understood what they said, and I smiled with them and I told them that I was comfortable with my decision, but I certainly respect their decision.
I had a part in the book when I just had anecdotes of dozen different people. Nobody has the same story. You know, it's phenomenal. You have this story of biopsy, diagnosis, decision, outcome, and there's never the same story. And I just kind of threw them in there with the idea that nobody can tell you this one's completely right. And I think that went back to my journalistic training. You're in the same business. You hear stuff that you don't agree with, but it's not always incumbent upon me to tell everybody that that's completely wrong. I can tell you what I did and why I did it. But to say that some of these people that studied medicine their entire life that I completely know more than anybo… I'm not going to do that. No.
Ed Randall: It's a great point. I thought that section to the book, Jack, also underscored a theme you drove home throughout, that more options, that is, radiation, surgery, active surveillance, as well as subsets of treatment options within radiation are as much a curse as they are a blessing. Your chapter quoted highly intelligent doctors making polar opposite arguments, which you've just talked about, about how to treat or not to treat the same disease. So how is a guy with a gentleman's see average from a top Patriot League College, that would be me, supposed to make sense of this and advocate for himself?
Jack McCallum: Like for example, I will admit this now. I heard not more than two or three stories about seeds, about radiation based on seeds. I didn't like it. I didn't like that idea. That's not what I felt I wanted to do. Why? Then I could have a doctor can walk into my office right now and go well, "Let me tell you why you're wrong about that." And he would probably be correct. That's all I could do to say that I wasn't going that route.
And I remember Dr. Katz, actually, I think, I would have to reread the book, but that's the one way he wanted to treat it because it was slower, it wasn't so radical. Radiation seemed more medically conducive to this type of disease than a radical prostatectomy. That's how he felt about. So I think the way a person feels about surgery v radiation, the way his partner feels about treatment or not, that those very human decisions have to come into the conversation. Because you're going to get through this and nobody's going to tell… The fact that I came out of it okay with no continence problems and with no sexual problems outside of I do take an aid when the time is right, but would I be doing that anyway at the age of 70?
Ed Randall: Right.
Jack McCallum: So the fact that I came out of this fine… And somebody would still say to me, "You made the wrong decision," I wouldn't say, "What? You're crazy? Everything is…" How you feel about stuff with this particular disease has to be part of the equation. It just has to be because if you look for every bit of scientific evidence and read every single scientific study until you're blue in the face…
Ed Randall: Your head will explode.
Jack McCallum: Your head will explode, and you will not be closer to a 100% answer. That is my opinion. Someday when they figure out how to treat pancreatic cancer, if somebody… it kills so many people. 93% of the people that flicks, if somebody has a breakthrough, and says, "If you do this, this will work," I would try that like that because it's killing so many people. But right now this thing has still so many nuances scientifically, even based on research, that your human decision on what you feel about it has to be part of the equation.
Ed Randall: There's a late chapter in the book that presents real-life case studies of prostate cancer patients, followed by an analysis of what went right or wrong for each man. What do you make clear is that things don't always go as described in the doctor's office brochures. Stuff happens. Like the cord malfunctioning while the robot is in the middle of surgery. What did you learn in your discussions with men for whom treatment decisions or execution of treatment didn't go well?
Jack McCallum: Well, one of them was very close to me. And one of the arguments against robotic prostatectomy an argument you could make against it… Now, Dr. Lee's not on here. I wish he was talking over my shoulder because I'm sure somebody would have an answer to it. I'm not a doctor. As you and I said, we always tell people before we begin. If you're trained in robotic prostatectomy, the machine goes bad, what happens then if you can't do the open procedure? And that is what happened in this person's case, that the doctor was not…
Since then it was amazing how many people I met that had that situation with this hospital with a particular doctor. I did not put his name in the book, because I didn't think it was fair. I didn't study it from all the legal and ethical and medical ways that I would need to study. But I did tell people this has now happened a half dozen times, that I send people to Dr. Lee instead of over there and I didn't make a big deal out of it. But as we know, shit can happen. And with any procedure, something can go wrong.
So, all you can do is get all the valuable research you can on the doctor. You're never going to come to a clear decision on… not ever, but it's going to be hard to come to exact clear decision on what is exactly right for you. But if you have a Dr. Lee who has done—I don't know what the number is now—who has done, you know, it's probably more like 40,000 robotic prostatectomies and 25,000 people have written love the guy, you know, it's a percentage. And you have to play that game a little bit. And I would tell people, yeah, I know every Dr. Lee had to do his first. Yeah, there was somebody that was his first patient. Okay, but I don't want to be that first. I'm still going to go to be that guy. I don't want to be that guy. And I'm sure that guy's fine because it was Dr. Lee…
But I will say this, that I'm sure you found this field contin… There's local doctors here in my area that I have heard anecdotally and I know who are great. I live in the Lehigh Valley, Allentown Bethlehem east. When I tell somebody, "Oh, you got to go to Philly. You got to go to Sloan Kettering. You got to go to Johns Hopkins," I did not want to be that snob that told people that. There are outstanding doctors. And I think this field became so charged, so nuanced, so volatile because of some of the things you talked about with the recommendation not to get that it's gotten so good. You've had Stacy on. The field has gotten incredibly good. That's what I would say.
Ed Randall: It's such a great point that you make about the amount of talent that's out there. The final chapter is your first real-life meeting with a fully conscious Leonard Collier, the gentleman whose robot-assisted laparoscopic prostatectomy you witnessed up close and personal at Penn Presbyterian Medical Center back in Chapter 1. Have you kept in touch with Mr. Collier since your lunch back in 2012? And has his wife Asha ever called you again at home with good news?
Jack McCallum: Yeah, Leonard and I still stay in touch. I'll always have this warm spot. You know, you've been a journalist. And one of the things you want to do is get inside of things. And I had this idea of "I want to ask Dr. Lee if I can see an operation. I just think this is important. This is going to be so difficult. He's going to have to go through the Board of Directors and it is going to be a whole thing. But I got to ask." We do a lot of asking in this journalism business, and you get a lot of nos.
So I went down to see Dr. Lee or I called him. I can't remember. I said, "Dr. Lee, I know this is a weird request, but if I gallon up, is there any chance I could…" "Sure. I got one next week." Well, this is what happens when you're a Rainmaker. I mean, Dr. Lee is a Rainmaker for the University of Pennsylvania. So I don't know who he ran it by, thank God. So he calls up Leonard and his wife. I still remember we went down, and my wife was with me. I took her down because I'm waiting for Leonard's wife in the recovery room.
I went out, introduced myself and I said, "Hey, you know, I really appreciate your hu…" So I still have this vision of my wife and her talking and talking about the recovery of it, and how it's going to be and all that kind of stuff. So we have remained friends. We play golf together a couple of times. It's funny, Ed, last week, I'm in this kind of golf group, it's not a huge group, and somebody new came into it. And we're putting our cards on it for the first tee, and he comes over he goes, "I never met you before. I was in your book. You were one of the people you called." And I said, "Man, that's amazing." And as I said in the beginning, that's been one of the great things about writing that book was this kind of new community of people that I've met.
Ed Randall: Jack, if somebody wants to get in touch with you, how can they do that?
Jack McCallum: jacksprostatebook@gmail.com, without apostrophe, without anything between it. And if you write an email, I'll be glad to get back to you. Unfortunately, the book is still expensive. It's still $24.95 or whatever it was. I wrote it right after the Dream Team book. And Dream Team book was in the top 10 of The New York Times bestseller list for like seven weeks.
The Prostate Monologues, I got a niggling amount of money and I don't know how many people read it. But when somebody ask me: "What do you think's the best book you ever read?" I'll say The Prostate Monologues. "The best book you ever wrote," I'd say The Prostate Monologues is the best book I ever wrote because it was out of my comfort zone. And sometimes when you're learning things as you write a book that you're kind of go into it with more of an open mind and talk to people that you need them to tell you the information, that was one of the things I got out of here. And I totally enjoyed doing it.
Ed Randall: Thank you, Jack, for writing the book. Thank you for being with us. Good health and all good things to you and Donna and your beautiful family.
Jack McCallum: Well, I appreciate that, Ed. And thanks for doing this podcast. I'm sure it's helped a lot of men and women who have to listen to complaints about it. So good talking with you.
Ed Randall: Jack McCallum is the Hall of Fame basketball writer, and the Michael Jordan of Basketball Writers historically, and sits in the Basketball Hall of Fame in Springfield, Massachusetts. I'm Ed Randall. Thanks so much for listening to our Stay in the Game podcast.
Thanks for listening to the show. You can find program notes and a full transcript at the charity's website, fansforthecure.org. Be sure to subscribe to our podcast in iTunes, Spotify, Stitcher, and everywhere good podcasts are available. And if you like what you heard, a positive review on iTunes will help other people also find our show.