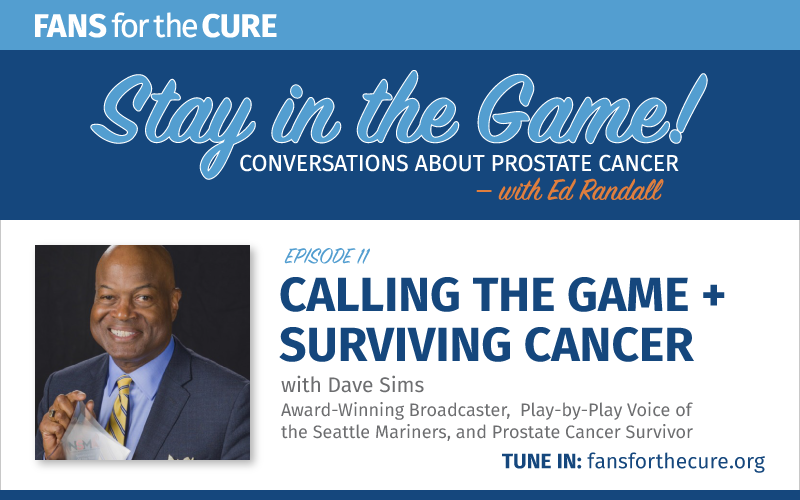 Podcast: Play in new window | Download
Subscribe: Apple Podcasts | Spotify | RSS
Named Sportscaster of the Year for the State of Washington by the National Sports Media for the third consecutive year, Dave Sims is entering his 15th season with the Seattle Mariners. A two-time Emmy Award winner, Dave is an alumnus of the Philadelphia Inquirer, the New York Daily News, WNBC and WFAN radio, and has covered the Olympics for NBC Sports.
Program Notes
Episode Transcript
Welcome to Stay in the Game: Conversations about prostate Cancer with Ed Randall. Here we'll chat with doctors, researchers, medical professionals, survivors, and others to share and connect. This show was produced and shared by Fans for the Cure, a non-profit dedicated to serving men on their journeys through prostate cancer.
---
The Stay in the Game podcast is sponsored by Cancer Health – online at cancerhealth.com.
Cancer Health empowers people living with prostate cancer and other cancers to actively manage and advocate for their care and improve their overall health. Launched in 2017, cancerhealth.com provides accessible information about treatment and quality of life for people with cancer and their loved ones, along with information about cancer prevention and health policy.
---
***
Ed Randall: Welcome back, everybody to our Stay in the Game podcast. I'm Ed Randall, the founder and the chief advocacy officer of Fans for the Cure. Our guest today is entering his 15th season with the Mariners broadcast team. This past January he was named the Sportscaster of the Year for the state of Washington by the National Sports Media for the third consecutive year. He's a two-time Emmy Award winner as well as an alumnus of the Philadelphia Inquirer, the New York Daily News, WNBC and WFAN radio and covered the Olympics for NBC Sports. He's a national talent whose work as a play-by-play announcer continues to soar. It's my great pleasure to introduce the voice of the Seattle Mariners Dave Sims to our Stay in the Game podcast.
So glad to have you with us, my friend.
On a personal note, there's a Saturday night at old Memorial Stadium in Mount Vernon… Thank you, thank you. All right. It's a Saturday night, celebrity softball game at old Memorial Stadium in Mount Vernon just north of New York City, you're playing third base, I'm playing first base, you make a bad throw and I scoop it up like I'm Keith Hernandez, and a friendship was born on a night in which Willie Mays played first base for the opposition team. And I hit a home run which I've never done, and I went past Willie Mays on the bases. What a night that was for you and me.
Dave Sims: Well, I remember having a couple of knocks in a game but I also remember the phone call earlier in the week. "Hey, we got a charity softball game. Can you play?" "Yeah, okay, sure." "Willie Mays is going to be there." "No, seriously? No, seriously? Willie Mays is going to be there. I mean, Ed's fool. You got to be kidding." I'm driving up, and as I'm parking the car, I see this familiar body, these motions of somebody very familiar to me, and I went, "Oh, I'll be darned. It is Willie Mays." It was like, "I could say I played on the same field as Willie Mays. It's unbelievable."
Ed Randall: Exactly. That's what I do.
Dave Sims: Who would have thought! It was you and I and whoever else was in that game, it's a limited number of guys, I can say. I'm sure Willie has played in a lot of charity events over the years. But that was an unbelievable thrill. Unbelievable.
Ed Randall: All I remember from that night are people: you and Willie Mays.
Dave Sims: I was going to be in the same sentence.
Ed Randall: Yeah, of course. Yes, it is.
Dave Sims: Oh, man! Thanks for the invite.
Ed Randall: It was amazing. My pleasure. It's amazing. It's amazing, Sims. Listen, a friend of mine once told me that behind the bar at PJ Clarke's in Manhattan is an employment application from Todd Zeile. He'd apparently filled it out to settle a bet over whether he could list his 11 Major League employers from memory and in chronological order. Do you sometimes feel the same way about your wide-ranging career just about every form of media that you've been a part of?
Dave Sims: Yeah, yeah, that's a good line. It's like… who was it? There's been a few players that Tim Beltre, I think it was, played for a lot of teams. I meet a lot of people once. I mean, the Philadelphia Inquirer, New York Daily News, Satellite News channel, United Stations Radio, WNBC radio, WNBC TV, WFAN, WCBS TV, Westwood One, ESPN, ESPN Regional, FS1, Oh I did WTOG, Tampa preseason games to the Bucs, and now the Mariners going to go on into year 15. Oh, I did the United Football League in 2009. That's a pretty good rendering of the steps along the way. All local stops.
Ed Randall: All local stops. We mentioned you're the voice of the Seattle Mariners but your offseason home is in Midtown Manhattan. That's not exactly the conventional bicoastal arrangement, but it is yet bicoastal. Tell us about the two cities and why you choose to spend your winters in cold and blustery New York City. And I'm asking this of a Philly guy.
Dave Sims: That's right. I'm a 95 guy in temperament and attitude for the most part, but I picked up some Northwest stuff. When I got out of college, I was lucky enough to land here at The Daily News. Have been here ever since. I Love New York, love midtown Manhattan. My wife retired as a physical therapist. She had a very terrific practice here in Midtown. And, you know, we set up routes.
When the Mariners came along, we gave it serious thought to moving out there. The first contract was a two-year contract. So I own here in Manhattan. And two years, and then you know, I don't want to be…it was almost like the scene in the Godfather, I want to be just left with something in my hands when I come out. I'll come out of a certain room. So we said, "No, we're not going to do that." So hence we've been here during that time.
It keeps it very interesting. Because the end of the season, generally we stay in Seattle for a couple of weeks. We do home gardening, we do our own personal restaurant, we catch up with friends and all that kind of stuff that we don't get a chance to do during the season. And then we come home to Manhattan and we still got a lot of friends around here. It's Manhattan and in a normal year, shows, theater, go out here, and hang out, get to walk Central Park on Good day. I grew up loving New York. My mom was a New Yorker. So anything that was New York was super cool growing up in Philly. So I sort of maintain that.
Ed Randall: We've always had great respect for your work, but I have questions about your mentality because you were a kick returner in college.
Dave Sims: You know how that happened, Ed? I was a number two fullback as a freshman. I lettered. I scored a couple of touchdowns, couple of two-pointers. Somebody got hurt and I get put on the… not the backline. The one and two returners but the line in front. And it was one game, they kept kicking short to me. So I took them and plowed ahead. So the next one, I think the guy that was the number one guy got hurt. The next week's opponents, they had a deep kicker, they put me back and I used to catch those kickoffs and run for my life.
But midway through the season, in which I lettered and finished third in conference in kickoff returns, I said, "We're done with this at season's conclusion. We're done." I said, "I'm not seeing a busload of scouts coming and looking at me here, nor do I really want to do it." I mean, I was recruited to go to Temple to play for Wayne Hardin late my senior year, John Drew comes up and takes me down for a visit to North Philly and say, "Coach, it's March. You're coming after me now?." We run and T-formation, we did T fullback and the coaches in your league love you. I said, "All right." I took the visit, meets Skip Singletary, all these guards, I'm thinking, "I cannot run this dude. I mean, I'm not even going to try. Thanks. It was a good visit. We'll see you later." and that was it.
Ed Randall: This was at Bethany College. I have a dear friend of mine who followed you at Bethany College, who admits now years later to having stolen a police car, driven it onto your football field, putting it on the 50 yard line, turning on the siren, closing the door and running away.
Dave Sims: Oh, that's a good one. I don't remember. That must have been after my time. I would remember that.
Ed Randall: Of course, you would.
Dave Sims: I would remember that. I probably would have documented that with a picture.
Ed Randall: He's still wanted. Back to our show, this is a podcast with of course a primary focus on prostate cancer. So here goes. It's 2015, you found yourself with an elevated PSA score, you got bad news in the follow up and suddenly had serious decisions to make. So please walk us, Dave, through the steps of that daunting process.
Dave Sims: I'd taken a test in October. We reopened on an insurance policy, do the usual specimen deal, forget about it, and I come back. So like a month later, it's right before Thanksgiving, I think I just come back from doing the game and my wife said, "Open that envelope." I looked at it and the number came back and the number was elevated. A little freaky because it was bad on my part, bad on my physician's part because in January the number had gone from like zero whatever to like 1.3 or something. And now it's like 4 or 5 and change now. And I had promised that I'd come back in mid-season when we played with Yankees to get everything checked. He didn't call me. I didn't call him whatever.
So now we're in November. My wife turns me to her ob-gyn, whose good friend, who does these types of operations. We went the whole bunch of tests. And I remember Dr. Douglas Scherr who's up at Weill Cornell, and he said that just because the number is elevated doesn't mean you have it. And if you do, we got you. Don't worry about it. He run tests and came back and he says, "Yeah, you got a bed that needs to come out. And another couple months you could be in trouble."
The long story short, after some more tests, got into December, he says, "What's your spring training schedule? What do you have to report?" I think I told him, "It was like March 1, then 28, 29, something like that. He says, "I got you. What are you doing on January 15?" I said, "I guess I'm going to be with you under the knife." That's when I had the operation. I remember waking up, seeing my oldest son and my wife to my left, I said "Damn, am I glad to see you guys!" The doctor was on my right and he said, "I got it all. I don't think I did any nerve damage." I recouped, and here I am five years and change later.
Ed Randall: Thank God. Dave, what were the one or two challenges of prostate cancer not told to you by the doctor, not in the doctor's office brochures, you did not know about until you had to face them in high velocity and in real-time?
Dave Sims: I can remember one of the test says, "You're going to hear…" I mean, the nurse…" It look like a size of Crest toothpaste. It was some kind of numbing agent. So put that where it's supposed to go. And the doctor came in and said, "Hey, how are you? The Yankee pitching stock is right now. Hey, bah, bah, bah, bah." So we're talking, he says, "Okay, boom!" And he says, "You'll hear a few clicks." That procedure determined what parts of the prostate had to come out. Flash forward, operation was a success, come out.
I've had knee surgery at that point. But you might remember you come out and your stomach is just blown up with gas and you got to walk that off. I had to wear the old bag for a week. And I had a catheter. I had a catheter. I had to wear that for seven days. One of the happiest days of my life when the nurse said, "Just look the other way and…" and she pulled it out and I was good. Those are kind of challenges that nobody really tells you about and tells you about later. There's a little bit of incontinence, a little lack of performance there for a while taking certain kinds of medicine. But everything's worked out, man.
Ed Randall: I visited a friend of mine before my diagnosis, who's just been operated on a Columbia Presbyterian. You pitched a year ahead of me at Fordham. He got as high as AAA with the Yankees. And I remember going up to see him at Columbia Presbyterian to say, "Hello, Dave." And he was walking along with the poll beside him and he said… and I don't mean to be indelicate, but this is what he said. He said, "I would kill right now to fart."
Dave Sims: Yeah, yeah. I didn't have that problem, but I totally appreciate where it's coming from. We started walking around… When you're walking around Manhattan with a catheter, there's a limited… Man, I like to walk four or five miles at a time. I was like, "To the corner? Okay. All right, around the block. Hey, we're making progress. Let's go down five, six blocks." So we build up gradually. And then it was a thrill to get back into Central Park after a while. There was a time there in terms of talking about what they didn't tell you. The blue pills didn't work for a while. I had to use injections for a while. And then finally things worked out. And now here we are.
Ed Randall: Again, thank God. Since your treatment and recovery from prostate cancer, you have admirably taken in an advocacy leadership role, particularly in the Seattle area. What has been your most successful core message in convincing men to go to the doctor's?
Dave Sims: Well, I said, you know what, you're the other guy, I was the…you know, there's always somebody else who's the other guy. Well, I was the other guy this time, and I was one of the numbers. And I said, "Dude, if I can get it, do yourself a favor and go get checked out." And I was happy to talk about it because it's a topic that 99% of guys don't even want to talk about and so many guys don't even want to go get check.
I can remember watching Steve Sabol in his NFL films when he talks about Vince Lombardi, and I'll never forget the anecdote where he had Vince Promuto goes in to see Lombardi's on his…he was on his deathbed. And he says, "I wasn't going to have anybody stick their finger on my ass." Vince said, "Coach, if you had, you wouldn't be lying here right now."
Ed Randall: Exactly.
Dave Sims: I saw that soundbite 25, 30 years ago, and never forgot it. We got to spread the word. As a matter of fact, I'll take Mariano Rivera on this one. Julio Cruz. The great Julio Cruz. When I talked to him in spring training that year, he went and got checked, he had it. He got operated on in June of '15. He's still recovering. I mean, my recovery has been just a major success. He's had some issues, but all in all, you know, he's still with us. You know, it's a test. It's like, in, out, boom, no problem. And then obviously, the blood tests and all the other things. But fellas, if you're African heritage, if you're 40 plus, you got to get checked.
Ed Randall: Fans for the Cure has consciously broadened its message from test, test, test to informed treatment. I got guys who call me and immediately talk about, "You know, I got to get this thing out of me," when their cancer is, in fact, slow-moving, and it's not going to kill them. How do you, Dave, explain to men who come to you for advice that urgent invasive treatment might not always be appropriate for a non-lethal case of the disease?
Dave Sims: And I'm no expert on this but I've read about that and I had that explained to me. My case was a whole lot different. Like the doctor said, "It's pretty far gone. You had to get it out now." I know observation is one of the things that they use. I guess it's case-specific. But I just think is, of course, a normal progression, as you get to a certain age. Black men, it's like one in five as opposed to one and eight for white men, something like that. You know better than I do. But you got to get on it.
All I'm saying is there seem to be two or three different schools of thought on that in the industry. I remember reading up on that stuff. I hadn't been up on it lately. But what I do remember is that now each case, you know, is its own individual thing. But testing, at the very least you get the blood test. Come on, you got to get the PSA checked.
Ed Randall: It's a simple PSA blood test. As with so many diseases, and now with COVID, prostate cancer, and this is what we're talking about, disproportionately affects the black community, both in diagnosis and unfortunately, in mortality rates. As a black guy, a fellow advocate, and a prostate cancer survivor, please tell us what you believe needs to be done to begin to erase these disparities.
Dave Sims: More education. I mean, and get guys in their 20s and 30s too. Don't wait till they are 40. And then the guys who may have ignored or weren't privy to information or are not exposed to the information, probably a better way of saying it. Knowledge is power, man. And I think we got to do a better job or continue to do a good job to get the word out how important it is. And show them number. Show them the data.
Ed Randall: There's a long list of obstacles to health equity in the black community. You and I both know this. And so does our audience. Limited access to quality health care, lack of insurance or ability to pay, environmental factors, transportation issues, as well as an understandable culture and historical mistrust of doctors. How do we, you and I, as advocates, best use our pulpits and our platforms to make a difference when it comes to health equity?
Dave Sims: As it also is related to COVID, this is not the Tuskegee experiment from the 40s. This is not Henrietta Lacks. I trust the science. I know when it comes to COVID, I get one vaccine and wait for the second one. Hopefully, I get it this weekend because I got banged out last week because they couldn't get it in for whatever reason. I was scheduled for Friday last week.
But I trust the science. I remember on the show I do with Coach K, we had Dr. Fauci on April of last year 2020. From seeing him and then talking to him in that particular instance in that interview, and the guy's been on the internet gig for what? 30, almost 40 years. That sounds like credibility. It works for me. So I'm going to buy what he said, and I buy what the doctors say in this part of the situation, man. Again, it's knowledge. It's information. You got to talk to the right people and people who have been through it, and certainly people who have credibility in the field as well.
Ed Randall: March is National Women's History month and Fans for the Cure will be recognizing the role of women caregivers throughout history on the subject of wonderful caregivers. Tell us about the role of your wonderful wife, Abby, on her prostate cancer journey with you.
Dave Sims: Dr. Scherr obviously gets a heck of a lot of credit and so does the man upstairs. But boy, I'll tell you what? Winner! Keeper! My friends in the south in the football realm say, "Son, you have key to coverage." I got a good one. We were married 38 year, 39 years. She is a gem and what got me through, you know, walk me around the hall wobbling around with the pole. On bad days, I would walk the steps of our building. I mean, just priceless. A lot of good things. I wouldn't be here without her. We're friends and we've been married for a long time since 82. So yeah, that'll be 39 years October. A very lucky guy. What can I say? Very lucky guy.
Ed Randall: That's great. About your career, when our friend Mike Emrick listened to his first hockey game at the age of nine, he knew he wanted to be a hockey announcer. What voice is coming out of the radio and TV when you were a Philly kid growing up inspired you to want to be a voice that brought baseball into people's homes?
Dave Sims: At my first world series, I remember…it was at '58 Dodgers Cardinals played on one game playoff. So 58. 59 it might have been. It might have been 58. But I do remember the '57 World Series because the Braves won. I remember my father was pretty fired up. You got to remember during that time, it was that first wave of black players. So I remember, you know, it seemed like every October 1, tah, tah, tah, ta ra ra ra.
Ed Randall: Ta ra ra tah tah.
Dave Sims: I grew up at Philly. You know, Whiz Kids by that time had grown old, they weren't very good. But I remember that. And then in Philly, Bill Campbell and By Saam. Then nationally, in all of sport… I mean, I watch all the sports. So Lindsey Nelson, Curt Gowdy, Van Patrick.
Ed Randall: Ray Scott.
Dave Sims: That's what I was going to say. Ray Scott. Touchdown.
Ed Randall: Touchdown, Green Bay.
Dave Sims: So I mean, all of those guys. And then over the years, I got to work with Charlie Jones. Charlie was in the early years of the AFL.
Ed Randall: I loved Charlie.
Dave Sims: He was good. He was awesome.
Ed Randall: He was great. He was so underrated.
Dave Sims: And then I go, you know, His eminence, Mr. Scully. I call him every year on his birthday. I get pleasure of meeting him. I got to know him over the last few years. Those are the guys that jumped at me. Plus there's a guy I have to give a shout out to a kid that lived across the street from me, Anthony Wainwright. He's a retired Air Force guy, lives at Omaha. He was long and range. He was 12 years old. I was big for my age. I was nine. I used to play with 12-year-olds and we'd go out play stickball. He could imitate every motion in the National League. Marichal, Bunting, Drysdale, the whole thing. He was right-handed. And I remember he would go into that whole one Juan Marichal thing and be commentating at the same time and blowing tennis balls by…
Ed Randall: The leg is going up to the sky, right?
Dave Sims: He would do the whole thing. And I was like, "That's pretty cool." So playing like dice games and all the board games and then we broadcast the game. So I knew back when I was probably 10, 11 years old. But here's the thing. As you know, there's nobody black doing that stuff. Certainly not nationally. And damn sure not locally at Philly. First black guy to do sports is Bill White after he retired as a Philly and worked at ABC Philly. And he was like the sports director and the number two guy. I never forget one time they got a hockey game… "Hey, Bill, you're doing a hockey game." You're like, "What do I know about hockey?" And then they had the nerve to give him grief when they didn't have a rebound score and he didn't have all the lingo and all that kind of stuff. But talk about an inspiration. And then I come to New York, here's is Bill White. He's freaking legendary. I tell him all the time. I called him his birthday, it was recently—87 years old.
Ed Randall: I know.
Dave Sims: I give tribute to you at least three, four times a month. How do I do it? Deep to Left.
Ed Randall: Deep to left! You stretch ski and then head… It's a home run! With these tragic deaths, the succession of 10 a Hall of Famers, the players plus Lasorda. Nine players plus Lasorda. So bronze guys….
Dave Sims: Plus the other guys who were not Hall of Famer. There's a whole like two dozen of those guys.
Ed Randall: Exactly right. So I have him on my SiriusXM show because we we're on nostalgia show, and we have to talk about these guys. So Brock dies, I have Bill White on. Then Gibson dies, and then I have Bill White on, and he has been incredibly kind and generous to me through the years. My mom May God rest, her soul, just adored him. Just one of the best people that God ever put on the face of the earth. And I tell him, that that moment of Bucky Dent, he is in it. He is connected forever "Deep to left", as you said, because of the call that he made.
Dave Sims: And you know what? Costas told me one day, he said, "Do stuff like that. If one or two of your friends get in, that's all that matters." If you were a Yankee Fans or a Red Sox fan, and you heard that "Deep to left" …
Ed Randall: You were embedded.
Dave Sims: Why isn't he in the Broadcast Hall of Fame?
Ed Randall: I don't think so.
Dave Sims: No, no, no, I'm asking why isn't he?
Ed Randall: Uh, why isn't he? I have no idea. I don't know. He should be.
Dave Sims: I mean, come on.
Ed Randall: We talk about your great career. But I mean, let's boil it down to the highlight of your career. At last year's Fans for the Cure holiday party, you played the role of Ed McMahon. We introduced John Pizzarelli. It's connected magnificent, although it was a supporting role at best, where does that performance, Dave, with all you've done 15 years Major League Baseball, the NFL working with Mike Krzyzewski now, where does that performance rank among the most thrilling in your professional career?
Dave Sims: Anytime I can pay tribute to Ed McMahon, who, again his TV career on a show called Big Top in Philly when I was a kid, I went to see it 1957 or whatever. Anytime I can go, I hold in my hand the last… I mean, All right you are? I was a big fan of his. Hello! I was a big fan of Ed McMahon. And it was always a treat as a kid to stay up late, 11:30, and watch the monologue.
And I can remember as a kid I always wanted to come up here to New York and watch Tonight Show when Carson was still here. Carson, where he lived is not too far from where I am. That was a thrill. And it really was fabulous, man.
Ed Randall: So were you. But answer the damn question. So where does it rank?
Dave Sims: Oh, it's up there. It's not there. As Hawk would say, you can put it on the board. Yes.
Ed Randall: Okay. One final question about Seattle versus New York. Are you a coffee person? And can any city touch Seattle when it comes to citizens being obsessive about beans, techniques, and an overall coffee culture?
Dave Sims: Before I got married, I used to… sugar, little milk, boom. Now, as my wife pointed me in this direction, I drink it straight black. And I think I drink it pretty strong until I got to Seattle. Now are really drinking it strong. So, man, I'll tell you what, it didn't quite grow hair back, but it's given it a try a few times. It's a lot of fun. I get to have in the summertime from, say, July 3, 4 to about mid-September. The weather there is second probably only to San Diego. It's not the rainy season. Humidity is not anything near what we experience here in New York and East Coast. Then it doesn't get dark till 9:50.
Ed Randall: It's unbelievable. I'm so glad you brought that up. I had the great good fortune to work in AAA in Vancouver when it was a triple A city with the Oakland days, and we had Seattle's weather. Everybody said, "Oh, when you go up there's going to be a lot of rain." That's we didn't have a rain out to the final home stand of the season the last week in August. And it was remarkable to me how late it was before it got completely dark. And then it would get blight again like at 4 a.m. I loved it up there. I had a great time. And we had a good team.
Dave Sims: It led me to wear sleep mask because of that.
Ed Randall: It's like you're in Alaska. It's always light.
Dave Sims: I can remember my first year I was seven and, you know, one of the things you and I talk about all the time with games today and along but I can remember, "Welcome back everybody. Tap the sixth inning. And I happen to look at my watch and it was like, "Really? 9:50?" It was like daylight. I was like, "No." We don't see that back east. We really don't. It's a different phenomenon. I'd say it's a good sport style. We could ever get our act together and win some games and make the playoffs. It would be off the chart. Because three or four times we flirted with playoffs in into the last week, excitement was huge.
You remember that one they had from 95 to 102. They were top-drawing team, TV ratings were off the chart, attendance was fantastic. Griffey and those guys, and the A-Rod. And had great teams but man it's been a drought since then. Got to get it back again.
[crosstalk]
Ed Randall: I think it's the longest in US professional sports. Is it not?
Dave Sims: The current longest drought of the four major North American sports. That is correct. Playoff drought. I don't wear that as a badge of honor but it's a simple declarative statement. What can I say?
Ed Randall: It's not your fault.
Dave Sims: Correct. That's exactly right.
Ed Randall: It's not your fault. I mean, the other side of that was in 2001, I get asked to do television for the newly installed Brooklyn Cyclones of Drew Finley, and I go and we win the league. The next year, I'm asked to go over and go behind enemy lines and do the Yankees on the YES Network, they win the championship.
So now it's two different teams in a 14-team league in consecutive years. And I take responsibility for both of those championships. I was in Brooklyn, they won. Then I went to Staten Island and they won. So I go up to Fred Wilpon when they start the SNY Network, the Men's network, and I go, you know, nut for nothing for it. But again, in 2001, I did your games in Brooklyn, and they won. Then I go to Staten Island to do the Yankees and they won. So it might behoove you, yes, to throw me into the booth to… have the Mets won a World Series since I had that conversation with the guy? No.
Dave Sims: They been on none but they have not won one.
Ed Randall: Okay, right. They've been in one but they've not won one. So still looking at 1986 so let's keep that between us girls. As we wrap it up, I just want to say, from a personal standpoint, I treasure our friendship. I can't thank you enough for how you've helped our organization. This podcast is enormously important. And we wish you and Abby good health. Please stay safe and best of luck for a terrific season with the Seattle Mariners.
Dave Sims: Much appreciated. A tip of the old 42 cap, man. Thanks. I enjoy our friendship. Absolutely. I remember you called after you found out, "Hey, welcome to the club. I know you didn't want to be in it but welcome to the club."
Ed Randall: It's a club we never want to be a part of.
Dave Sims: And he started running down the names of the guys, I went, "Geez. I'm in good shape in terms of this clientele here. A lot of good guys, man." So again, you know, all doctor's orders for this.
Ed Randall: Good health to you, Dave.
Dave Sims: Thanks for the opportunity, man. I appreciate it.
Ed Randall: Thank you. We're honored to have you with us. That's our Stay in the Game podcast. He's Dave Sims, I'm Ed Randall. Thanks so much for being with us.
***
Thanks for listening to the show. You can find program notes and a full transcript at the charity's website, fansforthecure.org. Be sure to subscribe to our podcast in iTunes, Spotify, Stitcher, and everywhere good podcasts are available. And if you like what you heard, a positive review on iTunes will help other people also find our show.