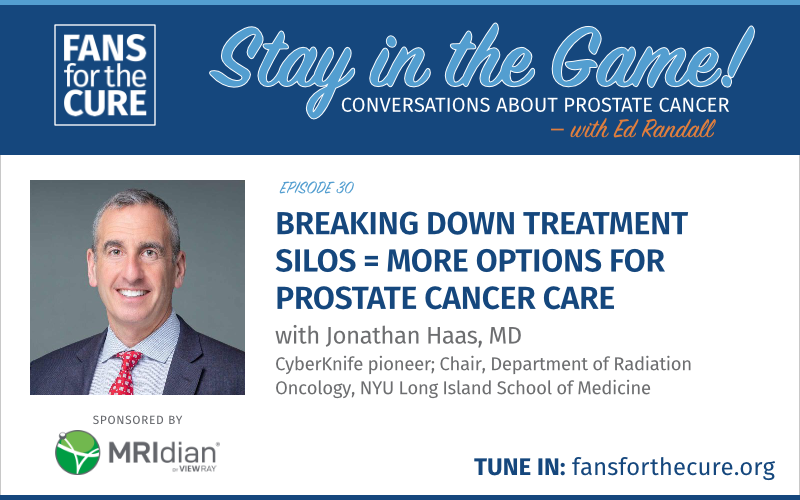 Podcast: Play in new window | Download
Subscribe: Apple Podcasts | Spotify | RSS
Leading physician and Cyberknife pioneer, Jonathan Haas, MD, is the Chair of the Department of Radiation Oncology at NYU Long Island School of Medicine. In a recent conversation, Dr. Haas eloquently talked through the many treatment options for prostate cancer – and how bringing a holistic approach to treating the disease provides patients with more options for their care.
Program Notes
The Stay in the Game podcast is sponsored by MRIdian by ViewRay, unique in delivering MRI-guided stereotactic body radiation therapy (SBRT) for localized prostate cancer. As reported in JAMA Oncology earlier this year, MRI-guided radiation therapy – delivered with MRIdian – was found in a phase III randomized controlled MIRAGE trial to be superior in reducing the toxic GI and GU side effects of treatment, as well as significantly increasing patient-reported quality-of-life metrics.
For more information about MRIdian MRI-guided radiation therapy, or to see a list of participating healthcare institutions, please visit to viewray.com.
Episode Transcript
The full transcript will be posted here as soon as it is available.
Cancer Health empowers people living with prostate cancer and other cancers to actively manage and advocate for their care and improve their overall health. Launched in 2017, cancerhealth.com provides accessible information about treatment and quality of life for people with cancer and their loved ones, along with information about cancer prevention and health policy.