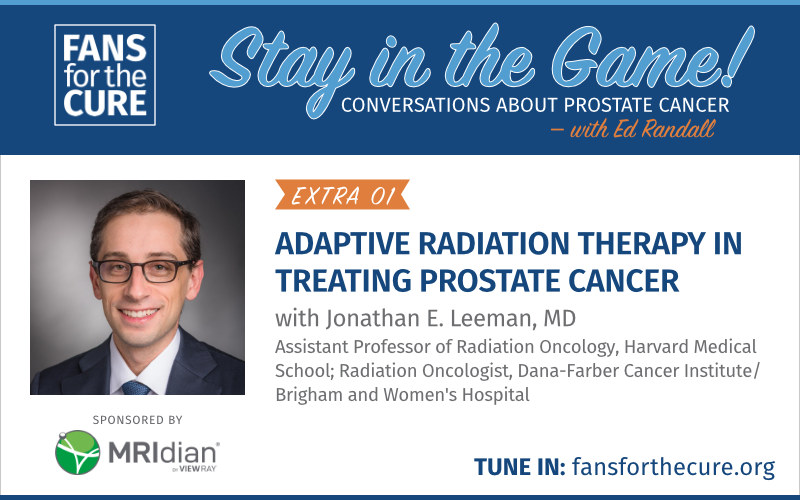 Podcast: Play in new window | Download
Subscribe: Apple Podcasts | Spotify | RSS
MRI-guided radiotherapy has brought new treatment protocols and staffing models to prostate cancer oncology at Brigham and Women's Hospital in Boston, according to educator/researcher/clinician, Dr. Jonathan Leeman. "Seeing while we treat" has made cutting-edge SBRT radiation delivery a game-changer for his patients.
Program Notes
The Stay in the Game podcast is sponsored by MRIdian by ViewRay, unique in delivering MRI-guided stereotactic body radiation therapy (SBRT) for localized prostate cancer. As reported in JAMA Oncology earlier this year, MRI-guided radiation therapy – delivered with MRIdian – was found in a phase III randomized controlled MIRAGE trial to be superior in reducing the toxic GI and GU side effects of treatment, as well as significantly increasing patient-reported quality-of-life metrics.
For more information about MRIdian MRI-guided radiation therapy, or to see a list of participating healthcare institutions, please visit to viewray.com.
Episode Transcript
Announcer: Welcome to the Patients Champions Podcast series sponsored by MRIdian by ViewRay and hosted by Joe Cosgriff of Fans for the Cure. Over a number of conversations, we will be taking a deep dive into the fascinating world of radiation oncology, specifically MRI-guided adaptive radiotherapy.
We will be uncovering the remarkable ways in which distinguished radiation oncologist have seamlessly integrated the groundbreaking MRIdian system into their clinical practices. Sponsored by ViewRay, creators of MRIdian, the series promises to unveil in real time the transformational impact that modern medical technology is having on patient care. Prepare to be educated and enlightened as our expert guests share their firsthand experiences, the challenges they have overcome, and the victories they are achieving both in the clinic and the research studies.
So join us following the exciting journey of these trailblazing physicians as they describe how cutting-edge technology and human ingenuity are combining to improve both the daily experience and the long-term outcomes of cancer treatment. We hope you find this to be an engaging, informative, and thought-provoking series that might just change how you look at radiation at radiotherapy.
Announcer: The Stay in the Game podcast is sponsored by MRIdian, MRI-guided radiation therapy by ViewRay. MRIdian is used to treat a variety of cancers, including localized prostate cancer. As reported in JAMA Oncology, the phase three randomized control MIRAGE trial showed treatment with MRIdian to be superior to standard CT-guided treatment in reducing the toxic side effects. With MRIdian, over 80% of patients can complete treatment in as few as five outpatient sessions with few side effects. Talk to your doctor or to find hospitals where MRIdian is available, visit viewray.com.
Joe Cosgriff: Welcome to the first in a three-part interview series sponsored by MRIdian by ViewRay that will explore MRI-guided radiotherapy and the clinical practices of three prominent US oncologists who focus on prostate cancer.
Today, we're honored to have with us a nationally renowned educator, researcher, and practitioner who has been instrumental in advancing the use of innovative technologies such as prostate SBRT and genomic markers to improve patient outcomes. He's a graduate of Harvard College, the University of Pittsburgh's Physician Scientist program, and served as the Chief Resident at Memorial Sloan-Kettering Cancer Center here in Manhattan.
Currently based at Brigham and Women's Hospital in Boston, he's an Assistant Professor of Radiation Oncology at Harvard Medical School, it's our pleasure at Fans for the Cure to welcome Dr. Jonathan Leeman to our special podcast series. Hello, Dr. Leeman.
Dr. Jonathan Leeman: Well, hello. Thank you so much for having me here. I'm super excited to have some time to talk with you today. And I appreciate the invitation.
Joe Cosgriff: Thanks for being here. Let's get to it. Before we get too far ahead of our skis, might be a good idea to consider the men in their families who are at square one with a cancer diagnosis. So on behalf of those folks, we offer a high-level question: How does radiation therapy work as a cancer treatment?
Dr. Jonathan Leeman: It's a very good question. You know, on a basic level, and this is something we've really learned over the last hundred years, an experience delivering radiation treatment for cancer, the way that radiation works primarily is by causing damage directly to the DNA of cancer cells.
This is really made possible because normal cells in our body, the normal prostate, the normal rectum, normal bladder have the capacity to heal from radiation and heal that damage that's imparted to the DNA. But the cancer cells cannot, and so they die in response to radiation treatment, whereas the normal tissues can survive and can heal.
That's kind of been the leading theory for many, many years of how radiation works. But what I'll say is that in 2023, we're still learning more about how radiation works. There are newer theories like radiation and its effect on blood vessels that supply tumors. And we're learning that radiation, especially when given at high doses, can sort of singe off blood vessels and that results in tumors dying. Or really interesting is the effect of radiation treatment on the immune system. There's more and more evidence, more and more science coming out now saying that radiation causes the immune system to more effectively fight cancer. So how can we synergize that with new therapies and how can we take advantage of that? We're still learning. So it's a really exciting time in the field of radiation oncology.
Joe Cosgriff: So in that context, can you briefly explain what the MRIdian ViewRay technology is and how it is applied specifically in the treatment of prostate cancer?
Dr. Jonathan Leeman: Yes, absolutely. So on the surface, it's a pretty simple concept. It's an MRI scanner combined with a radiation delivery system. But that fusion of two technologies offers some really important and transformative advantages.
There's really three things. One is the capability to have better imaging so we can more clearly see what we want to treat and what we want to target and what we want to avoid. And having that clarity allows us just to be much more precise.
The second is this idea of what we call MRI tracking, which is actually seeing while we treat, while we deliver radiation. This is actually something new for the first time in our field. The typical way that radiation has been done is, you know, the patient goes into the room, set up on the table, everything's lined up either with an X-ray or sort of a rudimentary CT scan and then we turn the treatment on and it goes for a few minutes.
But we never were actually able to see what's going on while we're delivering the radiation. And we're learning so much more now because we're seeing things change, things shift around unexpectedly. The bowel, bladder, the rectum, even the prostate itself can move. So that's been really critical.
Then the third thing is this concept called adaptive planning. And what this means is actually delivering a new and personalized radiation plan each day, depending on the patient's anatomy. So it's really this idea of flexibility that we can alter the radiation plan to give the best radiation treatment in that moment for that patient each day instead of giving sort of a cookie cutter, same plan every day. So that sort of personalization we think is really important because it allows us to account for unexpected things and deal with all kinds of changes that can occur day to day.
Joe Cosgriff: So could you describe the process of integrating the MRIdian system in your clinical practices and what challenges, if any, did you initially face with patients with this system?
Dr. Jonathan Leeman: Yeah, it's a great question. Because it's such a new technology and a new approach, there are a number of challenges and hurdles we had to overcome. One of the biggest ones is the fact that this process of adaptive planning is a new approach to radiation where the physician and the whole team has to be present and focused throughout the whole radiation treatment and oversee it very carefully and need to be expert in delivering these treatments.
So in that way, it's a little bit more procedural, almost more like a surgical procedure rather than an x-ray treatment in the way that it's been given for many years. So we had to develop that expertise. We had to train our staff. We're still training our staff.
And we had to develop staffing models that allowed, for instance, a physician to be present throughout the day to deliver each of these very sort of unique and precise treatments and have the expertise to do it. So initially it started with three doctors. Now we've trained up to seven and we're expanding our program. But I think that sort of change in approach was a big challenge.
I would say the other thing is that MRI-based treatment is different for patients. The patient is in an MRI scanner usually for 30 to 60 minutes. And that can be difficult for people. You know, people are claustrophobic. What I've learned is just about everybody has some degree of claustrophobia. Nobody likes to be confined. So we have, you know, a lot of tools that we can use to help make people comfortable and get people through these treatments easily. But that has been something new that we've had to deal with and find solutions for.
Joe Cosgriff: So describe that. So a treatment would be 30 to 60 minutes, you know, as opposed to somebody has eight weeks with conventional IMRT, which might be 15 minutes in a much larger machine. So talk to that a little.
Dr. Jonathan Leeman: Right. So the whole process is different. So just to walk through sort of the process of how these treatments work, patient goes into the room and is laid on a table, and goes into the MRI scanner. Then physician and the whole team are right outside the room. We collect an MRI image and we do that each day. And that's an MRI of the pelvis that shows us very clearly prostate, bladder, urethra, rectum, all of the anatomy we need to see.
Then the physician is actually outlining again the areas that we want to treat and the areas that we want to avoid precisely based on that scan that were that we took in that moment. So that can take us, sometimes, 15 minutes or so to work on that while the patient is lying there in the table. And then once it's ready, we do some quality assurance checks. We make sure that the radiation plan is as good as it can possibly be. Then we deliver the radiation while the patient's still in the scanner. And that typically takes about another 10 minutes.
So it's a longer process for patients. But the beauty of it is also that we can perform the entire treatment in just five sessions instead of having to go through four weeks, eight weeks, nine weeks of daily treatment. This can be done in five treatments. They're a little bit longer, a little bit more involved, but we reap the benefits of all the precision that this technology allows.
Joe Cosgriff: You treat all sorts of cancers, but what are the specific challenges or considerations of treating prostate cancer versus some of the other cancers that you treat?
Dr. Jonathan Leeman: So there are several. I would say, you know, at a basic level there are now so many options for managing prostate cancer. And that's a great thing because all of our patients have this menu of choices. And it's about finding the right option for every individual patient. It's a bit of a double-edged sword because we have all of these new tools and approaches.
But it creates challenges. How do we pick the right one? How do we help the patient decide among these choices? Because, you know, I really view my role when I'm meeting a patient for the first time as more of an educator, educating the patient about what the available options are, helping that patient to arrive at the right decision and sort of guiding them rather than just telling them that this is the best way to do it. Because it really depends on the individual patient's priorities.
So this is a process called shared decision-making, which I think has really become central to the management of prostate cancer in 2023 because we have active surveillance, we have surgery, we have focal therapies, we have radiation, hormonal therapies. And even within radiation, now we have all of these different approaches, brachytherapy, MRI guided radiation. So the list goes on and on. And it's about arriving at the right choice for every individual patient.
Joe Cosgriff: So we hear a lot from our men in the support groups about side effects. I mean, you know, we're not getting a lot of happy customers coming to support groups. So can you speak a little bit to the safety profile of MRIdian, particularly its ability to minimize radiation to healthy tissue that might surround the tumor?
Dr. Jonathan Leeman: That's a really important point. I think many people come into a diagnosis of prostate cancer and they're rightfully afraid and scared of what these treatments might do to them. And people have notions about radiation that are frightening. They may have seen somebody go through it and have had a bad outcome or they may be reminded of things like Chernobyl or Hiroshima. These are the things that come to mind when people hear about radiation.
I really try to dispel some of those sort of conceptions that people come in with about radiation treatment. Because the way we're giving radiation nowadays is not like that at all. This is a pinpoint tool for delivering a focused treatment just to the prostate. So the MRIdian, with all of its capabilities for being precise, what that amounts to is fewer side effects for patients.
So when we think about the side effects from prostate radiation, there are really three domains. One is the effect on urinating, two is the effect on bowels, and three is the effect on sexual function. And all of those are important. and all of those are things that can be potentially impacted by radiation or other treatments. What we've seen with MRIdian is that the impact, particularly on urinary and bowel side effects, has been substantial, reducing those risks dramatically.
And now there have been clinical trials. There was a randomized clinical trial that was published this year called the MIRAGE Trial done at UCLA, where they randomized patients with prostate cancer to get either sort of a more standard CT-based treatment versus MRIdian treatment and found fewer urinary and bowel side effects when MRI-based treatment is used.
I think this has changed a lot of minds and it has really brought more people to the table and thinking about, you know, how can we use this tool and what else can we do with this and how can we push the envelope and make our patients lives better? So, you know, the technology is there. Part of my job, I feel, is also to prove that we're making an impact with clinical trials and that our patients are feeling better and having a better quality of life.
Joe Cosgriff: So I want to go into that a little bit. I mean, we've seen the MIRAGE trial, but what specific feedback, I mean, have you heard in the clinic, have you heard as a clinician, feedback from patients specifically that, wow, this was better than I thought or this these were my side effects or…?
Dr. Jonathan Leeman: I hear it all the time. There is this idea that people have studied about treatment regret, which is when you give people an array of options and then you land on one, you ask them six months, a year, ten years later, do they regret the treatment choice that they made or are they happy with it? I think that's something really important to consider. And I'm finding in the clinic, when I treat patients with MRIdian, there's very little regret.
Patients are always afterwards comfortable with the choice they made for the most part, and it's because the impact is pretty minimal. You know, it makes patients' lives better because it's an easier treatment, fewer side effects.
Frankly, it makes the doctors' life better because it's easier for us to give better treatments. And when our patients are happy, we're happy. So, you know, I see it every day in the clinic that patients are happy they had this treatment because it was easier than they expected.
Oftentimes the hardest part for people is honestly just being in an MRI scanner for 30 minutes for five sessions. And once they can get through that the results usually are very good.
Joe Cosgriff: Five sessions compared with 48 sessions is a great, big difference. I mean, maybe you've already answered my next question, but I assume you've spent most of your career administering radiation conventional, you know, via IMRT and still likely do so under certain circumstances where this isn't available. How has ViewRay transformed the way you deliver radiation to your patients in a clinical setting?
Dr. Jonathan Leeman: It's made a big difference. I think to put it simply, in our department, we actually were not comfortable giving what we call prostate CPR or stereotactic radiation, which is where the whole radiation treatment is condensed into five sessions. We were not comfortable doing it based on the potential risks, the fact that you're intensifying the treatment, not as much data to support it. We didn't feel ready until we had the MRIdian system, honestly.
That really gave us the confidence to feel comfortable with a higher dose treatment, maybe more effective and safer. But you know, the risks associated with that, we really only felt comfortable once we had the MRIdian system and that confidence. So it made a big difference for us to be able to offer this new treatment.
But more importantly, it has a huge impact on patient's life. I mean, prostate cancer treatment upending your life for two months to undergo daily radiation makes it… it's a tremendous disrupter for people, for their lives, their time with their families, the anxiety, the stress. People relocating. We have people that come to Boston for two months and move here to have treatment, quitting their jobs, or leaving their job and all of the impacts.
You know, we're able to avoid so much of that by, you know, offering a more convenient treatment. So it's not just the ease and the convenience, but it's really having a huge impact on people's lives by minimizing the toll that the treatment it takes based on the time. So I think it's really changed the way that we deliver radiation and the way we think about it and the experience for our patients.
Joe Cosgriff: We'll pause for a moment for a brief word from our sponsor.
Announcer: The Stay in the Game podcast is sponsored by MRIdian, MRI-guided radiation therapy by ViewRay. MRIdian is used to treat a variety of cancers, including localized prostate cancer. As reported in JAMA Oncology, the phase three randomized control MIRAGE trial showed treatment with MRIdian to be superior to standard CT-guided treatment in reducing the toxic side effects. With MRIdian, over 80% of patients can complete treatment in as few as five outpatient sessions with few side effects. Talk to your doctor or to find hospitals where MRIdian is available, visit viewray.com.
Joe Cosgriff: What was the aha moment for you that brought you to MRIdian by ViewRay, as opposed to where you were? One moment there was not enough data to support it. It wasn't that the next moment it happened. But what was the aha moment?
Dr. Jonathan Leeman: I think it's really this idea of seeing is believing. With the MRIdian, you can just see everything as you're giving the treatment before, during, or after the treatment to make sure that you're giving the treatment in the best way possible. And it's that visualization where you see it and you say, I can't believe we were doing things the other way before. I can't believe we haven't had this tool until now.
And now it's really hard to go back. It's really hard to not see what we're seeing and know that things may be changing in ways that we're not visualizing and the uncertainty associated with that. You know, this is the type of thing where it's one way and that is forward and it's because seeing is believing.
Joe Cosgriff: But as we asked Dr. Nagar the same question when we had him on a while back, why isn't this around where there's… There are a couple of these machines. I think just one machine in New York. You say that people are moving to Boston. Not a bad place to be. But moving to Boston just to undergo these treatments, I'm getting a sense that nobody's even offered this kind of treatment.
Dr. Jonathan Leeman: And I think it's because right now we're really at the forefront of this. This is a new technology. Now the evidence is there, the experience is there at a few centers. I'm hoping that in the coming years, this becomes much more widely available. And that's my prediction is that now that we have this evidence and we have the sort of initial experience over the last few years of showing that this is such a powerful tool, I think this is going to catch on.
I think it's going to be more widespread. So I think we're just at the beginning sort of of this revolution, so to speak. So I do think things are changing and we will get there because I agree with you, in an ideal world, everybody would have access to this. And it's an important part of the mission that this type of treatment is accessible to everybody, no matter their means, their background, their socioeconomic status, all of these things. You know, anybody with prostate cancer should have access to all of these tools. So that's a really important mission for us moving forward.
Joe Cosgriff: Would it be possible to compare MRIdian by ViewRay to treatment options like the CyberKnife, which also delivers hyper-fractionated CRT, and a machine like the TrueBeam that delivers it all? Again, I have guys in our support group who are doing their research and you know, they get tired to do research after a while, so they come to me and say like, "What's the difference?" They don't do the last half hour. So they're asking me the question that I'm asking you.
Dr. Jonathan Leeman: I love it. I mean, I love these support groups because I think you guys oftentimes know more than we do. You've done so much research. And it's wonderful to talk to patients who are so well-informed. And it really challenges me to do better and to step up my game and improve my knowledge.
Joe Cosgriff: You're at least a doc. I mean, I'm an English major from Columbia. They're asking me.
Dr. Jonathan Leeman: Well, you're the go-to guy, you know.
Joe Cosgriff: Oh, yeah.
Dr. Jonathan Leeman: And so-
[crosstalk 00:24:16]
Dr. Jonathan Leeman: But that question, you know, that's a really common one because we have all this technology, ow do we know what's best? And that's where the evidence, the studies, the clinical trials come into play. So there's the MIRAGE trial.
I do want to mention another study that we conducted here that was presented this spring at ESRO, which is the European Society of Radiation Oncology and will be published soon. What we did was something called a meta-analysis where we combined data from several clinical trials. So actually 29 clinical trials have been done looking at prostate SBT using a variety of techniques. And we compared the patients who received what we call CT-guided or fiducial-guided SBRT, sort of the more standard way to do things, versus MRI-guided adaptive radiation and looked at the outcomes. Over 2500 patients.
What we saw was also in line with what was seen in the MIRAGE trial, where patients seemed to do better. The risk of urinary and GI bowel side effects was really cut in half in the acute setting when MRI-guided treatment was used. A lot of these CT-based studies were done with CyberKnife.
So I think we're just seeing more and more the evidence stacking up, showing that MRI-guided treatment and in my opinion, adaptive treatment, which is this idea of altering the treatment every day and perfecting it based on the current anatomy. To me, that's critical. I think that combination is proving to be really powerful. And, you know, most other tools really cannot offer that. So that's where I think MRIdian has several advantages and why we're seeing such better outcomes for our patients. You can feel free to share that with the members of your support group and happy to talk to them myself.
Joe Cosgriff: You know what? You've just talked yourself into a guest spot on one of our support groups maybe in September for Prostate Cancer Awareness Month or October, somewhere around there.
Dr. Jonathan Leeman: Any time. Any time. I would love it.
Joe Cosgriff: I'll let you rest up from this one.
Dr. Jonathan Leeman: Sure.
Joe Cosgriff: So let's step back from MRIdian for a second. Can you share with us the personal journey that led you to specialize in radiation oncology?
Dr. Jonathan Leeman: I think this is something that I was struck by early on in medical school. For me, it was really about working with cancer patients. I recognized in medical school in my third year when I started seeing patients that this is some of the most meaningful work in medicine. People going through cancer treatment are sort of in the most vulnerable state. This is usually the most difficult period in their lives.
And these are people that really need help and really need a guide. I found this was an area where I thought I could really help people. There's also the central city of sort of the research mission in this battle against cancer, trying to move things forward, trying to apply science and achieve progress. As a scientist, I also felt there may be a role for me to apply my tools and my knowledge to move the needle a little bit, make patients' lives better by improving our treatments.
So all of that sort of came together for me in medical school. Also when I was a kid, I played a lot of video games, computer games. I was really good at it. And honestly, treating with the MRIdian is not too different from sort of a very high-tech fancy video game. The stakes are higher, but some of the same skills.
Joe Cosgriff: I used to drive back from the shore with a vascular surgeon about 15 years ago. And he was a big video game guy. and he said the next generation coming up behind him would have tools. I mean, those skills were going to be transferable to the operating room, for sure.
Dr. Jonathan Leeman: It's true. I mean, it's the coordination, but it's also the three-dimensional visualization. And that's something that… play a lot of video games. It becomes second nature. And I think that ability to visualize things and look at images and three-dimensional space, that's an important skill and it's something that's hard to teach.
Joe Cosgriff: So have there been any defining moments in your career, let's go down from 35,000 feet, that have influenced your approach of your philosophy to treating patients in the clinic?
Dr. Jonathan Leeman: You know, I think back to the beginning of my residency in New York City. And sort of some of the first patients I treated under supervision and had a case of a patient with a really difficult situation with a tumor in the brain right next to the optic nerves. Very challenging situation because you want to treat it and do your best. But you also have to be very careful in the sensitive location.
Patient wanted to be aggressive, and we were aggressive with the radiation treatment and we were able to control the tumor. But the patient ended up going blind. First in one eye and then the other. And, you know, this was an unknown and partly expected outcome from this treatment. And he was actually very grateful of how the treatment turned out, which I thought was fascinating.
But that outcome really sort of stayed with me and has stayed with me today. It impressed upon me sort of the gravity of what we do and the power of this tool and sort of the responsibility you bear as a physician, the trust that's put in you. So, you know, those types of stories always have stuck with me.
And really, I think it comes down to this idea of treating the patient like they're a member of your family. And that's something I really try to do. You know, imagine that this patient is your father, your mother, your sibling. How would you treat them? Trying to treat everybody in that way. If you can do that, I think you're going to stand to be a very good physician, good advocate for your patients.
Joe Cosgriff: Can you share a piece of advice or insight that you've received in your career that you find yourself passing on to other people?
Dr. Jonathan Leeman: Sure. Again, I think it's about keeping the patient as the number one focus. You know, in our career in academic medicine in 2023, there are so many competing demands on our time, on our efforts. So many things you can be doing. It's easy for people to get overwhelmed. So it's important to sometimes reset, remember why you're here in the first place, which is to help this person in front of you the best you can. And that should be the guiding principle.
The other thing I would say is that in order to help other people effectively, you need to take care of yourself. You need to build a support base for yourself. You're not going to be a good physician, you're not going to be a good advocate if you're not taking care of yourself and you don't have people taking care of you. So those things I've tried to sort of keep at the forefront as I move through my career. And I'm hopefully pretty early in my career. I'm only five years out of training and so I'm learning as I go, certainly, as we all are. But those are some of the things that I try to impart when I can to our trainees.
Joe Cosgriff: So what are some of your personal interests and hobbies that help you maintain that balance?
Dr. Jonathan Leeman: I think again, having the support base, spending time with my family, my wife, my four-year-old daughter. Outside of that, I love playing tennis. Tennis court is the number one place I want to be. It gets pretty competitive out there sometimes, but I love it. I'm a big Boston sports fan.
Joe Cosgriff: Oh.
Dr. Jonathan Leeman: Yeah.
Joe Cosgriff: Oh, yeah. Oh, there we go.
Dr. Jonathan Leeman: Red Sox.
Joe Cosgriff: Not just the Red Sox. That's okay.
Dr. Jonathan Leeman: Oh, okay.
Joe Cosgriff: I have a bit of a story about how that happened but, you know, we'll do another podcast sometime to talk about that.
Dr. Jonathan Leeman: Oh, yeah. I mean, I grew up with the Red Sox. I was in college in 2004, that gold and team when they won the World Series. And I'm a big fan. It's a lot of fun.
Joe Cosgriff: Did you ever think that would happen? I mean, did you…? Well, I'm a little bit older, but yeah, I'm not around since 1918, but holy cow, I never thought that that would happen. And then it happened in 2007 and '13.
Dr. Jonathan Leeman: Plus, the way they did it, it could not have been more beautiful.
Joe Cosgriff: Oh.
Dr. Jonathan Leeman: Coming back from 3-0 down against the Yankees. I mean, that is just… that's one of those moments.
Joe Cosgriff: We were there at Yankee Stadium for the final game. One of my friends said the ideal Red Sox Yankees game is for the Red Sox together and eat nothing and then gradually pull away.
Dr. Jonathan Leeman: Sounds about right. But I mean, that team, you know, Manny, David Ortiz. Nomar, Pedro, that was just-
Joe Cosgriff: Millar.
Dr. Jonathan Leeman: Millar, yeah, the whole gang, they were so much fun to watch.
Joe Cosgriff: So that's great. That's how you maintain your balance. So how do you stay ahead of the learning curve in the scientific findings in a fast-paced, continually evolving field with prostate cancer where there's something coming out every day?
Dr. Jonathan Leeman: It's a really exciting time to be in prostate cancer. I think it's important to stay at the forefront. So it's going in conferences, it's reading all the latest papers, and abstracts that come out. I like to stay in touch with the other researchers in our field so we can all sort of stay on the pulse of what's going on and collaborate and work together to move things forward.
So for me, I found the best way to stay at the cutting edge has been to do my own research. That forces you to know what's out there, what's been done, what hasn't been done, what needs to be done next, where things going. So by doing it yourself, you know, you sort of stay at the leading edge of this.
It's also about, I think, leveraging the sort of unique skills that everybody has. When I was in training, in medical school, and residency, I spent a lot of time in the lab actually doing science. And that's an area where I've tried to kind of bring that to bear on my clinical practice. So doing what we call translational research, bringing findings from the laboratory, from the bench to the bedside, and being a scientist. I have a number of projects I'm working on where we're trying to work with people in the lab to develop the next tools and treatments for prostate cancer.
Joe Cosgriff: So we have any number of men at different stages at our support groups, but invariably we have two or three guys who have just been diagnosed and they're raising their hands. I mean, we might have a discussion question for that night, but the more urgent question for that session then becomes a just been diagnosed, what do I do in the context of everything you know, you've just been diagnosed, what do you do? What do you do if you get the same question?
Dr. Jonathan Leeman: I think the most important thing is to educate yourself, and that can be through your own learning independently. There's a lot on the internet, some of it good, some of it bad, but there's a lot out there.
Critical, though, I think is getting to the right place and seeing the right doctors. And I think at the first stage when you're first diagnosed, it's important to do a multidisciplinary consultation. That means meeting with a surgeon, an oncologist and a radiation oncologist to hear all the perspectives and all the different options. With prostate cancer, fortunate thing for a lot of people is that the outcomes are very good.
Most people who are diagnosed with prostate cancer today are going to be cured of prostate cancer or live many, many years at least after being diagnosed. It's usually not a cancer that's immediately deadly. There are so many good options now and there are new options coming out all the time. I can't even tell you five years from now what the recommended treatments are going to be like because it's changing so quickly. So I think the first and foremost thing to do is educate yourself, get to the right place where you can get a multidisciplinary consultation. Start talking to people, start learning about it.
Joe Cosgriff: That's a good point because we have a lot of men in our group who have told us that they chose their physicians based on the multidisciplinary approach. That when it was, you know, bulk the bunker mentality where it was, the radiologist suggested radiation, the surgeon wanted surgery, that was a turn-off. So this is what we're hearing more and more at our groups.
Dr. Jonathan Leeman: Yeah. And to get on my radiation oncology soapbox, I would just say that everybody should meet with a radiation oncologist when they're diagnosed with prostate cancer because there may be information that you want to hear about what radiation is really like to be able to make an informed decision. Typically somebody diagnosed after their urologist does a biopsy. Then ideally that urologist would offer the patient consultation with a radiation oncologist to hear about all the options. Doesn't always happen, though. The urologist may recommend surgery or active surveillance independently, and that may or may not be the right thing for the patient. But I think everybody deserves at least that consultation to learn about it and have that information.
Joe Cosgriff: So we're hearing more and more that the radical prostatectomy is recommended because you can't go back. Because once you've had the radiation, you can't go… I mean, you can, but you can't. And often that's given by our people is the reason they chose the radical prostatectomy. What do you think about that?
Dr. Jonathan Leeman: I hear that all the time. And I have to tell you, I think it's just not true. You know, people can have radiation. And if radiation doesn't do the whole job or something grows back in the prostate, years later, we can do radiation again and we can do it safely. And part of that is because we have these newer tools like MRIdian. And this is actually a clinical trial that we're doing here where we're looking at re-radiation. In other words, patients who have had radiation and have a recurrence in the prostate can come back and treat it with a focused MRI-based treatment.
And more and more studies are showing this works. It's generally very safe. So I think that's a bit of a myth that people are told that, you know, if you have radiation once, that's it, can't have anything else done. And that's why you should have surgery, because there's always a backup option. It's really not the case.
Joe Cosgriff: And finally, are there any ongoing or upcoming clinical trials utilizing the MRIdian system that you find particularly exciting, even if they're right at the beginning of the pipeline right now.
Dr. Jonathan Leeman: There are. I mean, we've obviously spent this whole time talking about prostate cancer. What I'll say is, you know, we use the MRIdian system for many other things. In fact, prostate cancer is only about 15% of the treatments we do in our center on MRIdian. So it can be useful for many other types of cancer.
So some examples of this, we have a really sort of novel clinical trial we're running here using MRIdian to treat larynx, voice box cancer, which this is a really terrible treatment for people to go through where, you know, you're doing radiation to the neck, they get a terrible sore throat, trouble swallowing. Some of them need feeding tubes. Now, with the precision of MRIdian, we're starting to see and we're hoping that we can give a focused treatment, avoiding these terrible side effects for patients. That's one example.
You know, another area where MRIdian is showing a lot of value is in the treatment of pancreatic cancer. Again, which is a terrible disease with few good options. What we're seeing is that with MRIdian, we can give high doses to the pancreas safely in ways that we couldn't before. And now this is going to be tested in a randomized trial that's just getting off the ground.
So I think, you know, prostate cancer is one thing where we're seeing tremendous benefits, but really it's all over the body. And even prostate cancer that spread to other parts of the body. That's a lot of what I do now also is treating what we call oligo metastatic disease, where prostate cancer has spread to just a few different parts of the body. We can treat it with focused radiation treatments and that way sort of save patients from needing some of these more toxic systemic treatments, the hormone therapies, the chemotherapies. So it's becoming another tool that we can use to treat more advanced cancers. So that's something new for us and something really exciting.
Joe Cosgriff: This has been a great conversation and I hope it's the first of several that we get to have over the years. You've invited yourself to one of our support groups, so you'll be hearing from us again. But it's been our pleasure to have Dr. Jonathan Leeman with us today. And thank you very much, Dr. Leeman.
Dr. Jonathan Leeman: Thank you. One last question for you. What do you think are the Sox's chances in 2023?
Joe Cosgriff: Go to 2024.
Dr. Jonathan Leeman: Good answer.
Joe Cosgriff: So good to be with you.
Dr. Jonathan Leeman: You too. You too. Thanks again.
Announcer: The Stay in the Game Podcast media partner is Cancer Health, online at cancerhealth.com. Cancer Health empowers people living with prostate cancer and other cancers to actively manage and advocate for their care and improve their overall health. Cancerhealth.com provides accessible information about treatment and quality of life for people with cancer and their loved ones, along with information about cancer prevention, and health policy.
Thanks for listening to the show. You can find program notes and a full transcript at the charity's website, fansforthecure.org. Be sure to subscribe to our podcast in iTunes, Spotify, Stitcher, and everywhere good podcasts are available. And if you liked what you heard, a positive review on iTunes will help other people also find our show.