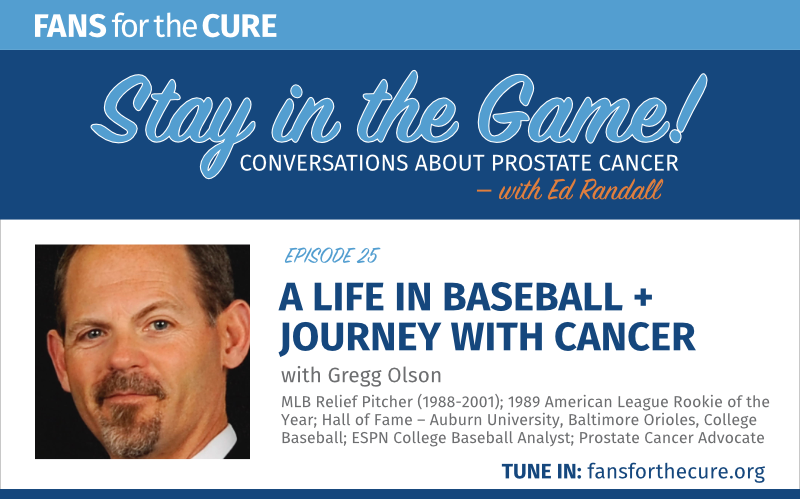 Podcast: Play in new window | Download
Subscribe: Apple Podcasts | Spotify | RSS
Former MLB Relief Pitcher, Gregg Olson, discusses his life and career in baseball: from attending the College Baseball World Series in Omaha as a kid growing up in Nebraska to playing baseball at Auburn University, and from being named Rookie of the Year with the Orioles to providing color commentary to college baseball games for ESPN when his playing days were over. Gregg also shares candidly about his own journey with prostate cancer.
Program Notes
---
The Stay in the Game podcast is sponsored by Cancer Health – online at cancerhealth.com.
Cancer Health empowers people living with prostate cancer and other cancers to actively manage and advocate for their care and improve their overall health. Launched in 2017, cancerhealth.com provides accessible information about treatment and quality of life for people with cancer and their loved ones, along with information about cancer prevention and health policy.
---
Episode Transcript
Announcer: Welcome to Stay in the Game, conversations about prostate cancer with Ed Randall. Here we'll chat with doctors, researchers, medical professionals, survivors, and others to share and connect. This show was produced and shared by Fans for the Cure, a nonprofit dedicated to serving men on their journeys through prostate cancer.
The Stay in the Game podcast is sponsored by Cancer Health — online at cancerhealth.com. Cancer Health empowers people living with prostate cancer and other cancers to actively manage and advocate for their care and improve their overall health. Launched in 2017, cancerhealth.com provides accessible information about treatment and quality of life for people with cancer and their loved ones, along with information about cancer prevention and health policy.
Ed Randall: Hi, everybody, and welcome back to the Stay in the Game podcast brought to you by Cancer Health. I'm Ed Randall, founder, and chief advocacy officer of Fans For the Cure, a 501(c)(3) organization that brings awareness, cancer screenings, education, and support to men and families on their journeys with prostate cancer.
My guest today is the answer to two trivia questions. Number one, who was the first relief pitcher to be named Rookie of the Year? And number two, who was the American League Rookie of the Year in 1989 when Ken Griffey Jr. finished third? He is a member of the Auburn University Hall of Fame, the National College Baseball Hall of Fame, and the Baltimore Orioles Hall of Fame.
These days, he is both an adjunct professor at his alma mater, our favorite among the college baseball analysts in the ESPM, and a calm, reasonable, and often hysterically funny presence on Twitter. He's also one of the good, good guys. I'm talking about the owner of what was arguably the best curveball I have ever seen, this side of Sandy Koufax. Of course, I'm talking about Gregg Olson.
Gregg, welcome to our Stay in the Game podcast.
Gregg Olson: No, thanks, Ed. Thanks for having me. I appreciate your kind introduction.
Ed Randall: There is so much here, I don't know where to start, Greg. You also wrote one of my favorite baseball books, We Got to Play Baseball. But more about that later. Friends of mine who follow baseball closely tell me that college baseball truly took a step to the next level this season, both in terms of number of games televised and also thanks to a postseason for the ages. As one of the sports top analysts, why do you believe more people than ever are finally discovering the joy and entertainment value of college baseball in 2022?
Gregg Olson: You know, I think it's just a simple matter that it's an amateur sport and it goes back to the basics of the kids play hard and they're playing for their team, and the good players get discovered, the players that play hard and do well get discovered and get a chance to the next level. So it's not the statistic-oriented game that we see in the major leagues where everything's about, you know, trying to hit a home run. I think you'll see small ball, you'll see a little bit of the old-fashioned baseball.
I don't know, for me, it's fun to watch the outfielders on just a routine fly ball fire and the ball into the infield because somebody might be watching, you know. It's just little pieces like that, the guy, you know, running 100% out to their positions called the memories or the thoughts of what old time baseball look like.
Ed Randall: But Gregg, if only we could get rid of that damn pinging of the aluminum bats. But man, watching Notre Dame take out Tennessee, UConn eliminating Stanford, and Columbia beating a top 20 team, Gonzaga, twice in those Texas East Carolina games. Wow.
Gregg Olson: Yeah, it was a lot of fun. I got a chance to call the Texas ECU games, and it was just a lot of fun. It was good baseball, comebacks, you know, drama. And then of course, game three ended up having to get started at 10 p.m. Eastern time because of lightning delay. But other than that, it was really good baseball.
And, you know, it's kind of curious watching the draft as it goes through how… the teams are now focused on the college players a lot more than they had been. But I was curious to see. You know, we had some great college players in ECU, Texas super regional, and I was curious to see where they go. And a lot of them have gone, you know, in the top 10 rounds, even though they might be a fourth-year senior. So it's nice to see Major League Baseball appreciating today's college baseball game.
Ed Randall: So, Gregg, how did Auburn do in the recent draft?
Gregg Olson: I didn't follow everything into round 10 last night but they had their relief pitcher who was really good, went in the second. They're going to third, couple guys going to fifth. I think four or five guys drafted so far.
Ed Randall: Does the rise of college baseball have a special meaning for you as someone who grew up in Nebraska making annual pilgrimages with your dad to Rosenblatt stadium?
Gregg Olson: I don't know if it means a whole lot to me. I love the game. I love the way it's played. I love, you know, a lot of the characters. A lot of the coaches in the game are just great mentors, great people, people that you want your kids to, you know, go spend four years with. And I think there's a lot of those people in the college game. But the college game is just, yeah, special. I grew up in Omaha. I grew up going to the College World Series since I was probably six.
I don't know how often I, you know, missed many games. I don't think I did. But I mean, it got to a point where I was probably 12, 13 years old and my parents would just drop me a couple [block? 00:06:12] off at Rosenblatt stadium, and then, you know, watch the doubleheader or watch three games that day. I don't remember how it all went. Obviously, everything gets exaggerated when you get older. So I probably sitting around watching four or five games. But that was what I did. And then they picked me up at night after the last game and then drive me home or go to sleep and next day drop me off at Rosenblatt to go watch college baseball.
Ed Randall: People who have never had the great good fortune, Gregg, to go to the College World Series have no idea what a big spectacle that is.
Gregg Olson: Yeah, I think it should be on people's bucket list. I don't know, it was a five, eight, ten years ago when NCAA was talking about moving the college world series out of Omaha. And I was like, that'd be the biggest mistake to possibly make, because then fans in Nebraska they do it right. I think, what did they have this year? I don't know where it ended up at but they had, you know, going into the last couple games, they broke the record for attendance and [inaudible 00:07:20] people.
It's the ballparks, well, only used for the College World Series. It gets a little bit of use for the state championships. Nebraska gets a little bit of use and maybe at Creighton, Nebraska, you know, space off during the season. But for the most part, the stadium just sits there. They play Omaha Royals or the Omaha Storm Chasers now have their halfway down to Lincoln. And Creighton University has their own stadium about three blocks from… I don't even know the name of it anymore. Ameritrade, it used to be. They keep switching names on me. But the fans at Auburn really do it right and [enjoy the ball? 00:08:07].
Ed Randall: How did you come to choose Auburn from among the many colleges who recruited you at a high school where you played for your dad and were a face in the crowd in Sports Illustrated, you passed on the hometown Nebraska Cornhuskers? This is like Manning, Peyton Manning passing up go into Mississippi after his father Archie had gone to Mississippi. This is a big deal.
Gregg Olson: Well, I wasn't passing up on Nebraska football. That would have been a big deal. There weren't too many people that left Nebraska for football scholarship somewhere else. But it was, you know, I got tired of the weather and so Nebraska was out. My first game my senior year it snowed. Second game that I pitched, which was I think our third game my senior year, it was 20 degrees with a wind chill of about five. And after that I just looked at my dad, you know and he and I were kind of going back and forth on the teams, and I just said, "Everybody above Mason–Dixon line is now out. I'm done with this weather."
So that eliminated some really good schools just for the fact that I got tired of playing in the cold. And took recruiting trips, Mississippi State, Arkansas, Tennessee, Arizona, and Auburn and it came down to Auburn, Mississippi State, and Arizona for the most part. Auburn was playing Mississippi State here on my recruiting trip and it was Palmeiro, Clark, Thigpen, Brantley, that great '85 Mississippi State team and Auburn swept them here.
So I was just looking around the room going, All those guys are leaving in the draft in about two months and all my guys were all back when I got, you know, Heisman Trophy, won Bo Jackson sitting in my dugout. So we should be pretty good. And it ended up being a pretty quick move up from a team that didn't have very many winning records to SEC playoffs my freshman year and then regional my sophomore year. And they got to a nice solid program since then.
Ed Randall: And here you are all these years later and you and Jill still make your home in Auburn, Alabama, where you are both involved and engaged with the city and the university. Talk to us about your 30-year relationship now with Auburn.
Gregg Olson: Well, we moved back about four years ago. I was in Southern California for 20. It's great to be back. It's a solid town of about 40,000 people. My wife's working at the university. As you said, I'm an adjunct professor at times. It's just nice to be back. It's a whole different lifestyle in Southern California.
Ed Randall: So about two years ago, we had a phone conversation where you told me that you had just been diagnosed with prostate cancer. You were in your early mid-50s if my Fordham math serves me well. Since everybody's story is different, tell us how that diagnosis, Gregg, came about.
Gregg Olson: I hadn't had the consistent doctor in Southern California since my time with the Dodgers. And yeah, I'd go get my physicals and I'd go get checkups and I stayed on top of my health but not extremely well. And then I turned 50 when I got back here into Auburn and realized, you know, it had been a couple years since I'd gotten a physical. I really didn't even remember who my doctor was. There have been so many guys that had come and gone, that retired and one had passed. It was just one of those things.
So I came back and found a physician here and you know, just wanted to get a baseline, you know, PSA being one of the baselines. So took a PSA, doctor called me up and said, "Your number is high. I think it was a four-nine. So I obviously do what everybody else does and get online and start looking to see what that meant and what was going on. We have a peloton, so I saw that was one of the reasons that your PSA can be high. So I was like, "All right, let's do another PSA and another blood test and I'll just stay off the peloton for a month, and let's see what we got." And it was for nine again.
So got a good urologist here in Auburn and went back and forth, and we just stayed on top of it, watched it, it stayed at four-nine. And then right in front of us it blinked up to eight-eight. So that was probably one of the phone calls to you was, where do we go? What do we do?
And last April 20th, I had a radical prostatectomy at Vanderbilt with one of the top guys, Joe Smith, there. And everything's been good since then. Life after prostate cancer when you have it removed is a different lifestyle for a little while, for a long while, I don't know. So right now I'm still at a year and three months and it's still a different lifestyle.
Ed Randall: Around the same time of your diagnosis, your former teammate, good pal Cal Ripken was also diagnosed and has come forward as an advocate for the importance of PSA screenings and conversations with one's doctor about prostate cancer. Is prostate cancer something you have discussed not only with Cal but also with other former ballplayers who have reached out to share their diagnoses with you?
Gregg Olson: Yeah. Cal called me. I came out on Twitter with my thing after I let my family know. I just wanted to let everybody know that all your stupid reasons for not getting a physical are just that—they're stupid. And Cal called me up—and I think at that time he really hadn't let anybody know because I was shocked to hear—and he let me know that he had his prostate removed during COVID at Johns Hopkins. But yeah, we talked for a little while about that and then he's kept me up. There's been a couple other ex-Orioles that, you know, we used to play basketball with or guys that had played right before me that have had or are going through prostate cancer. So have a little bit of a group.
And then I've had some people check in with me on, you know, what I thought, what to do, where to proceed, what to look at. And the only way I can help like, you know, we had a conversation you and I. So, appreciate your help.
Ed Randall: We appreciate your advocacy. Picking up on what you just said, what was the reaction like among your family members?
Gregg Olson: I think it's like everybody when they're telling the family they have cancer. Like, "I'm gonna beat this. It's not a big deal. Here's what's gonna happen." And I told them about the surgery was how we chose to attack. And yeah, I found out from the kids that we have a way of telling them bad news in a certain manner. So as soon as I said, "We need to talk," they went, "Oh, oh, something's wrong."
My kids let me know that every time there's bad news I preface the conversation, "We need to talk." So I learned that one from them. So I'm trying to stay away from that one, so I can bring bad news on them better. I don't know. But it was kind of funny because my daughter's like crying right when I said, "We need to talk." And I was like, "What? I haven't even told you anything yet." So they took it pretty well. You know, what you would expect when one of your parents tells them you have cancer.
Ed Randall: Gregg, the men in our support group are outspoken about their doctors and healthcare professionals soft-peddling the side effects of their treatment regimens, whether it be prostatectomy, one of the many radiation options or ADT that is used alone or in combination with the other treatments. Do you also hear from former ballplayers and non-ballplayers about the challenges of dealing with the side effects of prostate cancer treatment?
Gregg Olson: You know, I haven't gotten a lot of calls about the post-surgeries or anything or anything that people have gone through, you know, some baseball player. I have talked to obviously other people around here in Auburn. But I know that the issue with the soft peddling part that you brought up, that the doctors seem to downplay how fast the prostate cancer moves.
And knowing that I moved on mine real fast. I didn't like cancer in my body, I didn't like the way just everything was, I moved as fast as I could to get my prostate removed, and found out, you know, no matter how fast from the time that I found out that I had cancer to the time that I had it removed, my cancer had already gotten out of the prostate.
And I have another friend too that have played baseball that they said the same thing. That if they had moved extremely fast on getting the prostate removed, that their cancer had gotten out. And, you know, if you're sitting at home and you're wondering if the cancer gets out of the prostate, you got a whole different world of cancer come in and it's gonna be a harder road that you're gonna be tracing.
Ed Randall: Let's transition back to baseball. Tell us about your dad and Coach Bill Olson. He sounds like quite a man.
Gregg Olson: He is. He is a good man. He's been coaching high school baseball, college baseball for, you know, 40 years in Omaha. Finally retired. Now he's doing private lessons still at age of 82. He's coached three USA junior national teams. He's just been an amazing figure in the Omaha Nebraska area for baseball.
Ed Randall: It's 1985 and the AL Championship is at stake, only it's the American Legion World Series in Kokomo, Indiana. You finish at two winning save in the afternoon, then you pitch a complete game win in the night game. Can you please explain to our audience what has happened in the intervening 37 years of baseball where they now throw ticker tape parades for a guy who tips his hat and blows kisses to the crowd after just five innings?
Gregg Olson: I think it's funny. It's all on how we train them. My dad was my high school coach. So if you're sitting at home going, "I can't believe that he threw 11 innings that day, and you know, who would do that to him? Well, that was my dad. He would be one of the experts in baseball in Nebraska.
I was trained to do it and he was asking me every inning, "Are y'all all right?" And I was like, "I'm fine. I'm good," you know, and just kept rolling. And everything was fine that night. But it's the way everybody's trained now. They're not trained to go deep. You see kids getting drafted in the first round and you'll picks somebody that pitched in college, they got drafted in the first round.
If you're sitting at home, pick him and watch how he's handled when he gets to the minor leagues. If he threw eight innings this year, he's going to get another 30 or 40 in rookie ball or A ball or wherever they want to send him and then they're going to shut him down for the rest of the season. And he's going to go down to instructional league or something else in September and work out and he's done for the year. So he's gonna throw 120 innings.
It's mind-blowing when you're going to ask the guy to throw 200 innings that you soft-coddle him and have him throw 120 innings his whole minor league career to save his arm so that when he gets to the big leagues that you can blow him out. But that's where we are. So nobody's trained, nobody's in shape to go nine innings.
Ed Randall: And I hear, Gregg, that the really hard throwers, when they get drafted, all of them transition to being closers like you.
Gregg Olson: I hadn't heard that. I'm not shocked that they try to use the velocity. And, you know, one organization that I had some knowledge to had a Latino kid come through the organization and his mechanics were train wreck. They were just awful. But he threw really, really hard. And the conversation was, All right, do we fix him and take the chance on him not having the same stuff, or do we just rush him to the big leagues and get him there as fast as he can because he's not gonna last very long. He's gonna blow his arm out. And that was the conversation.
So you kind of take a look at things that way and you're going, all right, you throw really hard and your mechanics probably aren't the best. Let's, you know, get you as a reliever, get you into the big leagues as fast as we can because you're not gonna last very long.
Ed Randall: I recall reading somewhere that you missed by a couple of months of overlapping in Atlanta with another player named Gregory William Olson, one G in Gregory, who caught 414 games for the Braves in the early 90s by mistake. Did you ever get his laundry or his cable bill?
Gregg Olson: Oh, man, yeah, that would've been interesting. But we were in the All-Star game in 1990 together at Wrigley Field, and I guess it was one of those side stories that gets blown up during the All-Star game. You know, everybody's coming over, we're taking pictures where we're facing the other way and it's the Olson Olson. We stayed in the same hotel in downtown Chicago, and I can't think of what the hotel was, but he got my messages on the phone. So if you're listening to this, we didn't have cell phones back then. We had to rely on the hotel phone, you know, relaying whatever we needed and whatever was going on. If somebody needed to call us, they knew our hotel. So he got my hotel messages, I got his laundry. I think there was some mail that went back and forth, but it was kind of comical.
Ed Randall: And while you were on the subject of overlapping, did you ever get to face your fellow Auburn Tiger, perhaps the highest performing two-sport athlete of all time, Bo Jackson?
Gregg Olson: I did. Yes, I did. I don't know how many times. I haven't looked to see what he's done. But we had some bats where it was kind of funny because he came back after he got drafted by the Royals and was working out with us right before spring training. So I got to face him a couple times there, here in Auburn as I was a sophomore and he was, you know, getting ready to go to big league camp. So we went back and forth on that. And then first time I see him in the big leagues I don't throw him a fastball cause I had learned my lesson.
So I throw him third balls and he makes an out and he's mad at me. So he comes running around the mound, kind of dog-cussing me and get the next guy out. And I go walking into the dugout and my pitching coach is now dog-cussing me for allowing a hitter to dog-cuss me on the mound. So kind of went back and forth. It was pretty funny because I had to, you know, talk my pitching coach down off a cliff going, Now look, we were teammates two years ago at Auburn. Everything's just fine. Just relaxed relax. He's just mad at me right now
Ed Randall: You're a member of an exclusive club of players whose only major league hit was a home run. Who was the pitcher? Please describe the mistake. And do you still send him holiday cards?
Gregg Olson: I should, I lost track of him. But, it's Oscar Henriquez. He pitched with the Marlins in 1998. I got five bats in my career. The first three I struck out and came up the fourth time against Oscar Henriquez. The game was getting outta hand. So I was lucky enough to follow off the three, two pitch right before that, and it was a really, really, really ugly hack.
Then he threw the next pitch and something I could hit, and hit. As soon as I hit it, I knew it was out and started sprinting around the bases because I just blew the game wide open. I didn't want to have my next guy get hit, which was Devon White who was our leadoff guy. I didn't want him to get hit. And then I would have to hit the next guy, you know, starting off the top of the eighth or whatever it was. And I was like, then I'm gonna be the one that gets in the fight and then I'm gonna be the one that gets thrown out. I was like, oh, just because I just didn't run the bases really fast. So I'm sprinting around the bases, I'm just gonna stop, whatever's gonna happen after this.
Ed Randall: There's a lot of, shall we say, mediocre baseball books out there. I know this because I happen to have written several of them, but we got to play baseball is one that is a personal favorite of both mine and the operations department of Fans For the Cure. Besides your own stories, which are terrific, what are the don't-miss chapters and player stories people should seek out in that book?
Gregg Olson: You know, I got some great players to tell me great stories. I got George Brett to tell me the Pine Tar story and I'm sure he is done a 30 for 30 by now. But before then, I really hadn't heard that side of the story. So, you know, George telling that, you know. And I think it was like a 15-minute… it was a 15-minute story where… You know, he's a great storyteller.
I'm sure it's not embellished, but you get some details that you didn't know about it. You know, the post after he got thrown out, he's sitting on the tarmac in New York when they had to go back and finish the last inning because they ruled that his bat was legal. So they had to go back… Kansas City had to go back to New York to finish that last inning. He said it was kind of funny, they had… I can't think of who it was, but the Yankees switched up the lineup to try to get some guys to come up in the bottom of the ninth and they were down one run. Somebody was playing second base, it was kind of unusual.
Ed Randall: Don Mattingly.
Gregg Olson: Yes.
Ed Randall: And he put Ron Guidry in centerfield, Billy Martin was so mid and he wanted to… he tried to sue the umpires.
Gregg Olson: Yeah, that was exactly what it was. So there was a little bit of some comedy going on and George is telling me that he's, you know, sitting in a bar somewhere in New York watching the last inning and then going back to the plane because he wasn't allowed at the stadium because he'd been kicked out. That was a good one.
Brooks Robinson told me some good ones. Jim Palmer gotten… I don't know how many Hall of Famers tell me some stories, but it was a blast to write.
Ed Randall: Terrific book. You are at the heart of it, a gifted storyteller and conversationalist, and I believe that's what makes you a success as an author, an event speaker, an educator, and as a college baseball analyst. Have you ever sat in the booth at a game, thinking back over your 14-year career in baseball, the bumps along the way that have included injuries, career setbacks, and most recently prostate cancer, and then pinched yourself for winding up where you are at age 55?
Gregg Olson: Yeah, it's been a fun ride. It's had its bumps, it's had its ups and downs and probably like any kid going through it, you know? If I hadn't gotten hurt, boy, that'd be fun to think about. You run through all the scenarios of, if I hadn't made that decision, if I hadn't thrown that pitch. You can break it all the way down to so many small decisions. But in the end, you know, I'm here, I'm a prostate cancer survivor and written a book, which if you would ask me in high school if I'd ever write a book, I'd laugh at you. You know, finished my degree here at Auburn a couple years ago. It's been an interesting ride and I'm looking forward to the next 45 years, you know, giving back
Ed Randall: Gregg, thanks for making the time for us, for sharing a slice of your life with us today, and for never hesitating to lend a hand to Fans For the Cure. I can truly say that when the phone rings and it's Gregg Olson just checking in to see if there's anything he can do for our charity, it provides a burst of energy in our office to work harder that day on behalf of men and their families. Our sincerest thanks for everything and best always to you, Jill, and the family.
Gregg Olson: Thanks, Ed. It's always a pleasure to talk with you and get to spend a little time with you.
Ed Randall: And that wraps it up for today's Stay in the Game podcast. He's Gregg Olson and I'm Ed Randall from Fans for The Cure. Thank you for seeking out and listening to our podcast.
Announcer: Thanks for listening to the show. You can find program notes and a full transcript at the charity's website, fansforthecure.org. Be sure to subscribe to our podcast in iTunes, Spotify, Stitcher, and everywhere good podcasts are available. And if you liked what you heard, a positive review on iTunes will help other people also find our show.