Last week, on June 28th, more than 300 attendees came out in support of our work in expanding our prostate cancer education initiative by attending a special screening of the new documentary Ted Williams: "The Greatest Hitter Who Ever Lived".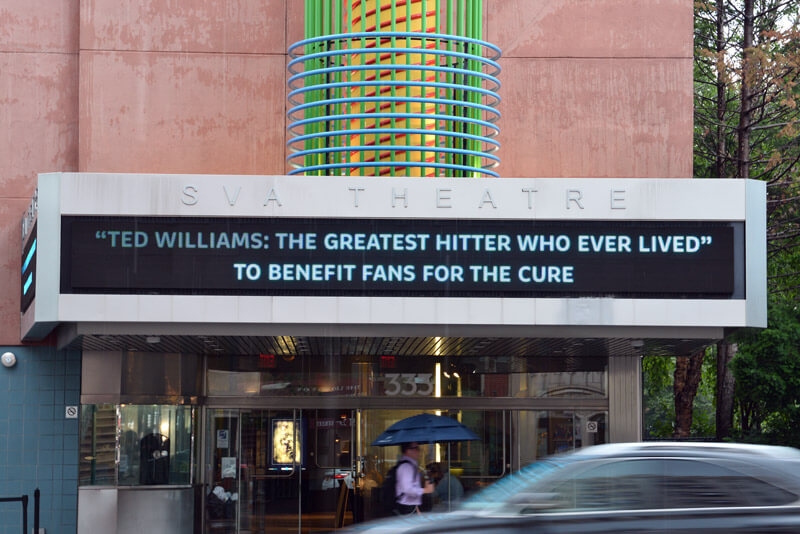 Screening of Ted Williams: "The Greatest Hitter Who Ever Lived"
The evening began with a presentation of three short videos extolling the virtues of early prostate cancer detection by Glen Sather, President of the New York Rangers, Mike Emrick, the play-by-play voice of the NHL on NBC, and Karen Goldman Shaffer with a powerful accounting of the loss of her husband to prostate cancer.
The year 2018 is the centennial of Ted Williams' birth. The documentary reveals major American cultural figure, Ted Williams, as a complex and misunderstood human. His relationships with his family, his teammates, the press, and the fans were complicated. It's all there in Ted Williams: "The Greatest Hitter Who Ever Lived".
Panel Discussion with Al Tapper, Nick Davis, Ben Bradlee Jr. and Dick Flavin
At the conclusion of the screening, the panel convened including Al Tapper, the Executive Producer, Nick Davis, the Producer/Director, and two featured players in the documentary, Ben Bradlee Jr., and Dick Flavin.
In 2001, friends Dick Flavin, Dominic DiMaggio, and Johnny Pesky took the road trip of a lifetime when they drove from Boston to Florida to visit the very ill Ted Williams for the last time. The road trip became a topic in Pulitzer Prize-winning author, David Halberstam's book, The Teammates, which became the most successful book of his storied career.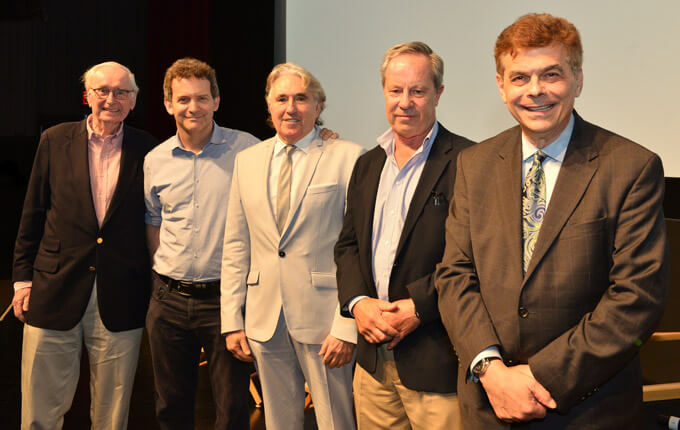 Ben Bradlee Jr. is a writer and author of the New York Times best-selling biography, The Kid: The Immortal Life of Ted Williams. In his book, Bradlee tells the story of the complex life that legendary Ted Williams lived as the greatest hitter in baseball history.
Al Tapper said, "No one has ever had as much impact on my life. Whatever success I've had in my life, I owe it to him. To me, Ted is a Homeric hero. Like Achilles, he was perfect but vulnerable, extraordinary, yet flawed."
Nick Davis, director and producer of the documentary, said, "Ted Williams is the perfect subject for a filmmaker."
Great Support from Our Volunteers
Warmly welcoming our friends, supporters, and donors, our team of volunteers was on hand again, contributing to the success of the night. We say again a great many thanks to Mike and Michele DiBartolomeo, Cary and Perry Moorstein, Tom DeRito, and Tom Hinchey.
Join Us on July 24th
The third installment of The Talking Baseball Series occurs July 24th as we welcome Tommy John and esteemed pitching coaches Leo Mazzone and Rick Peterson for a discussion on pitching and pitching injuries. To learn more and purchase tickets, head over to Discussion on Pitching and Injury Avoidance, or sign up for our newsletter to be kept in touch.