The 5th-grade student council at Bergen Beach School in Brooklyn, New York donned fake mustaches to raise awareness and money during the month of Movember. Under the guidance of technology teacher, Cory Goodman, 10 young boys and girls led a schoolwide men's health campaign, creating posters, talking to their fellow students and reminding adult family members and friends of the need to get tested for prostate cancer and other men's diseases. They also collected donations from parents and students, raising more than $700 over the four-week campaign.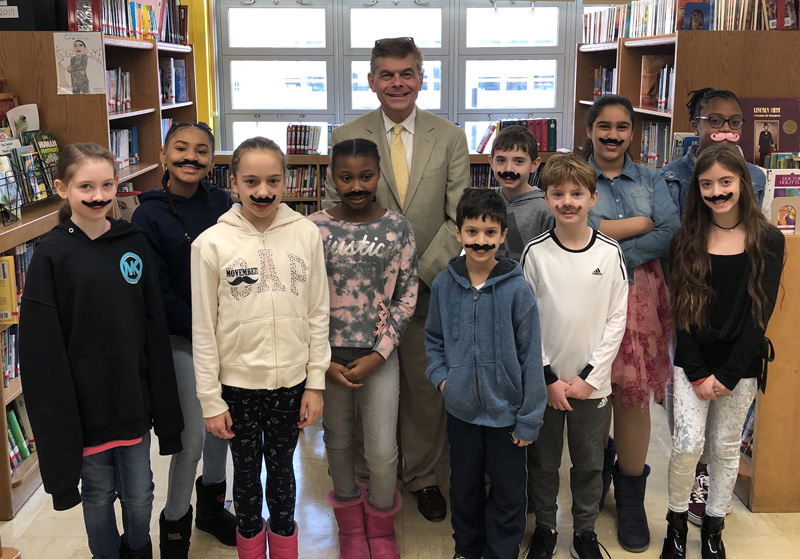 A Trusted Organization Focused on Prostate Cancer
In a conversation with journalist Kevin Duggan of Brooklyn Paper, Cory Goodman recounted how he came to choose Fans for the Cure as the beneficiary of the school's Movember fundraising campaign:
"I enjoy listening to [Fans for the Cure Founder] Ed Randall on Sunday mornings, so I know he's been talking about prostate cancer for years, and I wanted to find an organization that would best suit what we're doing and was trustworthy. I knew right away that was the one we were going to go for."
A Visit to PS 312
As the campaign came to a close, Cory invited Ed to visit the school, to share his own personal prostate cancer story and sit with the children who worked so hard to tell their communities about the disease.
Partnering with Your School or Organization
At Fans for the Cure, we team with a wide range of public, private and nonprofit organizations to promote awareness and understanding about prostate cancer risks, testing, and treatment options. We invite schools, community groups, churches, local businesses, healthcare facilities, and other organizations to contact us to discuss how we can work together to inform your local community.
Contact Us About Partnership Opportunities