We are excited to share that our founder and CEO, Ed Randall, was featured in the September 10 issue of AM New York Metro, the most widely circulated daily newspaper in New York City.
The Story
The article is a wonderful stroll through Ed's early days in broadcasting and how the direction of his life and career changed in 1999 with his diagnosis of prostate cancer. Tracing the early days of the charity, the piece goes on to describe the Fans for the Cure's long history with Minor League Baseball, as well as the launch of the online programs we initiated as a response to COVID-19.
"We coordinate PSA screenings, sponsor medical seminars, offer physician and hospital referrals, provide educational materials, and, most recently, host bi-weekly men's health support groups. Given that there will be approximately 33,000 deaths nationwide in 2020, we pledge to commit all of our human and financial resources to increase the number of men who will live with the disease rather than die of it."

Ed Randall, Founder and CEO – Fans for the Cure
What's On for Prostate Cancer Awareness Month
We are grateful to AM New York Metro for highlighting our work, especially as September is Prostate Cancer Awareness Month. We have a busy month of activities and programs focused on the communities that we serve.
Our Online Men's Support Group will meet on Thursday, September 24, 2020 at 7 PM ET. This group is free for all to join and meets over Zoom. Be sure to RSVP if you'd like to attend.
Dr. Jim McKieran, Chief Urologist at Columbia University, and a member of our Medical Advisory Board, is hosting a panel about prostate health on Thursday, September 17, 2020 at 12 PM.
We are sharing our Stay in the Game podcast, where we talk to medical professionals, baseball greats, prostate cancer survivors and more. Listen to our first four episodes: Dr. Jim McKiernan, Steve Garvey, Dr. Jim Hu, and Andre Dawson.
Read the Full Article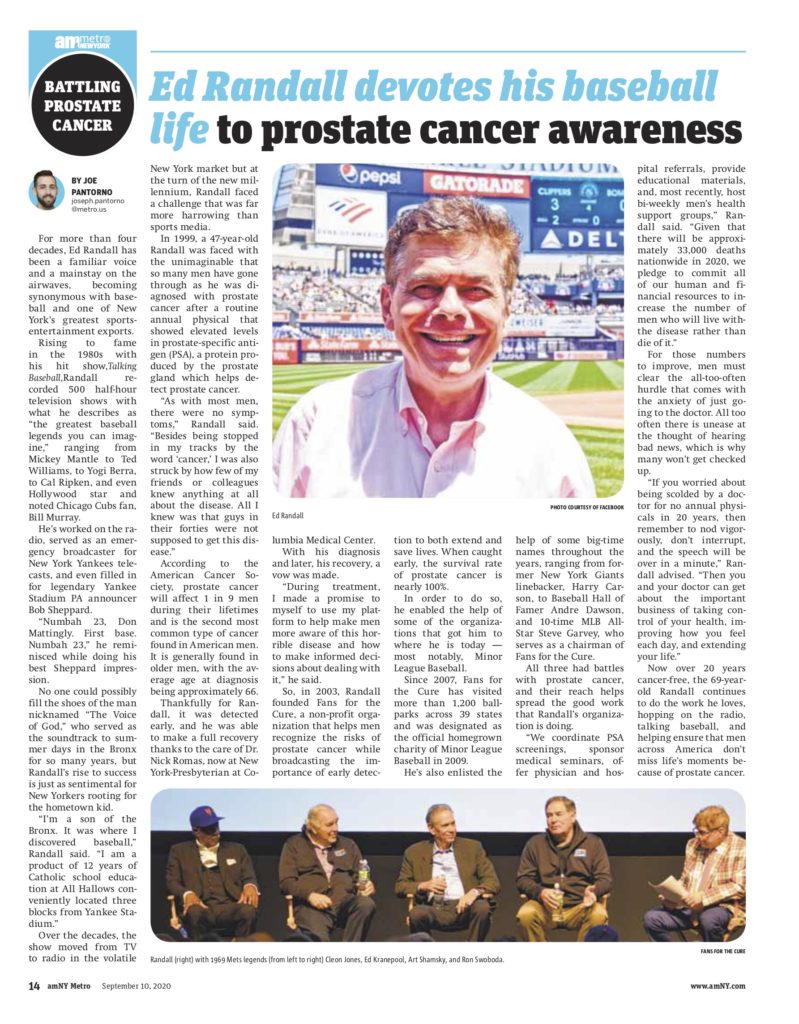 The article is available below as a PDF or you can read it on the AM New York Metro website.