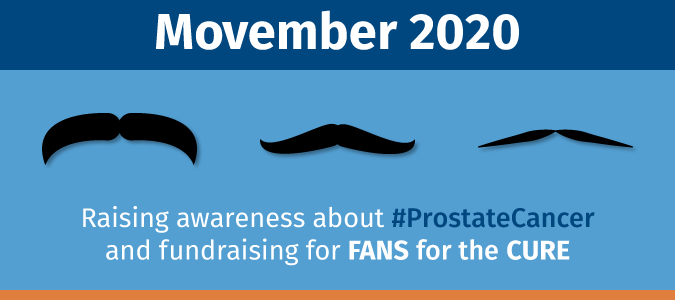 As we work to support men on their own journeys with prostate cancer, we are excited to announce the launch of our Movember campaign. Throughout the month of November, we're asking men to grow a mustache as a way to raise awareness about prostate cancer and the importance of early screening for the disease – and to fundraise for Fans for the Cure.
Grow a Mustache – Support Fans for the Cure
For Movember, a play on words for the month of November, we're asking men to use their own faces as a way to start conversations about prostate cancer and the importance of early screening for the disease. We are also inviting men to encourage their friends, family, and colleagues to donate to Fans for the Cure.
Men who are eager to support the men in their lives – grandfathers, fathers, step-fathers, brothers, sons, cousins, colleagues, and friends – can set up a fundraising page on our website. They can upload pictures of their increasingly long facial hair, along with a note about why they are supporting Fans for the Cure.
A Great Community of Support
At Fans for the Cure, we truly understand the value of building a supportive approach. To encourage and support those men who are growing facial hair in support of our organization, we have arranged a number of contests and awards.
Our team will share exciting awards for the following levels of support and participation:
Most money raised
Most number of donors
Best mustache
Saddest mustache
Additional awards to be added throughout the course of the month!
An All-Star Committee to Judge the Competition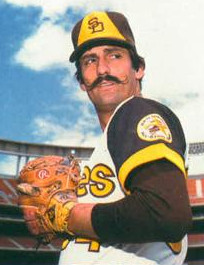 For this year's Fans for the Cure Movember campaign, we are delighted to share that we are assembling an all-star team of judges for the month-long festivities and heated competitions. While the full list of judges will be announced throughout November, we are honored to reveal the name of our charity's official spokesperson and judge. He is the only person inducted into both the Baseball Hall of Fame in Cooperstown (1992) and the International Mustache Hall of Fame (2015), the follically-gifted ace relief pitcher, Rollie Fingers.
Be sure to keep an eye on our website and social media to monitor ongoing developments, the progress of the participants, and the announcement of additional judges.
Resources to Support Your Fundraising Campaign
We have a whole range of materials that men and their families will be able to use to support your own awareness and fundraising efforts. We will be adding those to our website in the coming days.
When you sign up for your own fundraising page, you'll automatically be signed up for email updates about the new resources as they become available.