As part of our work in Prostate Cancer Awareness Month, we partnered with our friends and colleagues at NewYork-Presbyterian, Columbia University and Weill Cornell Medicine to highlight the importance of men getting themselves screened for prostate cancer.
The folks at NewYork-Presbyterian Cancer Care published a web page that sets out key information in a bite-sized, easy to digest format. The produced a great video featuring Dr. Jim McKiernan and Dr. Chris Barbieri (shared above) talking through a number key points about prostate cancer testing, diagnosis, and treatment.
Key Points about Prostate Cancer Testing, Diagnosis, and Treatments
The medical professionals some of the world's leading hospitals and universities put together a great overview of key points for men to know about prostate cancer. This new website covers the following:
Risk factors and warning signs for prostate cancer
A range of care and treatment options:

Active surveillance
Surgery
Radiation therapy
The website also include phone numbers and contact details for a host of local hospitals in New York City that are involved with this program.
NY Yankees Lend Support to Raise Awareness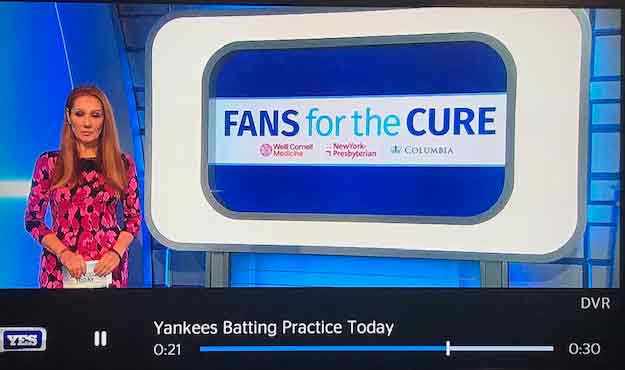 Our long-time partners, the New York Yankees, lent their considerable support to the campaign to raise awareness about the value of early screening for prostate cancer. They aired the video from NewYork-Presbyterian, Columbia University and Weill Cornell Medicine on the YES Network a number of times during the month of September.
Accurate Information from Trusted Sources
At Fans for the Cure, we know that men and their families can struggle to get accurate information about treatment options for prostate cancer and the adverse side of effects of those options. We are committed to helping our community find accurate, relevant, and up-to-date information from trusted sources. That is why we were so happy to work with NY-Presbyterian Cancer Care on this project.