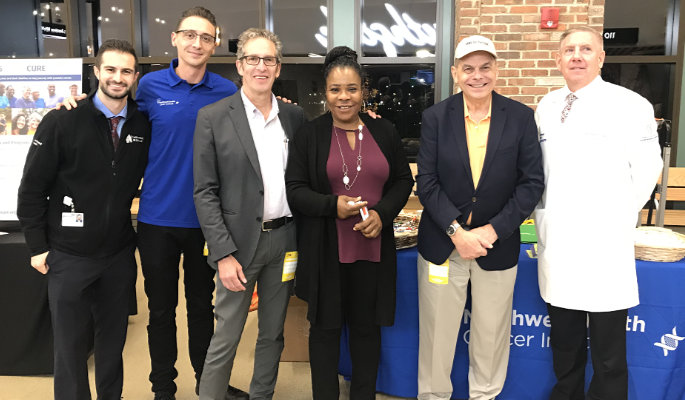 As 2022 draws to a close, we announce the focus of our end-of-year fundraising campaign – mental health and wellbeing, specifically, how psychological and emotional wellness is affected by a journey with prostate cancer.
Learning from Experience: Mental Health Matters
Over the nearly twenty years that Fans for the Cure has been supporting the prostate cancer community, we have observed that a prostate cancer diagnosis can often adversely impact the mental health of both a man and his loved ones. We frequently observe first-hand how the treatment regimens – and most notably the life-changing side effects of surgery, radiation, and ADT – present considerable physical and emotional challenges across the spectrum of men journeying with this nuanced and complicated disease.
Advocating for Emotional Support
As part of our work in 2023, we will increase our efforts to demonstrate to the medical community the need to treat the entire prostate cancer patient – and not just his physical disease, symptoms, and side effects. We will also work to communicate more clearly and directly with urologists, radiation oncologists, and the other medical professionals focused on treating prostate cancer that men and their families are telling us that they need support and treatment for their mental, psychological, and emotional wellbeing. We are already planning how to roll out new programs and information campaigns aimed at this important topic.
Expanding Online Support Groups
We are pleased to share that Fans for the Cure will add to the number of its one-hour online support group meetings in 2023.
Our men's support group will continue to meet on every other Thursday evening at 7 PM ET, with the next one taking place on December 29.
Starting in January 2023 (next month), our women's support group will begin meeting twice a month at 8 PM ET. (We are finalizing the specific schedule for that group, so stay tuned to emails and our website for further updates.) The increase in meeting frequency was driven in direct response to a request from the women who have registered for the group.
We will work with our medical partners to recruit mental health professionals to attend meetings of both of our online support groups.
In-Person and Online Health Screenings and Awareness Events
The charity has already begun filling its schedule with in-person and online health screenings and awareness events for 2023. We are targeting a regular cadence of 3-5 such events per month, organized in close collaboration with medical partners, community leaders, and other key local stakeholders. The goal is to educate and remind men of the value of early detection and keeping current with all of their cancer screenings, as well as providing them with the means and resources to obtain these screenings.
Our Top-Rated Podcast
We look forward to another year of engaging conversations with a wide range of guests as Fans for the Cure continues to host and publish our Stay in the Game podcast.
We are pleased that on December 21, podcast evaluator FeedSpot announced that it had rated Stay in the Game No. 1 among Prostate Cancer Podcasts You Must Listen to in 2023. Congratulations to the Stay in the Game staff and host Ed Randall for maintaining the No. 1 year-end ranking for the third consecutive year.
Medical Referrals for Those in Need
Long relied upon to help men and their families obtain initial, second, or third opinions, we are set to expand and increase our Medical Referral Program. We are working to identify additional trusted doctors in medically underserved communities to empower men to reach out to those physicians more easily.
Support Our Work in 2023
As we launch our end-of-year fundraising campaign, we invite you to support our work with a donation today. Your financial assistance makes our programs possible.