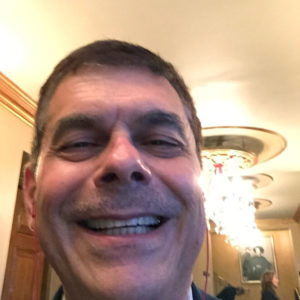 Ever willing to raise awareness about prostate cancer, testing and treatment, Ed Randall is growing a mustache for Movember. Given all the excitement in the baseball world this past week (Did the Cubs really win the World Series?!), Ed has a late start on his 'stache, but we're happy to report that it's now growing in.
November, also referred to as Movember, is Men's Health Awareness month. For Movember, Ed and his team are committed to educating men about prostate cancer, testing and treatment, and supporting men who who are journeying through prostate cancer treatment.
A Silly Way to Raise Awareness About a Serious Topic
In growing a mustache this month, Ed aims to use what is admittedly a light-hearted approach to raising awareness about prostate cancer to have serious conversations about the need for men to get tested early for prostate cancer.
Medical science shows that when caught early, prostate cancer is a survivable disease. Current studies report that survivability rates for prostate cancer that is detected early are as high as 98%. By growing a mustache – and answering the inevitable questions that start with "Ed, are you growing a mustache?" – Ed will share important information about when to get tested, the different tests available and news about medical updates in the treatment of prostate cancer.
Get Involved – Support Our Work
We're inviting you to help us with this important cause of educating and supporting men. During the course of Movember, we're asking you to support us in any number of the following ways.
With Ed Randall's Fans for the Cure as your preferred charity, shop on Amazon Smile.
Make a donation to help cover costs of screenings, seminars, and awareness/educational programs.
As Ed's mustache grows in this month, be sure to check back on this page. We'll be posting more images of Eds smiling face and thickening facial hair.
Ed's Mustache – Watch It Grow!