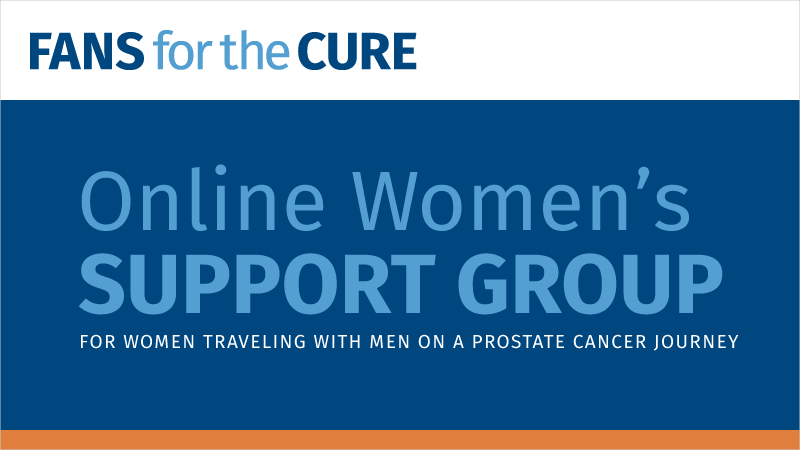 It is with great excitement that we announce the launch another new program here at Fans for Cure. In response to the evolving needs of the communities that we serve, we are pleased to share that we are rolling out an online support group for women.
Listening More Closely to Our Community
In May 2020 and in response to local and state laws that prohibited gathering in person, we initiated online support group sessions for men over Zoom. These sessions have allowed us to meet and spend time with men from across the country, men who are in different stages of their own prostate cancer journeys.
In conversations with these men, and with men outside of our support group calls, we have paid close attention to what is shared with us. One particular and recurring theme has stood out: that the women in their lives receive essentially no support for the stress and challenges that they face in supporting the men that they love. The burdens of COVID-19 have only exacerbated the challenges and anxiety levels for spouses, significant others, and caregivers. 
COVID-19 is stressing so many people for so many reasons. The men who turn to us for support have made it clear that the women in their lives need help, too. That is why we decided to launch this new program. We are pleased that our charity is able to help our community with this new and innovative program.

Ed Randall, Founder & CEO, Fans for the Cure
Our New Online Women's Support Group
In our pivot to online services and offerings, this program is a new way for our charity to begin to support the women who are journeying with men living with a prostate cancer diagnosis, treatment, or recovery.
To be clear, these support groups are not formal therapy or counseling. They are a way for women to gather virtually and informally to engage in conversations and support one another.
A Group for Women, Hosted by Women
Our experience with the men's group has shown us that a group comprised of only men has provided the space and comfort that has allowed the participants to share open and candidly with one another. 
That is why our Online Women's Support Group will be for women only, and will be hosted by a woman, Karen Shaffer. A keynote speaker at the charity's 2017 gala, Karen is a longtime friend of and advocate for our organization.
Join Our First Meeting
We will hold our first online women's support group video calls on a bi-weekly basis. Our first online support meeting is scheduled for:
Tuesday, December 1, 2020 at 7:00 EST
To attend this initial gathering, please click on the big blue button below to complete our RSVP form.