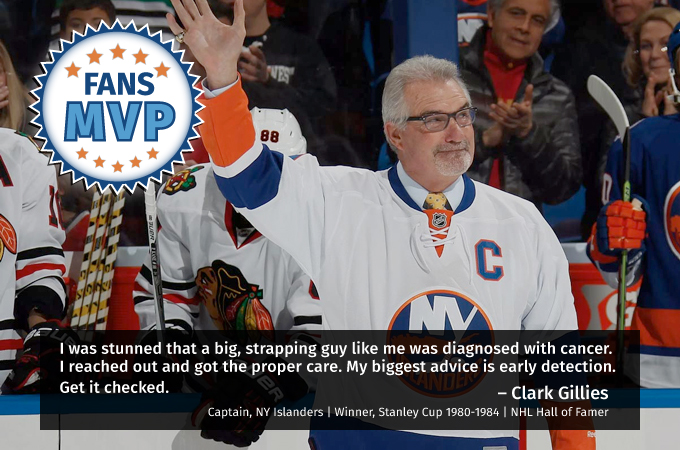 At Fans for the Cure, we've fostered a community of sports organizations and professional athletes who support our work. We call our athletes FANS MVPs, and these are the insider stats behind the legends.
---
Name: Clark Gillies
Occupation: Hall of Fame Hockey Player, now working in the financial services industry
First job/salary: Laborer in a potash plant outside my hometown, Moose Jaw, Saskatchewan for $3.25 an hour. I worked with Ed Staniowksi, a goaltender who would become a first-round draft choice for the St. Louis Blues.
Beloved pet: My first dog, Hombre, a German shepherd (who drank out of the 1980 Stanley Cup)
Childhood ambition: To excel in school and at every sport I played. I didn't have any professional ambitions. I just wanted to be the best I could possibly be.
Favorite subject in school: I always did very well in my Phys. Ed. classes.
Least favorite subject: Chemistry
Behind my back, people say: I hope they say he's a great guy who does a lot of good things for other people.
People don't know I'm: Very sensitive; I cry at Hallmark commercials.
Most embarrassing moment: In Helsinki, Finland, to play hockey, I woke up naked on the 7th floor of a hotel in a big leather chair. Obviously, I didn't have a key in my pocket. It's a long story.
Best part of my job: I get the ability to be myself, similar to when I played hockey. To get the opportunity to be Clark Gillies every day, which is awesome.
Toughest part of my job: Having to fight in hockey. I didn't back away. I enjoyed playing the game: skating, shooting, passing, and scoring. Unfortunately, I had to beat the crap out of people.
Favorite food: A great steak
Fondest memory: With no offense, getting married to my lovely bride without question. From a professional career standpoint, winning the first Stanley Cup in 1980.
Heroes: Bobby Hull, Gordie Howe, my first coach when I was 11 years old, John Hunter (who is still my friend today), and my first junior coach, Earl Ingarfield. I met Gordie Howe when I was 7 years old and got his autograph at Eaton's of Canada Department Store in Moose Jaw, where my dad worked. I played with him in a Heroes of Hockey game in 1994 in Madison Square Garden and he signed a stick "From one #9 to another." I still have that in the basement.
Famous person I'd like to meet: Blake Shelton
Occupation I most admire: The wonderful doctors who did some work on me in the last couple of years. And the Armed Services personnel who go over and fight for everything we have. That's pretty special.
Dream job: I'm there. I have it. I've been involved in the financial services business since 1988. I work with a tremendous group of people. It's similar to our Stanley Cup teams in terms of the people from the top down and the atmosphere.
Best time of my life: From the time I was 10 years old to the time I was 20 years old, I got an opportunity to play every sport and got a chance to play professional baseball in the Houston Astros organization for three years. I met my bride. She thinks she's serving a life sentence, but is still here after 43 years. And after my hockey career was over, getting the call for the Hockey Hall of Fame.
Worst time of my life: The day I was diagnosed with prostate cancer. But I'm cancer-free now and that's pretty special.
Favorite team when I was a kid: By far, the Chicago Blackhawks.
Favorite player when I was a kid: Bobby Hull. He's the reason I always wanted to wear #9.
Best advice my mother every gave me: Signing my name one day and she says, "Some day you're gonna have to sign your name a lot. Make sure you write it perfectly clear." I don't like to brag, but I think it's one of the nicest, clearest signatures out there.
Personality trait I admire most in a person: Respect for the people you're dealing with.
Personality trait I hate in a person: Arrogance
Every New Year's Day, I resolve to: Don't we all resolve to lose weight? I find myself every New Year's Day resolving to enhance what I'm doing. You can't live a perfect day unless you help someone who can't repay you.
First car: Burgundy 1964 Chevy Chevelle with four on the floor.
Proudest moment: Holding my first child, my daughter, Jocelyn in my arms. Professionally, the first Stanley Cup in 1980.
Greatest inspiration: Islanders Coach, Al Arbour, who became a father figure to me after my dad died in 1978.
Relationship to prostate cancer: A survivor. I was stunned that a big, strapping guy like me was diagnosed with cancer. I reached out and got the proper care. My biggest advice is early detection. Get it checked. Make sure you get your PSA test. It's a simple blood test. You never know. Be diligent and aware of what's going on.
Best motivational advice: Earl Ingarfield was the one who told me "You're just out there having fun playing the game, but you have the ability to be a very, very good player in the NHL if you apply yourself because you're big, you're tough and can score."
I am most thankful for: Family, and I have a lot of great friends. I'm thankful to have lived a good part of my life as a professional athlete and be part of great teams. Life in general has been pretty damn good to me.
Donate Now