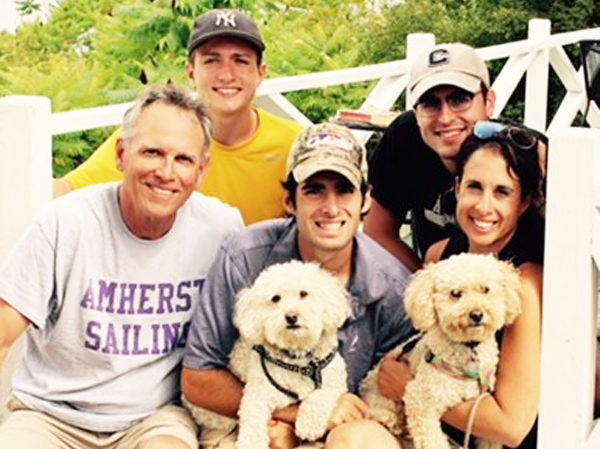 I've always been a healthy, active guy. I'm a lifelong athlete who continues to play and coach a bunch of sports. My biggest moment was being a part of the "Stars & Stripes" team when we won sailing's America's Cup in Australia in 1987.
I was aware of my susceptibility to prostate cancer because my father is also a survivor. I had no symptoms, but was diagnosed as a result of a slightly elevated PSA test in the summer of 2017. After a period of "active surveillance", I made the decision to undergo robotic prostatectomy in December of 2018. A few weeks prior to my surgery, I was reminded of Ed's [Ed Randall, CEO and Founder of Fans for the Cure] efforts and his organization, and I took a look at the Fans for the Cure website. I signed-up to volunteer. A few days later, I got a call from Ed, who offered his empathy and his support as a survivor. I told Ed that, while I had already decided on surgery as my best strategy, I had this nagging question deep inside: Had I truly learned everything I could learn, to make the right decision about treatment? Ed quickly put me in touch with some of the outstanding medical experts who are part of FFTC, who went out of their way to give me expert advice. It turned out that my decision was the right one, and my surgeon is one of the best in the country. And while I'm recovering from the side effects of the surgery, I'm still around to tell this story, and my test results indicate that I'm cured!
"This is a terrifying thing to face, but there's a huge support system out there for every one of us who is diagnosed with prostate cancer."
Through my own experience, I've come to realize how important awareness and early detection are. I had no symptoms, but thanks to his diligence, my doctor caught my prostate cancer early. And in the short time since my diagnosis, I've been able to help several friends who simply didn't know much about this disease because cancer is something we just don't like to talk about. There's a lot of misunderstanding and misinformation floating around, so learning everything that you can learn and advocating for yourself are critical. This is a terrifying thing to face, but there's a huge support system out there for every one of us who is diagnosed with prostate cancer. So, like my friend and fellow survivor Ed Randall, I will keep talking about this and spreading the word, until someone tells me to stop. And then, I'll start again. Because, like Ed says, if we can make men aware of what they need to do, we can prevent some empty chairs at the dinner table on Sunday, and we can keep guys around to walk their daughters down the aisle.
I've provided a picture of my family here, because this isn't just about me. The picture was taken right after my elevated PSA was detected. While I was the one in my family who had the cancer cells in my body, my diagnosis and treatment impacted each one of the people in this photo, and many more people who are not, and the dogs, too. I love and care about them all, so it would be negligent of me to avoid facing this challenge head-on and not do everything I could possibly do to prevent those around me from suffering. I urge every man and woman: please pay attention to this and get involved or at least spread the word. Together, we can prevent a lot of needless pain and suffering by promoting awareness about prostate cancer and the life-saving value of early detection.
CLICK HERE for more My Prostate Cancer Stories.