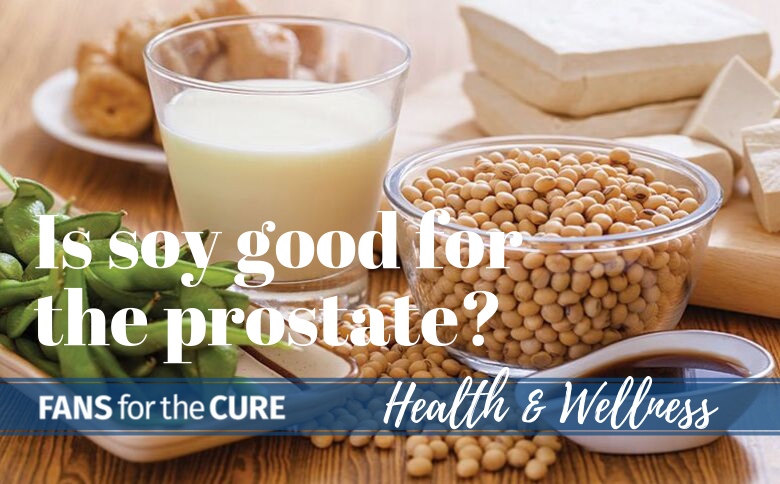 What is Soy?
The soybean is a legume that was first domesticated by Chinese farmers as early as 1100 BC. Soybean use has significantly expanded since its early days and now it is grown for a variety of uses, such as: animal feed (meal); biodiesel and bio heat; industrial uses, such as paints and plastics; and, of course, traditional soy foods as well as many processed foods. The benefits versus the risks of consuming soy for different health conditions have been researched and debated over the years and, since this bean is found in so many links of our food chain, it is easy to see why determining the health implications of soy is so important. Let's look at what we know, and how to use that information to make safe and potentially beneficial choices when it comes to this little legume and prostate health.
Whole Soy versus Processed Soy: What's the Difference?
To understand the health implications of soy, one must recognize the difference between whole soy foods and processed soy foods. Whole soy foods consist of mature soybeans, edamame (immature soybeans), soy nuts, tofu, soy milk, natto (fermented mature soybeans), tempeh (soy cakes), miso, and soy sauce. Processed soy is found in foods such as textured soy protein, which is a meat substitute found in hotdogs, hamburgers, sausages, and other meat products, while soy protein isolate is used to enrich energy bars, sports drinks, infant formula, cereals, granola bars, imitation dairy products, ice cream, cheese, and even doughnuts. Many nutrients and beneficial compounds are lost when foods are processed, and soy is no exception. On the other hand, whole soy foods contain a variety of important nutrients.
Should I Eat Soy?
Soy is a good source of plant-based "complete" protein, which means that it contains all nine of the essential amino acids that the human body cannot make and must obtain from the diet. Whole soy foods also contain fiber, iron, folate, copper, potassium, magnesium, as well as isoflavones. Soy isoflavones (a group of phytoestrogens), specifically genistein and daidzein, are found to collect in prostate tissue and may act as weak estrogens and exert a protective effect against the development of prostate cancer. Studies show that the incidence of prostate cancer is highest in Western countries and lowest in Asian countries, and there is some evidence to support that soybean consumption may contribute to these rates. Evidence from observational studies of Chinese and Japanese men who consume soy as part of their regular diet then move to Western countries and adopt a Western diet show an increase in prostate cancer, but not when they continue to eat a traditional diet.
Among other factors, soy may provide some protective benefits for those looking to prevent prostate cancer. Soy may also help those already managing prostate cancer. Several clinical trials of men with various stages of prostate cancer who were experiencing increases in PSA saw the rate of PSA rise slow in those consuming soy milk or isolated soy isoflavones. The isoflavone intake among these men ranged from 30 to 200 mg of isoflavones daily for six to 12 months. This intake is correlated from the typical amount to double that of the typical Asian diet. Based on available research, it seems that consuming moderate amounts of whole soy foods are certainly safe and potentially beneficial for those looking to prevent and manage prostate cancer.
How Do I Include Soy Into My Diet?
There are many ways to incorporate whole soy foods into your diet. One easy switch is to swap dairy milk for soymilk. Since soymilk is a complete protein and has a similar amount of protein as dairy milk, it is essentially a fair trade. Be sure to choose unsweetened and unflavored soymilk to reduce unnecessary added sugar in the diet. You can use soymilk in all the ways you would use dairy milk, such as having it with cereal or in a smoothie, coffee, or tea. Soymilk can be found in the refrigerated dairy section or a shelf-stable package at the grocery store. Another soy food to easily introduce into any diet is edamame. These "baby" soybeans are pleasant in taste and texture. They can be eaten on their own, straight from the pod as an appetizer, or shelled on a salad, soup, mixed with whole grains and leafy greens for a meal, or pureed and mixed with avocado for a protein and fiber-packed guacamole. Edamame can be easily found in the frozen food section in their shells or already shelled. Another option that may require some more work than using soymilk or edamame is to use tofu in place of meat and eggs in meals. Tofu is commonly used as an alternative to meats or eggs in vegetarian or vegan meals. There are a variety of textures ranging from silken to extra firm, and each has an array of culinary applications. Tofu can be used in sandwiches, soups, salads, smoothies, desserts, or even "scrambled-egg" or "egg salad" style.
Summary
Hopefully, this information will inspire you to include this legume into your diet. Although there is a lot of controversy surrounding soy, moderate amounts of soy such as 1 cup of soy milk, ½ cup of edamame or tofu per day can be beneficial whether you are trying to prevent or manage prostate cancer. Of course, one single dietary change is not usually effective on its own. A diet that is overall rich in fruits, vegetables, plant-based protein, and whole grains (and at the same time limited in processed foods, and foods high in sugar and fat), paired with regular exercise, adequate sleep, and stress management are all important to help minimize risks associated with factors that cannot be controlled so easily, such as age and genetics.
Here are a few great recipes!
Tofu Egg Salad
Ingredients:
• 1 pkg. firm tofu, drained and rinsed
• 1/2 cup vegan mayonnaise
• 1/4 tsp. lemon juice or cider vinegar
• 3 Tbsp. Dijon mustard
• 1/2-1 tsp. cayenne pepper
• 1/2 tsp. turmeric
• 2 Tbsp. chopped fresh Italian parsley
• 1 Tbsp. chopped fresh dill
• 1/2 cup diced scallions
Instructions
Mash the tofu in a bowl, leaving some texture. Add the remaining ingredients. Mix until combined. Store in the refrigerator at least half an hour before serving.
Makes 4 servings.
Edamame Guacamole
Ingredients:
• 1 cup frozen shelled edamame, thawed
• 1 small ripe avocado
• 1 canned chipotle pepper in adobo sauce, finely chopped
• 1/3 bunch fresh cilantro
• 1/4 white onion, roughly chopped
• Juice of 2 limes
• 1/4 teaspoon fine sea salt
• 1/4 teaspoon ground black pepper
Instructions:
Put edamame, avocado, chipotle, cilantro, onion and lime juice in a food processor and pulse until almost smooth. Add enough water (about 2 tablespoons) to make a creamy consistency and pulse again. Transfer guacamole to a bowl, season with salt and pepper and serve.
Nutritional Info:
Per Serving: Serving size: 2 Tbsp, 50 calories (25 from fat), 3g total fat, 75mg sodium, 5gcarbohydrates, (2 g dietary fiber, 1g sugar), 4g protein.
---
References
Applegate CC, Rowles JL, Ranard KM, Jeon S, Erdman JW. Soy consumption and the risk of prostate cancer: An updated systematic review and meta-analysis. Nutrients. 2018 Jan 4;10(1):40.
Van Die MD, Bone KM, Williams SG, Pirotta MV. Soy and soy isoflavones in prostate cancer: a systematic review and meta‐analysis of randomized controlled trials. BJU international. 2014 May;113(5b):E119-30.
(n.d.). AICR's Foods That Fight Cancer™. Retrieved from https://www.aicr.org/foods-that-fight-cancer/soy.html
Patisaul, H. B., & Jefferson, W. (2010, October). The pros and cons of phytoestrogens. Retrieved from https://www.ncbi.nlm.nih.gov/pmc/articles/PMC3074428/
Presley, A. (n.d.). Do soy foods increase cancer risk? Retrieved from https://www.mdanderson.org/publications/focused-on-health/soy-cancer.h18-1589046.html