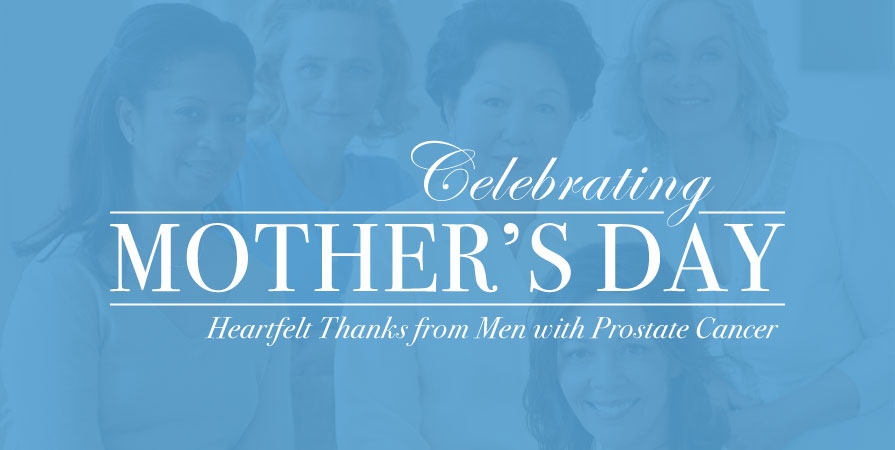 As we prepared to launch our Celebrating Mother's Day campaign, we asked a number of men in the prostate cancer community what the support of their wives and significant others made to them during their most challenging treatments and periods of recovery.
We were moved by what men shared with us in confidence in response to our question. Many became emotional as they shared their experiences with us, explaining how their loved ones took such loving care of them, often without complaint.
A Public Expression of Gratitude
Yet we know from our work supporting women in the prostate cancer community that many men struggle to effectively communicate their gratitude to the women and caregivers in their lives. To that end, we asked a few men if they might be willing to share publicly about the support and care that they received from their wife and family – and what that meant to them.
Candace was simply the wind beneath my wings, as she studied what prostate cancer is, how it can affect a victim and his family, and how she could be an "All-Star" caregiver.

– Steve Garvey, MLB Legend and Chairman, Board of Directors, Fans for the Cure
---
During this journey with prostate cancer, my doctor got me through the surgery. Before and afterward, my wife got me through everything else.

– Jay Goldberg
---
The moment I heard the word "cancer", I turned to my wife and said that I was sorry. She was puzzled and reminded me of an oath we took, one that was, for us, a lifetime commitment. Deciding on surgery was confusing but her ability to remain calm helped us to make a momentous decision.

The first thing I remember after the surgery was my wife's arm coming over me, and moments later seeing my kids. Despite my confusion, I knew I was safe. Little did I know that the post-surgery recovery, the catheter, and weeks of sleepless nights was only the beginning.

Like many under stress, I'm ashamed to say that I became a bit belligerent, my PSA started to rise again prompting hormone therapy and radiation; another challenge and yet, my wife never complained, helping me to navigate this new and challenging chapter of our lives.

The support I received, both from my wife and family, has helped me to understand the long term aspects of prostate cancer by giving me the space to express my confusion and occasionally my anger. The removal of my prostate probably saved my life, but it also changed me forever. I am now, and will always be, eternally grateful.

– William Gross
Celebrating Mother's Day
As we shared earlier in our Celebrating Mother's Day campaign, we are asking the prostate community, and men in particular, to take four steps to make this year's Mother's Day even more special.
Send a Special Thank You
We invite men whose wives or significant others played – and perhaps continue to play – a major role in their prostate cancer journey, to share a special thank you with those women. Let them know how much their love, support, and care meant.
Highlight the Role of Caregivers
We are asking the prostate cancer community to share the stories of the caregivers who helped them during their times of need. Let's work to help everyone see the value and great work of caregivers, and to highlight the many ways that others can serve as caregivers.
Spread the Word about Our Women's Support Group
Our online support group for women journeying with men through prostate cancer is free and open to all women. The group meets for about an hour every other Tuesday evening Eastern time. The next meeting is Tuesday, May 18, 2021.
Donate to Support Our Women's Group
We are asking for donations to help us cover the costs of this important program – and to fund our efforts to grow the program.