---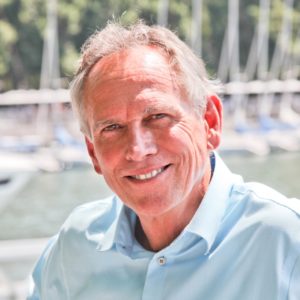 BUILDING A TEAM TO WEATHER THE STORM
Throughout the year FANS for the CURE brings you stories of men who are on the front lines battling prostate cancer. This month, winner of the 1987 America's Cup, John Wenz. Teamwork played a major theme during John's time sailing with Dennis Connor on Stars & Stripes for an extraordinary comeback to win the America's Cup. Now he is embarking on a journey that requires him to assemble another extraordinary team, but the stakes are much higher.
Sign up for our email newsletter and join a growing network of fathers, sons, and families who want to strike out prostate cancer. Consider becoming a monthly donor and help us raise awareness so that men have the support they need to stay in the game, longer. Help us make prostate cancer awareness a part of the national conversation.
WATCH THIS VIDEO
TEAMWORK MAKES THE DREAM WORK
FANS for the CURE is here to inform and encourage men to take control of their health by getting tested, knowing their stats, and playing an active role in their health and wellness. We do this through awareness events and screenings in baseball parks, ice rinks, and entertainment venues across the country and throughout the year. We're also partnering with the Metastatic Prostate Cancer Project and offering our FANS community an opportunity to help researchers gather data and accelerated new discoveries and better treatments for prostate cancer. Consider joining our growing network of doctors, nurses, athletes, researchers, dads, sons, brothers, moms, daughters, and sisters who understand that no one should go on this journey alone.
---
HELP US STRIKE OUT PROSTATE CANCER
Men and their families find knowledge, support, and community with FANS for the CURE. Each month, your investment can drive initiatives like:



Educational Programs and Screenings




Resources and Referrals




Prostate Cancer Research
---
Educational Programs and Screenings
Through our educational and support seminars, signature Baseball Road Trip, and awareness events, we teach dads, brothers, and sons about prostate cancer risks, symptoms, testing, and treatments so that they are empowered to put themselves on the path to wellness. We coordinate free prostate cancer screenings with our partners in the medical, sports and entertainment communities.
Online Resources
With your support, we will give men on-demand tools that offer them the most up-to-date information on prostate cancer services, treatment, and research, so that they can take action for their prostate health.
Physician Referrals
Through our Medical Advisory Board, we maintain a larger network of leading doctors whose primary focus is prostate cancer. We invite men who are seeking medical assistance in the diagnosis and/or treatment of prostate cancer to contact us, and we will do our best to provide names of doctors located in a requested geographical area.
Prostate Cancer Research
FANS for the CURE is excited about our first important step in supporting prostate cancer research by becoming an an Advocacy Partner for the Metastatic Prostate Cancer Project (MPCP) — a nationwide genomic research initiative designed for men with advanced or metastatic prostate cancer. This cutting-edge project, which is being conducted at the Broad Institute of MIT and Harvard in collaboration with Dana-Farber Cancer Institute, takes a new approach to genomic research by working directly with men with advanced and metastatic prostate cancer to accelerate important discoveries. The project will create the most comprehensive prostate cancer database that will be shared with the entire research community and enable scientists to look at patient-provided, de-identified data, tumor samples, clinical information and more — allowing for more exhaustive research into prostate cancer and its treatment. With your continued support, FANS for the CURE will step up our promotion of research in the greatest areas of need.
---
WHY MONTHLY GIVING MATTERS
The Price is Right
Whatever your monthly gift, it continues to grow to empower more men with life-saving awareness and education.
It Plans for the Future
Sustained donations enable FANS for the CURE to continue working to save men's live and strategically expand our reach and impact.
It Makes You a Part of the Community
Your commitment connects you more closely to our work through exclusive updates on our progress and your impact.
It Gives Men Continued Support
A man's prostate health can change, but month after month, your gift helps provide key resources if and when they are needed.

---