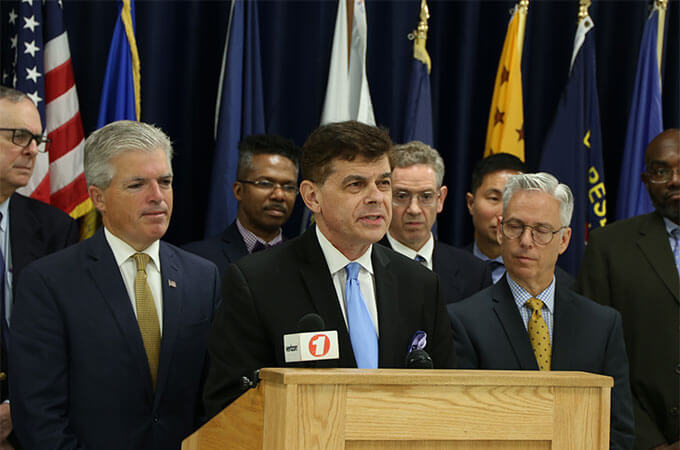 In connection with Prostate Cancer Awareness Month, we joined forced with Suffolk County Executive Steve Bellone to launch a prostate cancer prevention campaign. Suffolk County will conduct a public awareness campaign and will partner with local hospitals and health clinics to encourage the early detection, prevention and treatment of prostate cancer.
Executive Leadership to Combat Prostate Cancer
During the kick-off event, Suffolk County Executive Bellone was emphatic in his focus on addressing prostate cancer in his community:
"In Suffolk County we are committed to raising awareness about Prostate Cancer and the importance of regular doctor checkups, testing, and consultation because we know that early detection can save lives," said Suffolk County Executive Steve Bellone. "Talk to your friends, family, and loved ones today about the importance of getting checked and taking control of their health."
One of the county's most public efforts will be to flood the County Government Building in Hauppauge, NY, in blue light, in recognition of Prostate Cancer Awareness Month.
Kicking Off the Campaign
As the Founder and CEO of Fans for the Cure, Ed Randall, was invited by Suffolk County to kick-off its campaign. Ed shared his excitement at supporting local efforts to raise awareness about prostate cancer testing and treatment: "Fans for the Cure is pleased to have been chosen to be part of today's event with County Executive Bellone. We look forward to supporting his team's efforts to bring awareness and education about prostate cancer to the families of Suffolk County."
Prostate Cancer by the Numbers
In connection with the launch of its campaign, the Suffolk County Executive published a press release with relevant, up-to-date facts and statistics surrounding prostate cancer:
Prostate cancer is the most common non-skin cancer diagnosed among men who live in the United States, with 164,690 men expected to be diagnosed in 2018.
Prostate cancer is the second leading cause of cancer death in American men but awareness and early detection contributes significantly to the battle against this cancer.
About one man in nine will be diagnosed with prostate cancer during his lifetime.
Prostate cancer develops mainly in older men and in African-American men. About 6 cases in 10 are diagnosed in men aged 65 or older, and it is rare before age 40. The average age at the time of diagnosis is about 66.
About one in 41 men will die of prostate cancer. Although this is a serious disease, it is not a death sentence. Most men diagnosed with prostate cancer do not die from it. In fact, more than 2.9 million men in the United States who have been diagnosed with prostate cancer at some point are still alive today. Awareness and detection contributes significantly in the battle against this cancer.
Local Physicians Share Insights and Support
In addition to other local dignitaries and community leaders, the Suffolk County effort was supported by physicians from local leading hospitals.
Dr. Johnny Kao, MD, Chairman of Radiation Oncology at Good Samaritan Hospital Medical Center said, "I applaud County Executive Steve Bellone and Ed Randall for championing this cause. We've seen a 45% percent decrease in prostate cancer deaths in Suffolk over the last 25 years. This is due primarily to PSA screenings for men over the age of 50, but also events like this which raise awareness to the dangers of prostate cancer."
Dr. Howard Adler, MD, FACS, Medical Director of the Prostate Care Program, said, "It was an honor and a privilege to participate with Suffolk County Executive Bellone and Ed Randall today in highlighting the importance of prostate cancer screening to the men and women of Suffolk County. As prostate cancer is the most common cancer in American men and the second most common cause of cancer death, it is important for men to discuss the PSA (Prostate Specific Antigen) blood test with their physician. The PSA test is an invitation to a conversation which allows men and their physicians to discuss further options for testing and, when necessary, treatment."
We Can Support Your Campaign Too
If you're organizing local events or campaigns to raise awareness about prostate cancer testing and treatment options, or to deliver free PSA screenings, we would be delighted to partner with and support your efforts. We invite you to get in touch with us to tell us more about your plans.
Tell Us About Your Plans